This post contains affiliate links.
Thank you to Easy Off for sponsoring this post.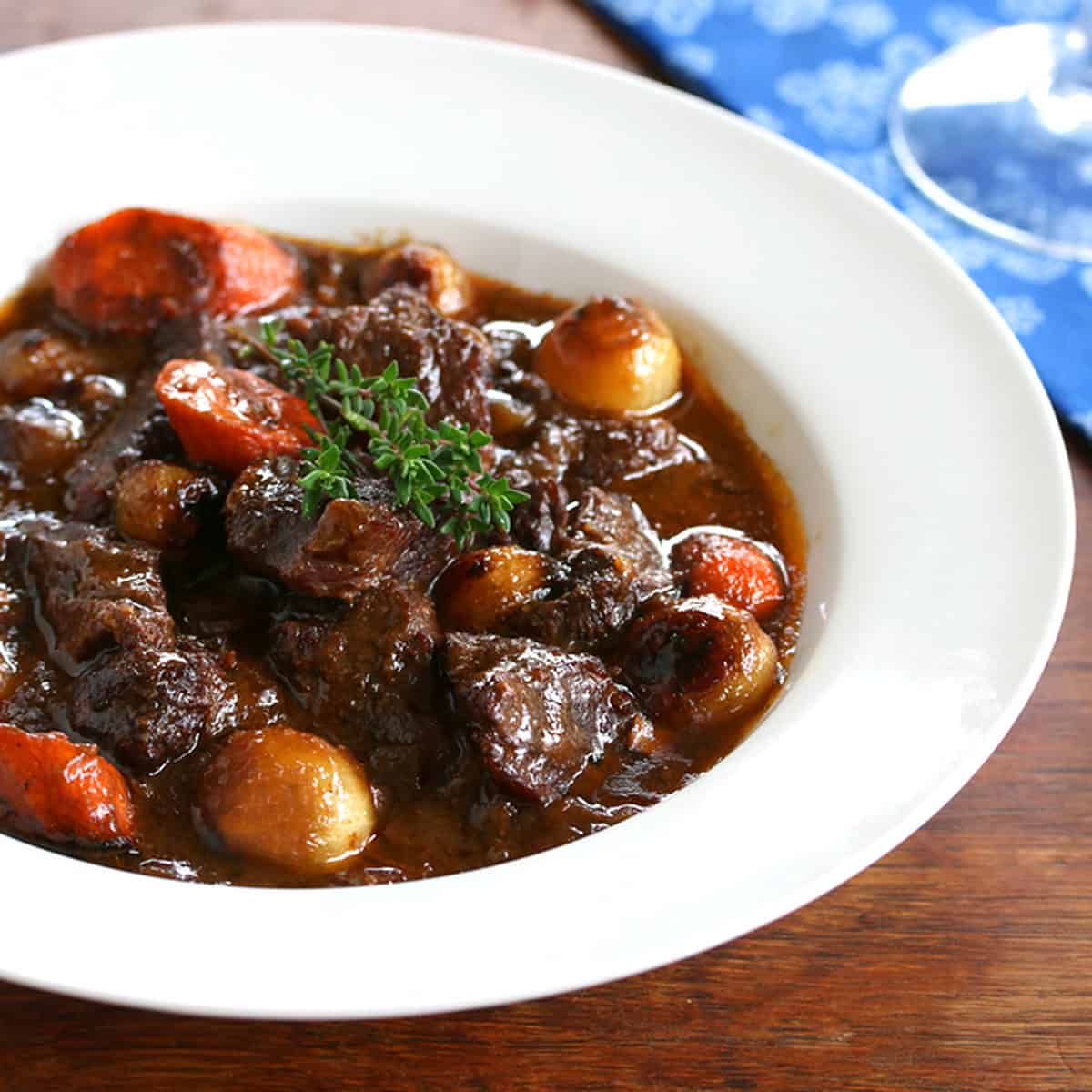 Also known as beef bourguignon and beef burgundy, this is the traditional French dish that Julia Child made world famous. While this isn't Julia's recipe, I've borrowed some of her techniques in my own interpretation of this classic dish.
Boeuf bourgignon is from Burgundy, France, which is the same region where many other famous dishes originated like coq au vin, gougères, and pain d'épices. And as with coq au vin, Boeuf bourgignon was originally a peasant dish – the long cooking process in wine (a natural tenderizer), made cuts of beef that were otherwise too tough to swallow deliciously fork-tender.
In its preparation I do something a little unconventional which adds such additional depth of flavor that you will practically swoon with delight. During the process of thickening the gravy I make a very rich roux. For added flavor I also add one of my favorite ingredients that I like to add to sauces, gravies and stews: Ground dried porcini mushrooms. You can purchase them online or most well-stocked grocery stores carry them. Someone in the produce aisle will be able to point you in the right direction.
If you enjoy a good beef stew (who doesn't?) you're going to especially love this one. What sets boeuf bourgignon apart from other beef stews is really its depth of flavor. And that comes largely through the method of preparation. And the cooking time. And it's beyond worth it.
Boeuf bourgignon is not remotely difficult to make. It just takes a little time and a few steps. But the vast majority of that time is hands-off. Then you can spend that time making final preparations for your special dinner that evening. And if you've been a good girl/good boy you will have already thoroughly scrubbed out your oven so it's squeaky clean – that way when you open your oven door to the world to reach for your boeuf bourgignon, your guests will see a sparklingly clean oven. And that's because you will have spent all morning cleaning the oven, right? Well, my oven is sparkling and guess what? It took me 10 minutes. I'll tell you how in a moment.
I appreciate things that save me time and make my life easier, don't you? Like my Photoshop software that allows me bypass the need to completely redo a photo shoot when I've committed a food photography blooper. With a few mouse clicks I can get rid of the irises on my pearl onions and transform a bowl of beef & eyeballs into a glorious serving of Boeuf Bourgignon. Yes, time savers like that are invaluable.
And it's the same with products that save me time, sweat and elbow grease in deep cleaning so I can instead focus my time on doing what I like to do – cooking and spending time with my family. Cleaning the oven has never been one of my more favorite tasks. Getting on my knees and scrubbing the grease and those rock-hard, baked-on burnt drippings from casseroles and roasting dishes…not fun. "Use the self-cleaning oven feature" you say? Yes, if you have 4+ hours to wait around until it's done. And even then, it's often not effective for getting those really nasty baked-on bits off. And so I reach for my quick fix – Easy Off Heavy Duty oven cleaner, and guess what? Voilà! Ten minutes later I have a gleamingly clean oven in which I can proudly cook my Boeuf Bourguignon.
Less time cleaning = more fun and family time. Thank you Easy-Off!
"Beef bourguignon." Just the name conjures up the recollection of a gravy that's so rich and beef that's so tender it's almost scandalous. It's ironic that it was originally a dish for peasants because as amazing as it is you'd think it was the food of royalty. Boy, did they ever miss out!
This beef bourguignon is likely the richest stew you've ever had. It's simply incredible. As Julia Child put it, beef bourgignon is "certainly one of the most delicious beef dishes concocted by man." I couldn't agree more.
Let's get started!
Fry the bacon in a Dutch oven until done.  Remove the bacon with a slotted spoon and set aside.  Leave the bacon fat in the pot.  While the bacon is cooking, cut the meat into about 1 1/2 inch chunks.  You want the chunks big because they'll fall apart to some extent anyway from the long simmering.  Cut the meat against the grain as shown below.  This produces chunks that will be tender.  Over medium-high, let the pot get nice and hot, then add the beef, a few chunks at a time so as not to overcrowd.  Overcrowding will prevent the beef from browning, and that is absolutely KEY for flavor!  Generously brown on both sides.  Transfer the beef to a plate.

Add the chopped onions to the Dutch oven and saute until golden.  Add the garlic and cook for another minute.  Pour in the wine and bring to a boil for a minute.  Add the beef broth and deglaze the bottom of the pan, scraping up all the browned bits.  Add the seasonings (except for the black pepper), tomato paste, ground dried porcini mushrooms, and return the bacon and beef to the pot.  Close the lid and place on the middle rack of the oven preheated to 325 degrees F.  Bake for 2 1/2 hours.  You don't need to check on it, just let it bake undisturbed.
When the stew is nearly done, get started on the pearl onions, carrots and mushrooms.  You can find bags of pearl onions in the onion section of the produce aisle, usually in a basket next to the regular onions.  Here are a couple different ones I grabbed at my grocery store.  The ones on the left are smaller, the ones on the right larger.  Either will work fine, it just comes down to personal reference (ie, do you prefer large or small eyeballs in your stew? ;)
A trick to peeling these that I learned from Julia Child is to bring a small pot of water to a boil and dump in the onions.  Let them sit for 30 seconds then remove.  This way when you cut the ends of the onions, they'll slip right out of their skins!  Don't let them boil longer though or the outer layers of onion will come off with the skin.  Heat the butter in a medium skillet over medium-high heat and add the pear onions, carrots and mushrooms (not pictured).  Generously brown the veggies.  It's at this point that the onions develop those irises that make them look like – ugh – eyeballs.  But they taste oh so good, so don't leave them out whatever you do!

Carefully take the boeuf bourgignon out of the oven.  Be careful, it's hot!  Words cannot even describe how rich in flavor this is!  But hold on because we're not done yet!
Dump the stew into a strainer over a bowl to drain that rich sauce.  We're next to thicken it and enhance the flavor even more!  Now we're going to do something totally unconventional and that's to make a roux for the gravy.  Because as amazing as it already tastes, a roux is going to add additional depth of flavor that's going to knock your socks off!  Melt the butter in a medium saucepan over medium-high heat.  Whisk in the flour, whisking constantly until the roux becomes a dark caramel color.  Add the sauce you drained from the stew, increase the temperature, whisking until lightly thickened.  Add the black pepper.  Pour the gravy back into the stew along with the vegetables.  Close the lid and simmer on the stovetop for about 10 minutes to meld the flavors and soften the veggies.  You don't want them to be crunchy, but the carrots and onions need to remain a little firm to the bite.

Enjoy!
Boeuf Bourguignon
:
The Daring Gourmet, www.daringgourmet.com
Ingredients
6 ounces bacon, diced
3 pounds beef chuck or eye of round, cut into 1-inch or larger cubes
1 large yellow onion, chopped
2 cloves garlic, minced
3 cups burgundy or other quality dry red wine
2 cups beef broth
1 tablespoon tomato paste
1 tablespoon ground dried porcini mushrooms
1 teaspoon fresh chopped thyme leaves
2 bay leaves
¾ teaspoon salt
¼ teaspoon freshly ground black pepper
For the vegetables:
1 tablespoon butter plus 1 tablespoon oil for frying
6 ounces pearl onions, peeled (see pictures in blog post for tip on removing peels)
2 carrots, cut into 1-inch chunks
6 ounces small button mushrooms, brushed clean and stems removed
For the roux:
3 tablespoons butter
3 tablespoons all-purpose flour
Instructions
Preheat the oven to 325 degrees F.
Fry the bacon in a Dutch oven until done. Use a slotted spoon to transfer to bowl.
Working in batches add the beef, a few pieces at a time, browning generously on all sides. Transfer to the bacon and set aside.
Add the onions and cook over medium-high heat until golden, adding a little more oil if necessary. Add the garlic and saute for another minute.
Pour in the wine and bring to a rapid boil for one minute, deglazing the bottom of the pan (scraping up the browned bits). Add the beef broth, tomato paste, porcini mushrooms and seasonings. Return the beef and bacon to the Dutch oven. Cover and place on the middle rack of the oven. Bake for 2½ hours.
While the stew is cooking, prepare the vegetables: Heat the butter and oil in a frying pan over medium-high heat. Once hot add the pearl onions, mushrooms and carrots and brown. Set aside until ready to use.
Carefully remove the pot from the oven and pour the contents through a sieve, collecting the gravy in a bowl. Place the stew chunks back in the Dutch oven.
In a saucepan, melt the butter and then whisk in the flour. Whisk continually until the roux becomes a rich medium brown color. Pour in the gravy from the stew, whisking continually until the mixture lightly thickens and add the black pepper. Pour the gravy back into the Dutch oven along with the vegetables. On the stovetop, simmer for 10 minutes to allow the flavors to come together and to further soften the vegetables. They should not be crunchy but should still be slightly firm to the bite.
Add salt and pepper to taste.
Serve immediately.
Working with brands that I love makes the upkeep of The Daring Gourmet possible.  Thank you to EASY-OFF for sponsoring this post.  As always, all opinions are entirely my own.