If you're looking for an impressive main dish that is sophisticated yet easy to prepare, look no further than these Braised Lamb Shanks!  This tender and delicious lamb entreé is guaranteed to satisfy everyone at the dinner table and win you lots of praise!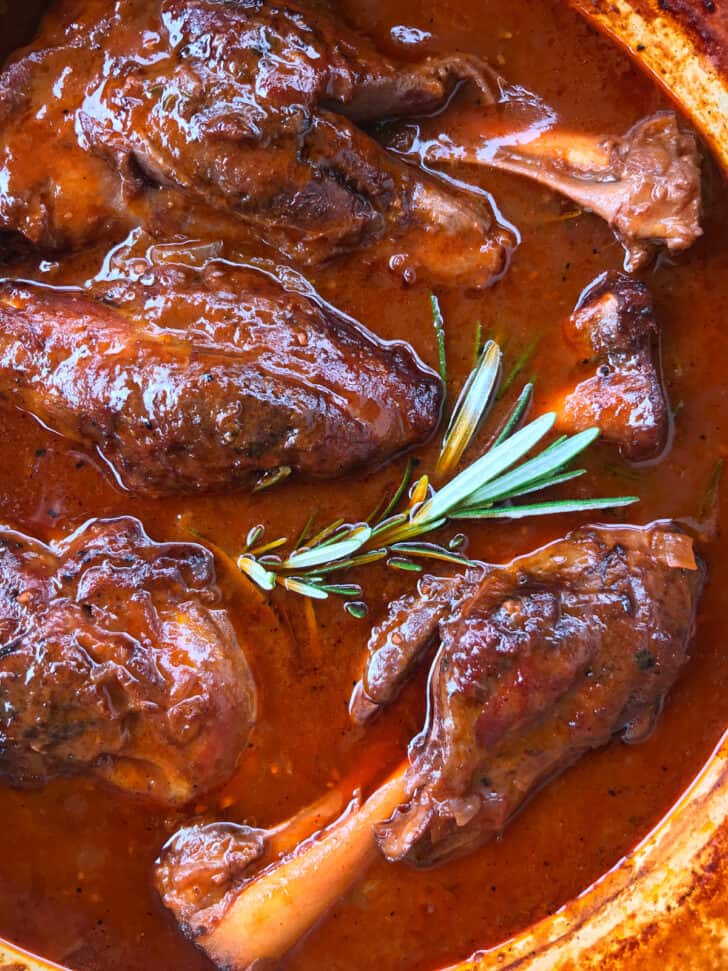 Whenever I see lamb shanks on a restaurant menu it's almost always a positive omen that the food is going to be good. After all, lamb shanks isn't just your run-of-the-mill entreé; it's something special.  I've prepared a braised lamb shanks recipe for you that's even better than the best I've had in the best restaurants.  It's easy to make and it just takes time to cook to yield that incredibly fork-tender meat and phenomenal flavor that comes from braising.  And oh, is it worth the wait!  You will absolutely wow your guests who will think that you spent all day in the kitchen.
Whether you're serving this lamb entreé at a dinner party, for an intimate at-home dinner date, or a weeknight dinner with the family, this recipe is for you.  When making this dish you'll feel like a trained chef!
While the ingredients list may seem a bit extensive, don't be tempted to leave any out as each ingredient is an integral part of the overall flavor.  Gather up the ingredients, get those lamb shanks simmering in the oven, and then sit back and wait for the magic to happen!
These braised lamb shanks make for a cozy and delectable dinner that's just hard to beat. The meat is nicely seared to maximize flavor and then cooked slowly, making it incredibly tender and practically falling off the bone. During the slow cooking process the lamb shanks also become very rich with the flavors of the mouthwatering homemade sauce.  It's a dish your dinner guests will  remember for a long time to come!
Tips for Making the Best Braised Lamb Shanks
Of all the ingredients, don't skip the ground porcini mushrooms! They are my secret to making the

best

flavored gravies, sauces, and stews. Why? They add a rich and earthy boost of umami. And don't worry – even people who don't like mushrooms won't discern a mushroom flavor! Porcini mushrooms just add that amazing umami element that enhances the overall flavor of the dish. 

When picking out which wine to use for this recipe, make sure it's a dry red wine that's full-bodied. I recommend using a cabernet sauvignon or pinot noir.  No need to use an expensive wine as the subtle notes will be lost in the other ingredients.  Instead choose something middle-of-the-road.  If you opt for a white wine, that's okay too – just note that your sauce will be much lighter in color and won't have quite the same robust depth of flavor.  Avoid any sweet wines as the lamb already has a sweet flavor.  Avoid "cooking wine" as it tastes very poor (often leaves a metallic taste as well), and contains preservatives, sweeteners, and salt.

You'll know the lamb shanks are done cooking when the meat is nearly falling off the bone. You don't want to rush the cooking process. Lamb shanks have a good amount of connective tissue, and you want that long, slow, cooking time to allow it to break down. If you try to rush the process, you won't have the desired tender texture, and that connective tissue will still be present. 
What to Serve With Braised Lamb Shanks
There are several different ways to serve this hearty, delicious lamb shank dinner.  You can keep it simple and traditional by serving the meat over mashed potatoes, or you venture a bit with some creamy polenta.  Alternatively you can serve it with rice, pasta, or, as a low carb alternative, some cauliflower rice or cauliflower mash.  Spiralized zucchini, sweet potato, or butternut squash work well too.  
For your other sides you'll want to keep them relatively simple so that they don't compete in flavor with the already robust and complex flavors of the lamb shanks.  Steamed or sautéed veggies and/or a leafy green salad are a great way to go.
For garnish, I always use a sprig of fresh herbs. It's like the fragrant bow on top of a beautiful, tasty present! 

Braised Lamb Shanks Recipe
Let's get started!
Preheat the oven to 325 F.
If using the gremolata, place the ingredients in a small bowl and stir to combine.  Cover and refrigerate until ready to use.
Sprinkle the lamb shanks with some salt and freshly ground black pepper.
Heat the oil in a cast iron Dutch oven or heavy oven-proof pot.  Generously brown the lamb shanks on all sides and transfer to a plate.  Remove all but 2 tablespoons of the oil.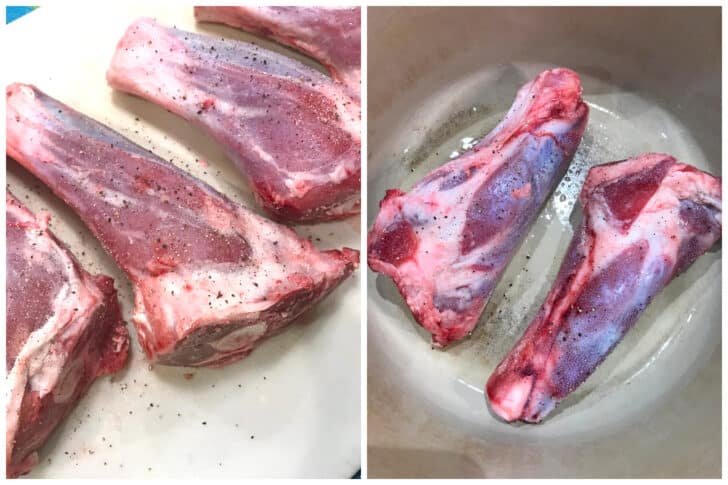 Saute the onions, carrots and garlic until softened, 6-8 minutes.
Stir in the ground porcini mushrooms.
Add the red wine, bring to a boil, and deglaze (scrape up any browned bits on the bottom of the pan).
Boil for 2 minutes.
Add the remaining ingredients except for the butter and gremolata and stir to combine.
You can use either quality chicken or beef broth.  Most experts agree that chicken broth has a stronger, bolder flavor than beef broth.  America's Test Kitchen analyzed this some years ago and concluded the same.  We're using our favorite chicken broth from Aneto.  Made in Barcelona, Spain from the highest quality ingredients, they don't use any powders, extracts, "flavor enhancers", additives or preservatives.  Their broth is strictly made with REAL ingredients:  Bone-in chicken, fresh vegetables, sea salt and olive oil that is slow-simmered for hours in huge pots.  We had the opportunity to tour their factory a few years ago and watch the entire process from start to finish.   It was such an inspiring experience!  You can read more about our Aneto tour factory HERE.
Aneto products are available in stores across the United States and on Amazon.
Bring it to a boil.
Cover with the lid and place the hot pot on the lowest rack in the preheated oven.
Bake for 2 ½ to 3 hours or  until the meat is very tender, turning the lamb shanks over halfway through.  Remove the cover during the last 30 minutes of cooking until the lamb shanks are nicely browned on top.  Remove the herbs and bay leaves.
Transfer the lamb shanks to a plate tented with foil and place in the warm oven with the oven door open.  Place the pot on the stovetop.  If needed use a slotted spoon to remove any herb sprigs/leaves. Bring the sauce to a boil and stir in 2 tablespoons of butter.  Simmer until thickened.  Add salt and pepper to taste.
Alternatively, to speed up the thickening time you can dissolve 2-3 tablespoons of cornstarch in 1/4 cup of water and then stir the slurry into the gravy.  Bring it to a simmer and stir for a couple of minutes until thickened.
Serve over mashed potatoes or creamy polenta (see above for other serving ideas) with some gravy spooned over and a little gremolata (if using) or a sprig of fresh herbs for garnish.
Enjoy!
Need more delicious meat-centered dinner ideas?  Be sure to try our: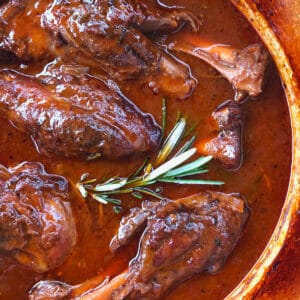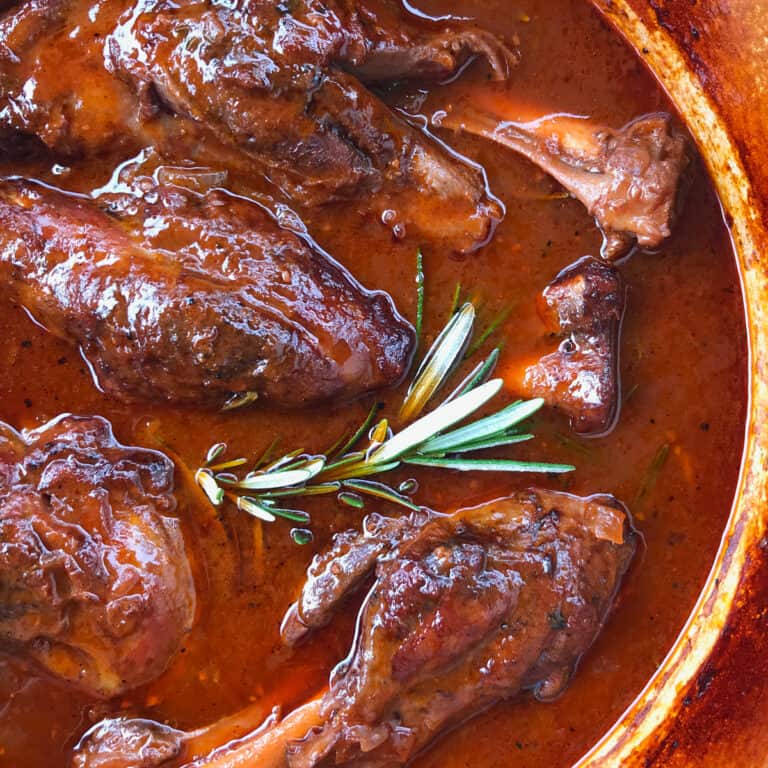 Braised Lamb Shanks
Easy to prepare yet superbly sophisticated and unforgettably delicious, these Braised Lamb Shanks will win you praises at the dinner table!
Ingredients
4-6

large lamb shanks

, depending on how if serving 4 or 6 people **sprinkle with some salt and freshly ground black pepper

2

tablespoons

oil

(I use avocado oil as a healthy oil with a high smoke point)

1

large yellow onion

, finely chopped

2

large carrots

, finely diced

6

cloves

garlic

, minced

2

cups

dry red wine

(e.g., cabernet sauvignon, pinot noir)

2

cups

quality chicken broth

(we use and recommend Aneto) **OR beef broth (see blog post) plus more as needed to immerse the lamb shanks

3

sprigs rosemary

(or 1 teaspoon dried rosemary)

6

sprigs thyme

(or 3/4 teaspoons dried thyme)

3

bay leaves

1

tablespoon

ground porcini mushrooms

*STRONGLY recommended for the BEST flavor (use a spice/coffee grinder, blender, or pound to grind them in a ziplock bag)

15

ounce

can plain tomato sauce or passata

2

tablespoons

concentrated tomato paste

1

teaspoon

salt

1/4

teaspoon

freshly ground black pepper

2

tablespoons

unsalted butter

Gremolata for Serving (optional)

zest of one lemon OR zest of one orange

(depending on flavor preference)

1/4 cup chopped fresh parsley

1

clove

garlic

, minced
Instructions
If using the gremolata, place the ingredients in a small bowl and stir to combine.  Cover and refrigerate until ready to use.

Tie the rosemary sprigs, thyme sprigs, and bay leaves together with some twine.

Preheat the oven to 325 F.

Sprinkle some salt and pepper over the lamb shanks.

Heat the oil in a cast iron Dutch oven or heavy oven-proof pot. Generously brown the lamb shanks on all sides and transfer to a plate. Remove all but 2 tablespoons of the oil.

Saute the onions, carrots and garlic until softened, 6-8 minutes. Stir in the ground porcini mushrooms. Add the red wine, bring to a boil, and deglaze (scrape up any browned bits on the bottom of the pan). Boil for 2 minutes. Add the remaining ingredients except for the butter and gremolata and stir to combine. Bring it to a boil. Cover with the lid and place the hot pot on the lowest rack in the preheated oven.

Bake for 2 ½ to 3 hours or until the meat is very tender, turning the lamb shanks over halfway through.  Remove the cover during the last 30minutes of cooking until the lamb shanks are nicely browned on top. Remove the herbs and bay leaves.

Transfer the lamb shanks to a plate tented with foil and place in the warm oven with the oven door open.  Place the pot on the stovetop.  If needed use a slotted spoon to remove any herb sprigs/leaves. Bring the sauce to a boil and stir in 2 tablespoons of butter.  Simmer until thickened. Add salt and pepper to taste.

Alternatively, to speed up the thickening time, you can dissolve 2-3 tablespoons of cornstarch in 1/4 cup of water and then stir the slurry into the gravy.  Bring it to a simmer and stir for a couple of minutes until thickened.

Serve over mashed potatoes or creamy polenta with some gravy spooned over and a little gremolata (if using) or a sprig of fresh herbs for garnish. (See blog post for more serving suggestions.)
Nutrition
Serving:
1
shank
|
Calories:
353
kcal
|
Carbohydrates:
15
g
|
Protein:
30
g
|
Fat:
13
g
|
Saturated Fat:
4
g
|
Trans Fat:
1
g
|
Cholesterol:
95
mg
|
Sodium:
847
mg
|
Potassium:
804
mg
|
Fiber:
3
g
|
Sugar:
6
g
|
Vitamin A:
3968
IU
|
Vitamin C:
12
mg
|
Calcium:
51
mg
|
Iron:
4
mg
Originally published on The Daring Gourmet February 16, 2021