Succulent sausages nestled on a bed of buttery mashed potatoes and drenched in a rich onion gravy, Bangers and Mash has been ranked as Great Britain's #1 most popular comfort food.   This bangers and mash recipe is the ONLY one you'll ever need!
Bangers and Mash
Having lived for 6 years in England I was able to tour around the UK and enjoy a lot of delicious home-style pub food.  We go back every year to visit and one of the meals we always make a point of ordering is Bangers and Mash.  For home-style comfort food it's really hard to beat those succulent savory sausages embedded in a pile of creamy mashed potatoes and drenched in a rich onion gravy.  We've already shown you how to make the best homemade bangers and the richest onion gravy and today we're going to put them together to create the BEST Bangers and Mash recipe that will make your taste buds sing!
What Is Bangers and Mash?
Bangers & Mash is a dish consisting of sausages served with mashed potatoes and onion gravy.  Also known as sausages and mash, it's a quintessential British dish that's served throughout Great Britain, traditionally in pubs, and a survey a few years ago ranked it as Britain's most popular comfort food.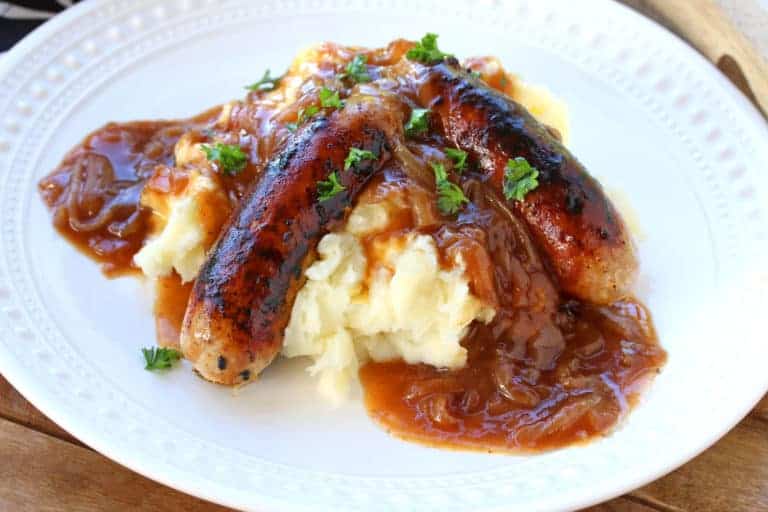 Where Did Bangers and Mash Originate?
Bangers is slang for sausages and can refer to any number of sausage varieties.  The term surfaced during WWI and became even more widespread during WWII when meat rations were low and sausages had to be made with other inexpensive fillers like rusk or breadcrumbs and a large ratio of water that would result in the sausages bursting with a "bang" when fried.  The term "bangers" stuck and has continued to be used since, specifically in conjunction with the dish known as "bangers and mash."
While the term "bangers" can refer to a variety of different sausages, in the homemade sausage-making world the term "bangers" has come to be associated with a particular blend of seasonings and key ingredients, including ground mace and breadcrumbs, giving them a unique flavor and texture.  That said, any number of sausage varieties can be and are served with bangers and mash including one known as Cumberland sausage.
How To Make Homemade Bangers
Whether you're a beginning or an expert sausage maker, making your own homemade British bangers is well worth the effort.
Check out our full picture tutorial on how to do it and get our Homemade British Bangers recipe!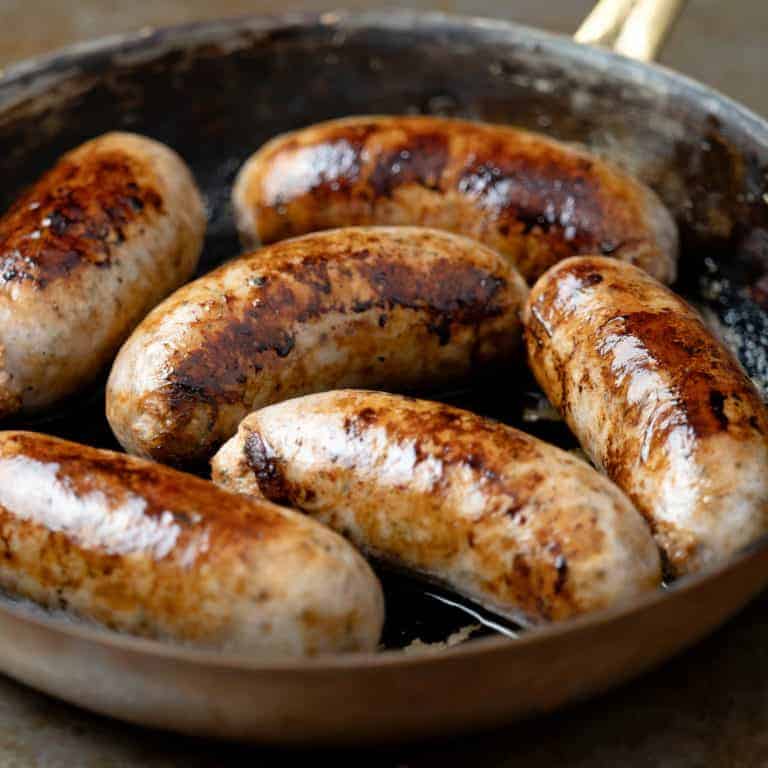 © Zkruger | Dreamstime
How To Make Onion Gravy
The other key ingredient in Bangers and Mash is onion gravy.  We've had bangers and mash in many a pub and restaurant throughout the UK and have experienced some truly excellent onion gravies as well as the very worst that tasted little more than salty brown water.  Here is a truly excellent, incredibly rich and flavorful onion gravy recipe that we're confident you're going to love and it will take your bangers & mash to the highest level possible!
Check out our recipe for the BEST Onion Gravy!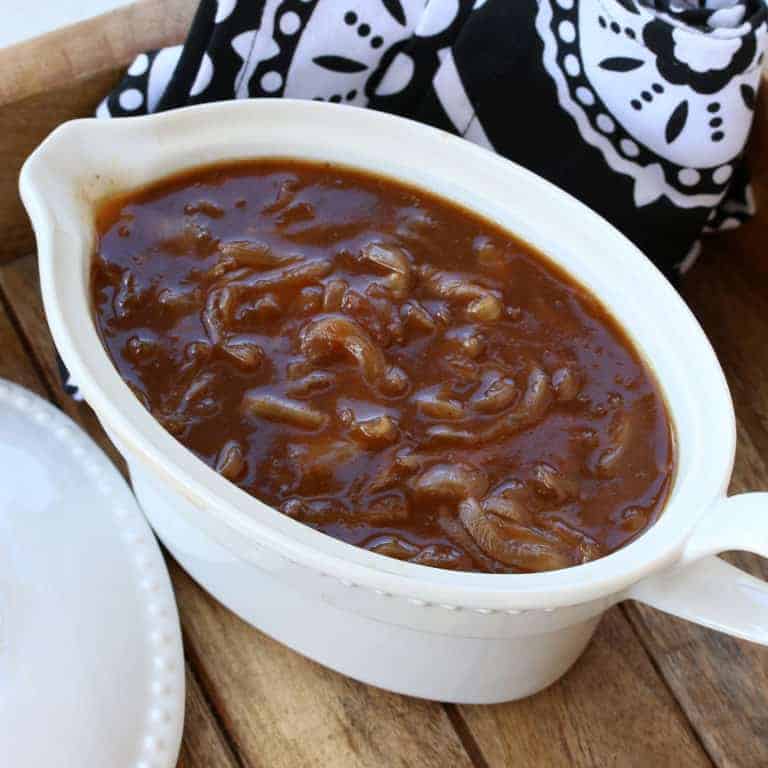 How To Make the Best Mashed Potatoes
The final ingredient you'll need to create your Bangers & Mash is the mash, or mashed potatoes.  Don't cut corners on this essential part of the dish because texture and flavor are key.  Below are some tips to help you achieve those perfect mashed potatoes.
What Kind of Potatoes Should I Use?
Different potatoes are best suited for different purposes.  For mashed potatoes that are soft, smooth, creamy and flavorful you'll want to choose a variety that is high in starch (floury/mealy), but not too high (more on that shortly).  High-starch potatoes will mash more easily and quickly which is important because the more you mash the potatoes the gummier in texture they will become.  The science behind that is that potatoes have starch cells that swell during boiling and when you mash them those starch cells rupture; the more cells that are ruptured, the gluier in texture the potatoes become.
However, if the potatoes are too high in starch they will absorb more water meaning less flavor and non-fluffy, water-logged texture.  While some people use russets for mashed potatoes, they have the highest starch content and are more ideal for baking than for mashing.
On the other side of the starch spectrum are the low-starch potato varieties (i.e., firm, waxy potatoes).  They hold their shape better after boiling and so require more mashing – this leads to overworked potatoes that too often result in a gluey, gummy potato paste.  So avoid low-starch/waxy potatoes.
For the best results, many chefs recommend using medium-starch potatoes such as Yukon Gold.  Not too high or low in starch, Yukons also have a great buttery flavor.  They have a uniform, dense flesh that is resistant to absorbing water and becoming grainy or mushy.  If you're still partial to russets, you can use half and half.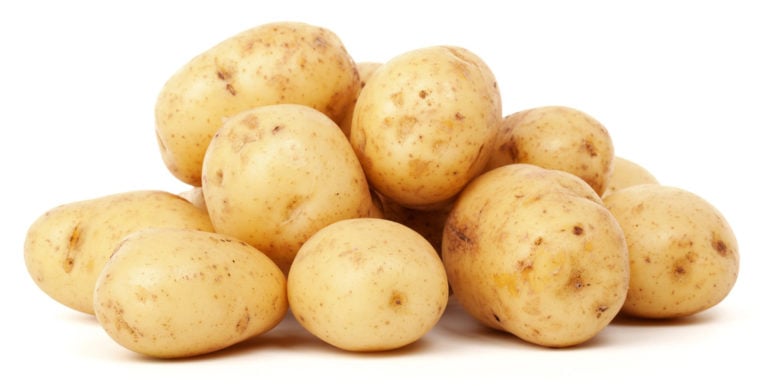 Tips for Achieving the Best Mashed Potatoes:
Choose the right variety of potato (see above).
Cut the potatoes into large pieces, not small.  Small pieces enabled more water to get into the potatoes negatively impacting both texture and flavor.  Another option is to boil the potatoes whole with their skins on and peel them while they're still hot.
Avoid overcooking the potatoes.  This is one of the most common mistakes.  The potatoes end up water-logged and sticky and won't fluff up properly.
Thoroughly drain the potatoes.  This is another common mistake and will have the same result as overcooking them.
Avoid over-mashing the potatoes (see above for explanation).
Mash the potatoes while they're still hot.
Mash your potatoes by hand.  Avoid using an electric mixer or food processor which too often results in overworked potatoes.
Add the butter first, then the milk.
Use hot milk, not cold.
Add the liquid gradually to give the potatoes time to absorb the liquid.
For the best possible texture pass the potatoes through a ricer or food mill before adding the butter and hot milk.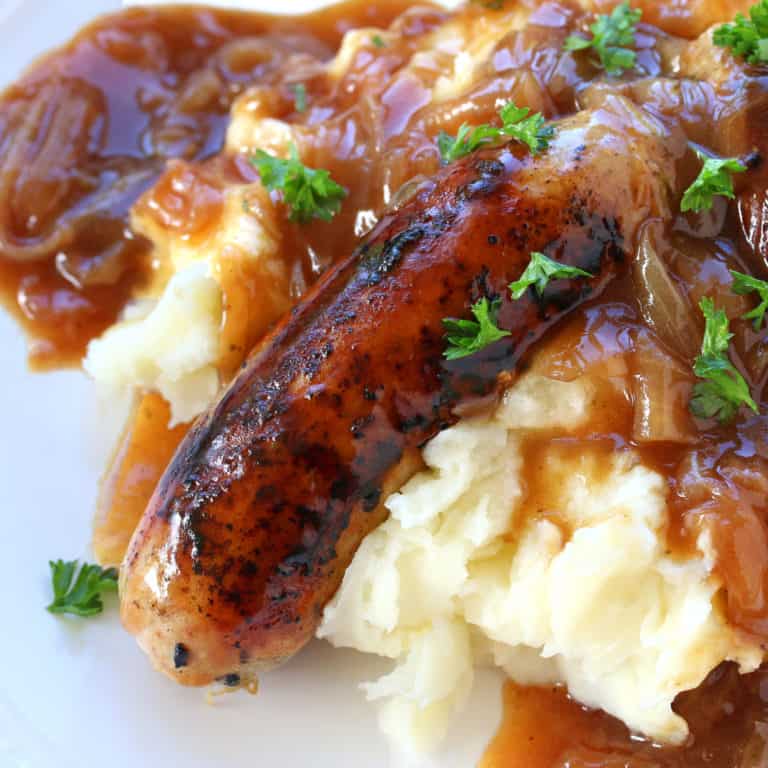 With your homemade bangers (or the best quality store-bought sausages you can find), your incredibly delicious homemade onion gravy, and your perfect mashed potatoes, you are ready to sit down to the BEST plate of Bangers and Mash EVER!
Enjoy!
For more authentic and delicious British dishes, be sure to try our:  
Ultimate Bangers and Mash
Succulent sausages on a bed of buttery mashed potatoes and drenched in a rich onion gravy, Bangers and Mash has been ranked as Great Britain's #1 most popular comfort food! 
Ingredients
8

high quality pork sausages

(pork is traditional but if you don't eat pork you can use chicken sausages, etc)

Homemade British Bangers Recipe

(highly recommended)

2

pounds

Yukon Gold or other medium-starch potato

, peeled and cut into large (2 inch) uniform chunks (or boiled whole in skins and peeled while hot)

1/2

teaspoon

salt

4

tablespoons

unsalted butter

3/4 to 1

cup

hot milk

(we recommend whole but you can use 2%)

1

batch

BEST Homemade Onion Gravy
Instructions
Preheat the oven to 400 degrees F.

To Make the Mash: Place the potatoes in a pot of water and add the salt. Bring to a boil, lower the heat to a steady simmer and cook for about 15-20 minutes or until they potatoes are just tender when pierced with a knife. Be careful not to over-boil them.

Thoroughly drain the potatoes and place them back in the empty pot set over very low heat just to maintain warmth. If using a ricer or food mill (this creates the most optimal texture), run the potatoes through it now while they're hot. If using a hand masher mash the potatoes while they're hot. (Avoid using an electric mixer or food processor. See blog post for explanation.) Mash the potatoes until fluffy and you've reached the desired degree of smoothness. Be careful not to over-mash or the potatoes will become gluey.

Use a spoon to stir in the butter. Once melted stir in the hot milk gradually, allowing time for the potatoes to absorb the liquid after each addition. Add more hot milk as needed to achieve desired consistency. Season with salt and pepper to taste.

To Prepare the Sausages: While the potatoes are boiling place the sausages in a baking dish with a little oil and roast the sausages for about 10 minutes on each side or until nicely browned. (Alternatively you can fry the sausages but baking them creates an especially nice crispy outer shell with a juicy interior.) For sausage-making enthusiasts we highly recommend our Homemade British Bangers.

To serve, place a mound of mashed potatoes on each plate, lay the sausages on the mashed potatoes and top with onion gravy. Peas are a traditional side.
Nutrition
Serving:
2
sausages with mash and gravy
|
Calories:
891
kcal
|
Carbohydrates:
43
g
|
Protein:
45
g
|
Fat:
58
g
|
Saturated Fat:
41
g
|
Cholesterol:
197
mg
|
Sodium:
1771
mg
|
Potassium:
1557
mg
|
Fiber:
9
g
|
Sugar:
9
g
|
Vitamin A:
1321
IU
|
Vitamin C:
36
mg
|
Calcium:
174
mg
|
Iron:
12
mg