This post contains affiliate links.
A quintessential British dessert, Spotted Dick represents everything that is delicious about traditional English cooking.  Tender steamed pudding dotted with succulent black currants is drizzled with a luxuriously rich and creamy vanilla custard.  It's heaven!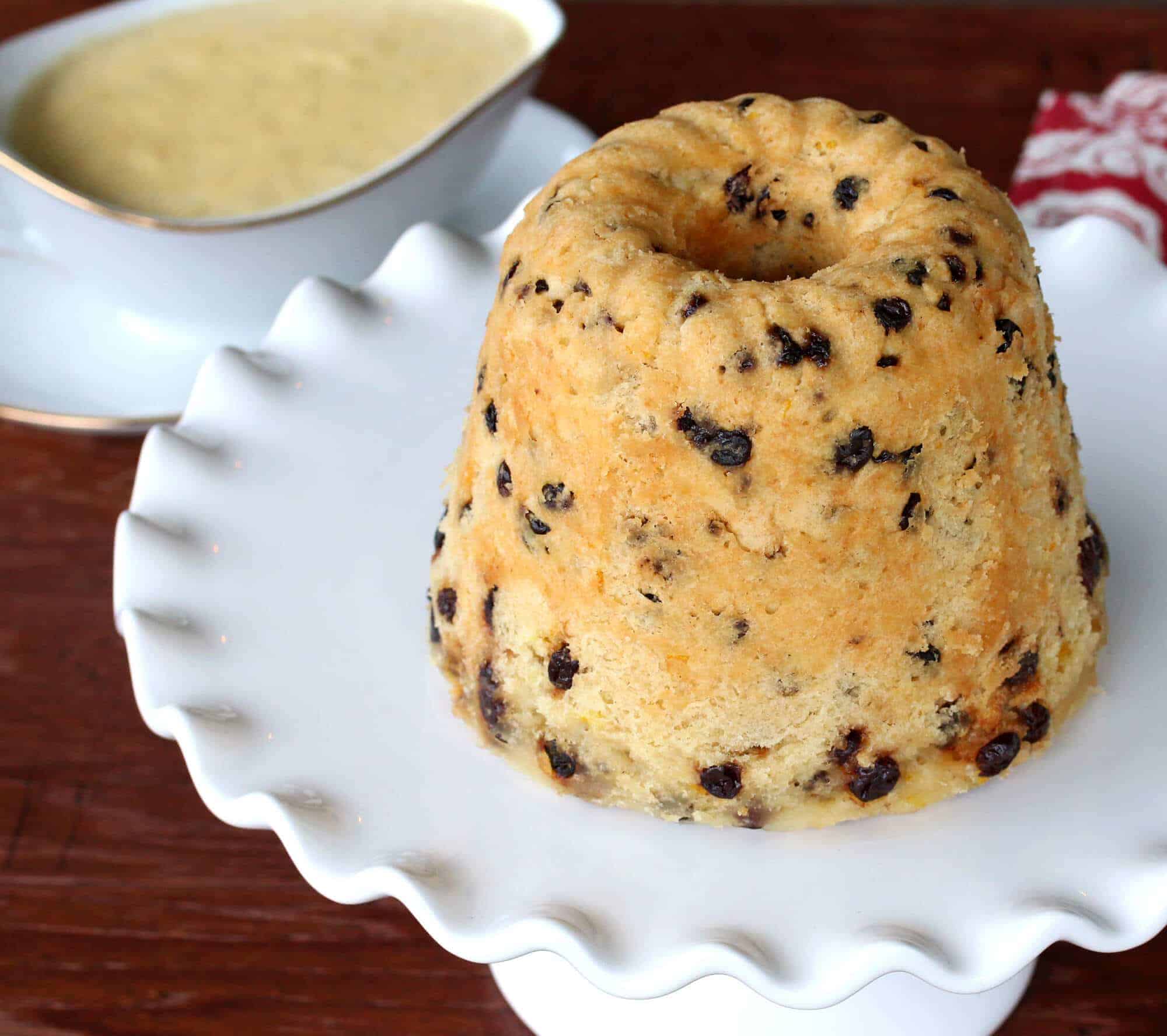 "Spotted what?"  I hear you.  That's the most common question from the snickering lips of Americans the first time they hear the name of this legendary British dessert, Spotted Dick.  I was among that giggling crowd when I first moved to England for a 7-year stint, being quite naive to British terminology beyond what I had picked up from my favorite older British sitcoms (e.g., Fawlty Towers, Black Adder, Monte Python, etc).  And what's interesting is that despite its immense popularity over the course of at least two centuries, time seems to have lost the origins of its quirky name.
What is the Origin of Spotted Dick?
While "spotted" seems simple enough (i.e., the "spots" throughout the pudding from the dried currants), "dick" is the more puzzling of the two terms.  Was it referring to the nickname of someone named Richard?  Some have wondered if comes from an old English corruption of the word pudding to "puddick."  But who knows?  The mystery of Spotted Dick goes on.
The first known recorded recipe of Spotted Dick is found in the mid-19th century cookbook, The Modern Housewife or Ménagère, by Alexis Soyer, one of Britain's first celebrity chefs who seems to imply that the pudding had already been around for some time.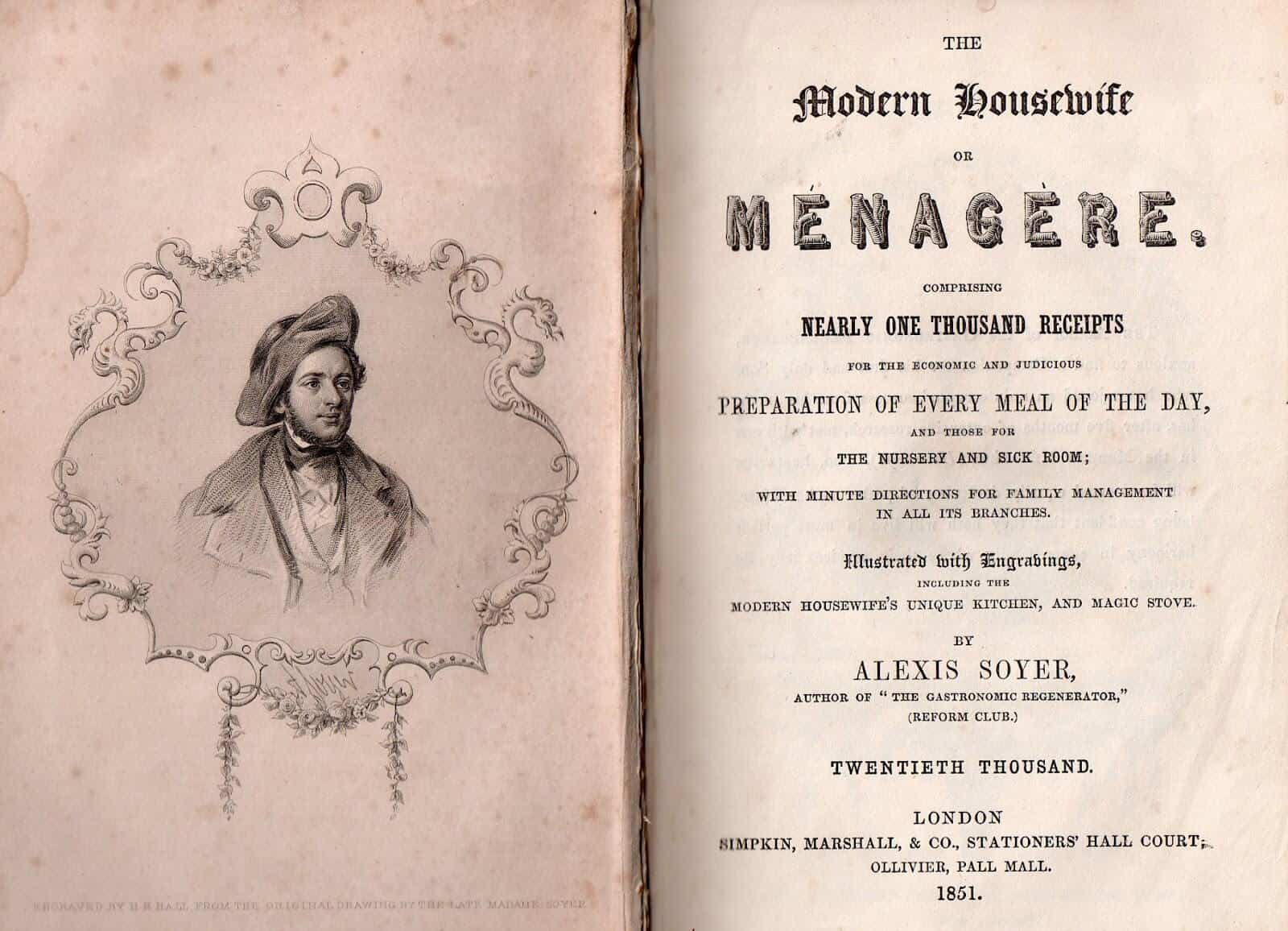 In any case, Spotted Dick has remained high in popularity over the centuries to the extent that you can find if in tin cans, manufactured by Heinz, in every British grocery store.  That was my first exposure to the stuff.  I still remember going into a grocery store in England and picking up a can of Spotted Dick on the shelf and thinking "what IS this??" as I showed it to my mom and we both started giggling like school girls.
For my British friends who are wondering what the fuss is all about, you'll have to Google the name for its anatomical reference to see what Americans find so amusing about it.  To tell you myself would make me blush ;)
But to continue, I've never been able to get excited about the canned stuff, but homemade?  That's an entirely different story.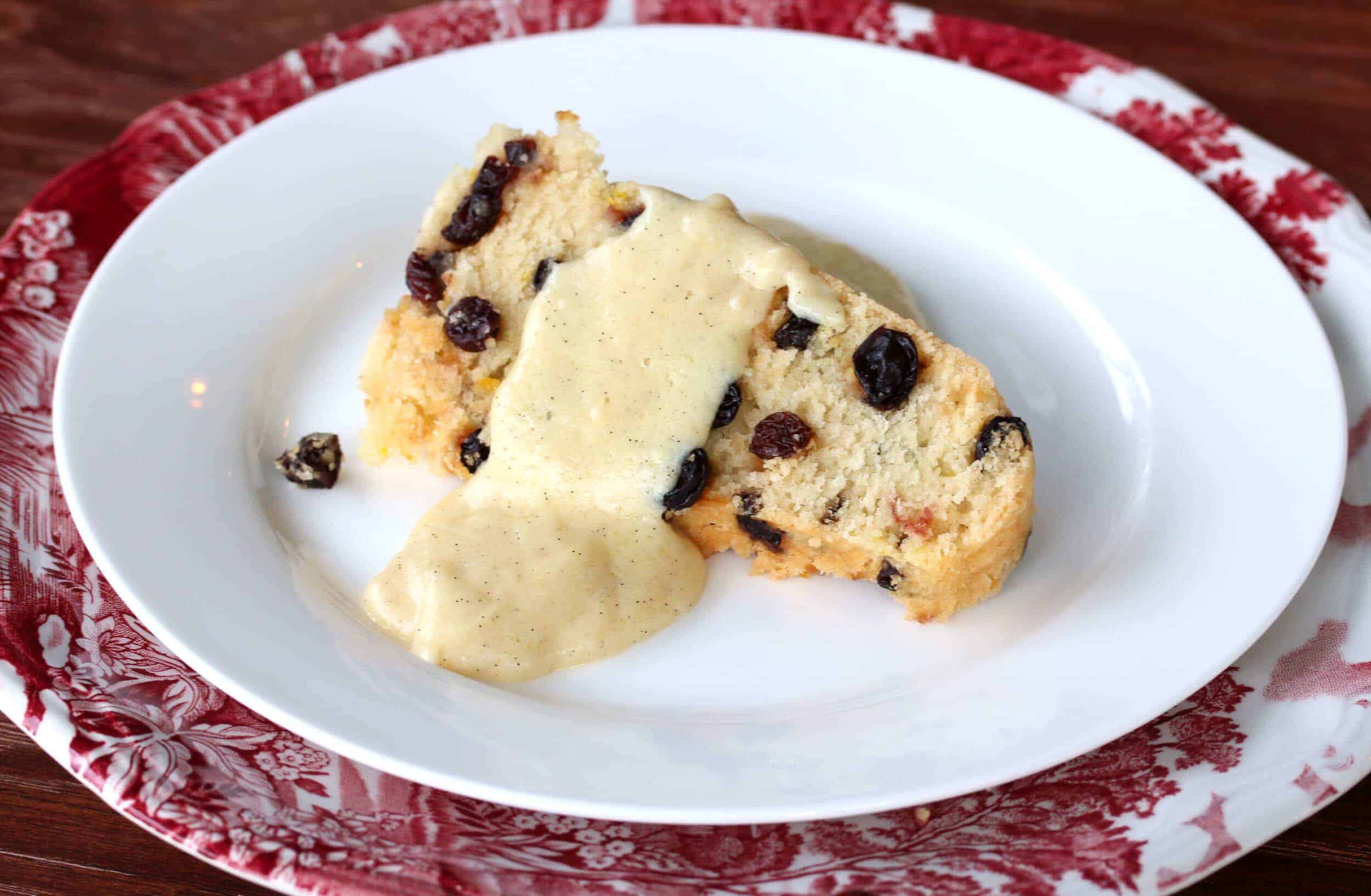 Spotted Dick is just one of many great traditional British dishes I was introduced to during the nearly 7 years I lived in England after moving there from Germany.  Those were among the best years of my life and I will always consider the UK my second home.  My husband also spent two years in England and Wales long before we met.  He loves the UK as much as I do and we have both traced our ancestry far back to medieval times; my husband to Cornwall and mine, well, all over the British Isles.
There are many places throughout the UK that we consider favorites.  Below are two of my favorite villages in England's Cotswold region.
Castle Combe, in Wiltshire on the southern-most edge of the Cotswolds, has often been named as the 'prettiest village in England.'  Originally it was a British hill fort which became occupied by the Romans and later the Normans because of its strategic proximity to The Fosse Way.  During the Middle Ages it became an important center for the wool industry and in more recent years has been a popular tourist site and setting for numerous films, including the original Dr. Doolittle with Rex Harrison, a Spielberg film, and more recently Downton Abbey (forgive me, but we've just never able to get "into" it.  Yes, order up the beheading).
The buildings are several centuries old and listed as ancient monuments.  Their stone construction with thick walls and roofs made from spit natural stone tiles are all typical of Cotswold architecture.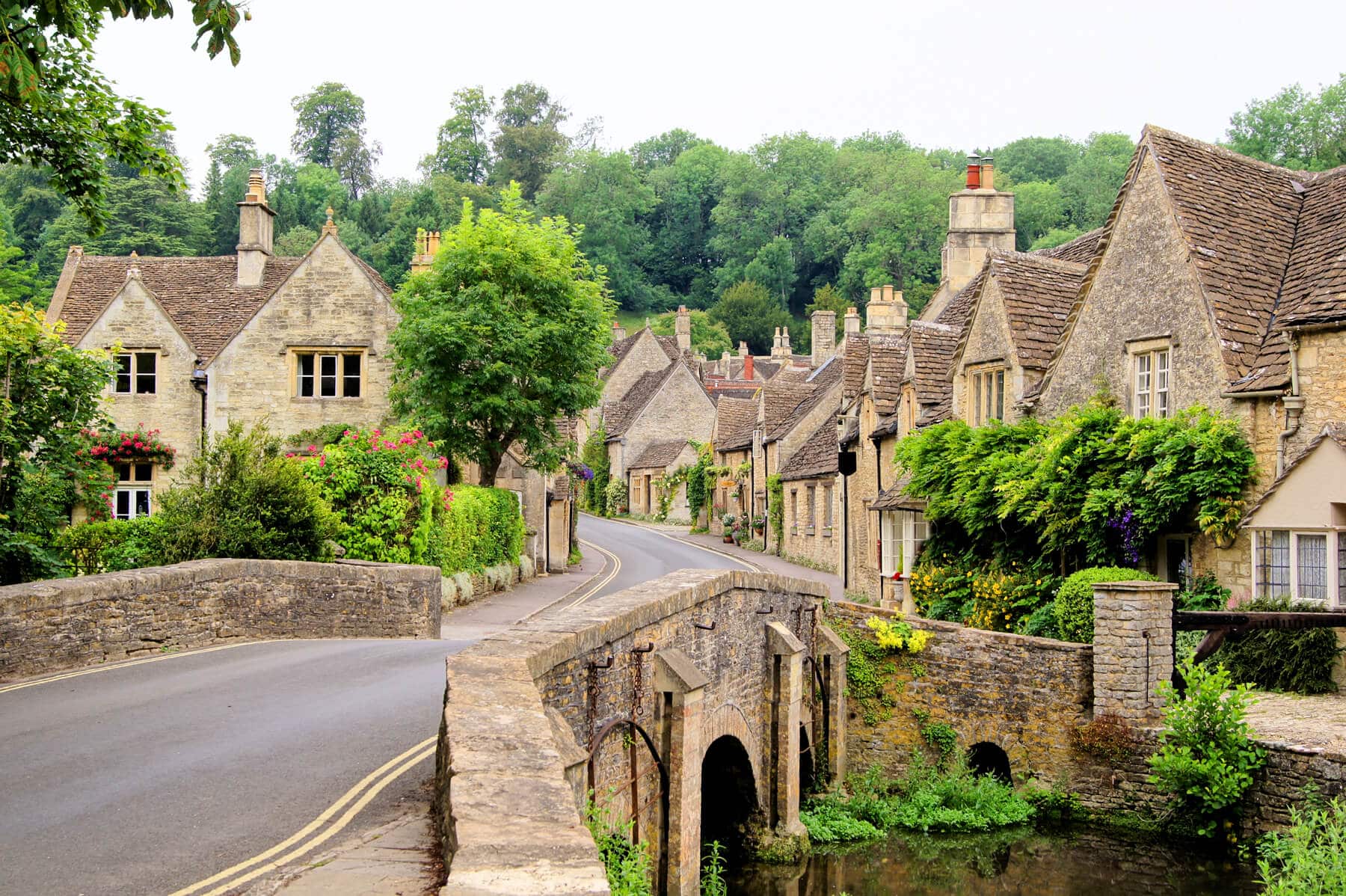 Bibury is another village situated in the Cotswolds and many consider it the most picturesque.  It's located in the Gloucestershire region of the Cotswolds and has also been referred to as "the most beautiful village in England" as well as one of the most charming towns in Europe.
Arlington Row (below), with its cottages dating to the 1300's, is one of the most photographed scenes in the Cotswolds.  Bibury is also home to the world's first horse racing club, The Bibury Club, formed in 1681.
A popular tourist attraction and setting for several films (including Stardust and Bridget Jones' Diary), it was also a favorite spot of Henry Ford.  On one of his trips to the Cotswolds he attempted to buy the entire row of houses in Arlington Row and have them shipped back to Michigan to be reassembled there in Greenfield Village.  Thank goodness the English said "NO."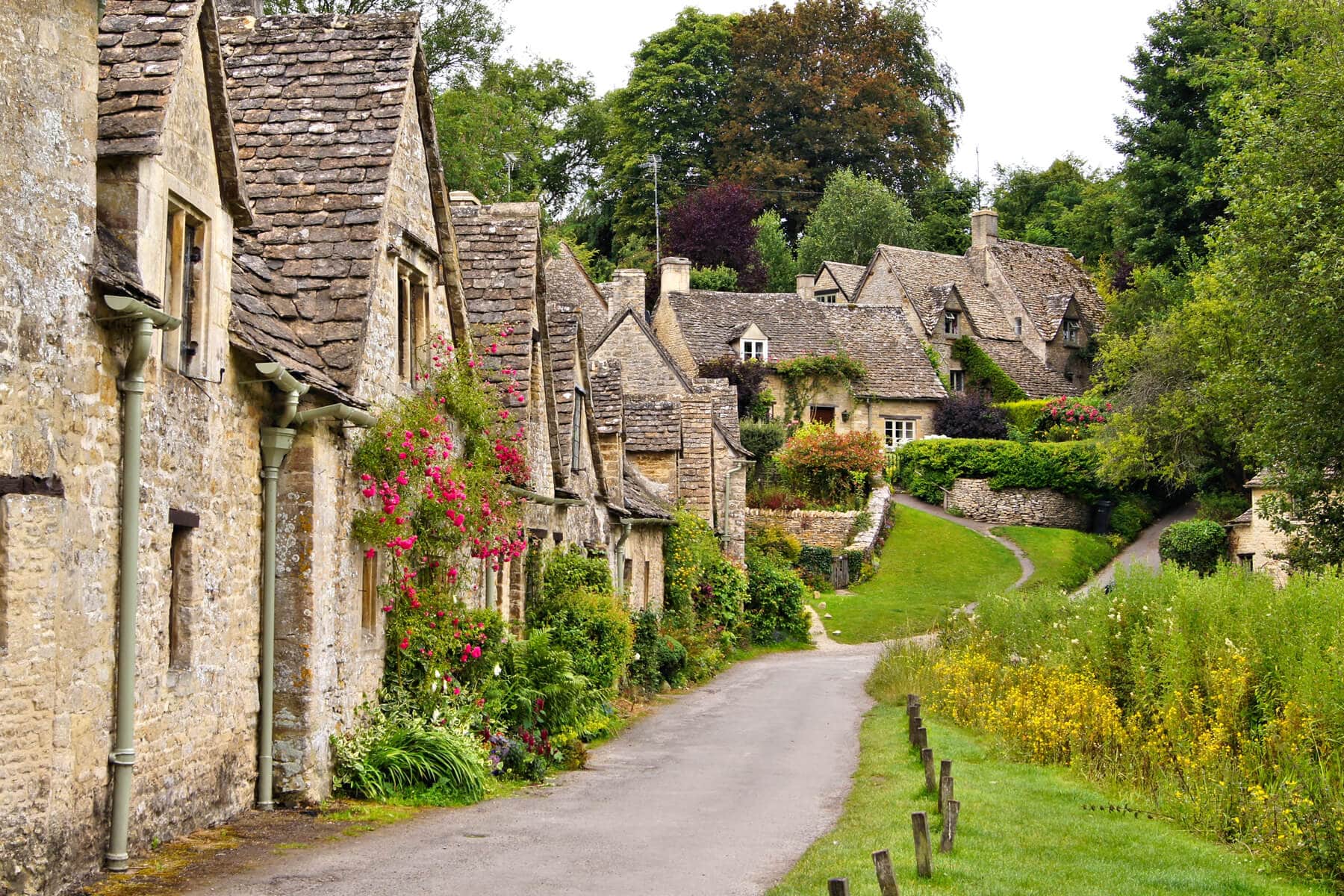 It's a charming notion to imagine the residents of Castle Combe and Bibury during the Victorian Age sitting down at the table behind these vintage stone walls enjoying a plate of Spotted Dick drizzled with custard sauce at the end of their meal.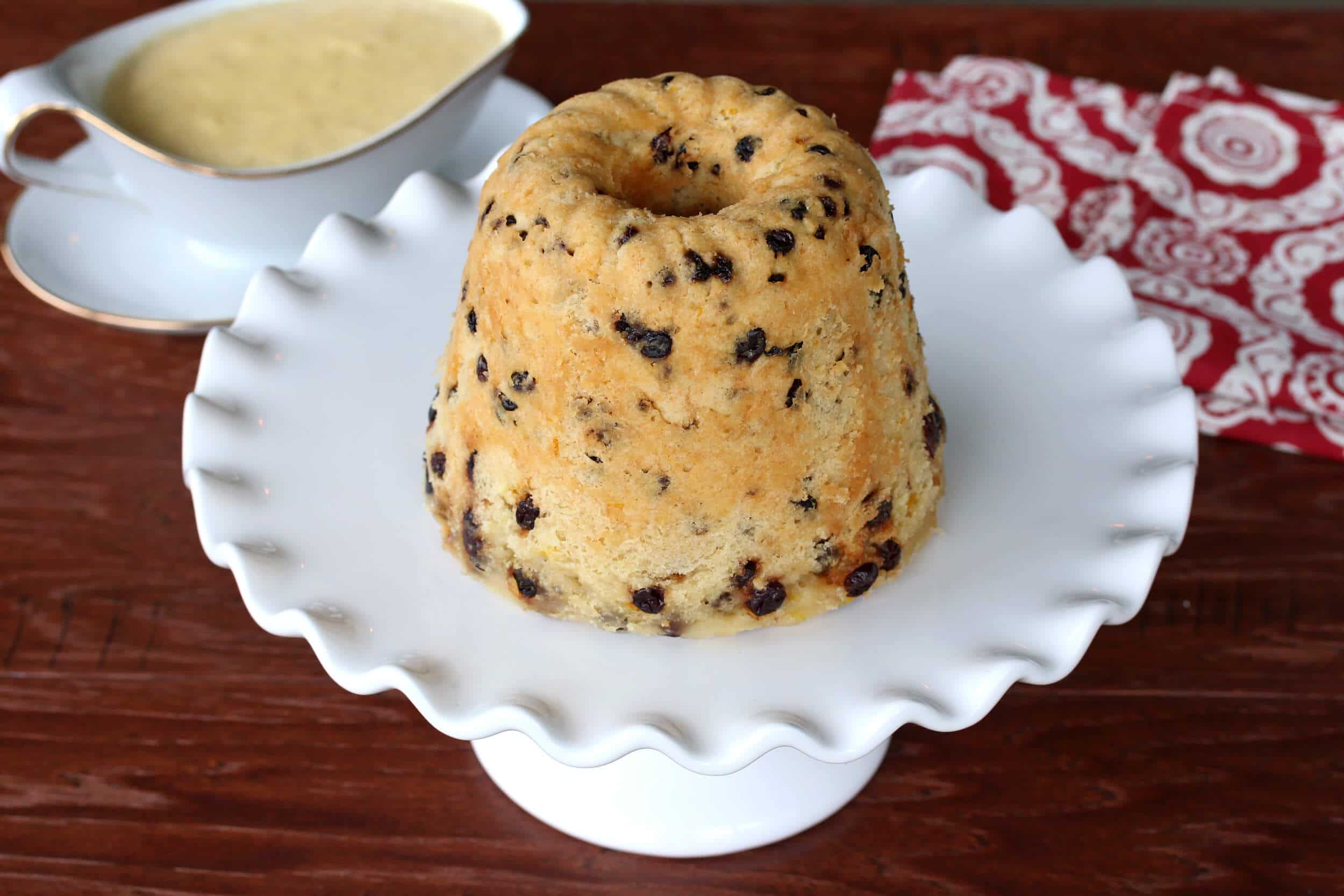 Spotted Dick is very, very easy to make and if you've never had a steamed pudding before you will be especially tickled to give this a try.   Not overly sweet, the sweetness comes mostly from the currants and the custard sauce, which is an absolute must.  If you try serving Spotted Dick without the custard sauce the Dickensian police of Victorian England will parade into a time machine and come clobber you over the head with a wooden billy club.
Two Essential Ingredients for Making Proper Spotted Dick
Before we get started I want to say two things about caster sugar, which is the form of sugar traditionally called for in Spotted Dick and most British baking.  While very popular in the UK it's virtually unheard of here in the U.S..  And while it can be found in some gourmet specialty shops it's very expensive, which is silly because all it is is finely ground granulated sugar.  You can make it yourself simply by grinding regular granulated sugar in a coffee or spice grinder for a few seconds.
The other thing I want to point out is that while caster sugar is the best sugar to use for baked goods that don't bake long and especially for delicate items like meringues, it isn't required for steamed puddings like Spotted Dick.  A primary reason for using caster sugar in the items I just mentioned above is that caster sugar, being so finely ground, dissolves more quickly and you don't end up with a gritty texture.   However, after steaming this pudding for 90 minutes the sugar will be completely dissolved.  So it's your choice whether to use caster or regular sugar.
I also want to talk about shredded beef suet.  Every traditional recipe for Spotted Dick calls for it as do many other British pastries and pies, resulting in a superior texture.  One of my husband's favorite things are Cornish Pasties and for the crust there really is no better choice than beef suet.   It can be difficult if not near impossible to find in many areas outside of Britain and in more modern times many people are replacing suet with butter anyway.  Butter works just fine but the beef suet will result in a moister texture.  If however you want to make Spotted Dick the traditional way, give shredded beef suet a try.  The brand below, Atora Shredded Beef Suet, has been around since 1893, a household name for over a century.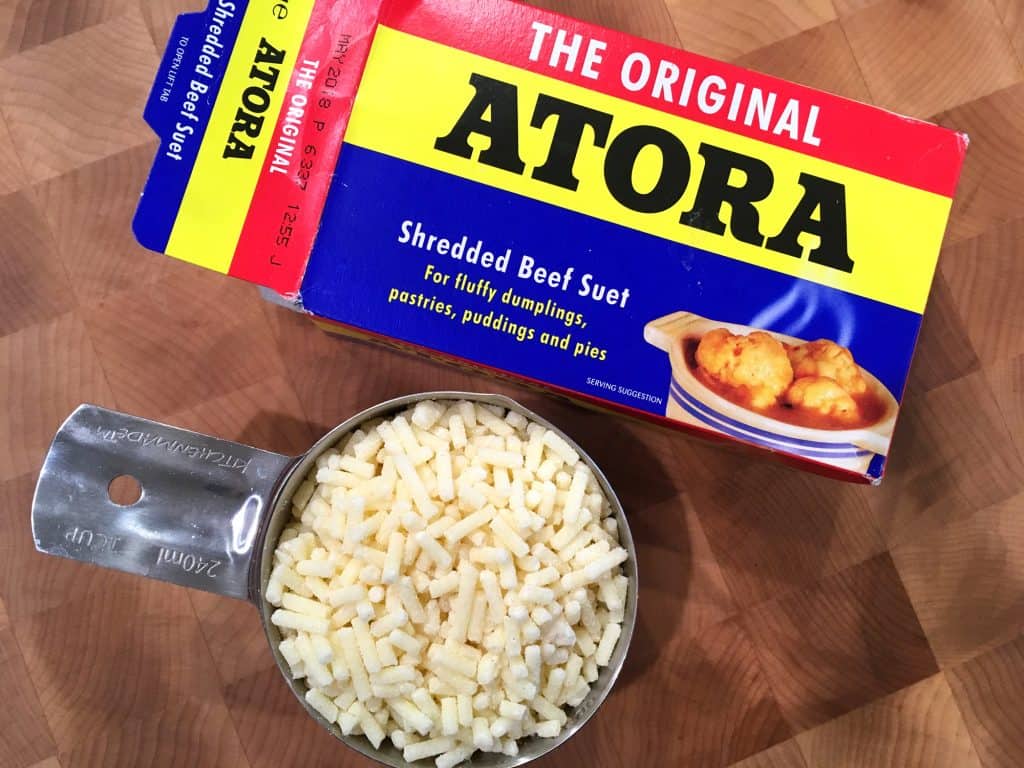 Let's get started with our authentic Spotted Dick!
Place the flour, baking soda, salt and beef suet or butter in a food processor and pulse until the mixture resembles coarse sand. Transfer the mixture to a large mixing bowl.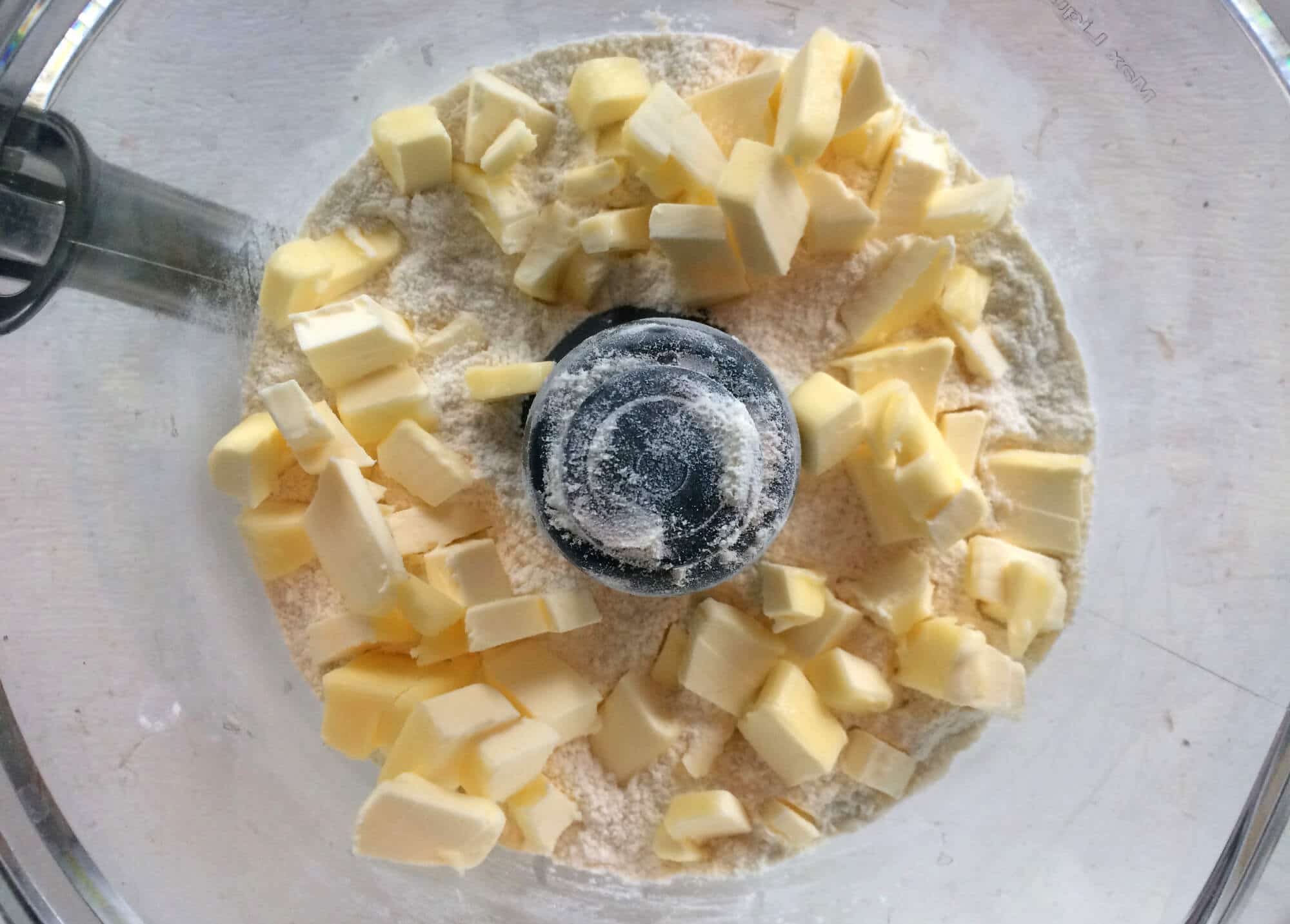 Add the milk, lemon zest, vanilla extract and currants and stir until combined.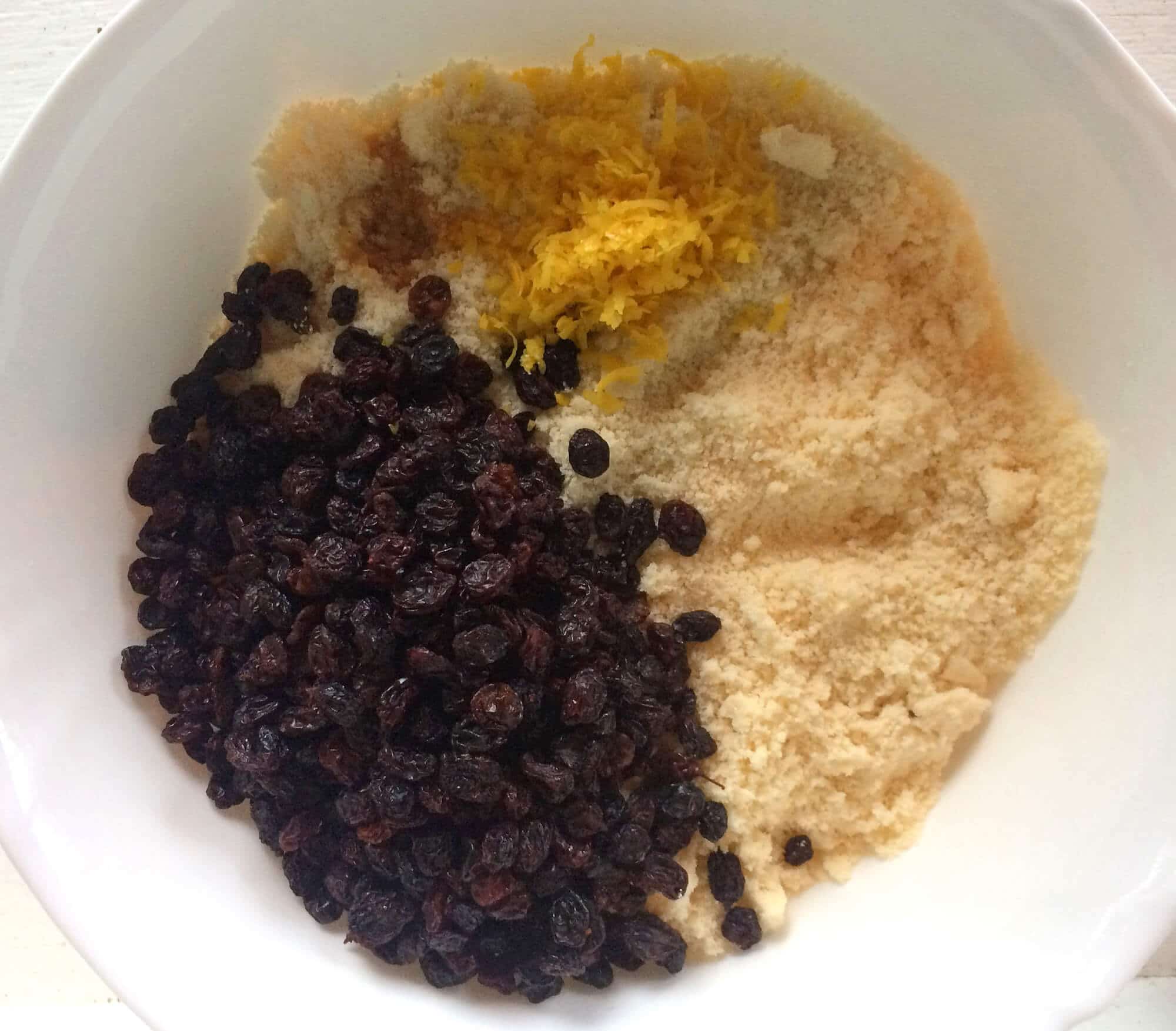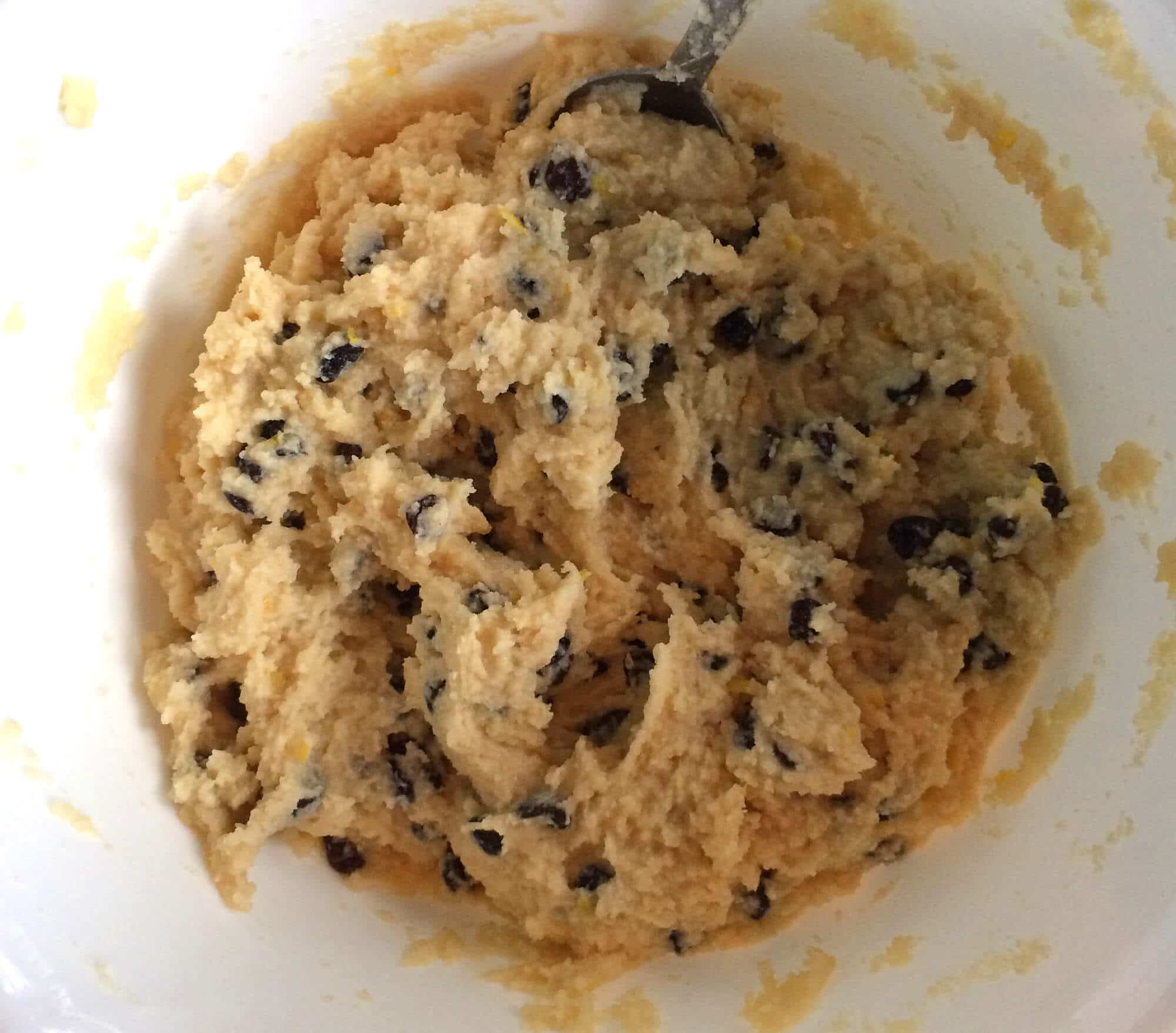 Spoon the batter into a generously greased pudding mold.
I'm using one of 4 pudding molds I own.  The one in the picture holds a quart (about one liter) but most of my other ones are larger, and that's fine, too.  The smallest pudding mold (1.5 liters) with the best reviews I've found on Amazon is this one.  A great place to find pudding molds is in thrift shops.  I found two of mine at Goodwill.  The other two I brought with me from Europe.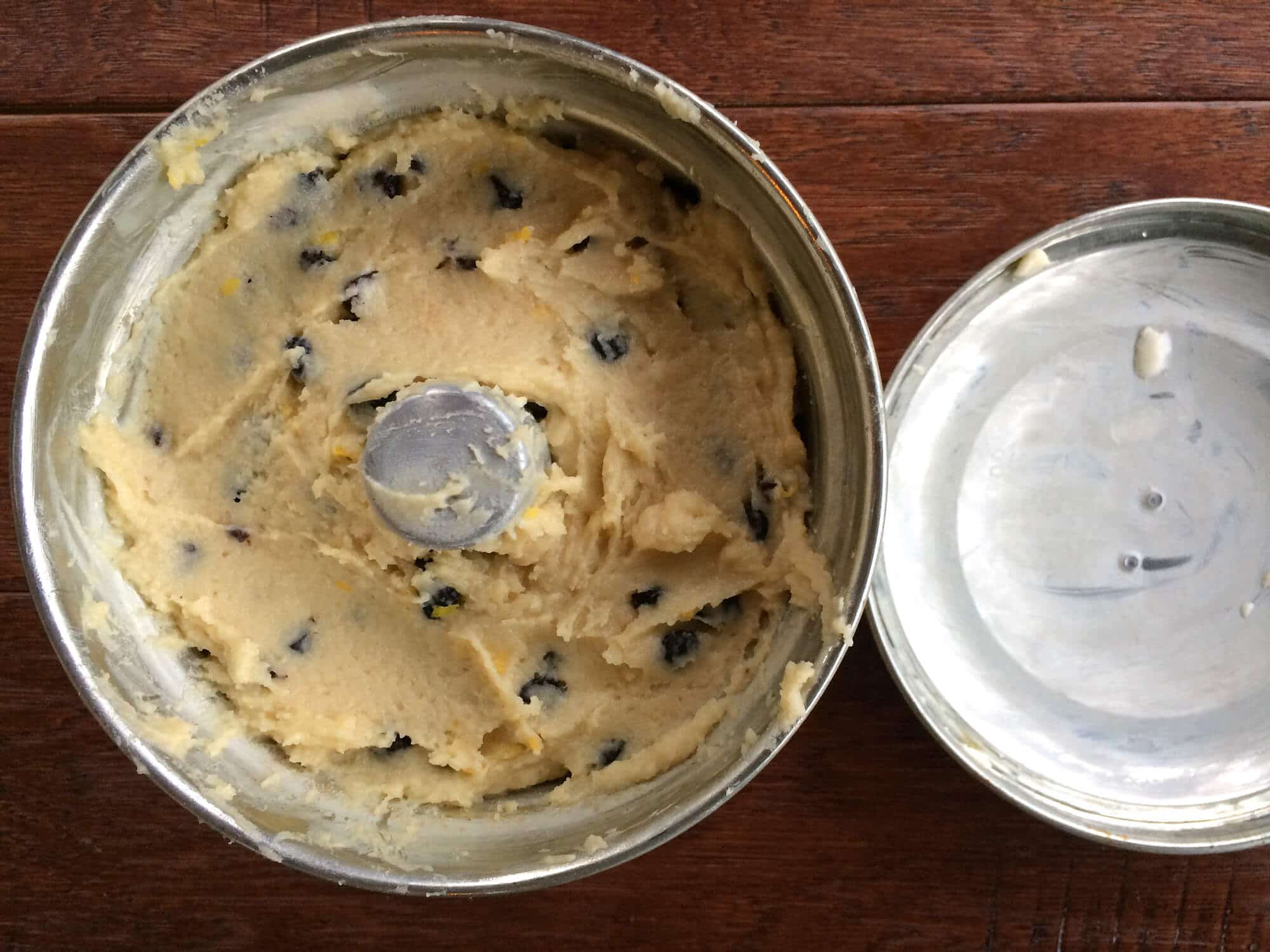 Place metal cookie cutters, a folded dish towel or crumpled tin foil on the bottom of the stock pot.  The pudding mold cannot come in contact with the bottom of the pot or it will scorch the pudding.
Lower the pudding mold into the boiling water so that the water comes up to the halfway point of the mold.  You'll likely need to weight the pudding mold down with something heavy to keep it from bobbing up and down in the water.  I use a plate and then put something heavy on top of it, like another bowl.
Cover the stock pot, reduce the heat to a simmer and simmer undisturbed for 1 1/2 hours.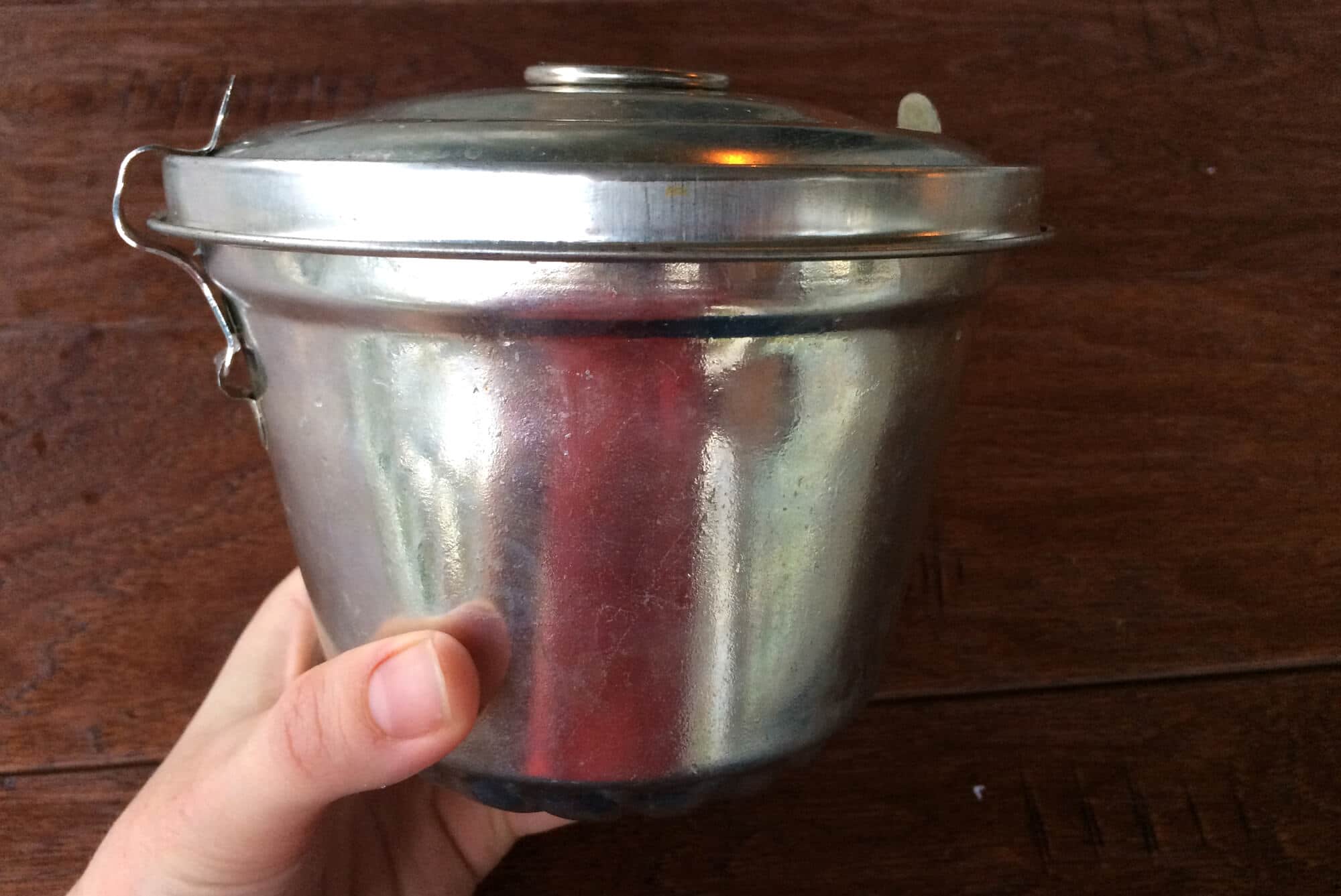 Remove the pudding mold from the water bath and let it rest for 15 minutes.  Invert the pudding onto a plate.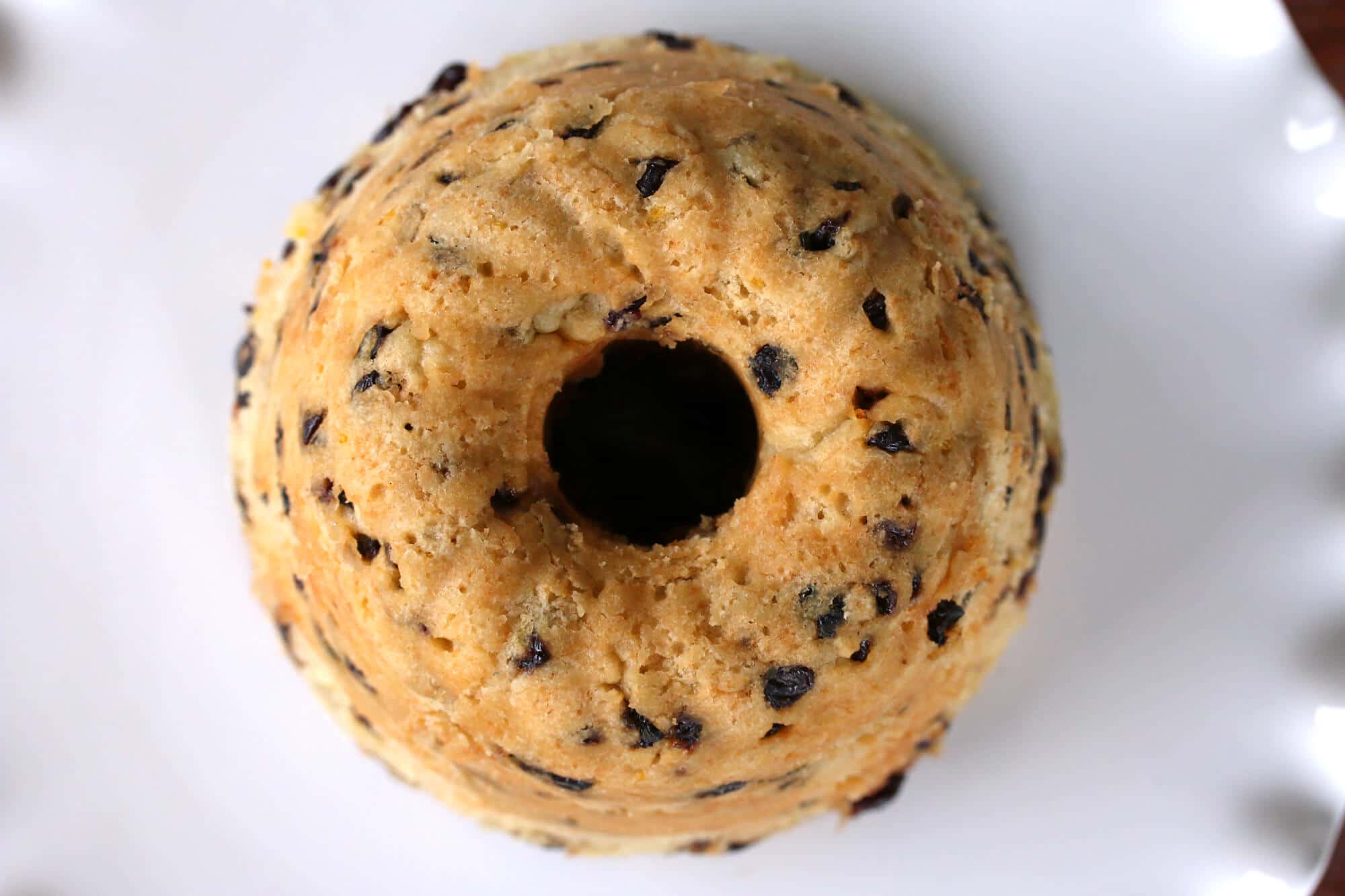 Cut the pudding into wedges.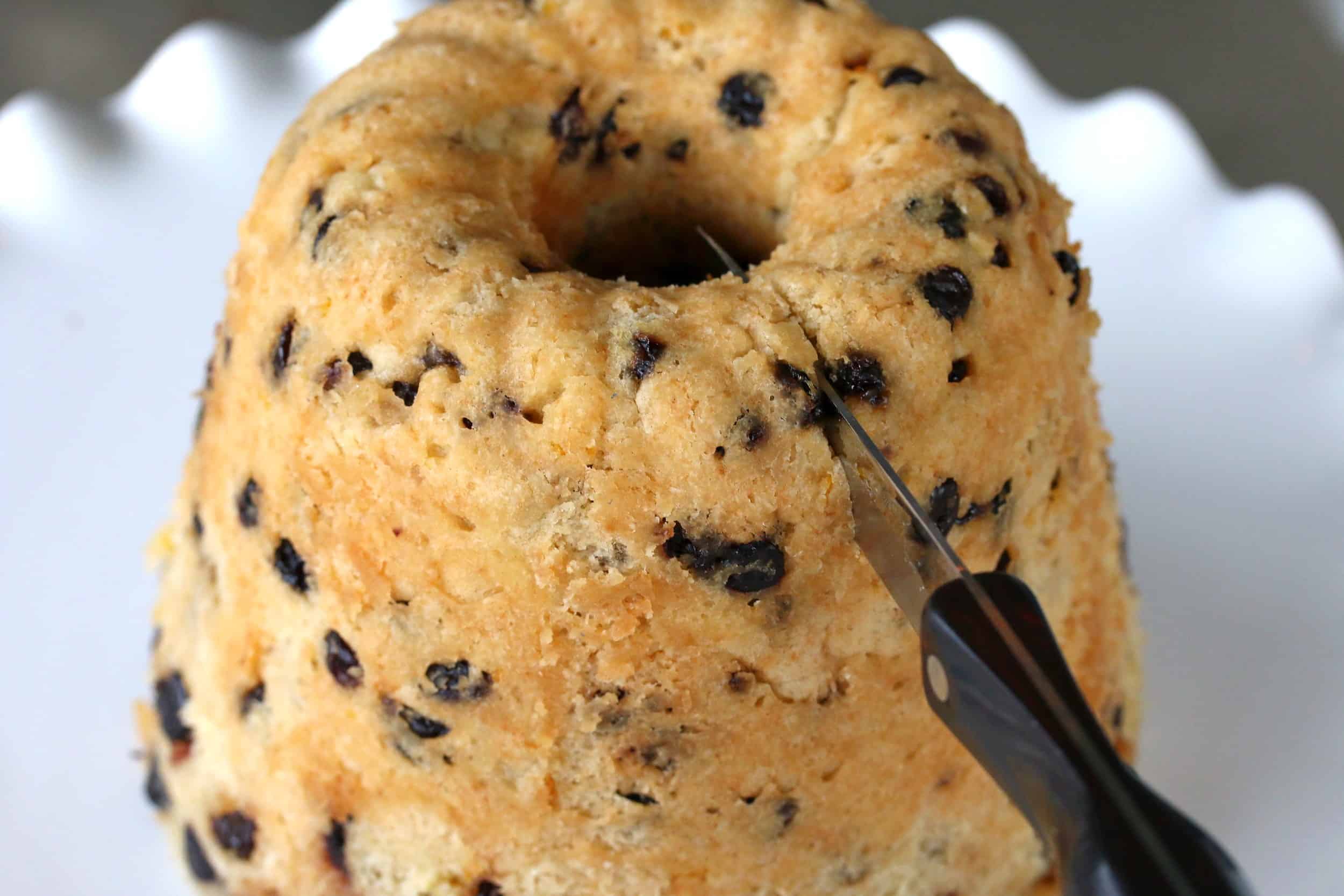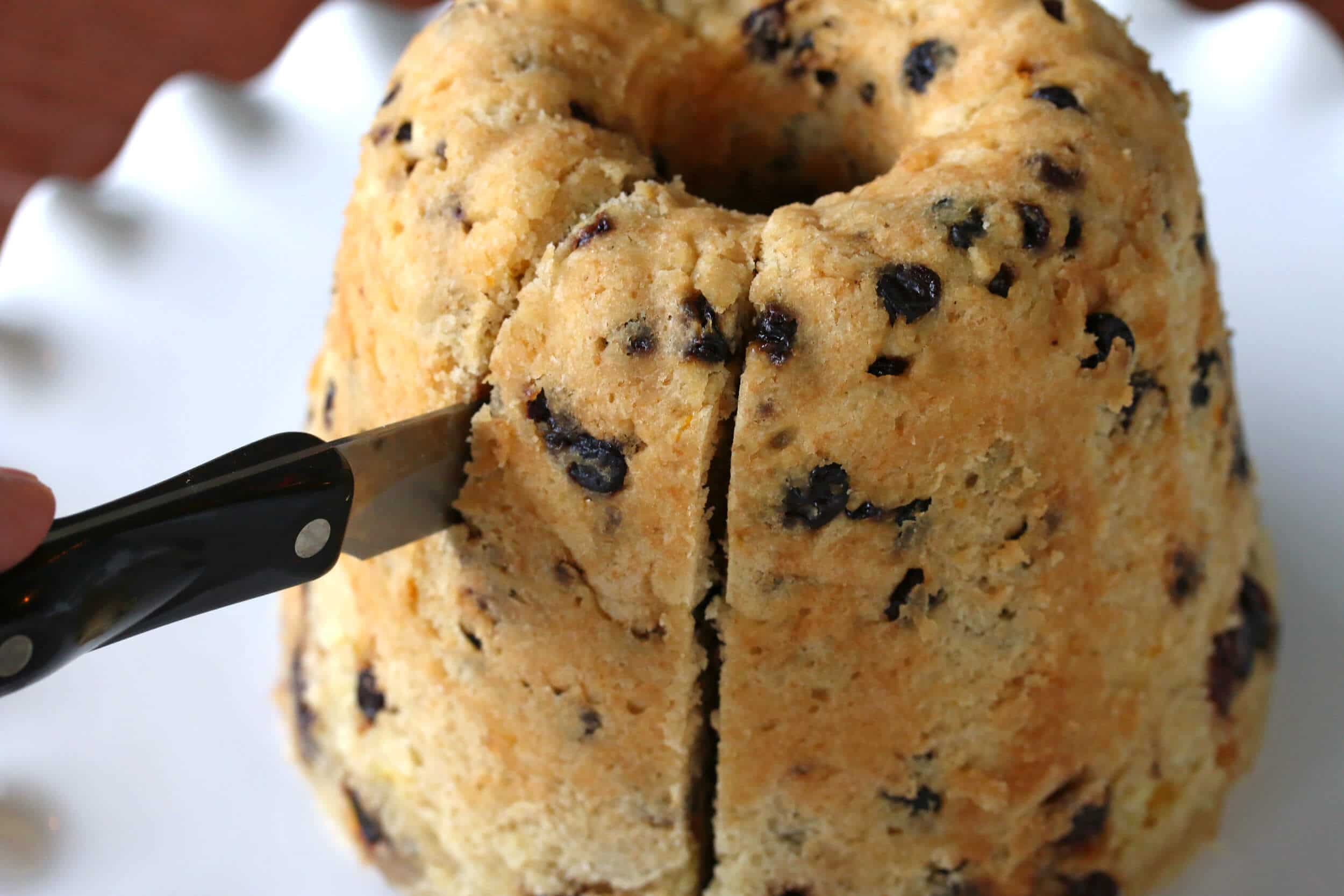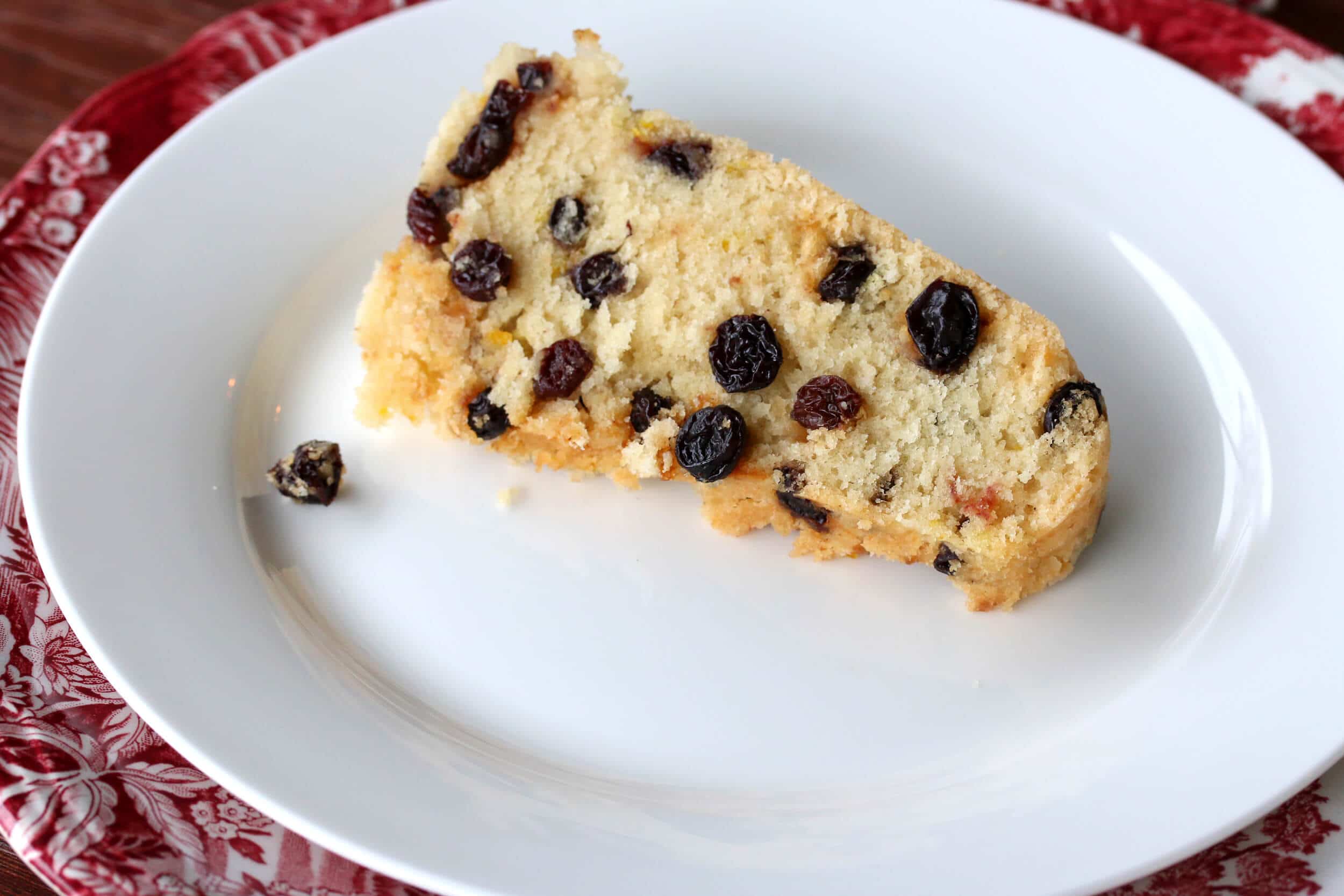 Serve the pudding warm with hot English Vanilla Custard.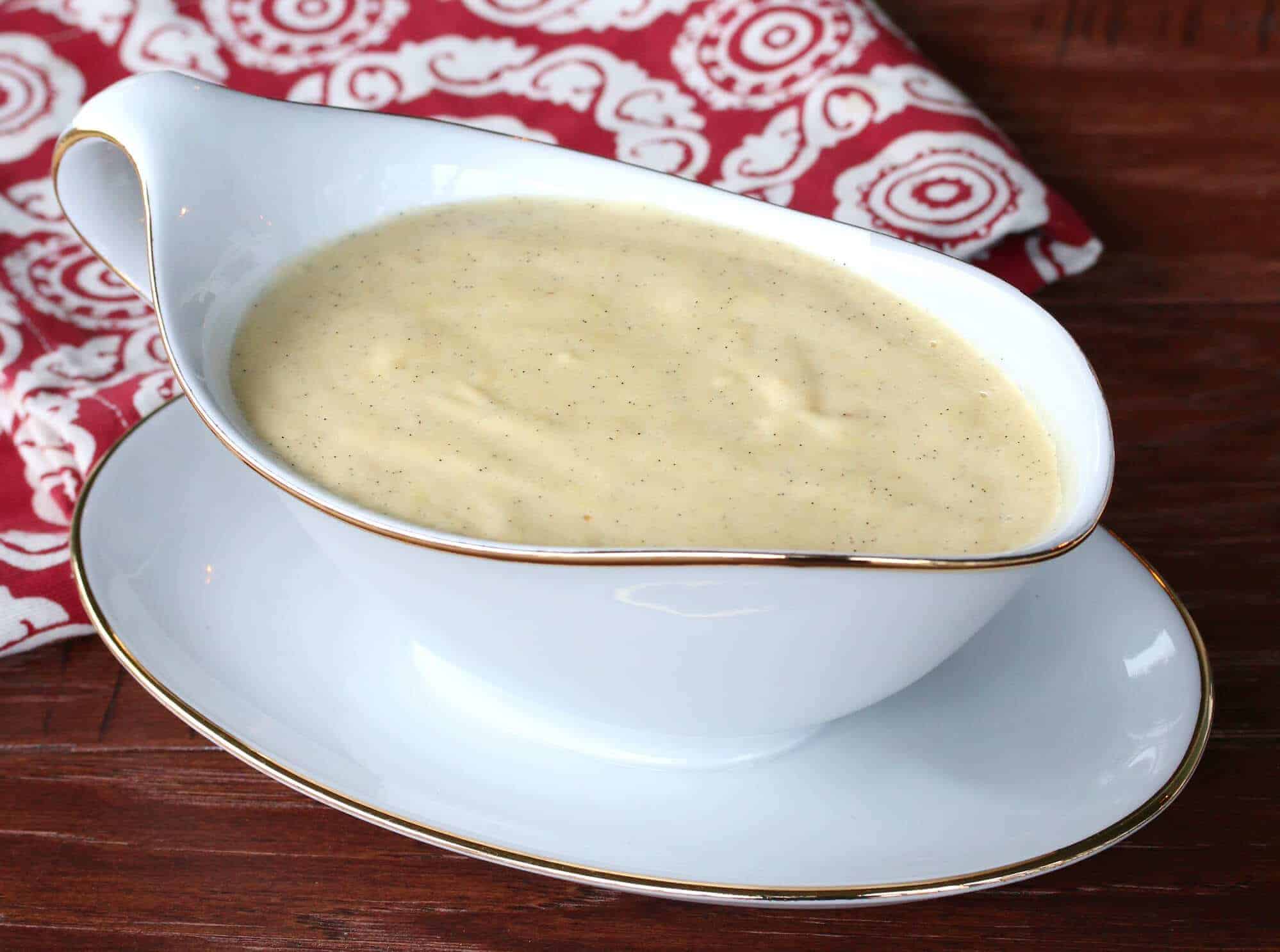 Enjoy!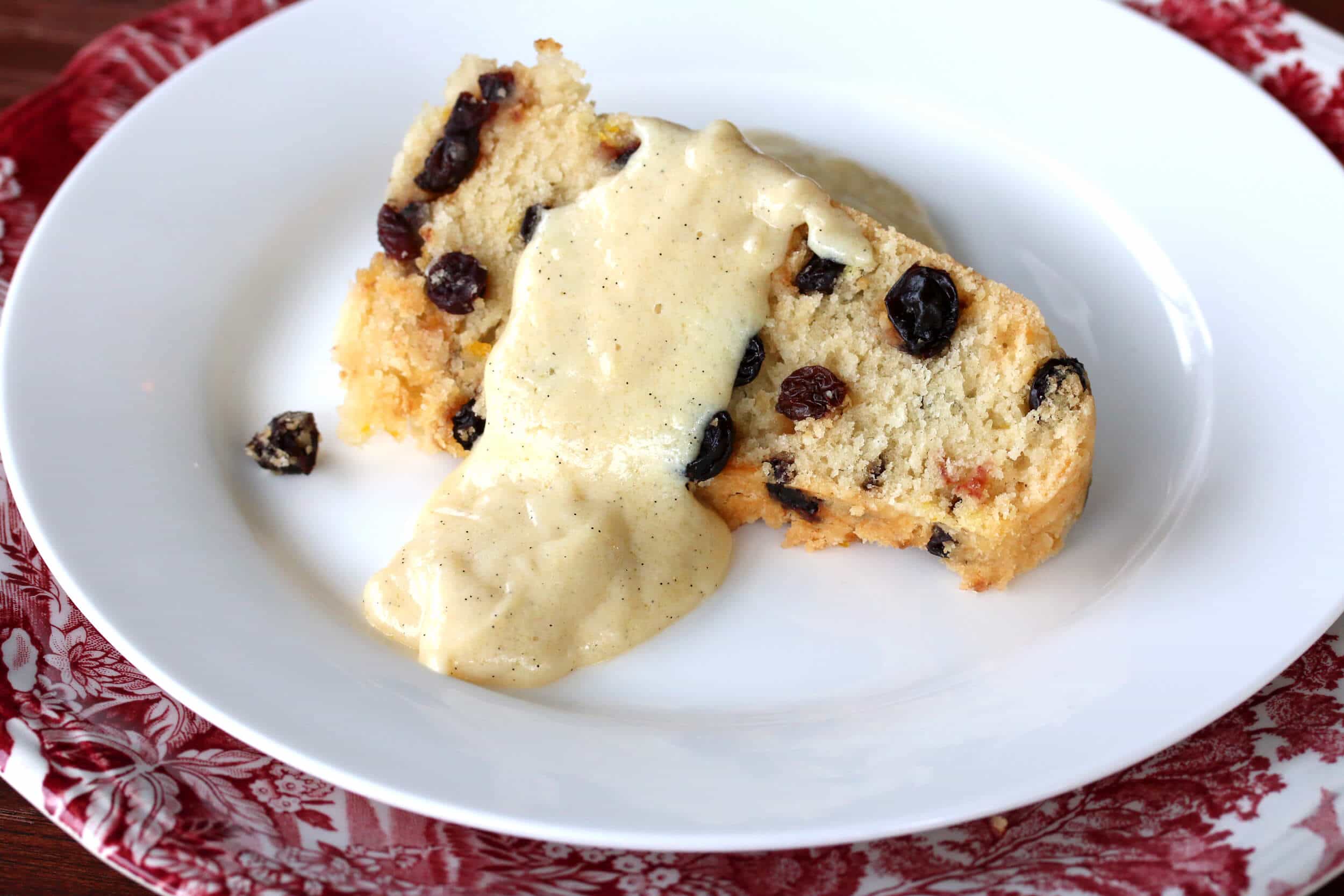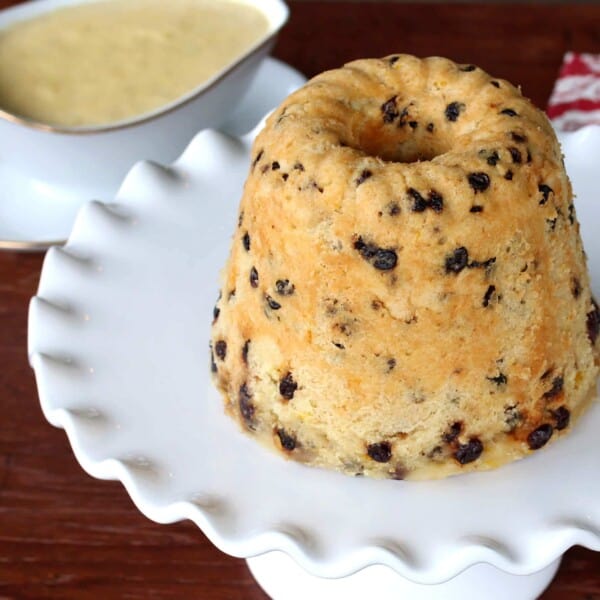 Print Recipe
Traditional Spotted Dick (English Steamed Currant Pudding with Vanilla Custard)
This famous traditional English dessert is sure to win you over!
Instructions
Place metal cookie cutters, a folded towel, or crumpled tin foil in the bottom of a large stock pot to prevent the pudding mold from touching the bottom of the pot. Add water and bring to a boil. Generously grease a

pudding mold

.

Place the flour, sugar, baking powder, salt and suet (or butter) in a food processor and pulse until the mixture resembles coarse sand. Transfer the mixture to a large mixing bowl.

Add the milk, lemon zest, vanilla extract and currants and stir until combined. Scoop the batter into the prepared pudding mold and secure it tightly with the lid.

Lower the pudding mold into the boiling water so that the water comes up to the halfway point of the pudding mold. Reduce the heat to a simmer and simmer undisturbed for 90 minutes.

Remove the pudding mold from the water and let it sit for 15 minutes. Invert the pudding onto a plate. Slice into wedges and serve warm with

English Custard Sauce

.

See NOTE about reheating.
Notes
*Caster sugar is simply granulated sugar that has been very finely ground. It is the most popular form of sugar in British baking and is especially suited to items with a short baking time or delicate items like meringue. Because it's so finely ground it dissolves more quickly. However, after steaming this pudding for 90 minutes, regular granulated sugar will definitely be dissolved. The choice is yours: Buy caster sugar, grind your own using a coffee or spice grinder, or simply use regular granulated sugar.
* Dried currants: In the U.S. what is referred to as currants are Zante currants, i.e., Corinth grapes. They're not the same thing as the dried black currants traditionally called for in this dish. i.e., ribes currants. It's near impossible to find the latter in the U.S.. If you have access to true black currants, use them. If not, use the Zante currants (smaller than regular raisins).
REHEATING: The key is just to do it in a way that doesn't dry out the pudding or render it overly moist and mushy. Two methods: Reheat the same way you cooked it by removing the wrapping and returning the the pudding to the mold to steam it for 3/4 to 1 hour or until hot. Or reheat it in the oven: Wrap the pudding in foil and reheat at 300ºF (150ºC) for an hour or until hot.
Serving:
1
serving
|
Calories:
498
kcal
|
Carbohydrates:
74
g
|
Protein:
6
g
|
Fat:
20
g
|
Saturated Fat:
12
g
|
Cholesterol:
53
mg
|
Sodium:
282
mg
|
Potassium:
433
mg
|
Fiber:
2
g
|
Sugar:
40
g
|
Vitamin A:
655
IU
|
Vitamin C:
1.2
mg
|
Calcium:
125
mg
|
Iron:
2.8
mg