This post contains affiliate links.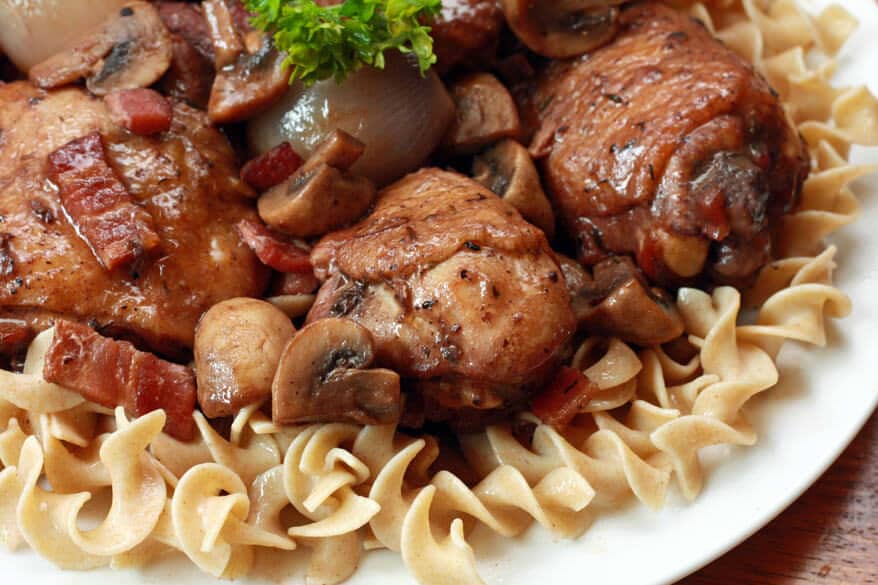 Another feast for the palate, prepare to have your taste buds enthralled by this famous French dish, a braise of chicken cooked with wine, bacon, mushrooms and onions.
Various legends exist as to the origin of Coq Au Vin, some of which trace it back to Julius Caesar's encounter with the Gauls who populated what is now France.  Though the origin is uncertain, what is certain is that it's at least 400 years old.  Coq Au Vin, French for "rooster with wine," was a common peasant dish in former centuries.  Rural families in France commonly kept chickens and a rooster.  The rooster would be kept until it was too old to perform its duties, and would then be eaten.  Old roosters, however, were tough and stringy, so the common preparation was to slow-simmer it in wine in order to tenderize the meat and make it more palatable.  Coq Au Vin had thus become known as "poor man's food."
It wasn't until the 20th century that Coq Au Vin achieved popularity both in and outside of France, as well as among both rich and poor.  Over the centuries it rose from its roots of poverty to achieve the rank of fine cuisine (though now no longer using old rooster ;)
Coq Au Vin is among the most popular of all French dishes.  It achieved its popularity here in the U.S. with Julia Child's inclusion of it in her 1961 classic, Mastering The Art of French Cooking.
Here is a Daring Gourmet version of this classic dish, maximizing its luxurious flavors while maintaining its authenticity.

Coq Au Vin
One of France's most popular dishes, Coq Au Vin is a flavorful braise of chicken cooked with red wine, bacon, mushrooms, and onions.
:
The Daring Gourmet, www.daringgourmet.com
Ingredients
3 tbs olive oil
4 chicken thighs and 4 drumsticks, skin intact, sprinkled with salt and pepper
4 oz thick-sliced bacon, diced
4 medium shallots, halved (or one small yellow onion, quarted and then halved again)
2 cloves garlic, minced
8 oz white button mushrooms, quartered
2 tablespoons unsalted butter
2 tablespoons all-purpose flour
2 cups dry red wine (such as Zinfandel)
1 cup chicken stock
2 teaspoons tomato paste
½ teaspoon dried thyme
1 bay leaf
1 package (13 oz) egg noodles, cooked according to package directions
Instructions
In a large Dutch oven, heat the olive oil over medium-high heat. Once hot, add the chicken and fry on both sides until nicely browned, about 4 minutes on each side. Be careful not to overcrowd and fry in batches if necessary. Transfer the chicken to a plate and tent with aluminum foil.
Add bacon and fry until done. Add the shallots to the bacon and sauté until lightly browned, about 5 minutes. Add the mushrooms and garlic and sauté until the mushrooms have released their juices and they are soft, another 5 minutes. Add a pinch of salt and pepper. Transfer the mixture to a plate and set aside.
Heat the butter in the Dutch oven then whisk in the flour, whisking until the mixture becomes a rich golden brown. Whisk in the wine and chicken stock. Bring to a boil and simmer for 2 minutes, deglazing the bottom of the pan. Stir in the tomato paste and add the thyme and bay leaf.
Return the chicken to the pot and cover. Reduce the heat to medium-low and simmer for 30 minutes or until the chicken shows no sign of pink when the thickest parts are cut into. Return the bacon/onion/mushroom mixture to the pot with the chicken and simmer for another 10 minutes. Add salt and pepper to taste.
Serve the chicken over the noodles with the sauce spooned over it.