Brunede Kartofler (Danish caramelized potatoes) is a popular and traditional side dish in Denmark, enjoyed especially at Christmas.  The potatoes are browned in caramelized sugar, transforming otherwise plain boiled potatoes into something truly special!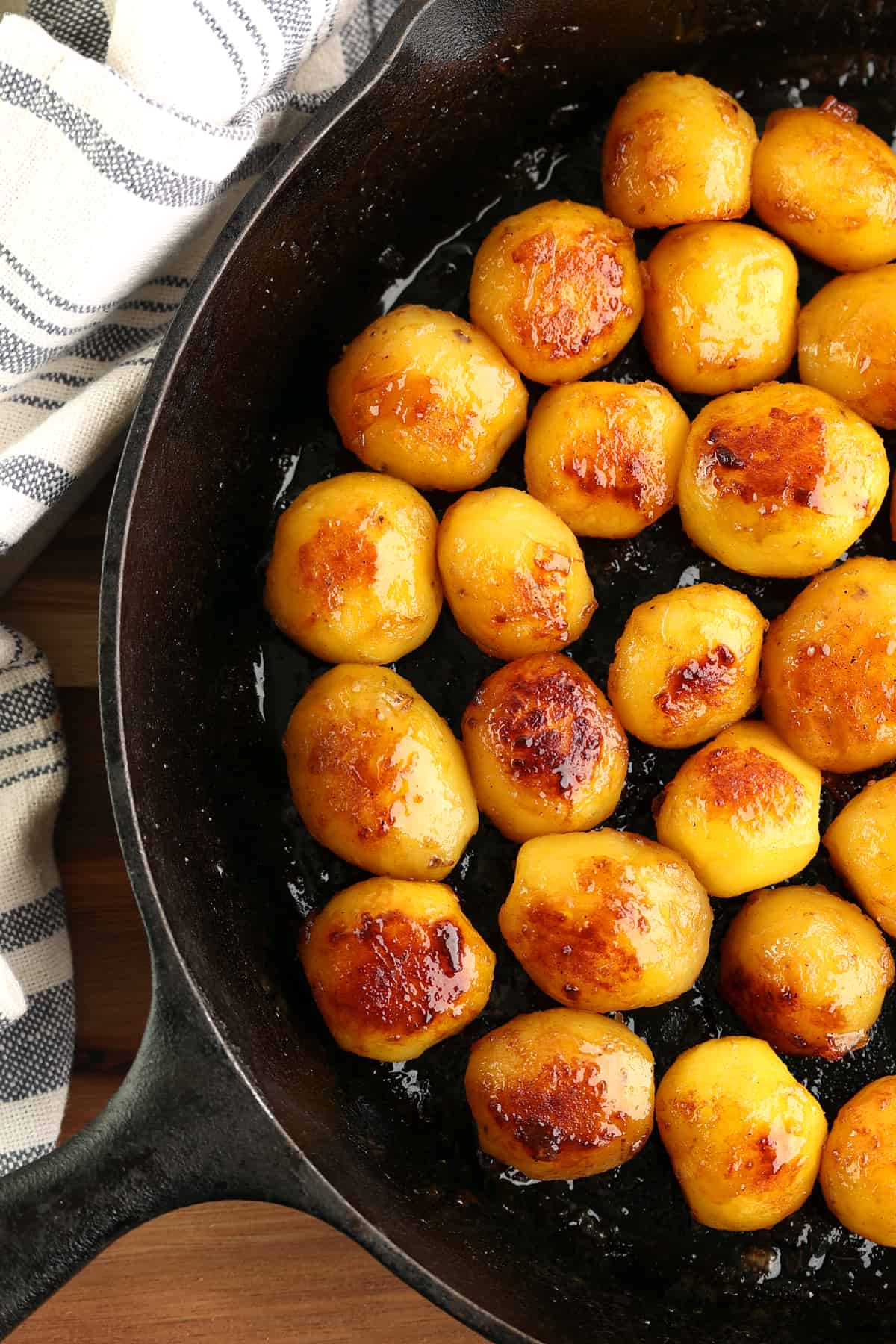 If you're looking for a side dish for your traditional Danish Christmas dinner, Brunede Kartofler are a must!  And not that they're limited to Christmas only, they're fabulous served with a variety of meats for any meal.   In short, it really doesn't matter when you serve them just as long as you do!
This dish is a nod to the Danish line of my family.  The one below is one of at least two lines from Denmark.  This is my great-great-great grandfather, Ole Nielsen, born in Vejle, Denmark, and my grandmother Laura Anna.  He immigrated to the U.S. from Denmark via Liverpool, England, married my grandmother in 1873, and they had 14 children, 8 of whom died in infancy (I can't even imagine).  My grandfather served as the first constable in their town and my grandmother ran a store and post office from their home.
My husband grew up in a family that very much celebrates their Danish ancestry.  I like to kid him that while Denmark has much to offer, fine cuisine isn't at the top of the list.  But that's just my Swabian food snobbery coming through.  In the end, Danish food is good, hearty, meat-potatoes-and-fish fare that nourishes both body and soul.  And hands down Denmark makes the best rice pudding, Risalamande, yet another traditional Christmas dish you have to add to your menu.
I like to daydream and wonder about the many meals that my Danish grandparents conjured up in their kitchen.  And there's a good chance that Brunede Kartofler is one of them.
What are Brunede Kartofler? 
Brunede Kartofler is a Danish side dish of potatoes that are caramelized in sugar.  Small, firm, waxy potatoes are boiled with their skins on, then peeled, and then pan-fried in sugar that has been melted and caramelized, allowing each potato to have a caramelized coating around them.  This process transforms otherwise plain boiled potatoes into something extra special!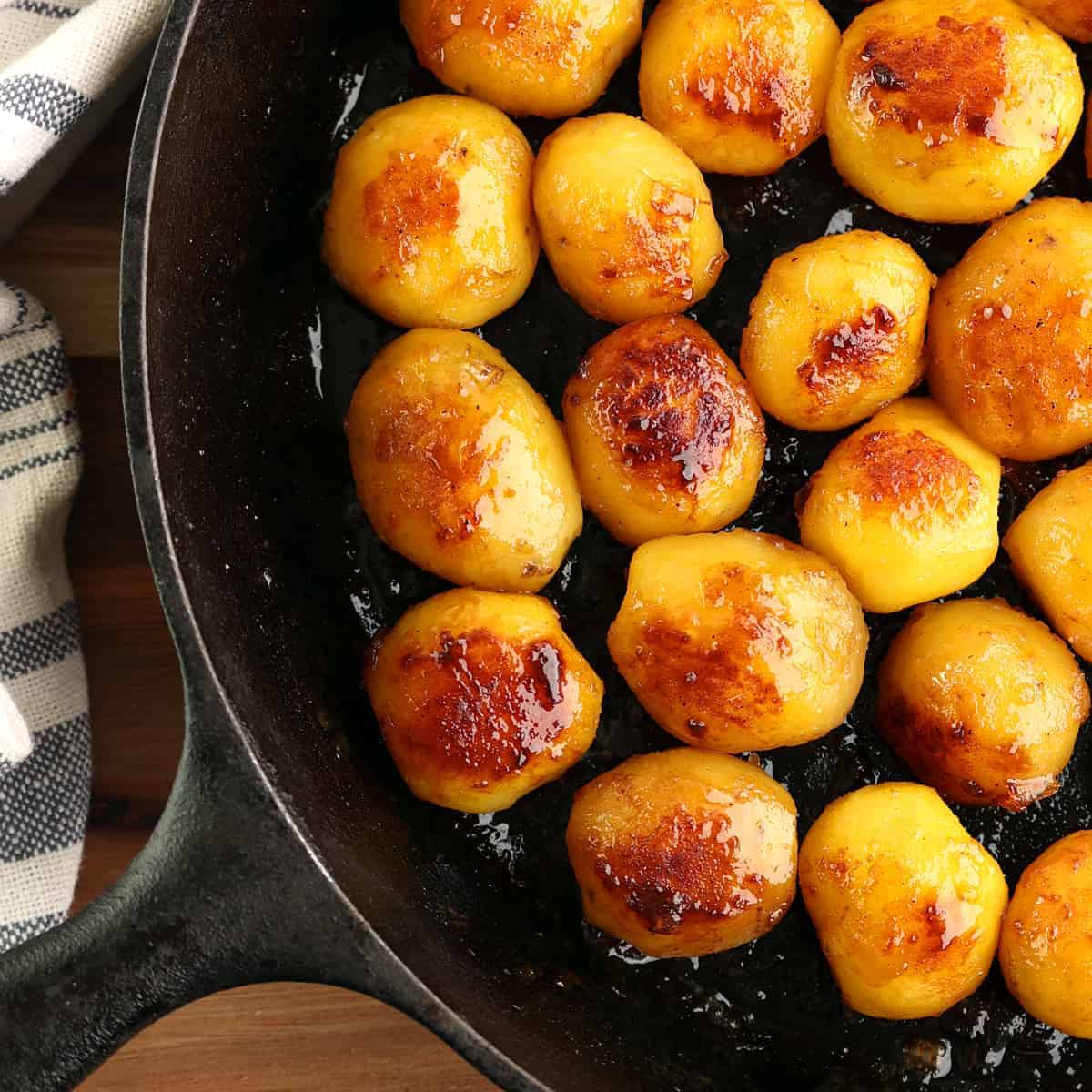 The most important keys to making Brunede Kartofler are to:  1)  Choose the right potatoes.  They need to be a firm, waxy variety that holds their shape when cooked.  2) Don't add any water to the sugar or butter.  3)  Make sure the potatoes are thoroughly chilled when you caramelize them.  Ideally they should be chilled overnight.
What to Serve With Brunede Kartofler
These Danish browned potatoes go well with most any meat dish.  Serve them with your roast dinner, roast chicken, duck, venison, and pork chops.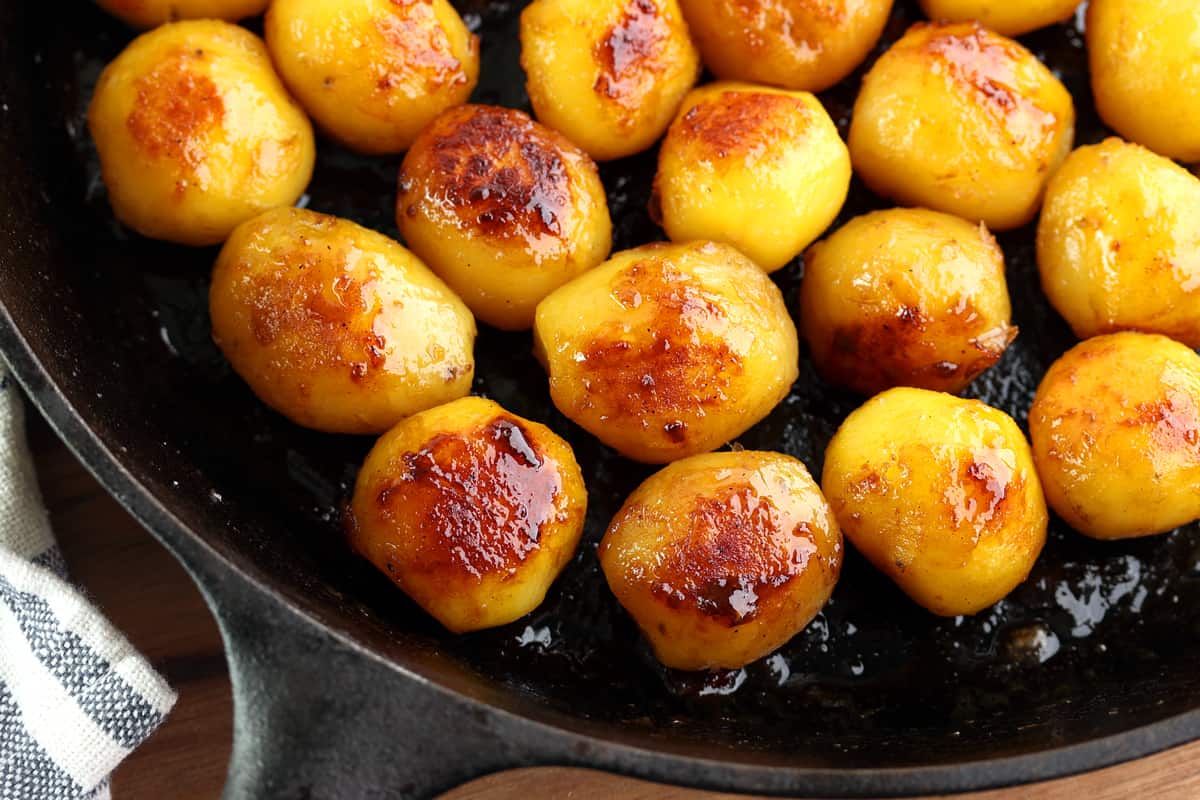 Brunede Kartofler Recipe
Let's get started!
Select small, firm, waxy potatoes that are uniform in size.
Boil them in salted water with their skins on until done, being careful not to over-cook.
Once cool enough to handle but still warm (it makes peeling easier), remove the skins.
Brunede kartofler are easy to make but this is the step that requires time and patience.  But don't give up, its totally worth it!
Put the potatoes in the fridge to thoroughly chill for several hours.  Ideally they should be chilled overnight.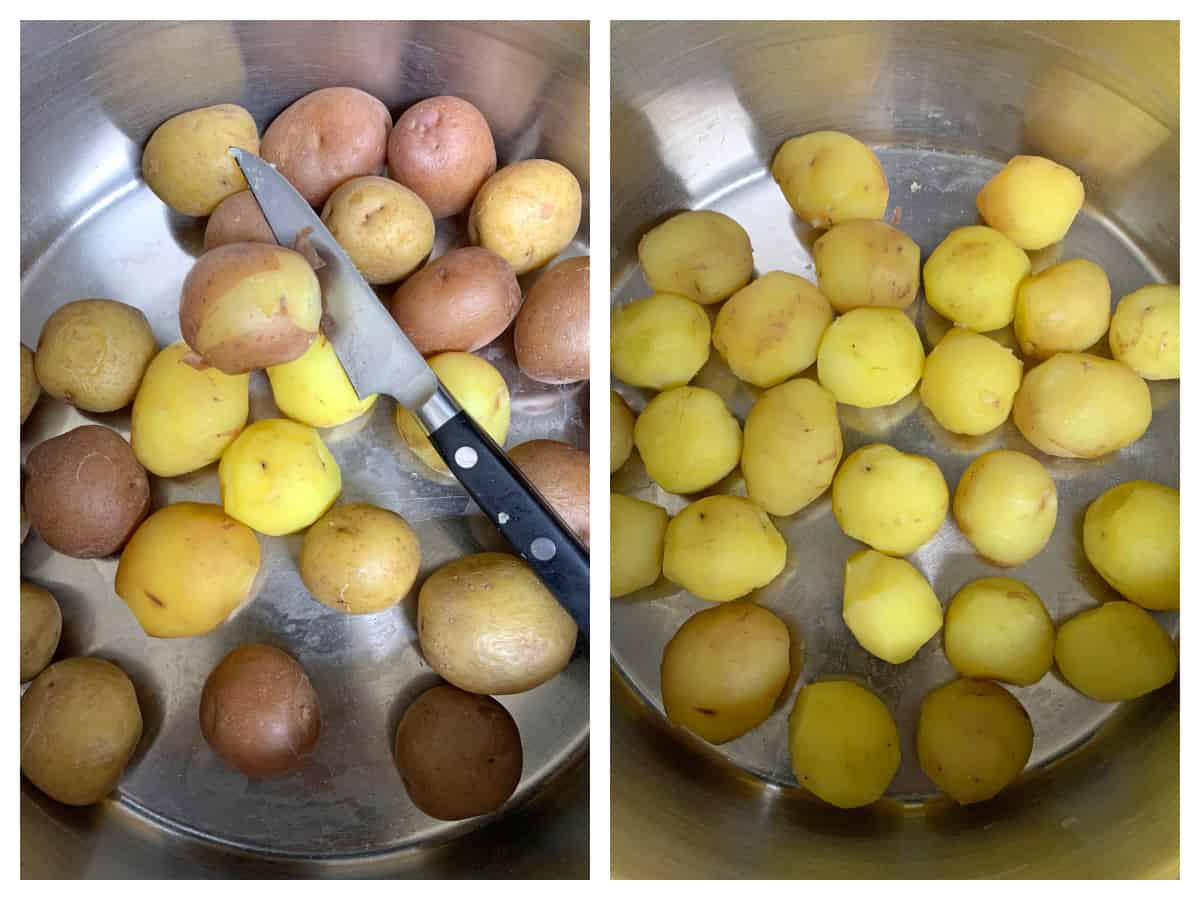 Place the sugar in a cast iron skillet over medium heat and allow it to melt, stirring as infrequently as possible to prevent burning.
The sugar will melt and begin to brown.  Let it come to a rich golden brown color.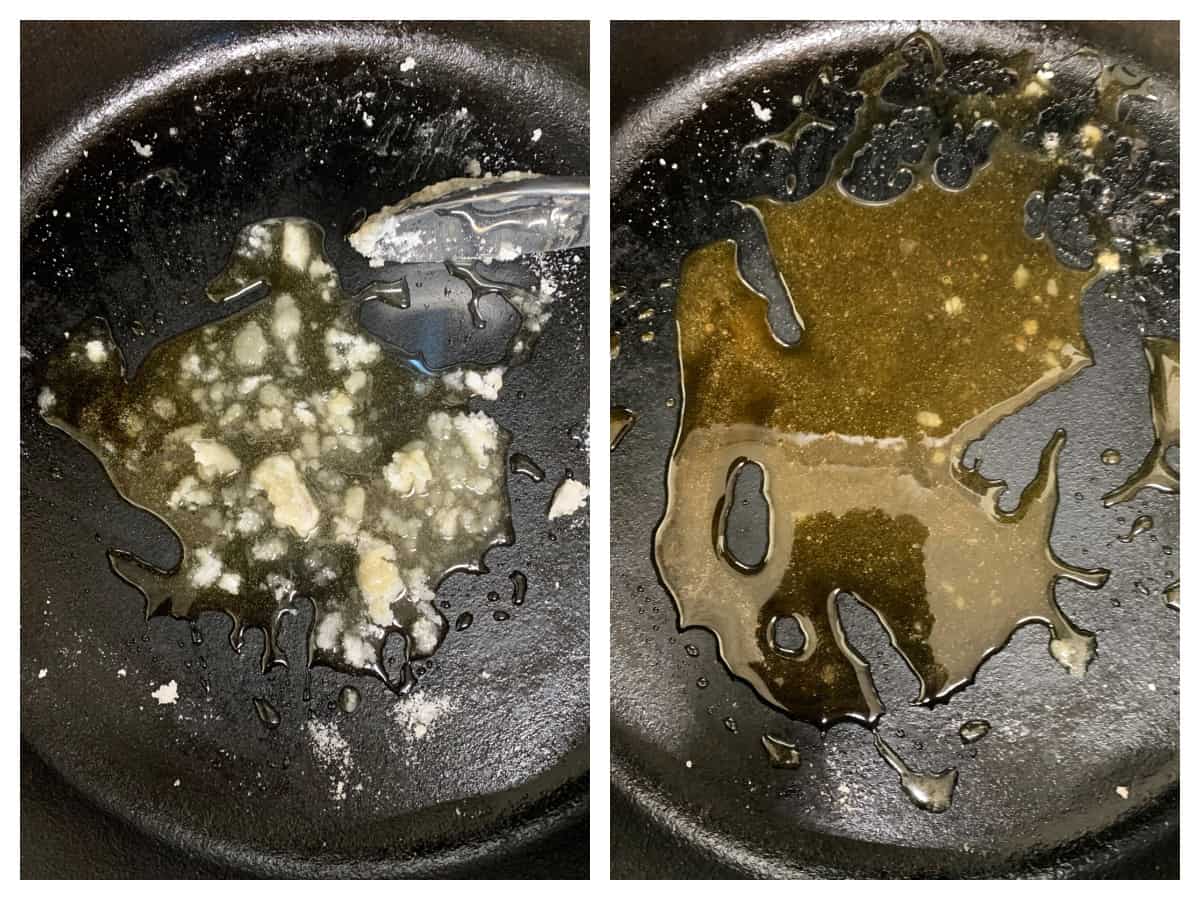 Add the butter and stir while allowing it to melt.
Once the butter is melted and incorporated into the sugar, add the cold potatoes.
Stir to thoroughly coat all of them. Don't worry if the sugar starts to crystalize, it will melt again.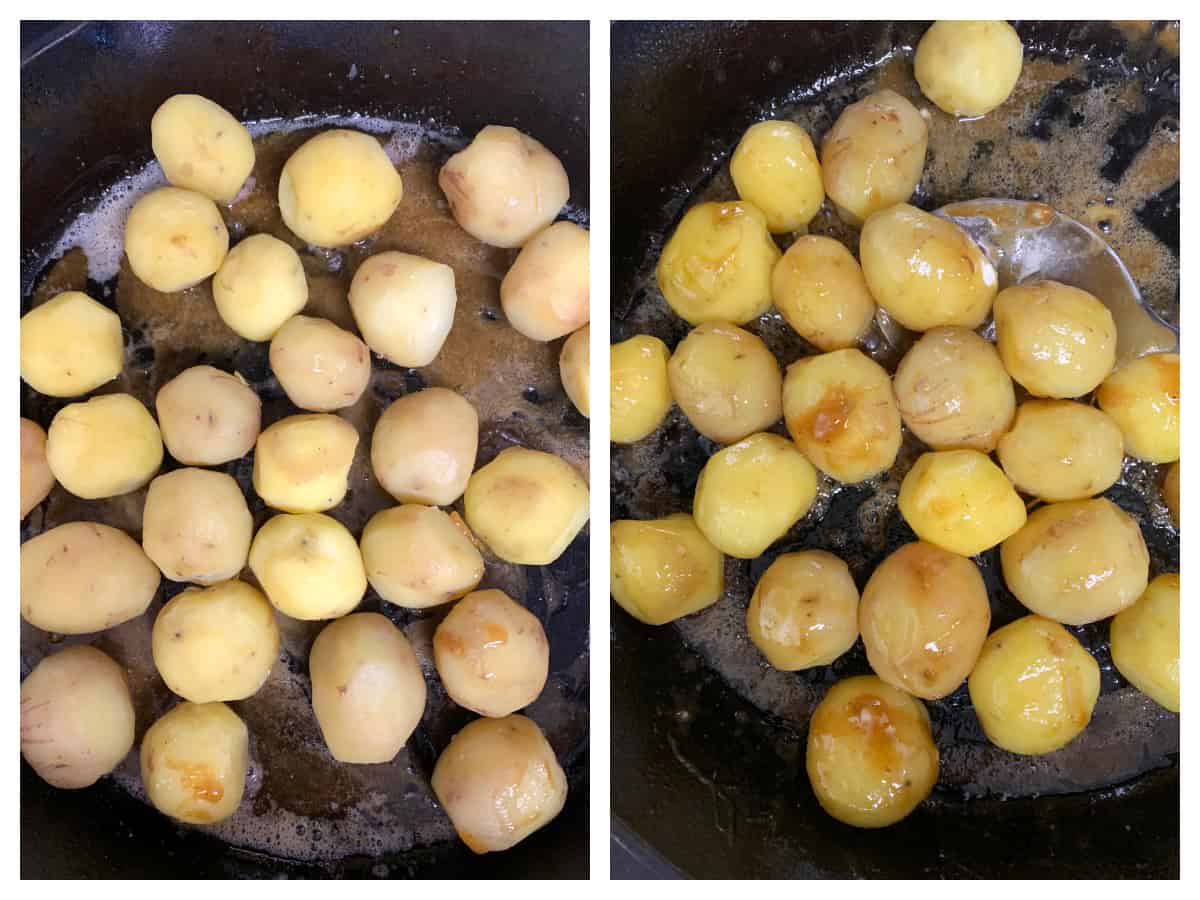 Let the potatoes cook, only stirring occasionally to re-coat them in the sugar glaze, until they're lightly browned.  How much you brown them is a matter or personal preference,  but I like to have some of those glorious browned crusted bits on the potatoes.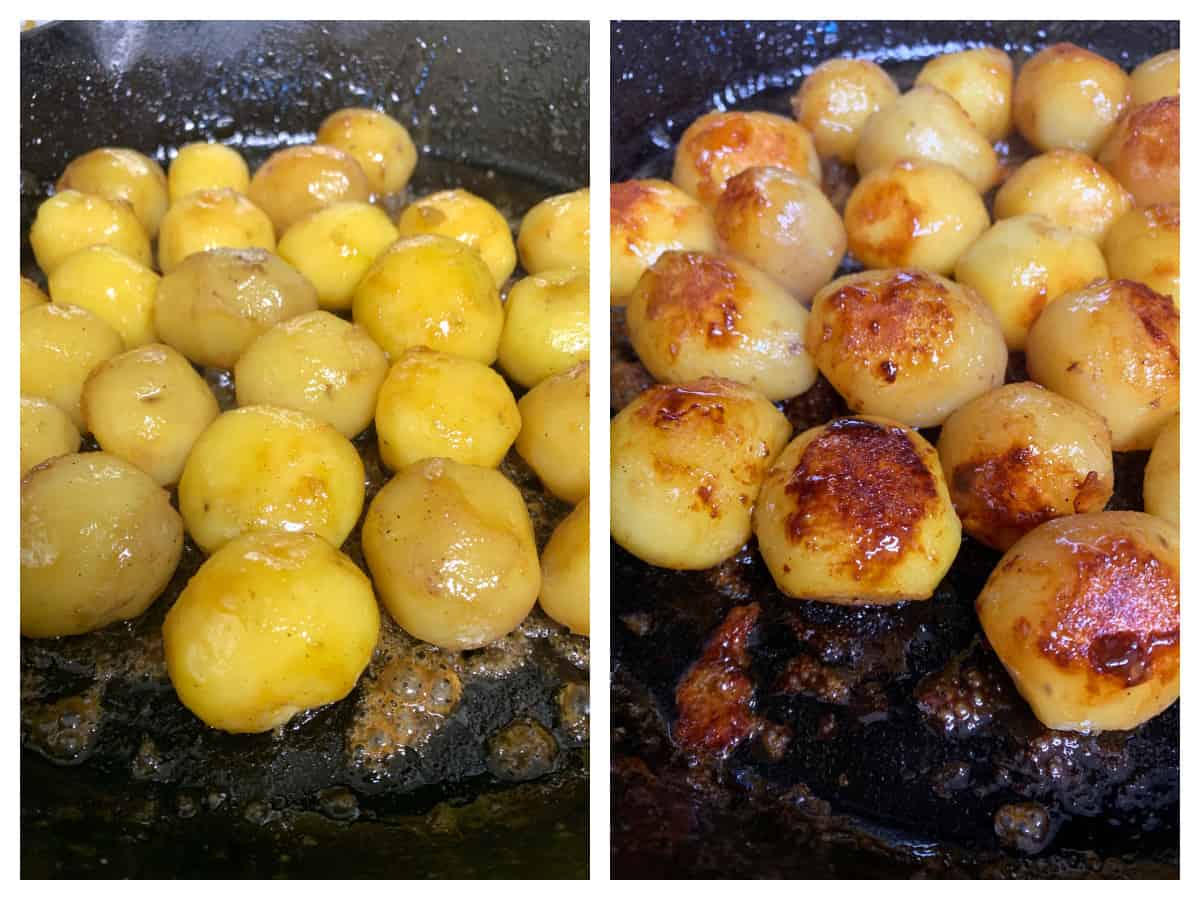 Serve and enjoy!
For more delicious potato dishes be sure to try our:
Brunede Kartofler (Danish Caramelized Potatoes)
Buttery potatoes browned in caramelized sugar, Brunede Kartofler are a popular and traditional Danish side dish enjoyed especially at Christmastime.
Ingredients
2

pounds

firm, waxy potatoes

, choose small ones that are uniform in size

1/4

cup

granulated sugar

2

tablespoons

butter
Instructions
Boil the potatoes in salted water with their skins on until done, being careful not to over-cook.  

Once cool enough to handle but still warm (it makes peeling easier), remove the skins (this takes time and patience). Put the potatoes in the fridge to thoroughly chill for several hours.  Ideally they should be chilled overnight.

Place the sugar in a heavy cast iron skillet over medium heat and allow it to melt, stirring as infrequently as possible to prevent burning. The sugar will melt and begin to brown.  Let it come to a rich golden brown color.  

Add the butter and stir while allowing it to melt.   Once the butter is melted and incorporated into the sugar, add the cold potatoes.  Stir to thoroughly coat all of them.  Don't worry if the sugar starts to crystalize, it will melt again.

Let the potatoes cook, stirring only occasionally to re-coat them in the sugar glaze, until they're lightly browned.  (How much you brown them is a matter of personal preference, but I like to have some of those glorious browned crusted bits on the potatoes.)
Nutrition
Calories:
257
kcal
|
Carbohydrates:
49
g
|
Protein:
4
g
|
Fat:
6
g
|
Saturated Fat:
4
g
|
Polyunsaturated Fat:
1
g
|
Monounsaturated Fat:
1
g
|
Cholesterol:
15
mg
|
Sodium:
91
mg
|
Potassium:
1034
mg
|
Fiber:
4
g
|
Sugar:
15
g
|
Vitamin A:
191
IU
|
Vitamin C:
20
mg
|
Calcium:
24
mg
|
Iron:
2
mg
Originally published on The Daring Gourmet November 22, 2021