As an Amazon Associate I earn from qualifying purchases.
This authentic German potato salad comes from the Swabia region of southern Germany where it remains one of the most popular and most delicious of all potato salads!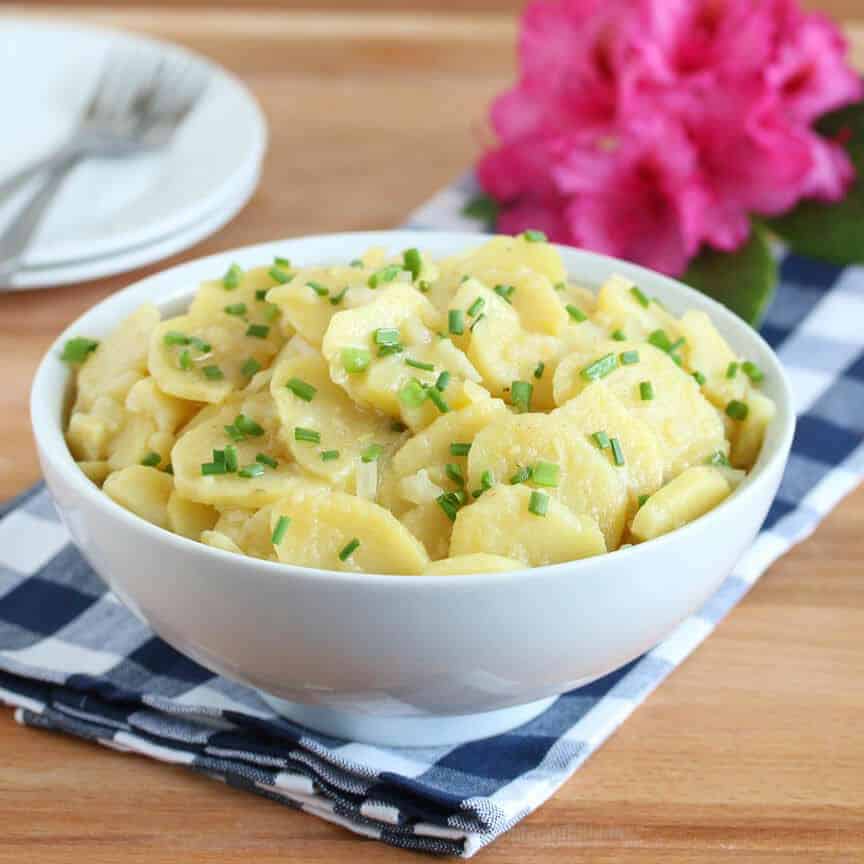 I'm a huge potato salad fan and I enjoy it in all its varieties.  But my all-time favorite is Schwäbischer Kartoffelsalat from the Southern Germany region of Swabia where I grew up (Stuttgart).
I'm also the ultimate critic when it comes to potato salads.  I've probably eaten Swabian potato salad a couple of hundred different times throughout my life in Germany and I will tell you, not all potato salads are created equal, that's for sure.  Hands down the best versions I've had were served in southern German restaurants.  For any of you who have lived in or visited that area of Germany, you know exactly what I'm talking about:  You just can't beat that restaurant-style Swabian potato salad.
There is one exception to this:  My mom's Swabian potato salad comes closer to the restaurant versions than any others I've had.  (She also makes the best mayonnaise-based potato salad and it's her recipe that inspired my BEST Classic Potato Salad.)  And so I've taken my mom's German potato salad recipe and have made just a few tweaks replicate that perfect German restaurant quality flavor and texture.  And I'm confident you're going to love the results as much as we do!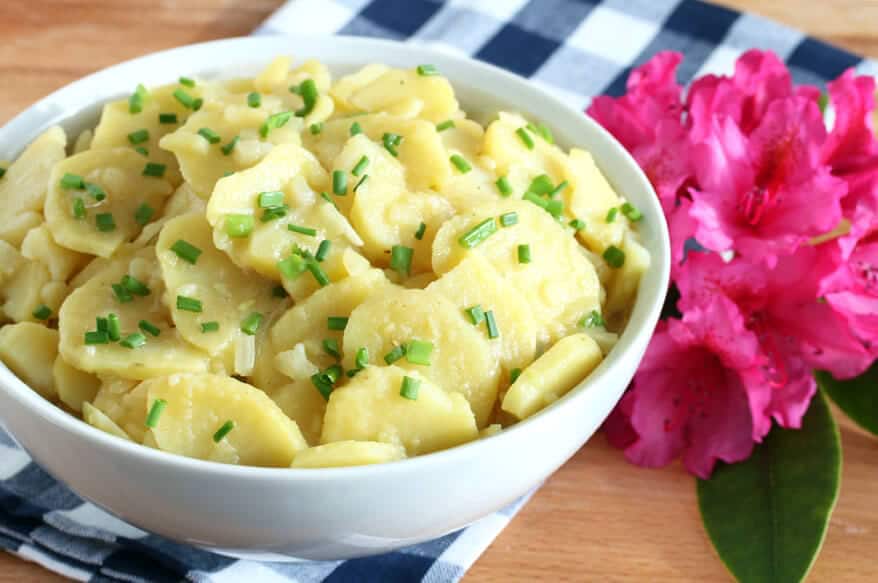 The ingredients in traditional Swabian potato salad and few and simple, but there are a few tricks that are absolute musts for getting it right – like the restaurants do.  Here they are:
The Keys to Making the BEST Swabian-Style German Potato Salad
1)  The right potatoes.  This is the biggest challenge here in the U.S.  In Germany you can find potatoes that you simply cannot find here.  Unlike Russet potatoes, for example, which are flaky, mealy, and generally flavorless, the kind used in potato salads in Germany are firm, deep yellow in color, buttery and flavorful.  And they keep their shape well.  The closest you can get to those here are Yukon Gold potatoes and those are the ones I recommend for this recipe.  Also, be sure to boil the potatoes in their skins – don't peel them first.
2)  Beef broth.  There is no substitute, it must be beef broth.  And it must be very strong beef broth.  And it must be hot when you pour it over the potatoes so they soak it up.  Make sure you let the potatoes sit for at least a full hour after you pour the broth over.
3)  German mustard.  I know the recipe doesn't call for much, but it must be German mustard (mild) if you want it to taste the way it's supposed to.  The kind I use in most of my German recipes is the Alstertor Düsseldorf Style Mustard (click link for convenient access on Amazon).
4)  Vinegar.  No apple cider or balsamic vinegar.  It needs to be the strong white vinegar.  A vinegar very commonly used in Germany for this salad and salad dressings is called Essig Essenz (Amazon link, or can be found in some Asian grocery stores – Koreans like to use it for kimchi).  It's super concentrated vinegar and you only need a very little of it.  If you have access to this vinegar, you would add just a teaspoon or two in addition to the white vinegar, and reduce the amount of white vinegar accordingly.  Of course you'll always want to do a "taste test" before pouring the final mixture over the potato salad.
5)  Onions.  You want them crunchy but not overly so, and you want them saturated with flavor.  So add them to the beef broth/vinegar mixture when you heat it up.
6)  Oil.  Lots of it.  In olden days homemade beef broth would be used which contained plenty of fat.  Nowadays we mostly use store-bought broth in cans or beef bouillon cubes/granules which are all void of fat.  So adding oil is absolutely essential to achieving the right texture.  As my German mom says, Schwäbischer Kartoffelsalat needs to be "schmalzig".
7)  The longer the potato salad sits, the better it will taste.  I recommend making it the day before and letting it sit in the fridge until the next day.  Let it sit at room temperature for at least 30 minutes before serving.
Follow these seven tips and you'll be in Swabian Potato Salad heaven!
How to Make German Potato Salad
Let's get started!
Select small Yukon Gold potatoes that are uniform in size.  Scrub the peels and boil the potatoes in lightly salted water until tender when pierced with a fork.  Do not overcook – you don't want them mushy.   Let them cool down until you're able to handle them and peel them while they're still warm.
Slice the potatoes in 1/4 inch thick slices.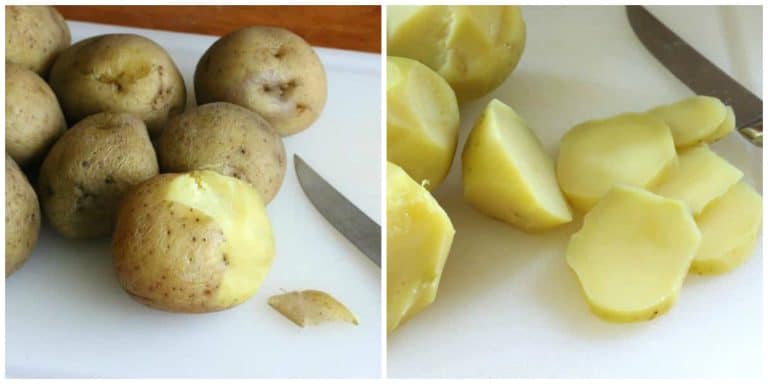 Put the potatoes in a large glass mixing bowl and set aside.  (Don't use metal or it will react with the vinegar.)
Add the beef broth, vinegar, mustard, sugar, salt and white pepper to a medium saucepan and stir to combine.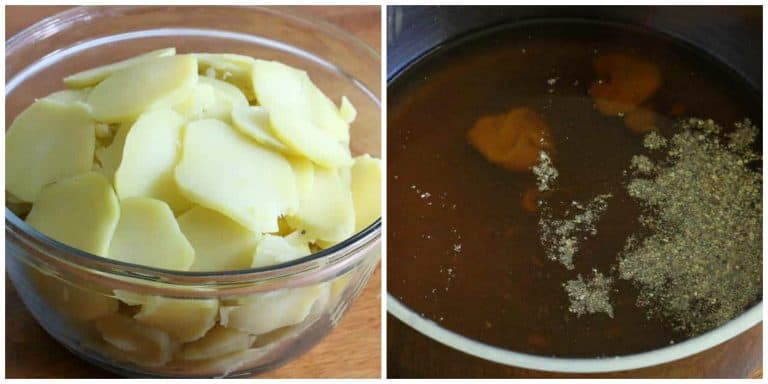 Add the chopped onions to the broth mixture and quickly bring it to a boil.  As soon as it starts boiling remove it from the heat.
Pour the onion/broth mixture over the potatoes, cover with plastic wrap or a large plate and let sit at room temperature for at least one hour.  Then pour the oil over the potatoes and carefully stir to combine.  Add salt and pepper to taste.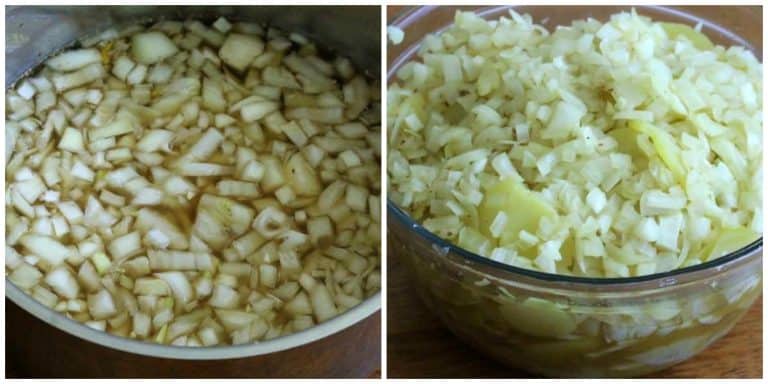 The flavor of this Swabian-Style German potato salad only gets better over time and this tastes best the next day.
It's also best served at room temperature.
Enjoy!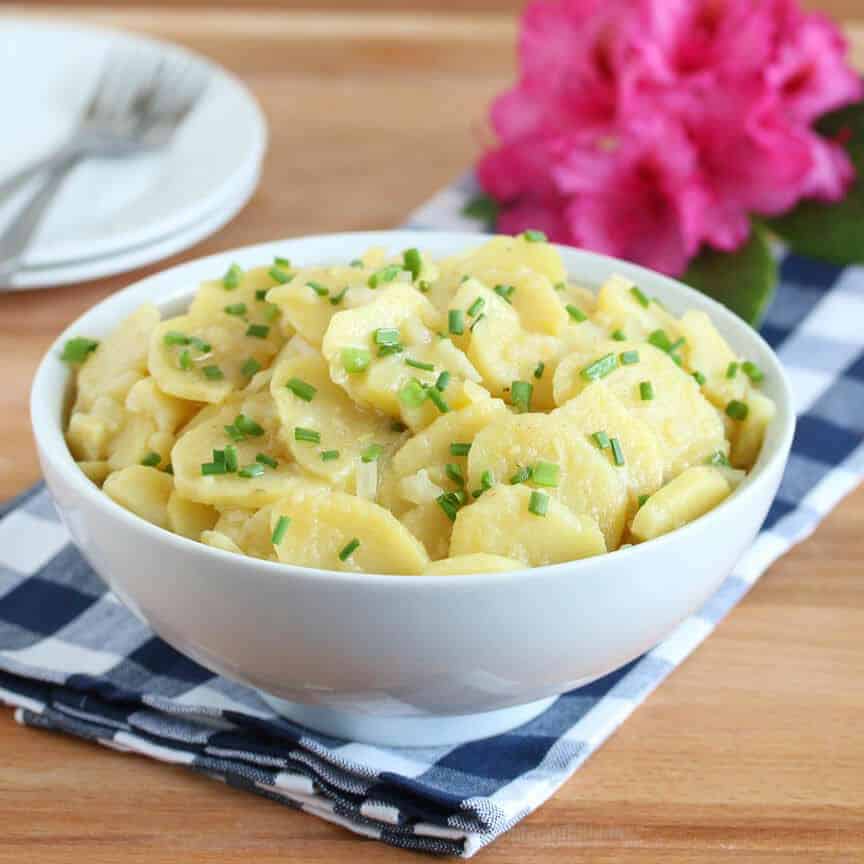 PIN ME!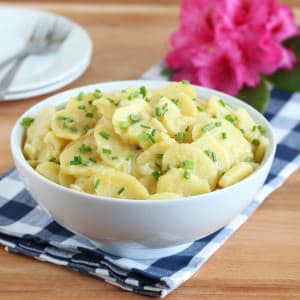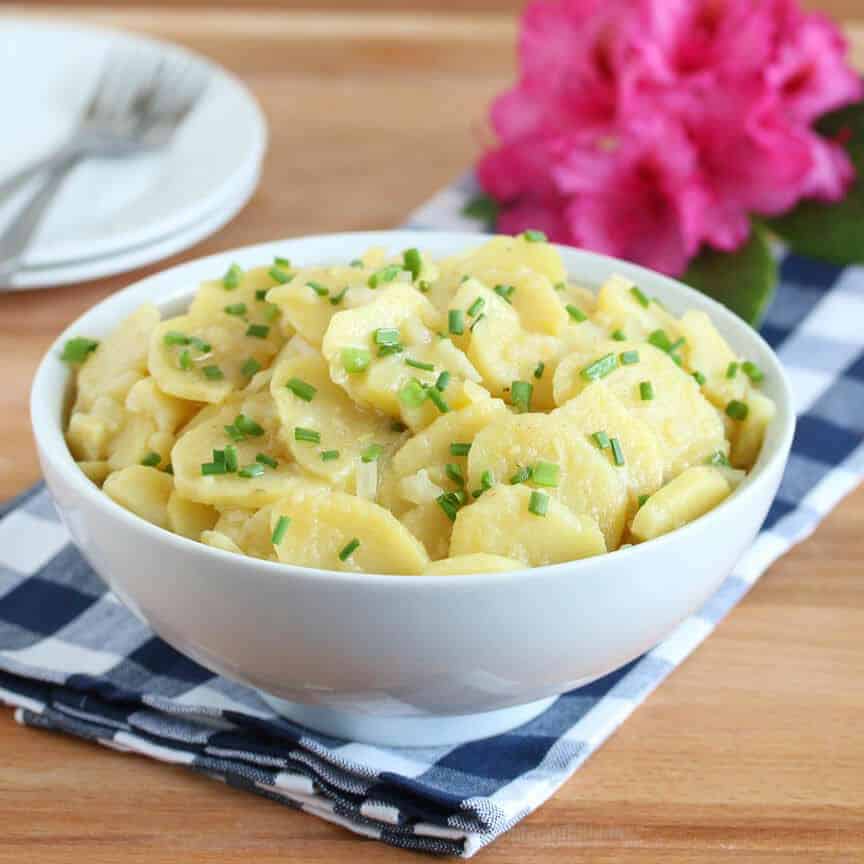 Restaurant-style Schwäbischer Kartoffelsalat (Swabian Potato Salad)
This authentic German potato salad comes from the Swabia region of southern Germany where it remains one of the most popular and most delicious of all potato salads!
Ingredients
3

pounds

small firm, yellow-fleshed waxy potatoes

(e.g. Yukon Gold) of similar size, skins scrubbed and peels left on

1

medium yellow onion

, chopped

1 1/2

cups

water mixed with 4 teaspoons beef bouillon granules

(Vegans: use vegetable bouillon)

1/2

cup

white vinegar

a few splashes of Essig Ezzenz

, (highly recommended for the best, authentic flavor)

3/4

tablespoon

salt

3/4

teaspoon

freshly ground white pepper

1

teaspoon

sugar

2

teaspoons

mild German mustard

(If you can't get it, use regular yellow mustard)

1/3

cup

neutral-tasting oil

Fresh chopped chives for garnish
Instructions
Boil the potatoes in their skins in lightly salted water until tender. Allow the potatoes to cool until you can handle them. Peel the potatoes and slice them into 1/4 inch slices. Put the sliced potatoes in a large mixing bowl and set aside.

Add onions, beef broth, vinegar, salt, pepper, sugar, and mustard in a medium saucepan and bring to a boil. As soon as it boils, remove from heat and pour the mixture over the potatoes. Cover the bowl of potatoes and let sit for at least one hour.

After at least one hour, gently stir in the oil and season with salt and pepper to taste. If too much liquid remains, use a slotted spoon to serve. Serve garnished with fresh chopped chives. Serve at room temperature. Note: This potato salad is best the next day (remove from fridge at least 30 minutes before serving).
Notes
Read the "7 Tips" in this blog post to ensure success!
Nutrition
Calories:
284
kcal
|
Carbohydrates:
39
g
|
Protein:
5
g
|
Fat:
13
g
|
Saturated Fat:
1
g
|
Sodium:
876
mg
|
Potassium:
1059
mg
|
Fiber:
4
g
|
Sugar:
4
g
|
Vitamin A:
16
IU
|
Vitamin C:
21
mg
|
Calcium:
27
mg
|
Iron:
2
mg