Crispy breaded pork cutlets served with rich mushroom gravy – that's Jägerschnitzel.  And it's one of Germany's most popular and delicious foods.  This authentic Jagerschnitzel recipe will absolutely delight your taste buds!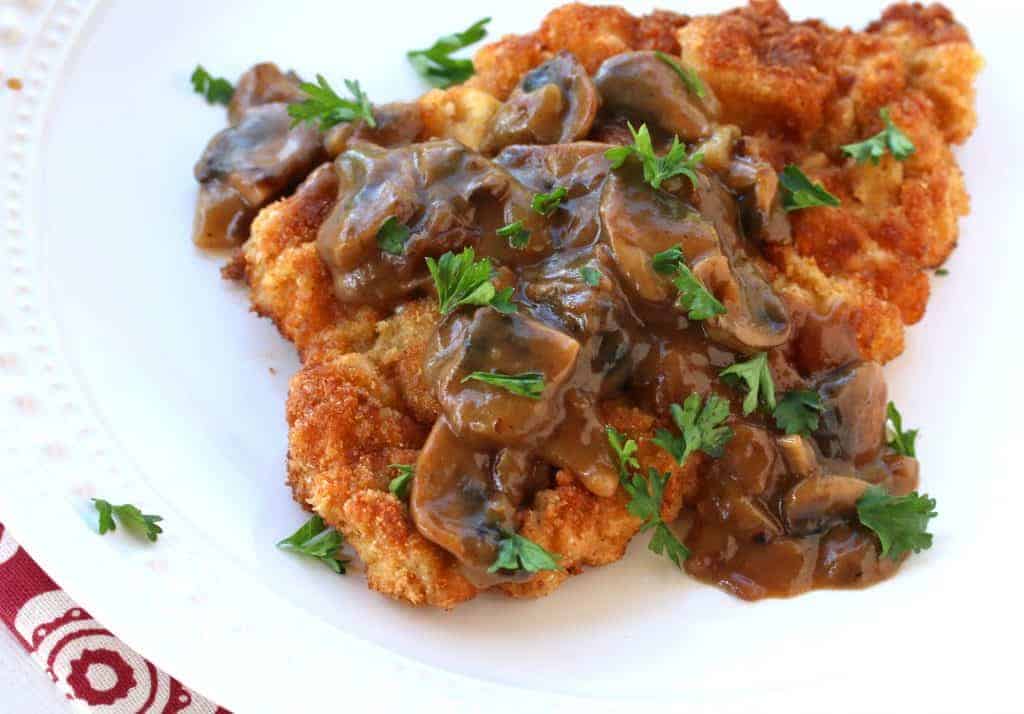 There are four basic kinds of Schnitzel in Germany.  Most of them are breaded (regional differences) but how they are served varies.  The four most common versions are:  Plain (usually pork, Schweineschnitzel, though sometimes veal, Wienerschnitzel, and often served with a lemon wedge), Rahmschnitzel (served with a cream sauce), Zigeunerschnitzel ("gypsy" sauce with bell peppers) and Jaegerschnitzel (served with a brown mushroom gravy).
The two most popular types, and the ones you'll find in most restaurants, is your basic breaded Schnitzel and Jägerschnitzel.
But growing up in Germany I never ate Jägerschnitzel.  I loved all the other versions but wouldn't touch Jägerschnitzel.  You see, I had an unfortunate ailment as a child:  I hated mushrooms.  It wasn't until early adulthood that I was finally healed of this affliction and was at last able to enjoy my fill of Jagerschnitzel before moving to the U.S..
All Schnitzel variations are delicious, but there's something especially delicious about Jaegerschnitzel.  And given its popularity, most people agree.  There's probably not a single serviceman, servicewoman or tourist who spent any significant amount of time in Germany without having at least heard of Jägerschnitzel.
Some regions of Germany will make Jägerschnitzel without breading it – it's simply pork chops pounded thinly, sprinkled with salt and pepper and fried, then served with the mushroom gravy.  The version I'm most accustomed to where I grew up is breaded and it's my personal preference.
For anyone unfamiliar with Schnitzel, they're made by pounding boneless pork chops very thin, breading them in flour, egg and breadcrumbs and frying them just right until perfectly crispy on the outside and tender on the inside.  To make Jagerschnitzel, the Schnitzels are then served with a luscious brown mushroom gravy.
It's mouthwatering!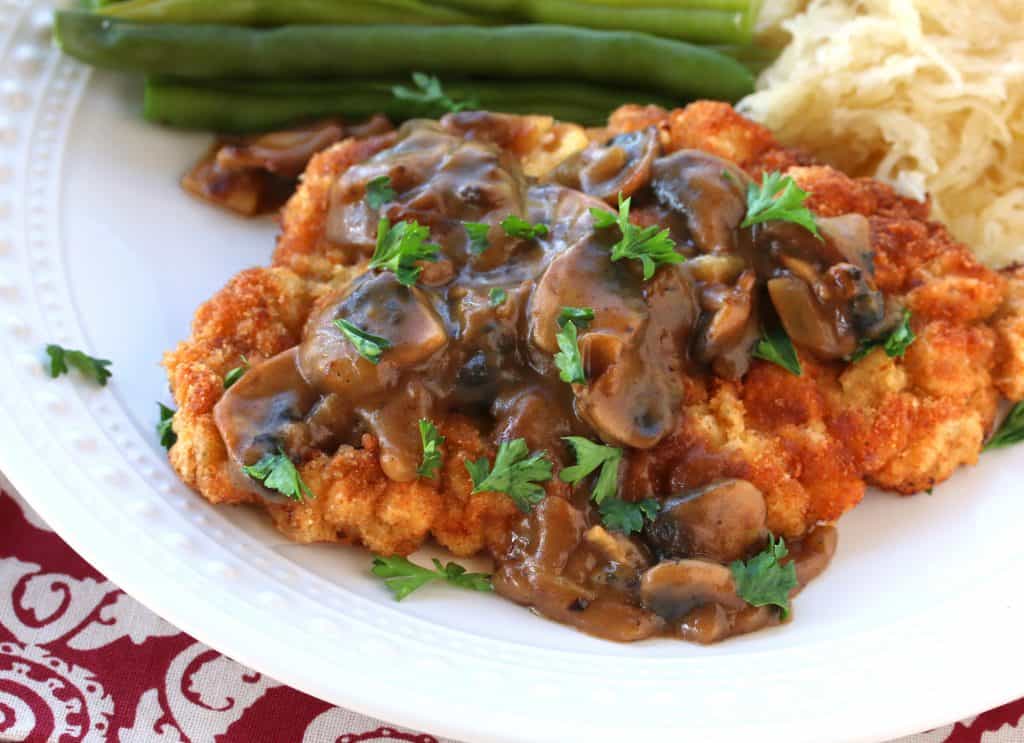 Jagerschnitzel Recipe
In this tutorial I'm providing general instructions on how to make Schnitzel.  But for a comprehensive tutorial, including all the tips and tricks for creating the perfect Schnitzel, check out my original post on Traditional German Schnitzel!
For Jägerschnitzel you'll also need a slam-dunk mushroom gravy.  We've already got you covered!
For the Jägersoße, check out our recipe for the BEST Brown Mushroom Gravy!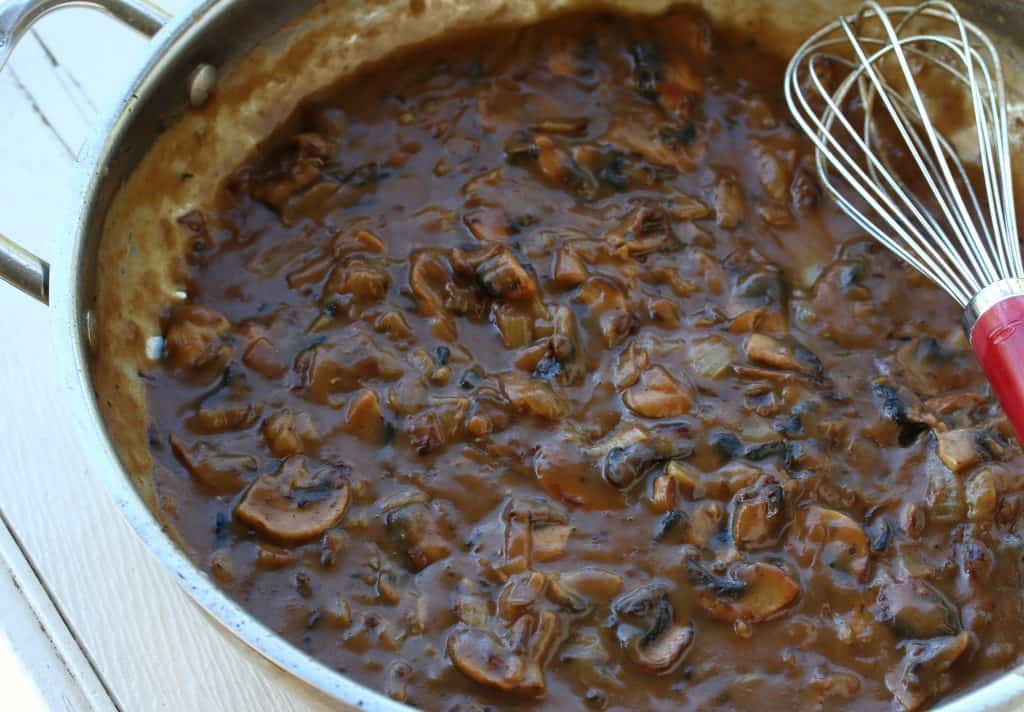 The process of making Schnitzel involves pounding boneless pork steaks/chops to an even thickness of about 1/4 inch, then sprinkling it with some salt and pepper.  Next dredge the pork in flour, followed by a lightly beaten egg and then plain breadcrumbs.
Immediately fry the Schnitzel in a frying pan with some oil (just enough to allow the Schnitzel to "float").  The oil should be around 330 degrees F when you add the Schnitzel.  Fry on both sides for about 2-3 minutes or until a deep golden brown.  Transfer to a plate lined with paper towels, then serve immediately with the mushroom gravy.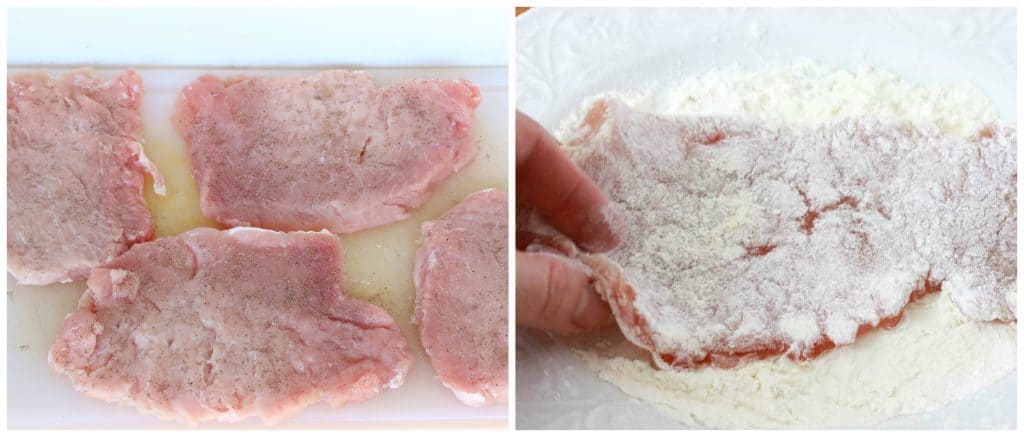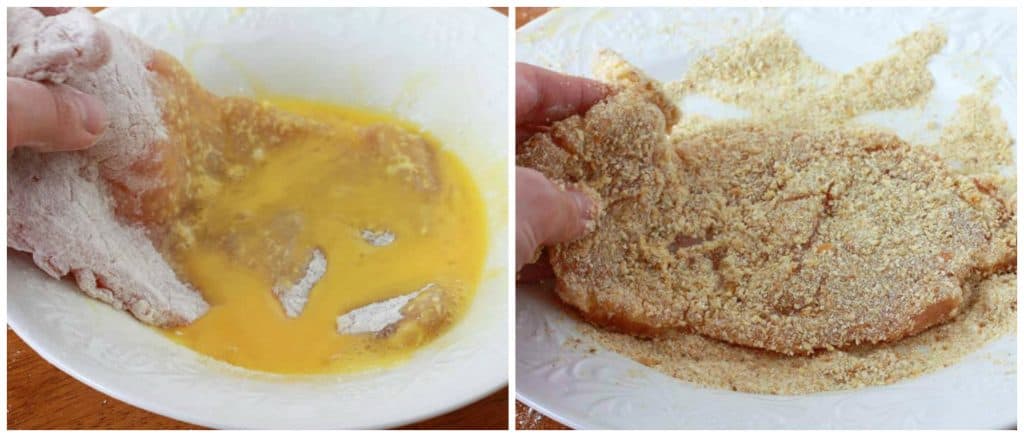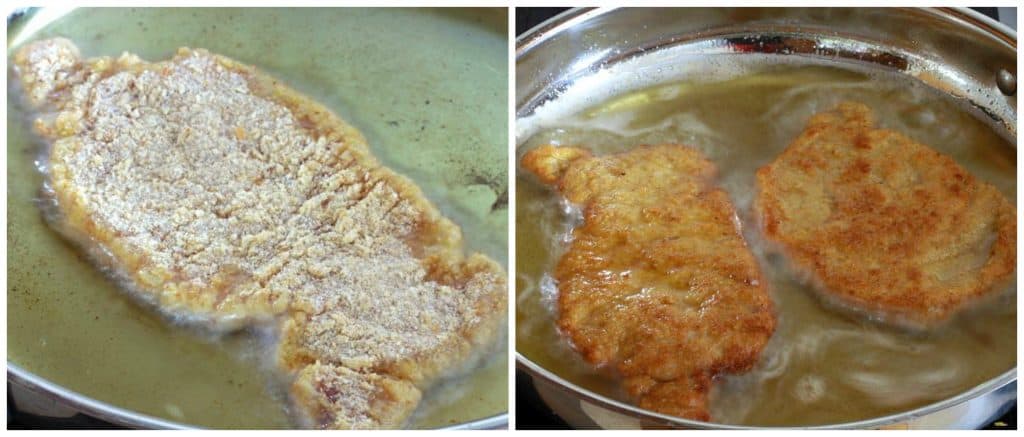 To serve, place the Jagerschnitzel on plates and spoon over with some Jägersoße (brown mushroom gravy – click for recipe).  Garnish with some chopped fresh parsley if desired.  Avoid completely drenching the Schnitzel with gravy so that much of the Schnitzel remains crispy.
Typical accompaniments include Spätzle or Pommes (French fries) or Swabian Potato Salad, a leafy green salad or German Cucumber Salad.
Enjoy!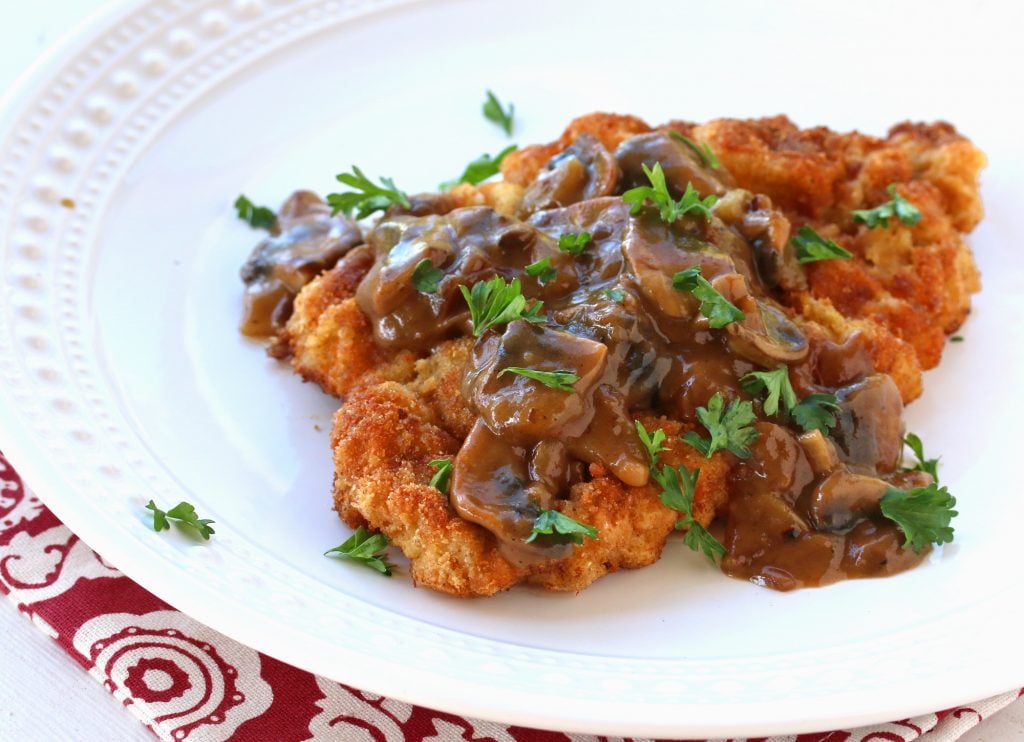 For more delicious German recipes be sure to try our: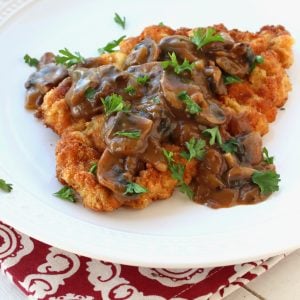 Jägerschnitzel (Schnitzel with Mushroom Gravy)
Perfectly crispy on the outside with a tender interior and served with a delightfully rich mushroom gravy, it's no wonder this is one of Germany's most famous and beloved dishes!
Ingredients
Neutral-tasting oil for frying (I use avocado oil as it has a high smoke point)

4

boneless pork steaks or chops

salt and freshly ground black pepper

1/2

cup

all-purpose flour combined with 1 teaspoon salt

2

large eggs, lightly beaten

3/4

cup

plain breadcrumbs

Chopped fresh parsley, garnish
Instructions
Pound the pork chops between two sheets of plastic wrap with the flat side of a meat tenderizer until 1/4 inch thick. Lightly sprinkle both sides with salt and freshly ground black pepper.


Place the flour mixture, egg, and breadcrumbs in 3 separate shallow bowls. Dredge the pork chops in the flour, the egg, and the breadcrumbs, coating both sides and all edges at each stage. Be careful not to press the breadcrumbs into the meat. Gently shake off the excess crumbs. (Note: Don't let the schnitzel sit in the coating or they will not be as crispy once fried - fry immediately.)

Note: Some regions of Germany make Jägerschnitzel without the breading. Simply pound the pork chops, salt and pepper them, fry them and serve them with the gravy.

Heat the oil to 330 degrees F (not hotter or the Schnitzel will burn before the meat is done, not lower or the Schnitzel will absorb the oil and be greasy). Use just enough oil so that the Schnitzels "swim" in it. Fry the Schnitzel for about 2-3 minutes on both sides until a deep golden brown. Transfer briefly to a plate lined with paper towels.

***NOTE: Be sure to check out our post on Traditional German Schnitzel for a detailed tutorial including all the tips and tricks for achieving the best Schnitzel!
Nutrition
Serving:
1
schnitzel (not including the gravy)
|
Calories:
376
kcal
|
Carbohydrates:
26
g
|
Protein:
35
g
|
Fat:
12
g
|
Saturated Fat:
4
g
|
Cholesterol:
171
mg
|
Sodium:
244
mg
|
Potassium:
586
mg
|
Fiber:
1
g
|
Sugar:
1
g
Originally published on The Daring Gourmet January 21, 2018