Learn how to make Traditional German Pork Schnitzel the way your favorite German restaurants make it.  All the tips and tricks are included for making the absolute PERFECT schnitzel!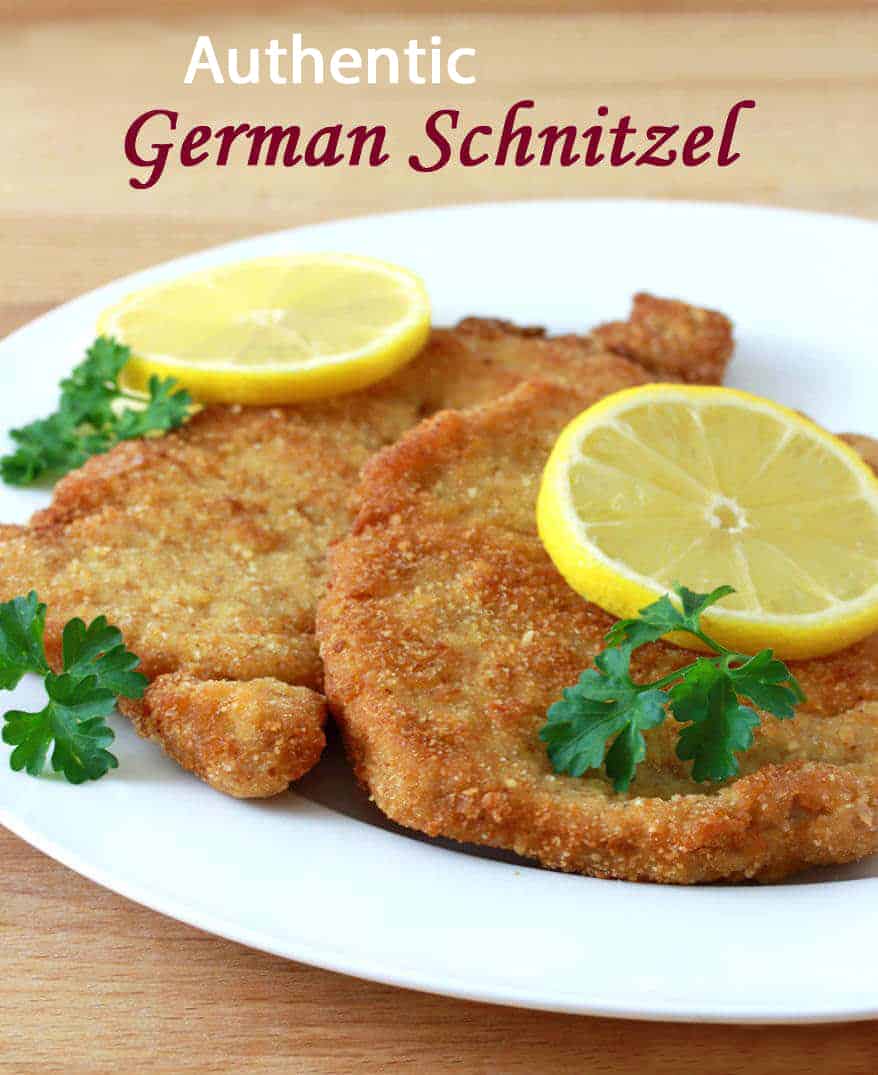 Okay, everyone, here it is!  Drumroll…
How to make perfect Schnitzel!
As much as I love to cook – and being from Germany – it would be unforgivably inexcusable, a total outrage, if I didn't know how to make Schnitzel!  After all, it's the quintessential German dish.  Every tourist to Germany has had Schnitzel and most fall in love with it.  (I suppose there are the occasional odd individuals who don't like it, and there's sadly just no helping them).
Most Americans associate Schnitzel with Wienerschnitzel.  "Wienerschnitzel" is actually a geographically protected term in Germany and Austria and can only be made with veal.  This traditional German Schnitzel is prepared the same way as Austrian Wiener Schnitzel.  The only difference – German Schnitzel is made with pork (my preference) instead of veal.  As for where the Schnitzel originally came from…the technique of breading and frying thin cuts of meat is attributed to the Romans from around 1 BC.  Another little tidbit:  Austrians will be the first to admit that Wienerschnitzel doesn't come from Wien (Vienna).
But whether it's Schweineschnitzel or Wienerschnitzel, when it's perfectly breaded, perfectly fried, and perfectly crispy, practically everyone loves a good Schnitzel!  And now you can make it – perfectly – in your own kitchen!
Throughout the pictured recipe steps below, I'm going to share some tips and tricks with you that are important for achieving perfect results – like the kind of Schnitzel you'd get at a German restaurant – so be sure to read.
As already mentioned, Schnitzel is traditionally served with Spätzle and gravy, Pommes (fries), or Schwäbischer Kartoffelsalat (German vinegar-based potato salad – it's the best!).  Additionally, it's usually served with a leafy green salad.
The most popular variations of Schnitzel is Jägerschnitzel ("hunter schnitzel", served with a rich mushroom gravy),  Zigeunerschnitzel ("gypsy schnitzel", served with a zesty bell pepper sauce), and Rahmschnitzel ("cream schnitzel" served with a rich cream sauce).
Check out our recipe for German Jägerschnitzel!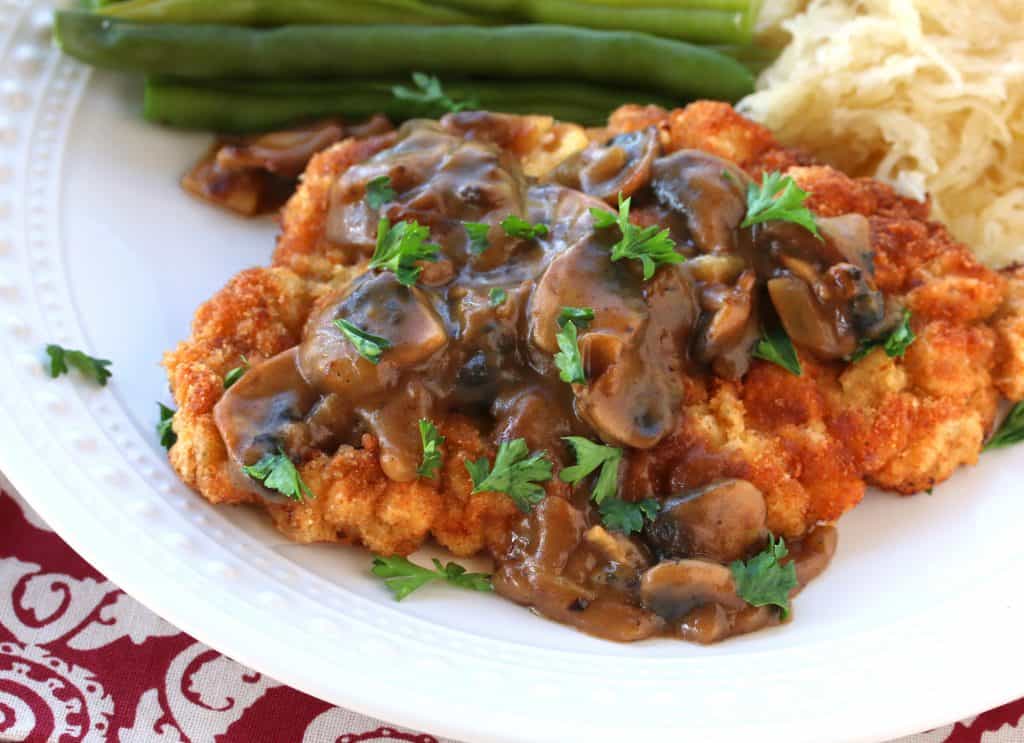 All three are commonly found in German restaurants and both are positively delicious.  When served plain, Schweineschnitzel (simply "pork schnitzel") is usually garnished with a slice of lemon and a sprig of parsley, as pictured.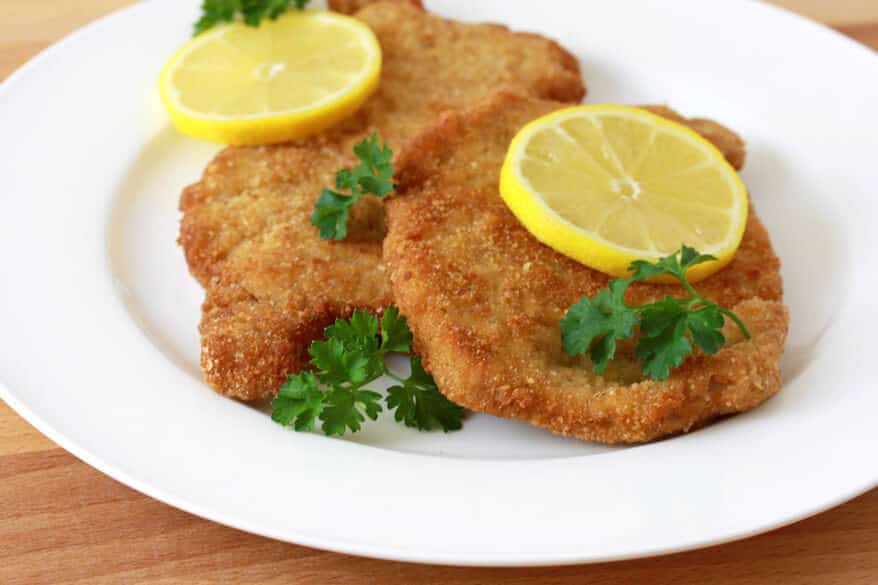 Schnitzel Recipe
Let's get started!
The first key to achieving the perfect Schnitzel is to pound it very thin, no more than 1/4 inch thick.  The reason this is important is because you'll need to fry it at high heat for a short period of time to get that perfect crispy crust without leaving the middle of the meat raw.
The easiest way to pound the pork is to lay it between two pieces of plastic wrap.  Be sure to pound them using the flat side of a meat mallet.  Lightly sprinkle each side with salt and pepper.  Dip the pork into the flour, coating all sides.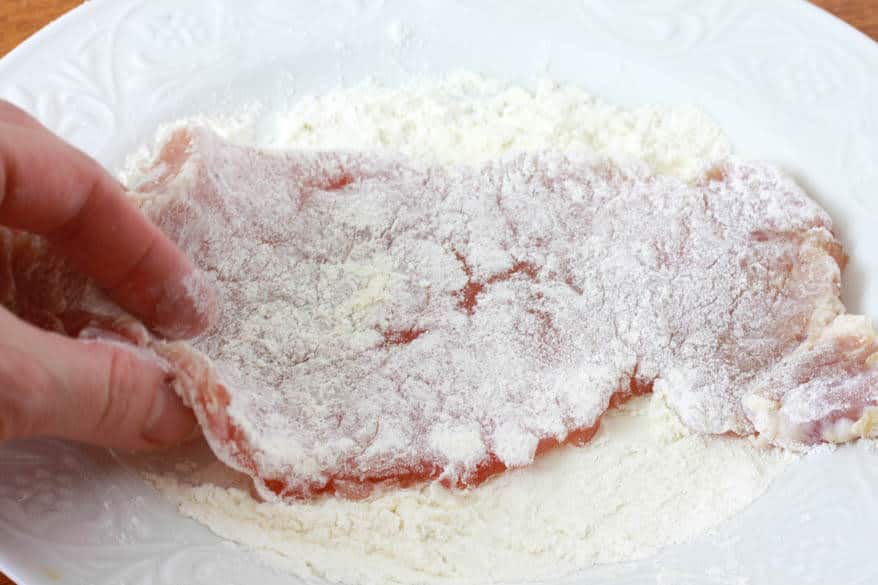 Next dip the pork into the egg mixture, coating all sides.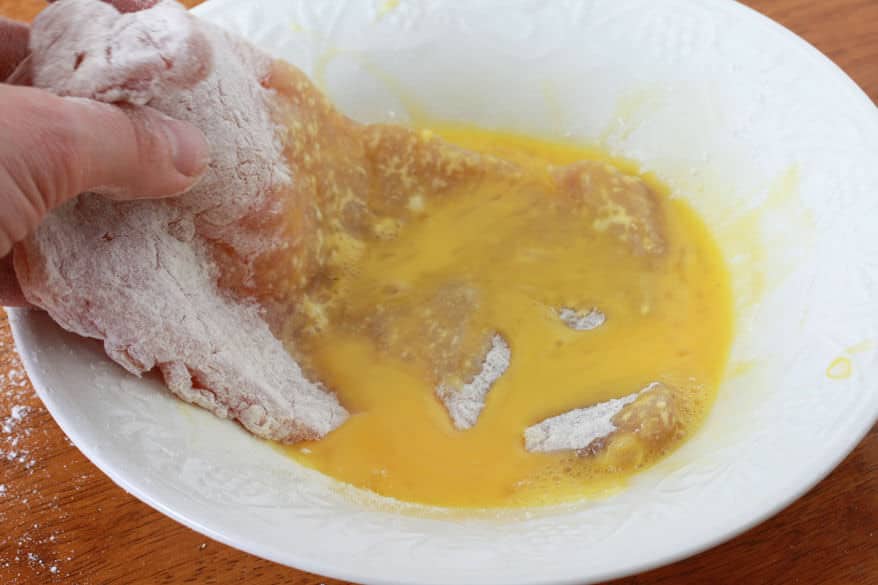 Then coat the pork with the breadcrumbs.   The next key to achieving the perfect Schnitzel:  Don't press the breadcrumbs into the meat. Just softly coat the pork on both sides and all edges, and then gently shake off any excess.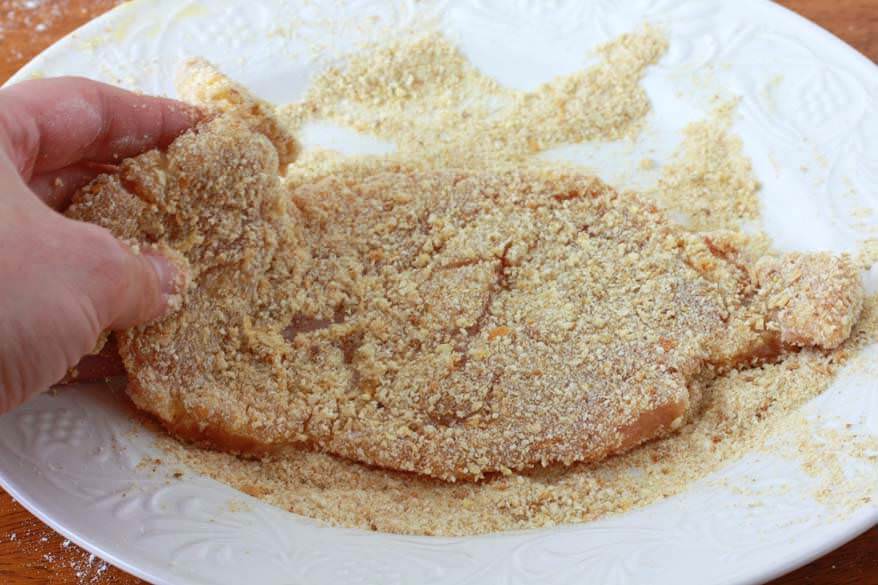 The next key is to immediately fry the Schnitzels.  Don't let them sit in coating or the end result won't be as crispy.  You don't need a ton of oil, but you need enough so that the Schnitzels can "swim".
The final key is to make sure the oil is hot enough – but not too hot.  It should be around 330ºF – test it with a candy thermometer.  If it's too hot, the crust will burn before the meat is done.  If it isn't hot enough, you'll end up with a soggy coating.  When the oil is hot enough it will  actually penetrate the coating less and you'll end up with a crispy "dry" coating instead of an overly oily one.   The result will be a beautifully crispy coating with a tender and juicy interior, and that's exactly what we want.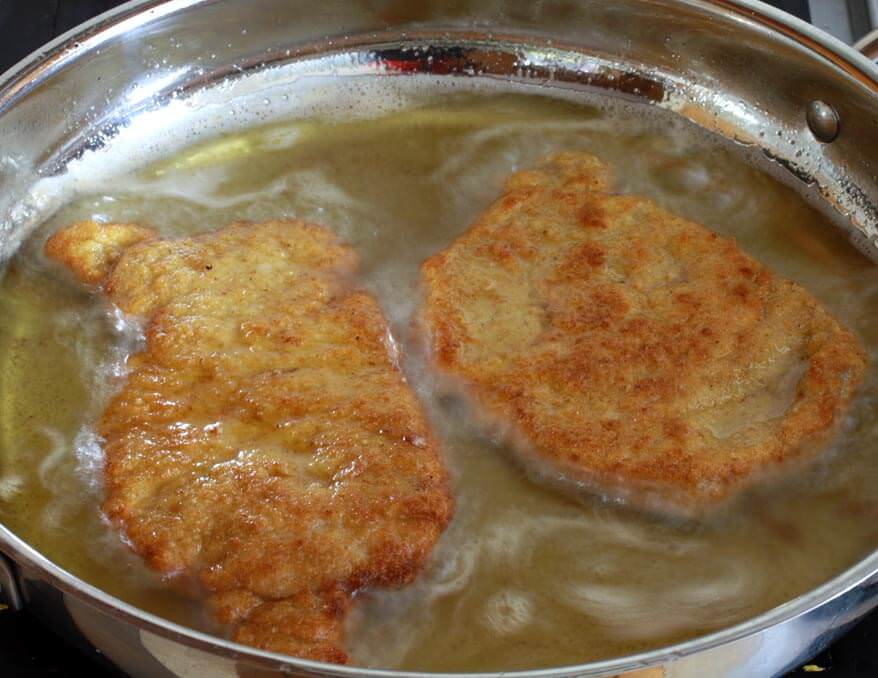 Remove the Schnitzel from the fry pan and place them briefly on a plate lined with paper towels.  Transfer them to serving plates and garnish with slices of lemon and fresh parsley sprigs.  Serve immediately with Spaetzle, French fries, or German potato salad and a fresh leafy green salad.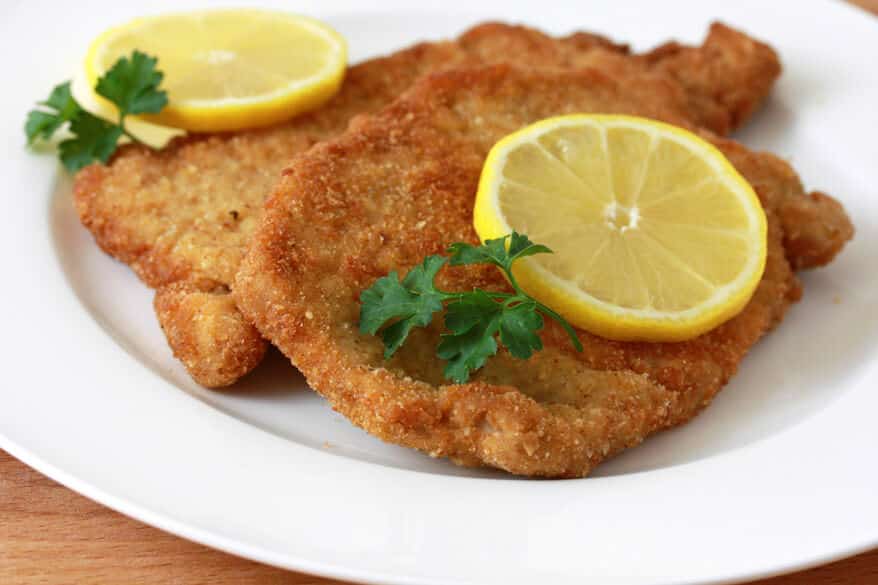 For more authentic German recipes be sure to try our: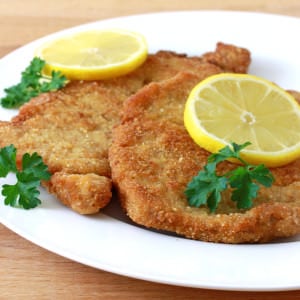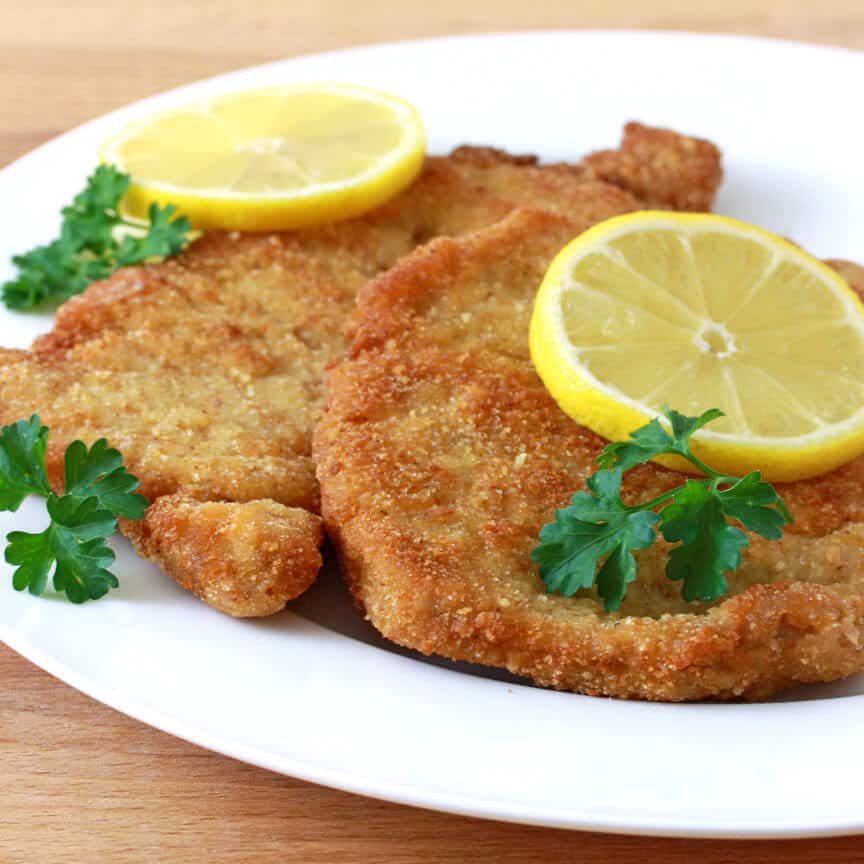 BEST German Schnitzel (Schweineschnitzel)
Learn how to make that perfectly crispy breaded Schnitzel you know and love from your favorite German restaurants!
Ingredients
4

boneless pork steaks or chops, (to make Austrian Wienerschnitzel use thin veal cutlets)

salt and freshly ground black pepper

1/2

cup

all-purpose flour combined with 1 teaspoon salt

2

large eggs, lightly beaten

3/4

cup

plain breadcrumbs
Instructions
Place the pork chops between two sheets of plastic wrap and pound them until just 1/4 inch thick with the flat side of a meat tenderizer. Lightly season both sides with salt and freshly ground black pepper.

Place the flour mixture, egg, and breadcrumbs in 3 separate shallow bowls. Dip the chops in the flour, the egg, and the breadcrumbs, coating both sides and all edges at each stage. Be careful not to press the breadcrumbs into the meat. Gently shake off the excess crumbs. Don't let the schnitzel sit in the coating or they will not be as crispy once fried - fry immediately.

Make sure the cooking oil is hot enough at this point (about 330 degrees F) as you don't want the Schnitzel to sit around in the coating before frying. Use enough oil so that the Schnitzels "swim" in it.

Fry the Schnitzel for about 2-3 minutes on both sides until a deep golden brown. Transfer briefly to a plate lined with paper towels.

Serve immediately with slices of fresh lemon and parsley sprigs or with your choice of sauce. Serve with German Spaetzle (see recipe for

Homemade German Spaetzle

), French fries, or German potato salad, and with a fresh leafy green salad.
Video
Nutrition
Calories:
376
kcal
|
Carbohydrates:
26
g
|
Protein:
35
g
|
Fat:
12
g
|
Saturated Fat:
4
g
|
Cholesterol:
171
mg
|
Sodium:
244
mg
|
Potassium:
586
mg
|
Fiber:
1
g
|
Sugar:
1
g
|
Vitamin A:
120
IU
|
Calcium:
59
mg
|
Iron:
2.8
mg