This homemade hummus recipe beats anything you'll ever buy in the store. Rich in flavor, perfectly creamy, and super easy to make, you're going to love it!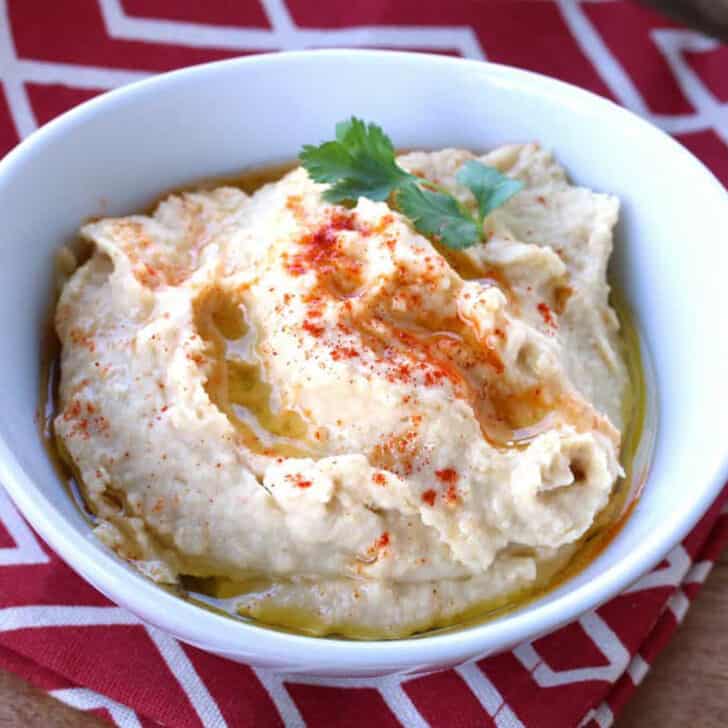 A widely popular dip, hummus is not only delicious, it's super healthy.  This homemade hummus recipe is made using homemade tahini paste, which is easy to make, cheaper than store-bought, and tastes so much better!
What is Hummus?
Hummus is the Arabic word for "chickpeas", the central ingredient in this Middle Eastern dip.  Its complete name is hummus bi tahina, meaning "chickpeas with tahini."  Made with chickpeas, tahini (a paste made out of sesame seeds), garlic, lemon and olive oil, hummus is very nutritious.  It's high in iron, vitamin C, folate and vitamin B6.  It's also an excellent source of amino acids, fiber and protein.  In fact, when eaten with bread, hummus is a complete protein.  And of course the generous amount of olive oil in the hummus comes with its own wide range of health benefits.
And how often is it that something so healthy also tastes so doggone delicious?
Most commonly served as an appetizer or dip, scooped up with flatbread such as pita, hummus is also a common accompaniment to grilled chicken, fish, falafel, and eggplant.
Interestingly, "according to a 2010 market research, hummus consumption in the United States has increased by 35 percent over a period of 21 months, with sales reaching nearly $300 million" (Wikipedia).  See, the masses are catching on to this delicious treat.  But rather than buy it, make it yourself.  It's cheaper, fresher, healthier, and tastes SO much better!
How to Make Tahini
And I know what you're thinking.  "Yeah, but it calls for tahini paste and I never have that on hand when I need it."  Fear not!  Grab our super quick, super easy Tahini recipe!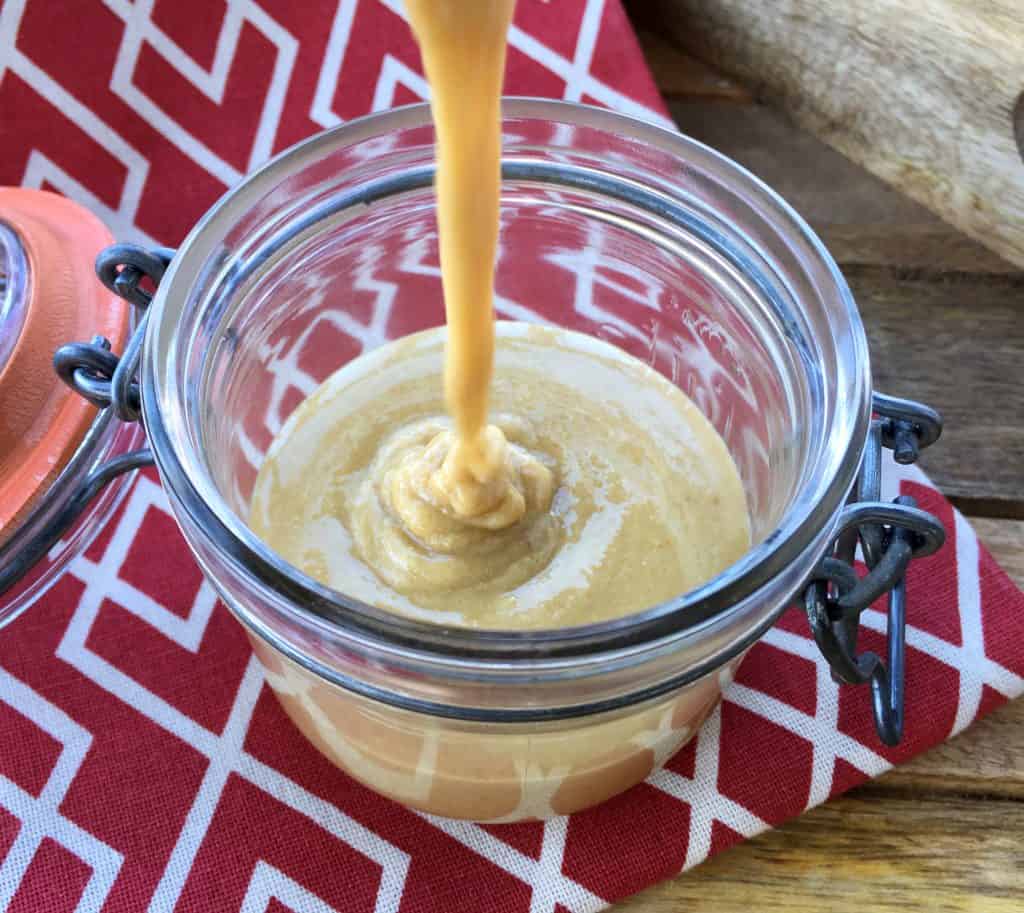 Now, if you're a hummus fan, imagine how amazing this tastes having made everything, including your very own tahini, from scratch!  Yes, it's THAT good!
And if you're not already a hummus fan, prepare to be converted!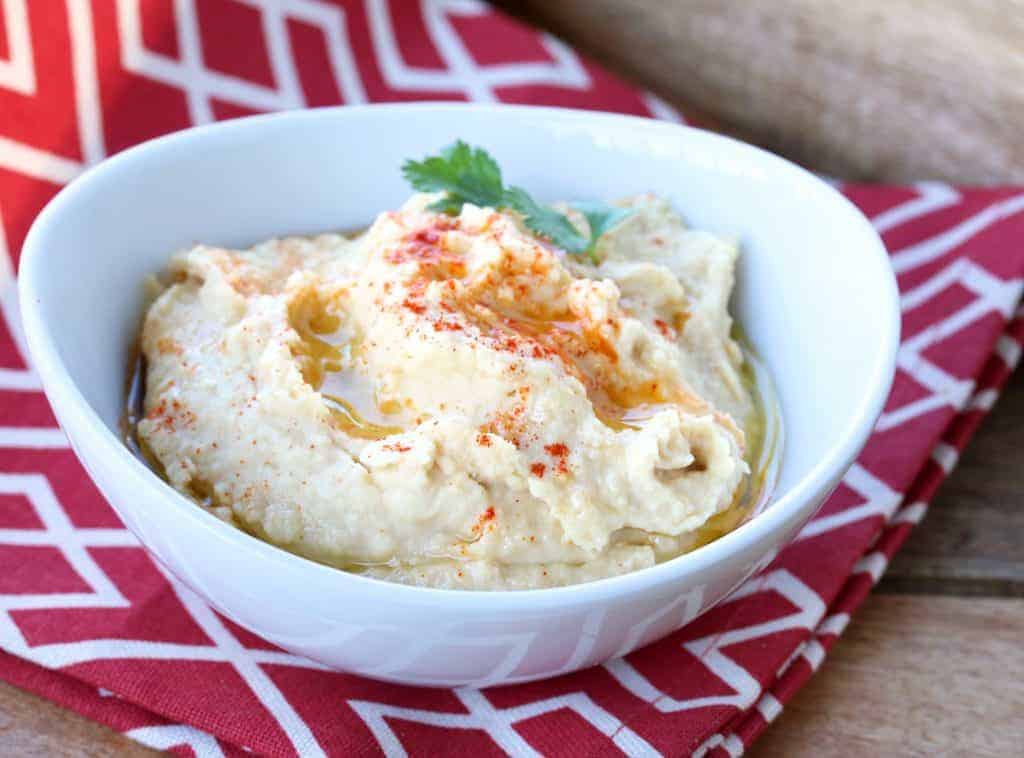 Hummus Recipe
Let's get started!
Soak the garbanzo beans in water overnight.  Drain and thoroughly rinse.  Bring them to a boil in a pot of water (you can add a teaspoon of baking soda to the water if you're prone to…ahem…gas).  Reduce the temperature to medium, cover and cook for 1 to 1 1/2 hours or until very soft.
Drain the garbanzo beans.
Place the cooked garbanzo beans in a food processor.
I'm using my full-size Cuisinart in the photos but usually I prefer my smaller Cuisinart 3-cup Food Processor which we've had for 10 years and it's still going strong.
Process the garbanzo beans and add some of the reserved bean water.
Add the olive oil, tahini paste, garlic, lemon juice, cumin (if using) and salt.  Process until smooth.
Add some more of the reserved cooking water from the beans until you reach the desired consistency.  Add more tahini paste and salt to taste.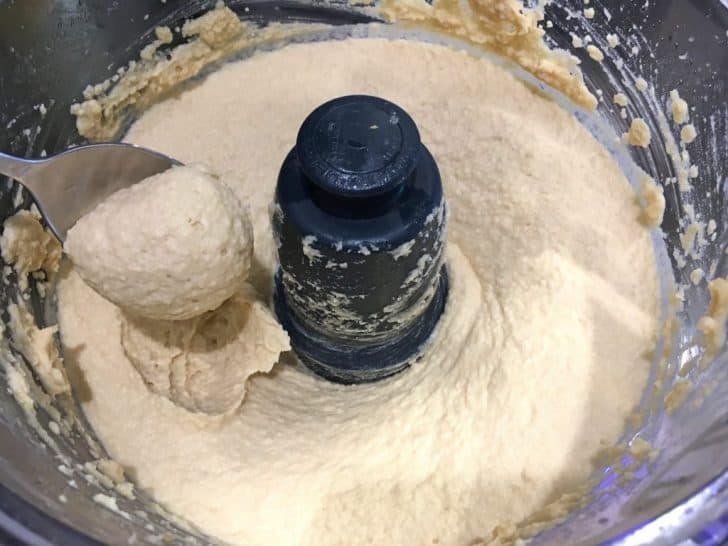 Transfer to a serving bowl, make some swirly divets on the top and pour a little olive oil over it.  Sprinkle with some paprika and garnish with some chopped fresh parsley if desired.  Serve with toasted pita wedges, vegetables or crackers.
Enjoy!
Be sure to also try our Roasted Pumpkin Hummus!
Perfect Hummus Recipe
This hummus is rich in flavor, luxuriously creamy and beats anything you'll buy in the store!
Ingredients
1

cup

dried garbanzo beans/chickpeas

, rinsed then soaked overnight

1/2

cup

Homemade Tahini Paste

1/4

cup

extra-virgin olive oil

2-3

tablespoons

freshly squeezed lemon juice

1-2

cloves

garlic

, roughly chopped

1/4

teaspoon

ground cumin

(optional)

1/2

teaspoon

salt

, plus more to taste

Reserved cooking water from the garbanzo beans

Extra olive oil for garnish

Paprika for garnish

Chopped parsley or cilantro for garnish
Instructions
Drain and rinse the garbanzo beans. Place in a pot with water and bring to a boil. Add a teaspoon of baking soda if you're prone to gas. Reduce the heat to medium, cover, and cook for 1 to 1 1/2 hours until the beans are very soft. Drain, reserving some of the bean water, and let the beans cool.

Place the garbanzo beans in a food processor until no large chunks remain. Add the tahini paste, olive oil, lemon juice, garlic, cumin and salt and process until smooth. Add some of the reserved bean water, a little at a time, as needed until the desired consistency is reached. Add salt to taste.

Transfer to a serving bowl and make some swirly divots on the top. Drizzle some olive oil over it, sprinkle with some paprika and chopped fresh parsley if desired. Serve with toasted pita wedges, vegetables or crackers.

Store in the fridge for up to 3 days.
Nutrition
Calories:
321
kcal
|
Carbohydrates:
25
g
|
Protein:
9
g
|
Fat:
21
g
|
Saturated Fat:
2
g
|
Sodium:
209
mg
|
Potassium:
383
mg
|
Fiber:
6
g
|
Sugar:
3
g
|
Vitamin A:
35
IU
|
Vitamin C:
4.3
mg
|
Calcium:
63
mg
|
Iron:
3.1
mg
Originally published on The Daring Gourmet May 23, 2014