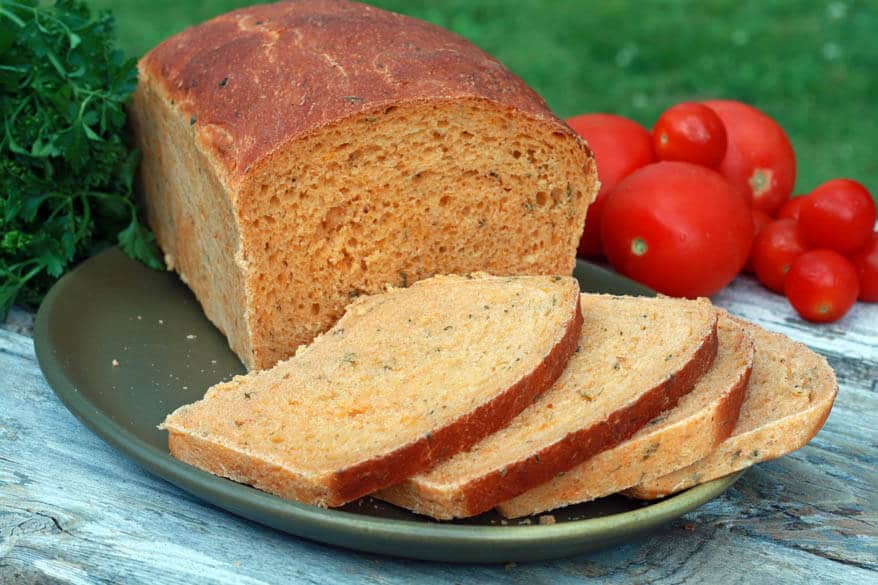 Fresh tomatoes.  Roasted until sweet.  Fresh garden herbs.  Combined and kneaded into yeast dough.  Fresh from the oven.  Fragrant and flavorful.  Soft, tender, and delicately chewy.  Perfectly sliceable for your deli-quality sandwiches.
Better make two loaves while you're at it.
This is a "Make a Request!" fulfillment for Carmen Sanchez.  She wrote, "I have looked all over the internet to no avail…for a recipe I used to have back in the late 70′s…Herbed Tomato Bread. It was the best!"  Carmen, I don't know what that particular bread tasted like, but I know what this one tastes like – and you are going to l.o.v.e. it!  I had a lot of fun developing this recipe and am so happy you put in the request!  This is now one of my favorite breads and one that I will make again and again.
The timing was perfect.  My husband I were leaving for our anniversary trip to Astoria Oregon the day after I made this and so I used the leftover bread to make some sandwiches for the drive down.  The aroma of the bread filled the car within minutes – those freshly roasted tomatoes and garden herbs.  Were weren't on the road very long before I caved and gobbled that sandwich right up.  This bread is amazing.   I think you could almost slap a piece of cardboard on this bread and it would still taste incredible!   I'm confident you won't find a better tomato & herb bread anywhere.
The trip to Astoria and Cannon Beach that followed was wonderful.  Both are favorite destinations of ours.  One of our first dates ever was to Cannon Beach and Astoria, so they hold a special place in our hearts.  Astoria is such a neat town.  So many beautiful Victorian homes in such a beautiful setting.  Before we get to the recipe, let me share a few pictures with you!
Of course you can't go to Astoria without seeing some sites from "The Goonies", right?  Let's start with a few of those.  Below is Brand and Mikey's house where the Goonies hang out, turn the statue of David into a eunuch, and find the treasure map.
Remember the scene where Brand and Mikey's dad is hanging up the American flag outside at work?  That was the Flavel House (*sigh*…if it ever comes up for sale…for 1/4 of what it's worth…)  Then there's the jail where the Fratelli's helped bust their son/brother out of (sorry about the dangling participle).  And bottom right is a view from the street leading to the Goonies house.
Astoria was also the setting for Kindergarten Cop.  Here's the elementary school, still in use, and still proud of their Hollywood claim to fame (note the sign).
The Astoria Column, built in 1926.  7 feet wide and 525 feet tall.  Such a beautiful setting!
The views from above were gorgeous.  I would have loved to be there for sunset.  I thought what a lovely setting it would be for a quiet sunset marriage proposal.  It would be hard not to say "yes" in such a setting with such inspiring views of forever before you!
The view down was slightly less inspiring…
About 30 minutes from Astoria is Cannon Beach, one of our favorite spots.  Remember the famous beach scene at the end of The Goonies with those really neat huge rocks?  That's Cannon Beach.
We discovered we weren't the only ones headed in that direction.  We came across a band of pirates on the side of the road.  Not sure what the occasion was or where they were going.  But I guess we all have our hobbies, right?  Some people cook, some travel, others take pictures, scrapbook, or go skiing…and some people put on pirate garb and go "ARRRRR!"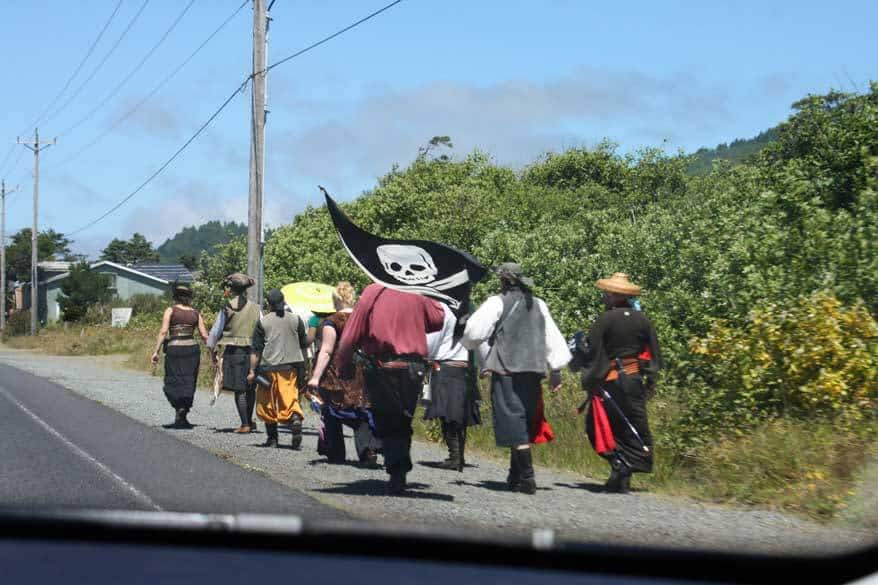 And so we continued along the coastline to Cannon Beach.
Here are some pictures I took of the beautiful coastline and rock formations.
Gorgeous, stunning, inspiring!  I love it!
And with that, let's get to that deeeelicious Fresh Roasted Tomato & Herb Bread!
You'll need a bunch of fresh herbs for this bread.  I harvested several kinds from my garden.  The variety made it especially good, but the main thing is quantity and they must be fresh, not dried.  Growing herbs is so easy to do and so much cheaper than buying them in the store.  They can be easily grown in pots on your balcony or doorstep if you don't have the garden space.
You can use regular tomatoes for this recipe, but I happened to have some cherry tomatoes on hand that needed to be used, and I actually prefer using them for this bread – they're ideal for roasting.
Get a generous amount of herbs.  You'll need about 1/4 cup chopped.  I used a variety:  Oregano, basil, marjoram, thyme, dill, sage, rosemary.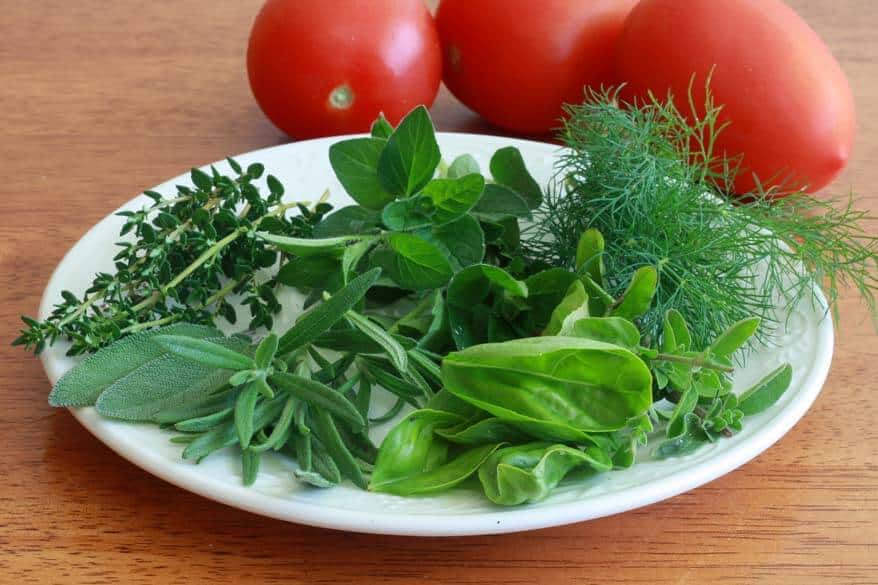 Chop them up.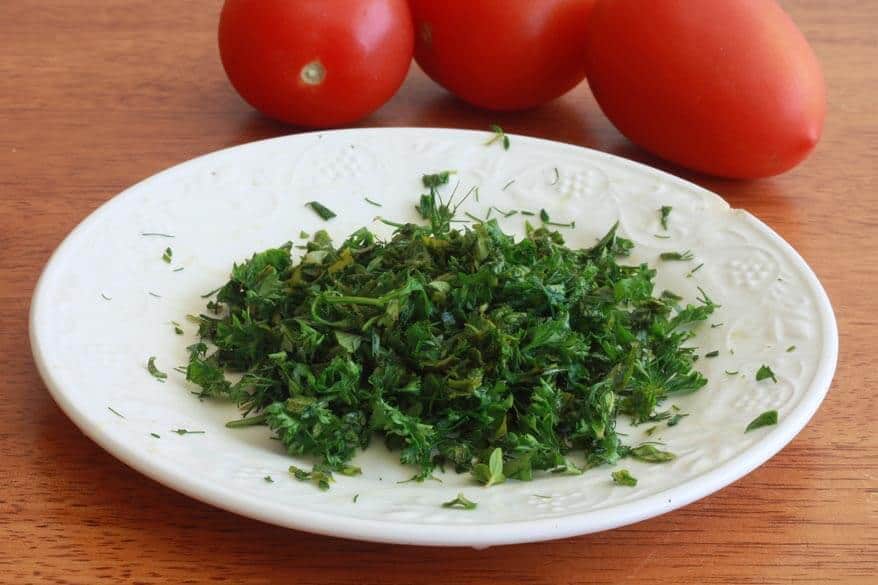 Roast the tomatoes, drizzled with 1 tablespoon olive oil, in an oven preheated to 400 degrees F for 10-15 minutes or until they start to blister.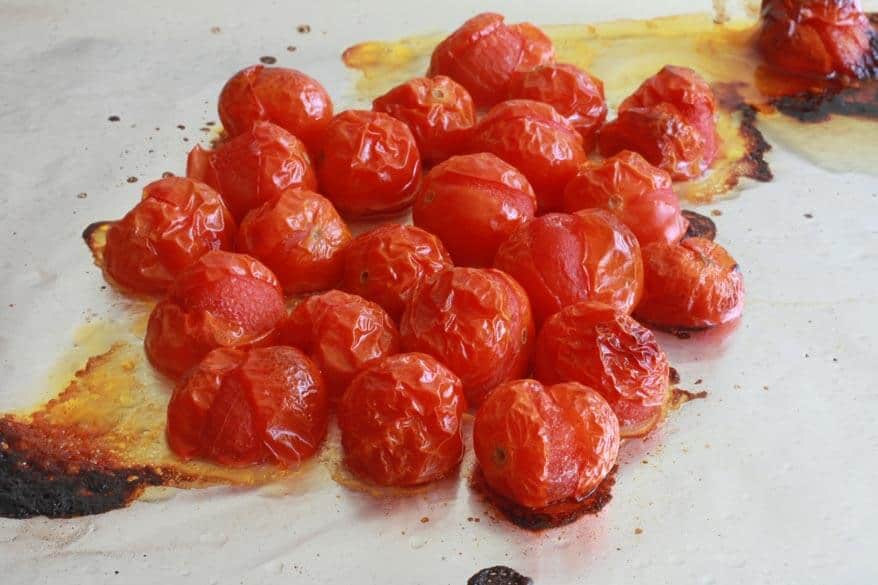 Puree the tomatoes.
Combine the flour and salt in the bowl of a stand mixer.
Combine the water, honey and olive oil in a bowl.
Add the yeast and stir to combine.  Let sit for 5 minutes.
Make a well in the flour and add the pureed roasted tomatoes.
Add the water/yeast mixture.
And the fresh herbs.
Attach a dough hook to the stand mixer and knead on the bread setting/medium for about 8 minutes.  If too sticky, add some flour, a little bit at a time, and continue kneading.  If too stiff and dry, add a little bit of water and continue to knead.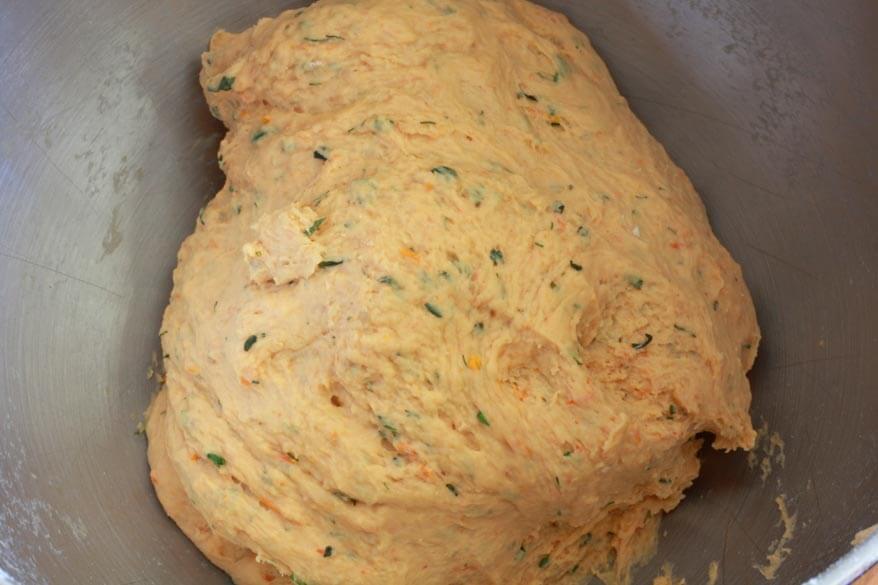 Remove the dough and form into a ball.  Lightly spray the bowl with olive oil and roll the dough ball around in it.  Loosely cover the bowl with plastic wrap and let it sit in a warm place.
Let it rise for about an hour or until it is nearly doubled in size.
Remove the dough and place it on a flat surface.
Form the dough into a 8 inch square, about the length of the bread pan.
Starting at the furthest end, roll the dough towards you, tucking it in as you roll it so it's tight.
Pinch the seam together.
Lay the dough seam side down in a greased 9×5 loaf pan.  I use the hand-forged aluminum pans by Magic Line, made in the USA.  Love them!  Make sure the dough is evenly spread in the pan and is touching all sides.
Cover loosely with plastic wrap and set it in a warm place to rise.
Let it rise for another 20-30 minutes or until the dough has risen a ways above the bread pan.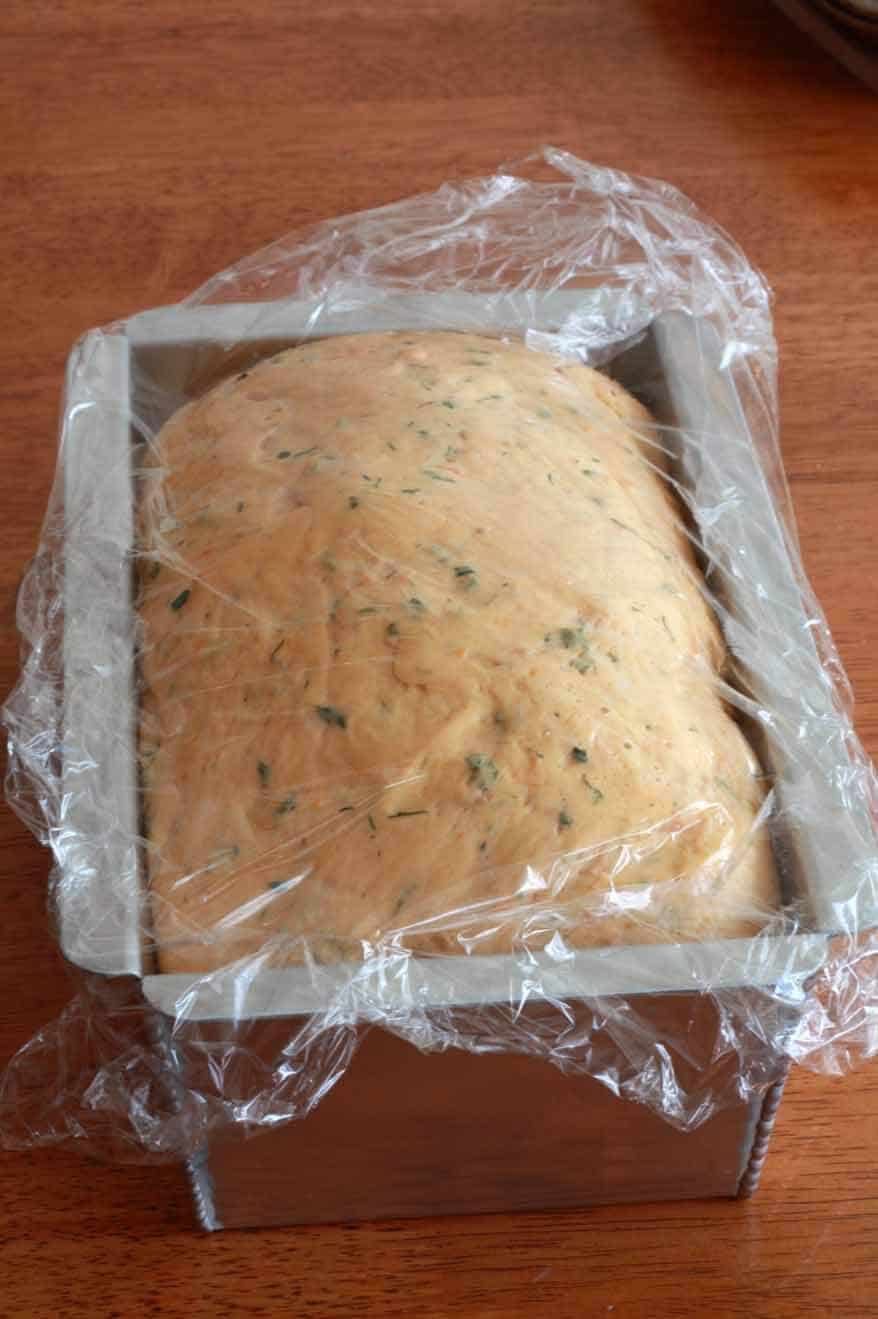 Preheat the oven to 350 degrees F.  Place a baking sheet on the bottom rack in the oven and pour two cups of boiling water in it (this will create a nice steam bath for the bread while its baking for optimal rise and texture.)  Place the bread on the rack just above it and bake for it for 40-50 minutes or until the top of the bread is browned and the loaf sounds hollow when you tap on it with your knuckles.
Remove the bread from the oven and transfer to a wire rack to cool before slicing.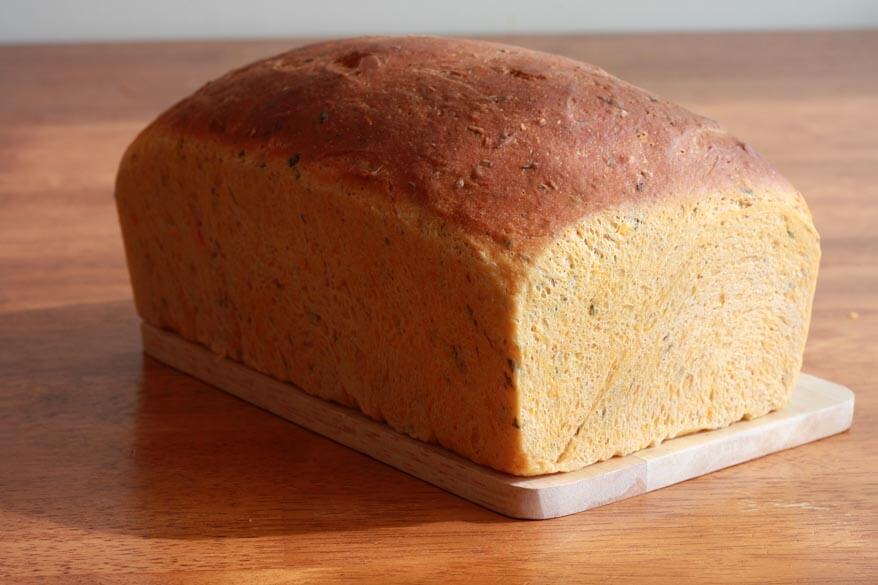 Remember my post for the German Picnic Salad?  I talked a little about Castello's delicious Alps Selection cheeses.  I love their cheese and it paired beautifully with this bread.  Spread a little butter on the bread with some good quality cheese and you're all set!
Another great way to use this bread:  Cube and toast the bread to make delicious salad croutons!

Fresh Tomato and Herb Bread
:
The Daring Gourmet, www.daringgourmet.com
Serves:
Makes 1 large loaf
Ingredients
2 cups cherry tomatoes or quartered Roma tomatoes
Optional: For enhanced tomato flavor add ¼ cup sun-dried tomatoes in oil, drained and chopped
1 tablespoon extra virgin olive oil
2¼ teaspoons instant (rapid rise) yeast
¾ cup warm water
2 tablespoons honey
1 tablespoon extra virgin olive oil
3½ cups all-purpose flour
2 teaspoons salt
¼ cup chopped mixed fresh Italian herbs (rosemary, basil, marjoram, thyme, sage, dill, oregano, parsley)
Instructions
To roast the tomatoes, spread them out on an aluminum foil-covered baking sheet and toss with 1 tablespoon olive oil. Preheat the oven to 400 degrees F and roast for 10-15 minutes or until the skins of the tomatoes are collapsed and just barely beginning to brown. Puree the tomatoes in a blender and set aside.
Combine the water, yeast, honey and 1 tablespoon of olive oil. Set aside.
Combine the flour and salt in the bowl of a standing mixer. Make a well in the middle of the flour and pour in the tomatoes, the water/yeast mixture and the herbs. Stir with a wooden spoon or wooden spatula just until the ingredients are starting to come together, then attach a dough hook to the standing mixer and knead the dough for about 8 minutes on medium ("2" on a Kitchenaid standing mixer). The dough will still be a little sticky and tacky. If it's too wet, add a little more flour. Remove the dough from the bowl and roll into a ball.
Lightly oil a clean bowl with oil and roll the dough ball around in it. Cover loosely with plastic wrap and place in a lightly warmed oven for about an hour, until doubled in size.
Form the dough into an 8-inch square about 1 inch thick. Starting at one end, roll the dough firmly into a cylinder, making sure the dough sticks to itself. Turn the dough seam-side up and pinch the seam closed. Place the dough seam-side down in a greased 9x5 inch bread pan and gently shake the dough until all four sides touch the edges of the pan. Cover loosely with plastic wrap and returned to a warm place until it is almost doubled in size, about 30 minutes.
Preheat the oven to 350 degrees F. Boil 2 cups of water and pour it into a baking pan and place it on the bottom rack. If possible, place the dough above the rack with the pan of boiling water. If not, place the boiling water in two smaller pans on either side of the bread pan. Bake for 40-50 minutes or until the top of the bread is browned and the loaf sounds hollow when you tap on it with your knuckles.
Transfer the bread to a wire rack and cool completely. Slice, serve, and enjoy!