This post contains affiliate links.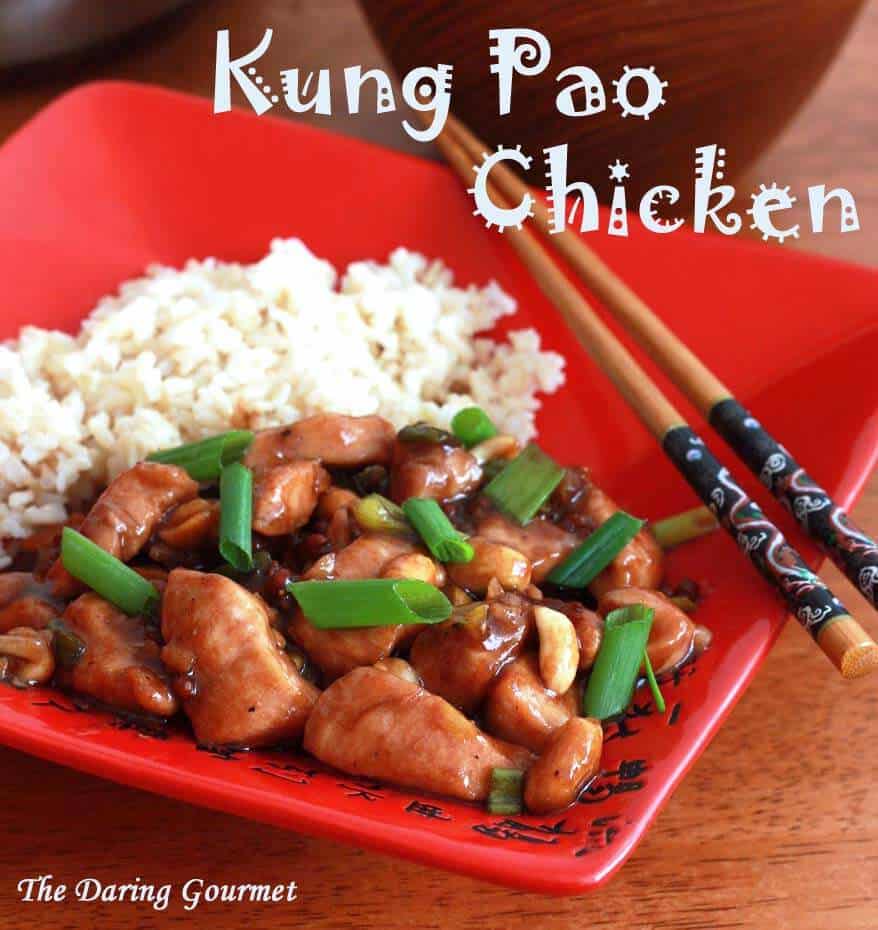 Originating in the Sichuan Province of China, Kung Pao Chicken is a popular dish throughout China and the Western world.   It is believed to have been named after the governor of Sichuan, Ding Baozhen of the Qing Dynasty.  His official title, Gong Bao (meaning "palatial guardian"), is thought to have inspired the name of the dish.  The name continued until the Cultural Revolution when any association with Ding Baozhen became politically incorrect.  Thus, the name of the dish was changed to simply "fast-fried chicken cubes" or "chicken cubes with seared chiles" until the 1980′s when the political climate cooled and it's original name was reclaimed.
Not for the faint of tastebuds, this dish packs a punch, or I should say "PAO!"
The key component to authentically-tasting Kung Pao is the use of whole sichuan peppercorns.  Commonly used in authentic Asian cuisine but not as often found in Americanized Chinese cooking.  Not actually a peppercorn or even related to the pepper family at all, the sichuan peppercorn is actually part of the citrus family and its flavor bears some subtle nuances to its genus.  It is one of the ingredients in Chinese Five Spice Powder, and is also traditionally used in Chinese medicine.
Though used in the traditional Chinese versions of the recipe, sichuan peppercorns are not commonly used in Americanized versions.  This is due to the fact that the sichuan peppercorn was banned from importation to the U.S. from 1968 until 2005, because it was viewed as a potential carrier of "citrus canker," a tree disease that can potentially harm citrus crops.  The ban was lifted in 2005 and we now have access to this distinct and delicious ingredient.
Highly flavorful and aromatic, sichuan peppercorns impart a tingling numbness that enriches fiery tastes.  Look for sichuan peppercorns in your local Chinese market or order it online.
There is a reason why this dish is such such a popular Chinese staple in North America.  It's delicious!
Let's get started!
Combine the chicken with the marinade ingredients and let sit at room temperature for about 10 minutes.
Combine all the sauce ingredients in a bowl (the following can be easily found and purchased online here:  Hoisin Sauce, Chinese Rice Wine, Chinese Black Vinegar, Sesame Oil.
Here is what the sichuan peppercorns look like.  You'll need about 1 1/2 tablespoons.  The is no substitute for it's flavor.
Heat the oil in a wok or skillet over high heat and, once the oil is hot, briefly fry the sichuan peppercorns and broken up chilies, about 15 seconds.
Add the chicken and fry until no longer pink.
Have the green onions, garlic and ginger chopped and ready to add.
Add the garlic, ginger, and white parts of the green onions (the whites take longer to cook and you want to avoid the green parts getting too soggy).  Fry for another 30 seconds.
Add the peanuts and toss to combine.
Pour in the sauce and stir until thickened, about 30 seconds.
Add the green onions and stir to combine.
That's it!
The luscious Kung Pao Chicken is ready to eat!  Serve immediately with some steamed rice.
Note:  See bottom of recipe for a vegetarian/vegan version.
Asian food lovers, don't forget to check out this recipe for the Best Homemade Teriyaki Sauce!

Kung Pao Chicken
:
The Daring Gourmet, www.daringgourmet.com
Ingredients
1 pound skinless, boneless chicken breast or thighs, cut into ¾-inch cubes (Vegetarians and Vegans: Use chicken substitute such as Butler's Soy Curls, or 1 pound tofu cubes fried and baked - * see instructions under the recipe box)
2 tablespoons peanut or extra virgin olive oil
8 to 10 dried red chilis (or less depending on heat preference), broken up in large pieces, seeds and membranes carefully removed and discarded
5 green onions, sliced, the green and white parts kept separate
2 cloves garlic, minced
1 teaspoon fresh ginger, minced
½ cup unsalted dry-roasted peanuts
Marinade:
1 tablespoon soy sauce
2 teaspoons Chinese rice wine or dry sherry
½ teaspoon cornstarch
Sauce:
¼ cup Chinese black vinegar, or substitute good-quality balsamic vinegar
1½ tablespoons soy sauce
1½ tablespoons hoisin sauce or make your own
1½ tablespoons sesame oil
2 tablespoons sugar
2 teaspoons cornstarch
1½ tablespoons whole sichuan peppercorns
Instructions
In a medium bowl, stir together the soy sauce, rice wine, and cornstarch until the cornstarch is dissolved. Add the chicken and toss to coat and let it marinate for at least 10 minutes.
In a small bowl, combine the vinegar, soy sauce, hoisin sauce, sesame oil, sugar, and cornstarch. Stir until the sugar and cornstarch are dissolved. Set aside.
Heat a wok or large skillet over high heat until a drop of water sizzles when thrown in. Add the oil and coat the bottom of the pan. Add the chilies and sichuan peppercorns and stir-fry for 30 seconds until the chilies begin to darken in color.
Add the marinated chicken and stir-fry until no longer pink.
Add the white parts of the green onion along with the garlic and ginger and stir-fry for another 30 seconds. Pour in the sauce and stir, coating the chicken. Add the peanuts, stir to coat, and cook for another 2 minutes.
Transfer to a dish, sprinkle the green parts of the green onions on top, and serve immediately with rice.
* NOTE TO VEGETARIANS:  To make this dish meatless, prepare the tofu as prepared in Creamy Mushroom and Tofu Stroganoff, but add the step of first evenly sprinkling the tofu cubes with 2 tablespoons of soy sauce and 1 teaspoon of sesame oil, toss to coat and then proceed with the remaining instructions as follows:  http://daringgourmet.com/2013/01/15/creamy-mushroo…ofu-stroganoff/