This post contains affiliate links.
This carrot cake is made a little differently.  The carrots are cooked and pureed before being added to the batter resulting in a sweeter flavor, a richer texture, and a deliciously moist crumb.
I've always loved carrot cake.  And I'm not really sure if that's because of the carrot cake itself…or because it's a convenient excuse to enjoy a thick layer of irresistible cream cheese frosting!  A repressed fantasy of mine is to take an entire bowl of cream cheese frosting, grab a spoon, sit down in a comfy chair, and have at it.  Ever experienced that urge?  I've never mustered the courage to do it.  Maybe someday.  Someday when calories no longer stick to hips and thighs (HA!). But back to the original question.  It must be the carrot cake as well that I've always enjoyed, otherwise the cream cheese frosting never would have made it past the mixing bowl to the cake, right?  There's just something about the cream cheese/carrot cake combo. They're simply meant to be together.  A culinary match made in heaven.
To save you a little time, you can toast the walnuts and cook/puree the carrots well in advance.  You can also make the frosting a day or two ahead – just take it out of the fridge 30 minutes before spreading it onto the cake.  The rest of the cake prep is a breeze – and a very quick breeze at that.
This Old Fashioned Carrot Cake has a feel of "yester-year" about it which I love.  Soft, tender, rich and moist with that warming vintage taste of freshly ground nutmeg and fruity orange zest.  Come pull up a chair at the kitchen table, pour a glass of milk and enjoy a slice or two.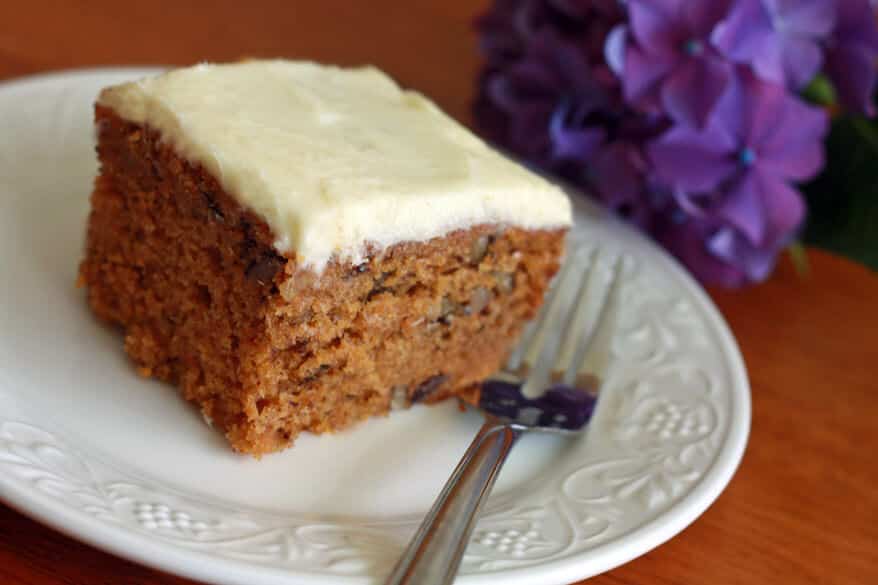 Deliciously Moist Carrot Cake
:
The Daring Gourmet, www.daringgourmet.com
Ingredients
½ cup walnuts
1 cup pureed carrots (boil just under a pound of carrots until soft; drain and cool, then puree in a food processor.)
1½ cups unbleached all-purpose flour
2 teaspoons baking powder
¾ teaspoon baking soda
1 teaspoon cinnamon
½ teaspoon freshly grated nutmeg
½ teaspoon salt
2 large eggs
1½ cups firmly packed light brown sugar
½ cup whole milk
1 teaspoon pure vanilla extract
½ cup plus 2 tablespoons unsalted butter, melted and cooled to room temperature
2 teaspoons freshly grated orange zest (be careful to avoid the white pith of the orange, it's bitter)
½ cup raisins
For the Cream Cheese Frosting:
4 ounces cream cheese, room temperature
2 tablespoons unsalted butter, room temperature
¾ cup powdered sugar
½ teaspoon pure vanilla extract
Instructions
To toast the walnuts, preheat the oven to 350 degrees F and line a baking sheet with parchment paper. Spread the walnuts out on the baking sheet and bake for 6-8 minutes, or until the walnuts start to darken. Let the walnuts cool and then coarsely chop them.
Preheat the oven to 350 degrees F. Line the bottom of an 8-inch square baking pan with parchment paper and lightly grease the sides of the pan.
In small bowl, sift the flour, baking powder, baking soda, cinnamon, nutmeg and salt.
In a large mixing bowl, beat the eggs and brown sugar until combined. Add the milk, vanilla extract, orange zest and melted butter. Add the flour mixture and carrot puree and beat just until combined. Do not over-beat. Using a rubber spatula, stir in the walnuts and raisins.
Pour the batter into the prepared pan and use the rubber spatula to smooth the top. Bake for 45-50 minutes or until lightly browned and a toothpick inserted into the center comes out clean. Let the cake cool completely in the pan on a wire rack, then carefully invert it onto a serving plate.
To make the frosting, beat all the ingredients in a mixing bowl until combined. Spread it onto the top and sides of the cake.