This post contains affiliate links.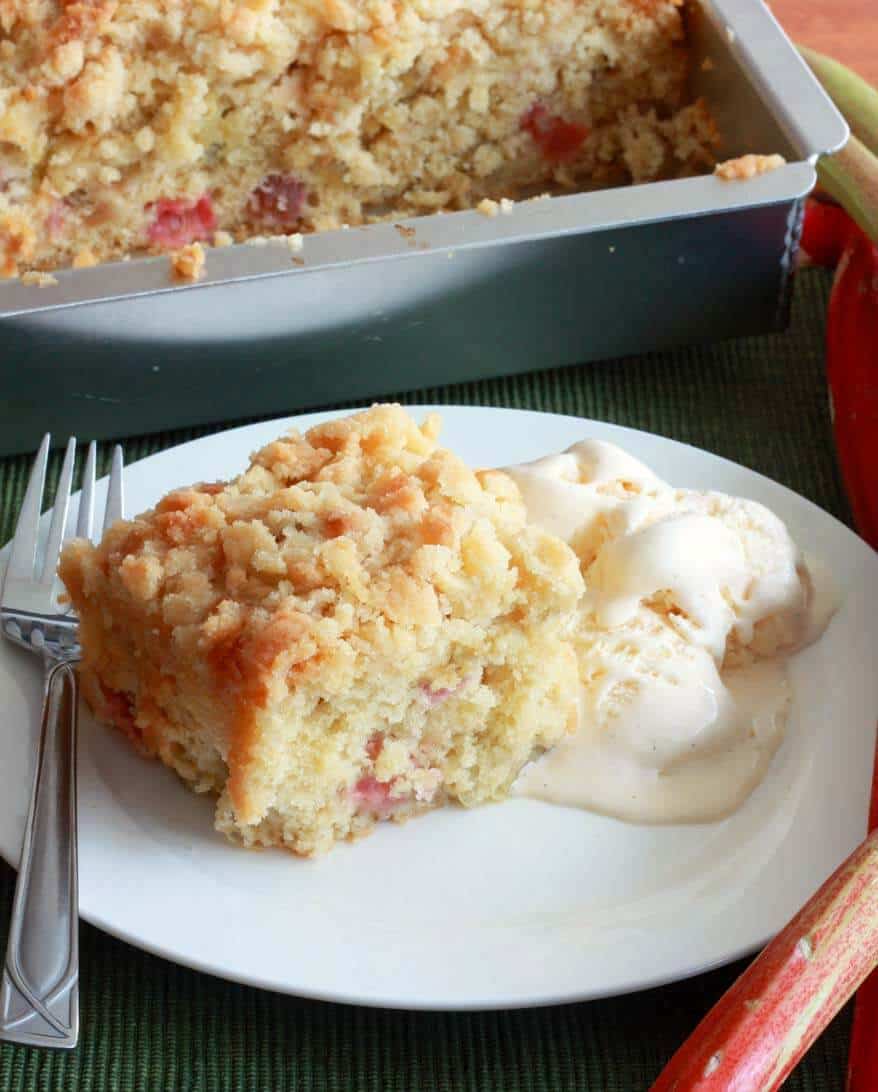 Rhubarb is easy to grow and spreads rapidly, yielding a generous harvest.  That said, we've attempted on at least a couple of occasions to grow rhubarb, but without success.  It's never been able to survive the antics of the family dog!  Fortunately, I was able to reap some of the harvest of my grandpa's rhubarb.  We drove down for his 90th birthday a week ago and I came back with a nice stash of fresh rhubarb from his garden.  I love rhubarb.  I like it made into a compote and served with ice cream or whipped cream.  I also enjoy it in the form of strawberry rhubarb pie or jam.  This time I decided to incorporate it into a tender and moist cake.  Not too sweet and not too tart – just the right balance.  It was a big hit and I immediately received requests to bake a second cake.  My husband, who neither likes cake nor rhubarb (strange man), really liked this one and cast in his vote for another one.  So I'll be making this again tomorrow.  How about you?
Let's have a little rhubarb chat.  Rhubarb is technically a vegetable but was designated as a fruit in the U.S. in a 1947 court ruling for the purposes of regulations and duties.  Rhubarb enjoys a long history.  It has been used in Chinese medicine for thousands of years.  Over the centuries the rhubarb trade increased and in Medieval Europe its value exceeded that of fine spices such as cinnamon and saffron. Rhubarb entered the U.S. in the 1820's and has been enjoyed in the popular form of pies, crumbles, compote, and preserves ever since.
What's interesting to me is that even though rhubarb is a vegetable, its generally only used as a fruit, in sweet dishes, (and for that matter, though tomatoes are technically fruits, they're really only used in savory dishes).  Have any of you ever made or seen rhubarb served as a vegetable?  Chime in if you have!
One last factual tidbit from Wiki:  "In British theater and early radio drama, the words "rhubarb, rhubarb" were repeated for the effect of unintelligible conversation in the background."  Pretty amusing, huh?  For your further entertainment, try repeating "rhubarb" at least 5 times.
Go grab some rhubarb while it's still available and make this fantabulous Rhubarb Buttermilk Streusel Cake!  A tender and moist crumb with a delightful buttery streusel topping (which, incidentally, comes from the German verb "streuen," which means to sprinkle or scatter) .  This cake is truly lovely and it's easy to make.  Serve it up with some ice cream and you're all set.  And even if you think you don't like rhubarb like my husband (who prior to eating this said he couldn't stand it), give it a try – you won't be disappointed!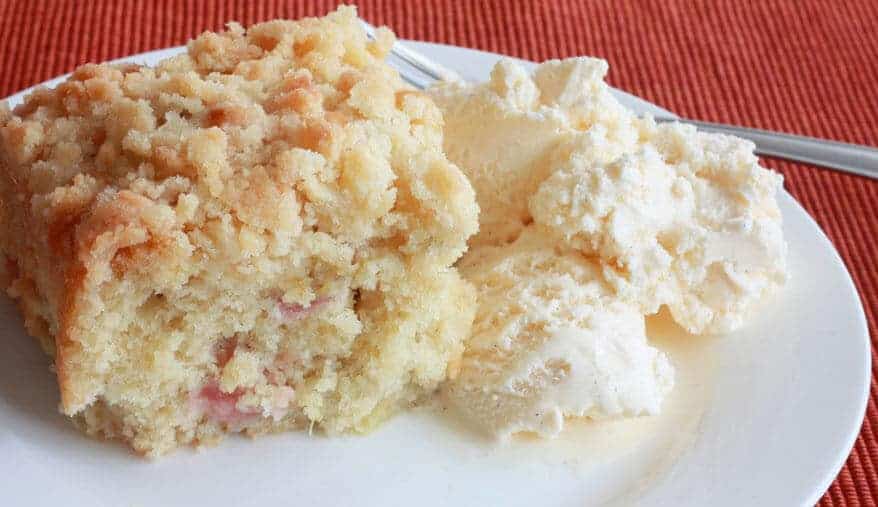 Let's get started!
Cream the butter and sugar in large mixing bowl with an electric mixer.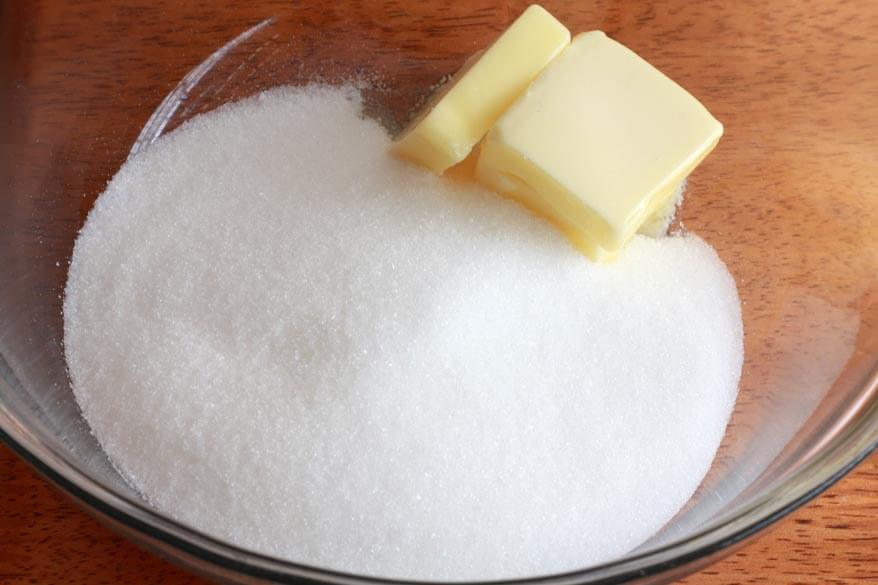 Add the eggs and vanilla extract.
Beat until combined.
In a separate bowl, combine the flour, baking powder, baking soda, and salt.
Using a rubber spatula, fold in the flour, alternating the flour and buttermilk.
Be careful not to over-stir.  Some lumps of flour will remain, and that's okay.
Wash the rhubarb.  Peel off the outer skin if it's too tough.
Dice the rhubarb and add it to the batter.
Fold the rhubarb into the batter.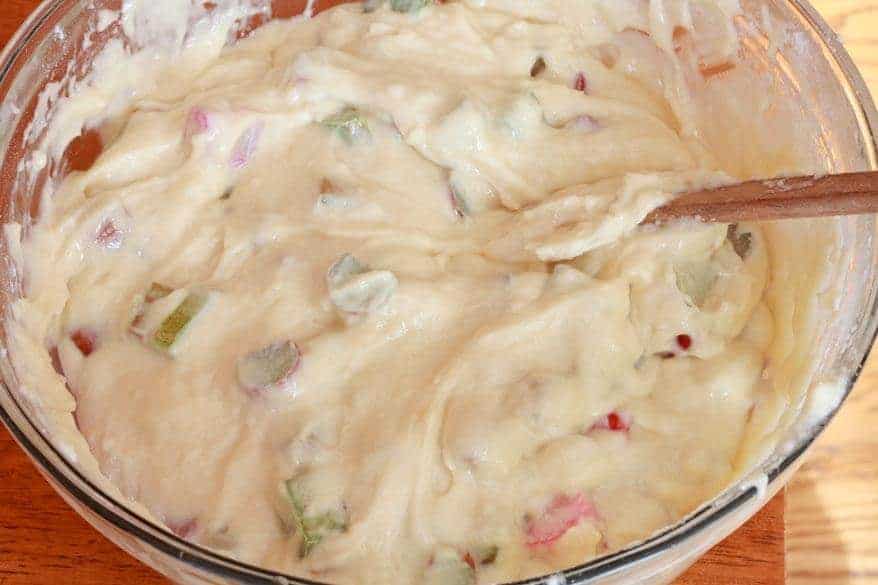 Spread the batter into a greased 8×8 inch square baking pan.  I use the hand-forged aluminum pan by Magic Line, made in the USA.  Love it!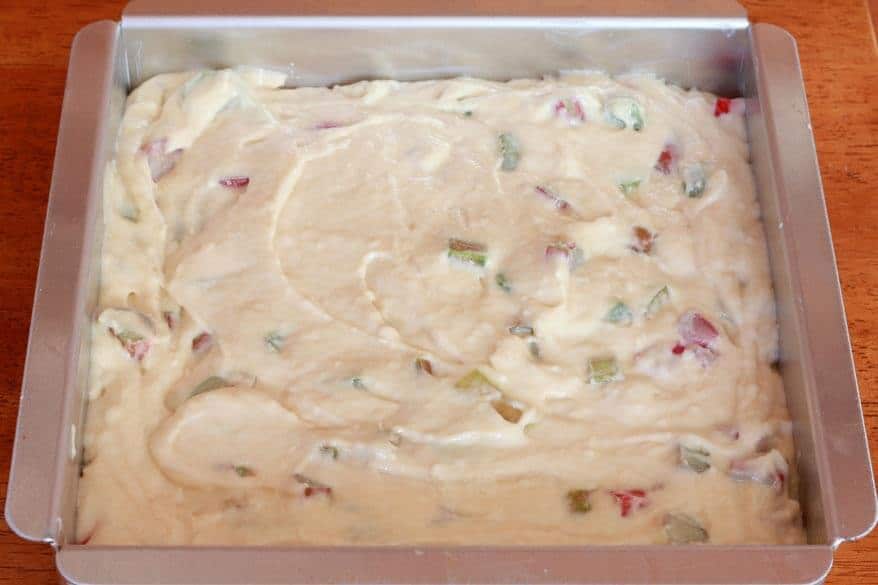 To make the streusel, combine the butter, sugar and flour in a bowl.
Crumb the mixture between your fingers.
Evenly crumble the streusel over the batter.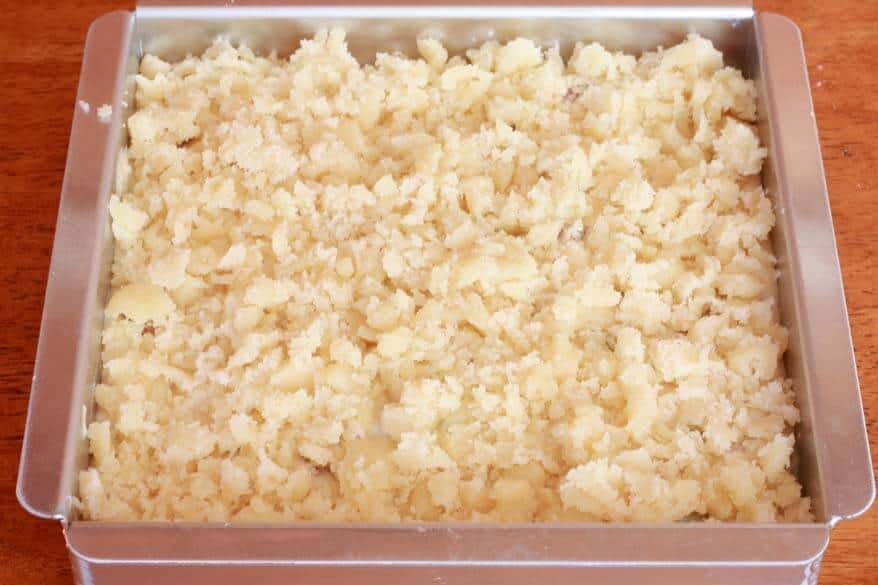 Bake in an oven preheated to 350 degrees F for 35-45 minutes or until the streusel is a light golden brown in places and a toothpick inserted into the middle of the cake comes out clean.
Let the cake cool before slicing it.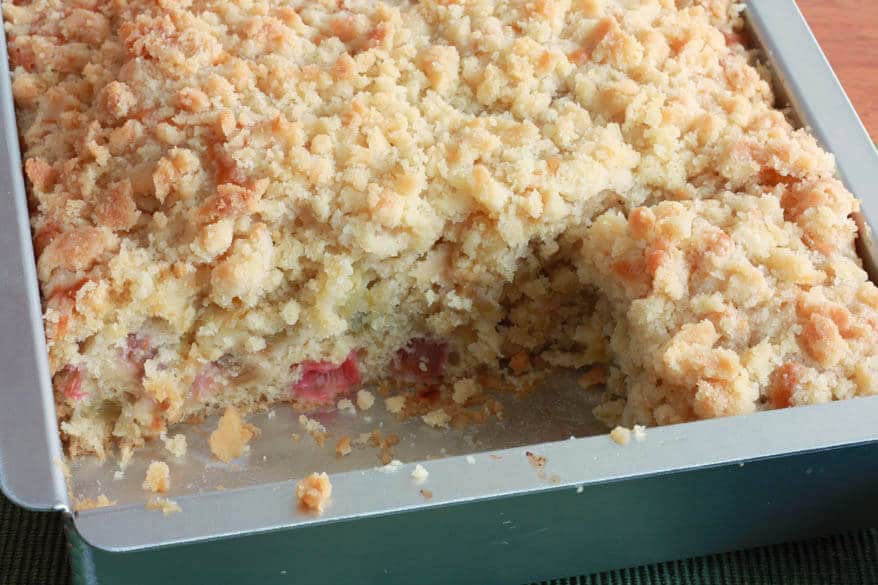 Serve with some ice cream and you're all set!  Enjoy!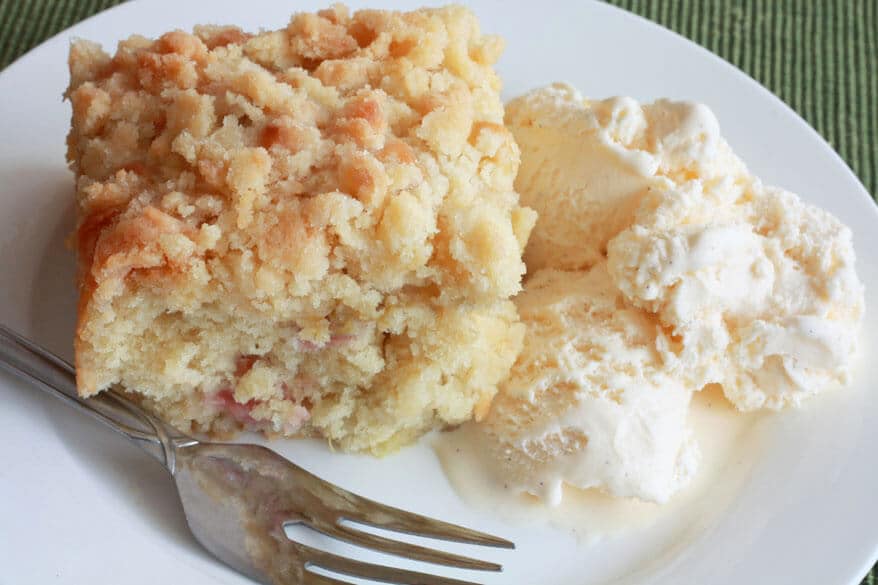 Buttermilk Rhubarb Streusel Cake
:
The Daring Gourmet, www.daringgourmet.com
Ingredients
¼ cup unsalted butter, at room temperature
1 cup sugar
1 teaspoon vanilla extract
1 large egg
2 cups all-purpose flour
1 teaspoon baking powder
½ teaspoon baking soda
½ teaspoon salt
1 cup buttermilk
2½ cups rhubarb, diced
For the streusel topping:
¼ cup butter, melted
½ cup flour
½ cup sugar
Instructions
Preheat the oven to 350 degrees F. Grease a 8x8 inch square baking pan.
Cream the butter and sugar in a large mixing bowl until pale and fluffy. Add the vanilla extract and egg and beat until combined.
In a small bowl, combine the flour with the baking powder, baking soda, and salt.
Using a rubber spatula, fold the flour mixture into the wet mixture, alternating with the buttermilk. Be careful not to over-stir. Some flour lumps will remain and that is okay. Stir in the rhubarb.
Spoon the batter into the greased baking pan.
To make the streusel topping, combine all the ingredients and crumble with your fingers.
Evenly sprinkle the streusel topping over the cake batter. Bake the cake for 35-45 minutes or until a toothpick inserted into the center of the cake comes out clean.
Let the cake cool before cutting into squares. Serve with ice cream.