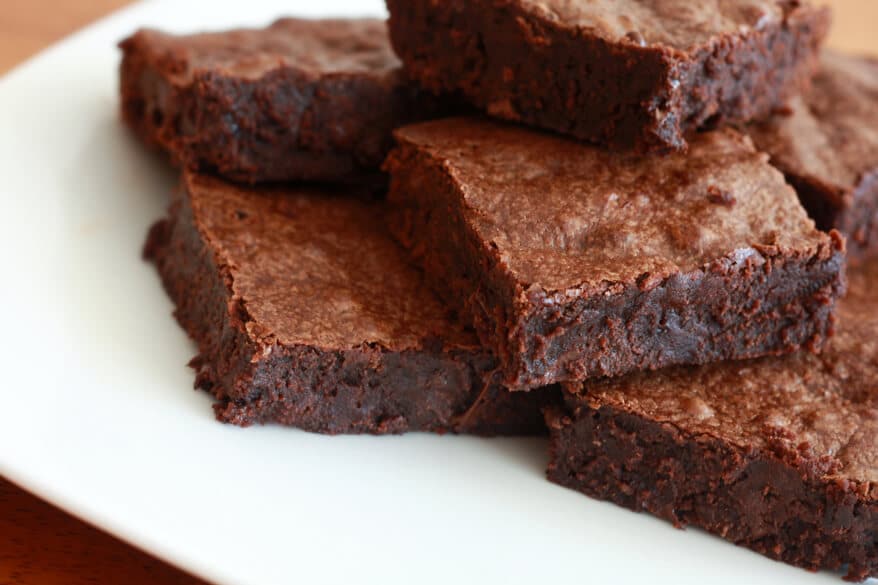 A cold, drizzly, wintery day called for making the ultimate comfort treat: Sinfully Rich Brownies. Lots of butter and lots of chocolate.  Ahhh, does life get any better than this?  One bite and I was HOOKED!  Did I already say sinfully rich?? Like biting into some creamy fudge masquerading as brownies. Heaven!  Wait, I used "sin" and "heaven" to describe the same thing…aw, I'll get back to it later.  Right now we need to proceed with the serious business of getting to the RECIPE!
Sinfully Rich Brownies
:
The Daring Gourmet, www.daringgourmet.com
Ingredients
½ cup unsalted butter, cut into cubes
3 oz. unsweetened chocolate, finely chopped
1 cup sugar
Pinch of salt
2 large eggs, at room temperature
1 teaspoon vanilla extract
¾ cup cake flour
¾ cup bittersweet or semisweet chocolate chips (these brownies work wonderfully with white chocolate chips or even peanut butter chips as well)
Instructions
Preheat the oven to 350 F. Grease a 8 inch square baking dish. Glass is preferred.
Combine the butter and chopped unsweetened chocolate in a saucepan over low heat. Stir often until melted, 4-5 minutes. Remove the saucepan from the heat and stir in the sugar and salt. Add the eggs and vanilla extract and stir until thoroughly blended. Sift the flour over the mixture and gently stir just until combined. Be careful not to over-stir. Stir in the chocolate chips.
Pour the batter into the prepared baking dish and spread evenly with a rubber spatula. Bake the brownies for about 30 minutes, or until a toothpick inserted into the center comes out mostly clean. Be careful not to overbake or the brownies will be dry. If you're using a metal baking dish you may need to bake it longer. Transfer the dish to a wire rack to cool completely, then cut into squares.
Adapted from Marie Simmons, "Brownies"