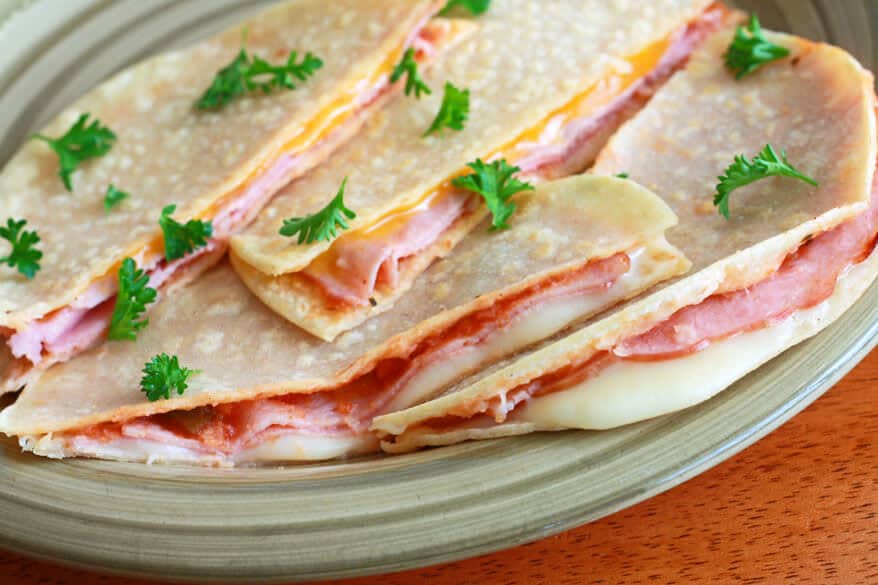 With Cinco de Mayo approaching, I wanted to share a few more authentic Mexican recipes with you.  Authentic?  That's right.  Sincronizadas. You'd think these were Americanized/Tex-Mex creations, but in fact they are authentically Mexican. Originally from Chiapas, a beautiful region of Mexico with flowing rivers, lakes, mountains, and ocean shorelines, sincronizadas can now be purchased from street vendors throughout Mexico.
Similar to the American grilled cheese sandwich, Sincronizadas use good quality ham with either yellow or white Cheddar (a tangy cheese like Jarlsberg would be delicious, too), a dollop of salsa, like a smokey chipotle salsa, all sandwiched between two corn tortillas and then fried until the cheese is softly melted. Of course you can add whatever fillings you want, but this simple version is the traditional one.
Simple and quick to make and one that your kids can have fun helping you with!
If you haven't already, come connect with me on The Daring Gourmet's Facebook Page.  Would love to have you on board!

Sinchronizadas (Mexican Ham and Cheese Melts)
An authentic Mexican equivalent to a grilled cheese sandwich.
:
The Daring Gourmet, www.daringgourmet.com
Ingredients
8 corn tortillas
1 tablespoon extra virgin olive oil
4 slices good quality ham
4 slices white or yellow cheddar, or cheese of your choice
Salsa
Guacamole
Instructions
Lay out four of the corn tortillas and top with a slice of ham and cheese and spread some salsa over it. Cover with a second tortilla.
Heat the oil in a skillet over medium heat and place the finished tortillas in it. Fry until the cheese is melted and the corn tortilla is lightly freckled with golden brown. Transfer to a warmed plate and repeat with the remaining sinchronizadas.
Serve with guacamole.