As an Amazon Associate I earn from qualifying purchases.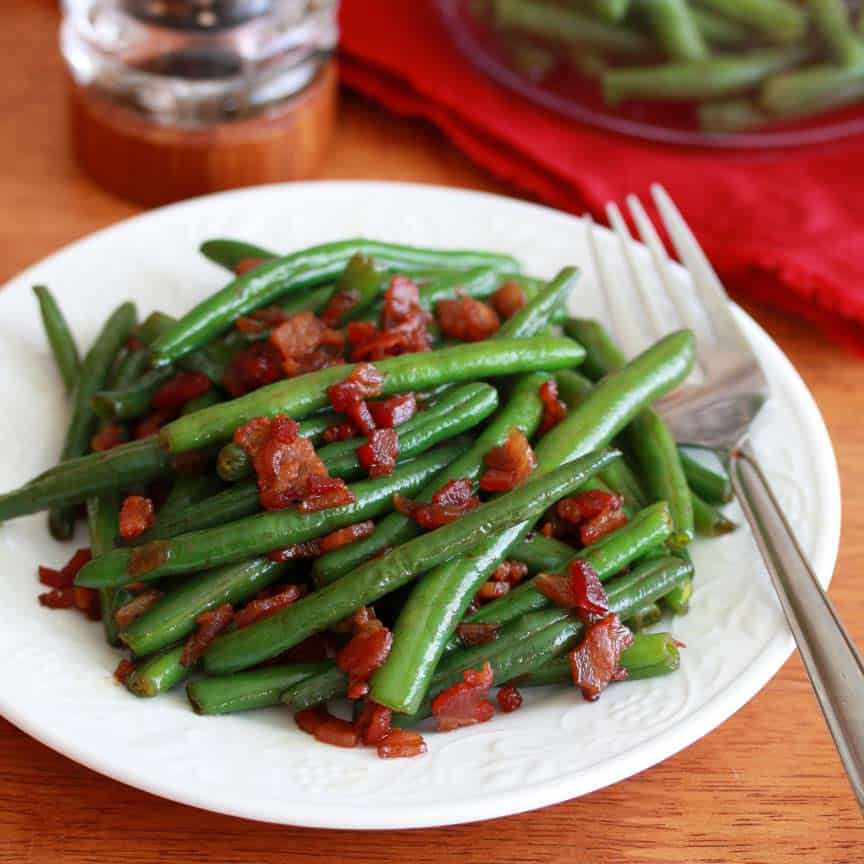 Green beans, depending on how they're prepared, can be either just "tolerable" or they can be something that are actually enjoyable to eat.  This recipe makes eating green beans a pleasure.  You won't find yourself gulping them down just so you can clear your plate and pat yourself on the back for the accomplishment – you'll be asking for seconds.  A delicious side dish that's quick and easy to prepare.
These beans are made "Southern style."  And that means bacon!  Our family took a week-long trip to the Deep South a couple of months ago.  Among all the sites we wanted to see, one thing I was looking forward to in particular was enjoy traditional Southern food – and lots of it!  And I did.  And I gained weight.  5 pounds to be exact.  In just one week!  But that was okay, I fully anticipated the consequences and dieted every last pound off as soon as we got back.  Oh so worth it!
One of the many places we visited was the cute little town of Dahlonega.  We were there just in time to see a neat collection of scarecrows placed throughout the town center in celebration of the upcoming Dahlonega Scarecrow Stomp.
The Dahlonega Gold Museum was built in 1836 and originally served as the seat of the Lumpkin (!) county courthouse, the oldest existing courthouse in the State of Georgia.  It was made with local brick containing trace amounts of gold.  It's one of the most visited historic sites in the State.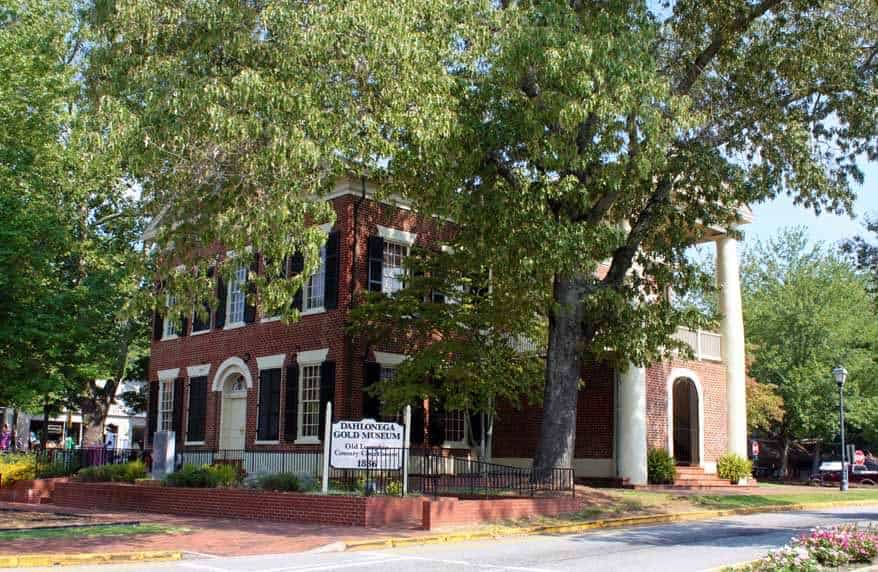 We stopped in the Dahlonega General Store.  They had a bucket of coonskin hats and I really wanted to get one for our 3 year old.  As you can see, he wasn't having it.  It stayed on all of about 2 seconds.
What did however interest him were these:
We went ahead and bought him one…but he won't be getting it until he's at least five, er six…maybe seven…22?

Fortunately we were able to redirect his interest to these and he left the store a happy little boy with a big bag full of them:
One of the reasons we visited Dahlonega was to eat at the Smith House.  And that's where we headed next to enjoy some traditional Southern fare.
The food was served "family style" as is the custom at the Smith House.  They bring the food out, including bowls of practically every kind of traditional Southern side you can think of, and on busy days you share the table with strangers and pass the food around – like one big happy family.
The food tasted great.  Everything had a lot of flavor.  Even the collard greens tasted good – and it quickly became apparent why.  Everything had one ingredient in common:  Bacon grease!  Everything from the creamed corn to the collard greens to the black-eyed peas was cooked with bacon grease and boy oh boy was it ever good!  (The creamed corn was to die for.  I could have eaten the entire bowl myself and then asked for seconds).  Yes, the Southerners really have discovered the secret to making food taste great!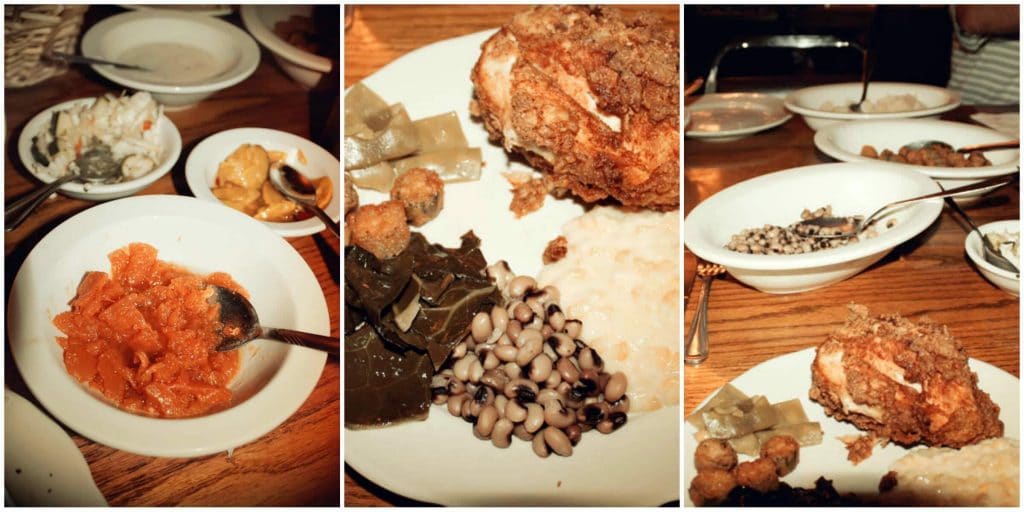 It was a nice experience and we'll definitely be paying the Smith House another visit the next time we go to Georgia.
So today we're having some green beans made Southern style:  Let's hear it for BACON!
And let's get started!
You'll need about a pound of fresh green beans for four people.  Bring a pot of water to a boil and boil the beans for 5 minutes.  Immediately drain the beans and dump them into a bowl of ice water.  Let them sit for a minute or two and then thoroughly drain and pat dry. This will keep them from continuing to cook and will give you that nice semi-crunchy end result.
Dice the bacon.  Tip:  Frozen bacon is much, much easier to dice.
Fry the bacon until crispy.  Transfer to a plate.
Melt the butter in the skillet along with the remaining bacon grease and fry the onions until they begin to caramelize, about 7-8 minutes.  Add the garlic and cook for another minute.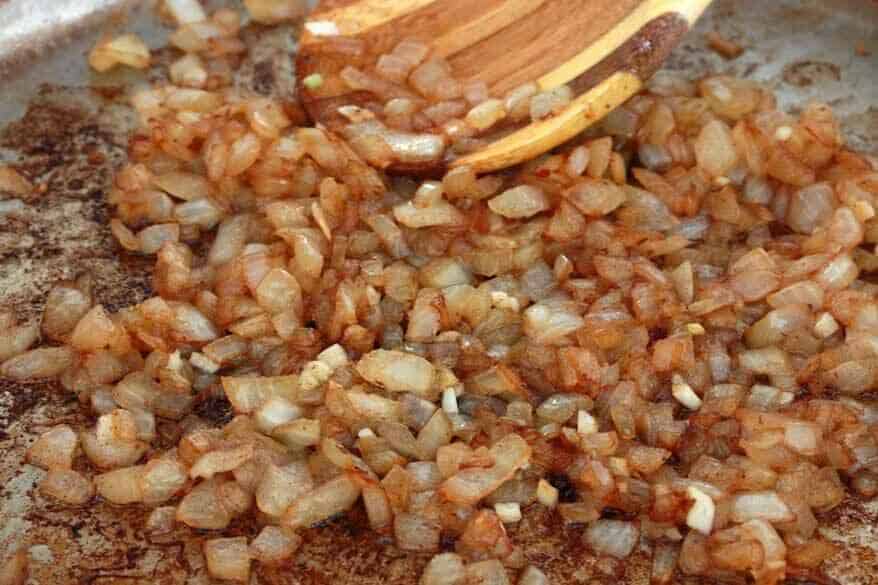 Add the green beans along with the salt and pepper and fry for about 5 minutes.  You want them crispy but not crunchy hard.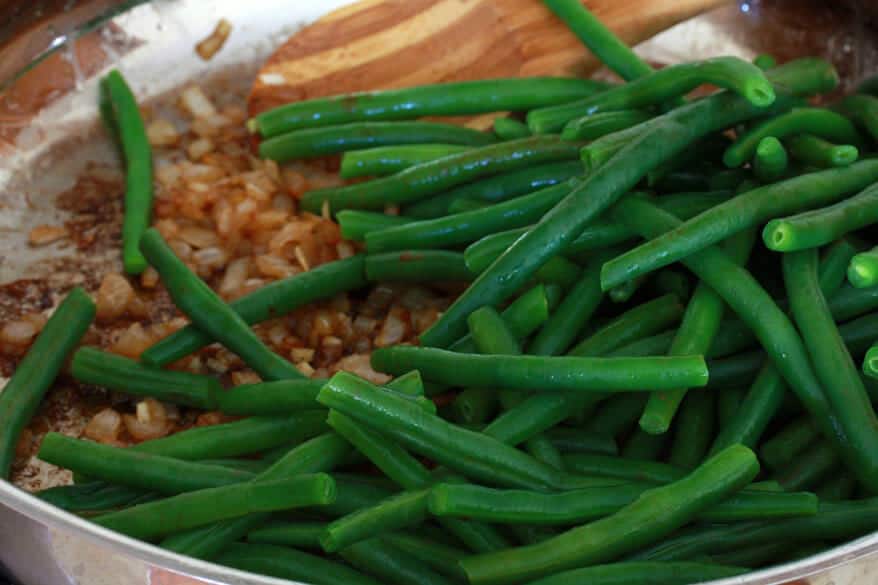 Return the bacon to the skillet.
Stir to combine.  Add salt and pepper to taste.  Serve immediately.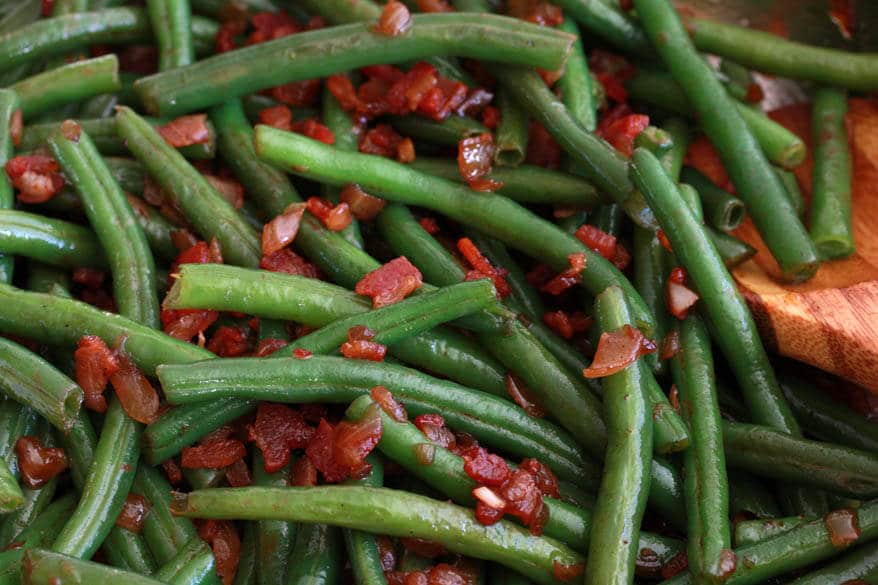 Say it with me:  "Because everything is better with bacon."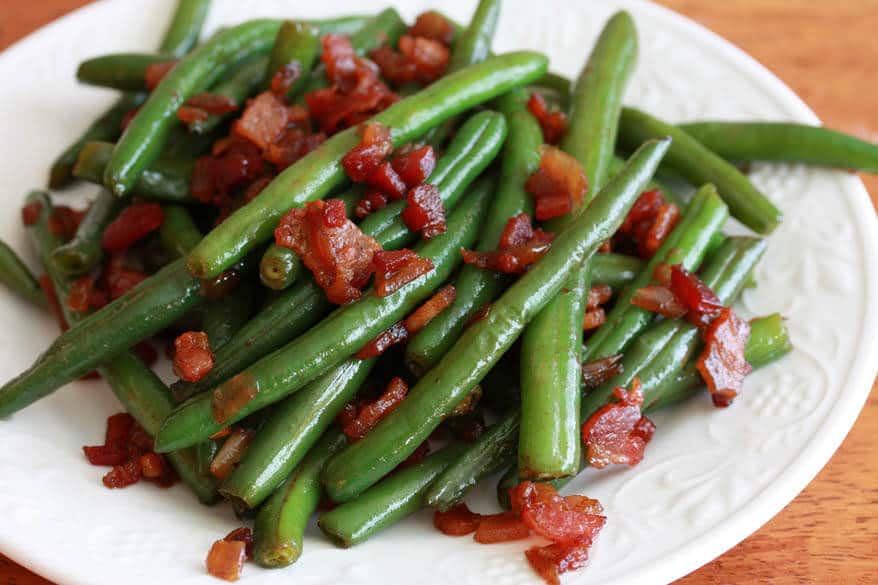 Southern-style Green Beans with Caramelized Onions and Bacon
:
The Daring Gourmet, www.daringgourmet.com
Ingredients
1 pound fresh green beans, washed and trimmed
⅓ pound bacon, diced
2 tablespoons butter
1 small yellow onion, finely chopped
1 large clove garlic, minced
Salt and pepper
Instructions
Bring a pot of water to a boil and blanch the green beans for 5 minutes. Immediately drain and dump them into a large bowl of ice water to cool for a couple of minutes. Drain and pat dry.
In a large skillet over medium-high heat, fry the bacon until crispy. Transfer to a plate.
Melt the butter in the skillet with the remaining bacon grease and cook the onions until beginning to caramelize, about 7-8 minutes. Add the garlic and cook for another minute.
Add the beans along with about 1 teaspoon salt, and a little pepper, and cook for 5-6 minutes. You want them crisp but not crunchy hard. Return the bacon to the skillet and stir to combine. Add salt and pepper to taste. Serve immediately.