Creamy, smooth, and velvety sausage gravy poured over hot and fluffy buttermilk biscuits….that's what I call pure heaven!  Try this phenomenal Sausage Gravy recipe along with our homemade biscuits recipe and you'll be in heaven too!
Sausage gravy has been an American breakfast staple since shortly after the American Revolutionary War and it remains one of America's most popular breakfast items.  Served over fluffy hot biscuits, you can find it served in practically every American diner.  It's quick and easy to make, is stick-to-your-ribs filling, and is simply some of the best comfort food ever!
Can I Make Sausage Gravy in Ahead of Time?
Absolutely yes!  Store it in the fridge for up to 1-2 days and whenever you're ready to serve it simply place it in a saucepan and  reheat it gently on the stovetop.
What Do You Serve With Sausage Gravy?  
The traditional accompaniment is biscuits.  Hence the popular combo, Sausage Gravy and Biscuits, or simply Biscuits and Gravy. We provide a recipe for classic homemade buttermilk biscuits in the recipe below.  And if you'd like to try some real down-home, traditional southern style biscuits like the kind your grandmother made with lard for the fluffiest texture you've ever tried, try our other version, our BEST EVER Buttermilk Biscuits.
In addition to biscuits this sausage gravy is also fabulous served with hash browns, toast, cornbread, waffles, grits and mashed potatoes.

How to Make Sausage Gravy
I'm going to tell you right off the bat:  For the BEST flavor you need to use bacon grease.  That's right, good ol' fashioned bacon grease.  This is, after all, a traditional southern dish and something I've learned over and over again from my travels through the south is that bacon grease makes practically everything taste better.  Not that I didn't already know that (believe me I did!), but you can't eat the best home-style meals in those hole-in-the-wall style restaurants in the south without gaining an even deeper conviction of that truth.
So next time you're making bacon, pour those drippings into a jar and save them for this sausage gravy.  Your taste buds will thank you.  And yes, an occasional indulgence is just fine.  You can take it from a mental health/marriage counselor:  Occasional indulgences like this will benefit both you and your loved ones.   Because when you're happy your spouse, children and everyone around you is happier.  So bring on the bacon grease!
Let's get cookin'!
BEST Sausage Gravy Recipe
Heat a large skillet over medium-high heat, break off/crumble pieces of the sausage and cook until no longer pink.  Add the onion and cook until soft and translucent, 5-7 minutes.
Add the bacon grease.
Add the flour and stir to combine.
Cook, stirring regularly, until the mixture is a light golden brown, 5-7 minutes.  This is will both eliminate the raw flavor of the flavor and greatly enhance the overall flavor of the gravy.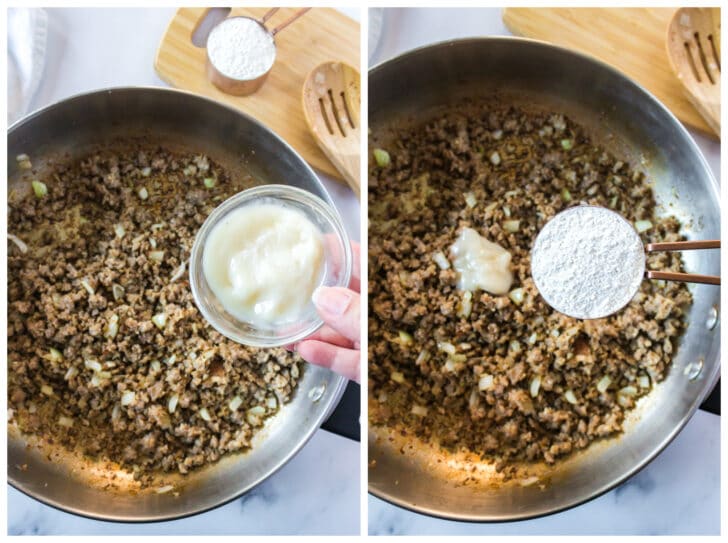 Gradually add the milk along with all of the seasonings.
If you like a bit of heat feel free to add some hot sauce.
Stir the mixture constantly to break up any lumps as you bring it to a simmer.  Then simmer the gravy for about 10 minutes, stirring occasionally, until the gravy is thickened.
Add more salt and pepper to taste.
To serve with biscuits, cut a biscuit in half, lay both halves on a plate and spoon some gravy over them.  Serve immediately.
Enjoy!
For a delicious vegetarian version, try our Vegetarian Sausage Gravy and Biscuits!
For more phenomenal sauces be sure to try our: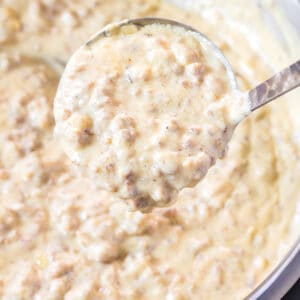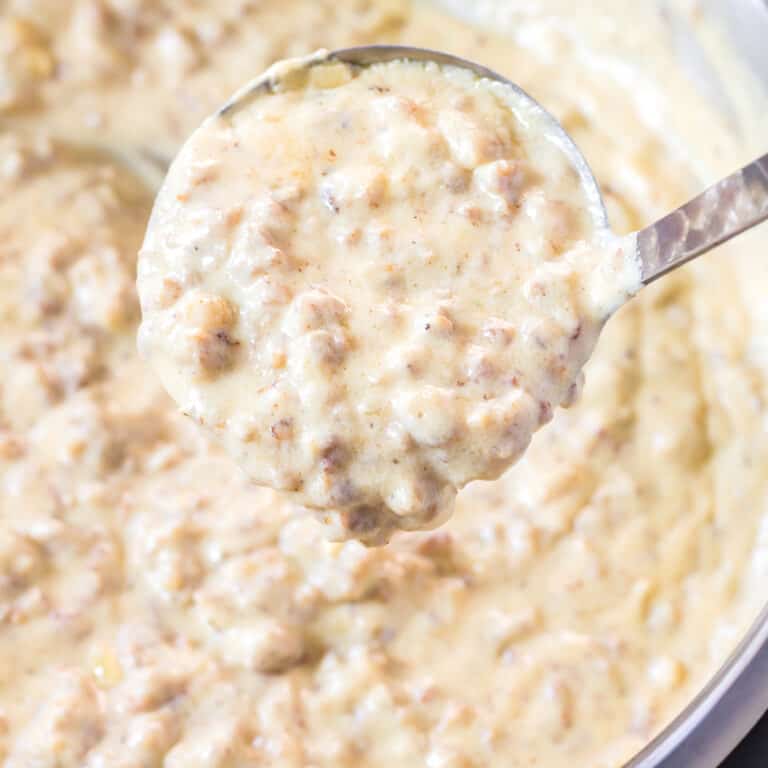 BEST Sausage Gravy and Biscuits
One of America's most beloved breakfast dishes, try this creamy, smooth, and velvety sausage gravy poured over hot and fluffy buttermilk biscuits....it's pure heaven!
Ingredients
For the Gravy:

3

tablespoons

bacon grease or butter

, (bacon grease strongly recommended as it will produce the BEST flavor)

12

ounces

bulk pork sausage

(click link for the BEST homemade sausage recipe!)

1/4

cup

finely chopped yellow onion

1/3

cup

all-purpose flour

4

cups

whole milk

(can substitute a portion with heavy cream of half and half for even creamier results)

1

cube chicken bouillon

, or 1 teaspoon chicken bouillon granules

1/2

teaspoon

salt

1/2

teaspoon

freshly ground black pepper

a few dashes hot sauce for heat

, optional

For the Buttermilk Biscuits:

1 1/2

cups

all-purpose flour

1 1/2

cups

cake flour

4

teaspoons

baking powder

1/4

teaspoon

baking soda

1

tablespoon

sugar

1

teaspoon

salt

1/2

cup

plus 2 tablespoons cold unsalted butter

cut into pieces

1

cup

chilled buttermilk

Old Fashioned Buttermilk Biscuits Recipe

(alternative recipe: click link for our other biscuit recipe that uses lard for the BEST texture EVER!)
Instructions
For the Gravy: Heat a large skillet over medium-high heat. Break off/crumble the sausage into little pieces with your fingers and add them to the pan. Cook until no longer pink. Add the onions and cook until translucent, 5-7 minutes. Add the bacon grease and flour, stirring to combine and cook until the mixture is golden brown, 5-7 minutes.

Add the milk gradually along with the seasonings, stirring constantly to prevent lumps. Simmer uncovered for 10 minutes or until the sauce is thickened, stirring occasionally. Add salt and pepper taste.

For the Buttermilk Biscuits:

Preheat the oven to 425 degrees F. Line a baking sheet with parchment paper.

Combine the flours, baking powder, baking soda, sugar, and salt in a food processor and process briefly to mix. Add the butter and pulse until the mixture resembles coarse crumbs. Add the buttermilk all at once and pulse just until the ingredients are moistened. Don't over-pulse.

Scrape the sides and bottom of the food processor bowl and turn out the dough onto a floured work surface. The dough will be very soft. Sprinkle the dough with a little flour and gently knead the dough a few times. Pat the dough into a loose rectangle about 1 1/2 inches thick. Fold the rectangle like a letter, overlapping the short sides in the middle to make 3 layers. Pat the dough into a rectangle 1 inch thick. Use a 2 1/2 inch biscuit cutter dipped in flour to cut out the biscuits, pushing straight down and lifting up without twisting. Pack together the remaining scraps and cut out additional biscuits.

Place the biscuits on the baking sheet, spaced about 1 inch apart, and bake for about 15-18 minutes, or until the biscuits are firm to the touch and the tops and bottoms are golden brown. Let them rest for a few minutes before slicing and serving with the sausage gravy. Makes 16 biscuits.
Nutrition
Calories:
603
kcal
|
Carbohydrates:
57
g
|
Protein:
23
g
|
Fat:
36
g
|
Saturated Fat:
17
g
|
Cholesterol:
102
mg
|
Sodium:
965
mg
|
Potassium:
761
mg
|
Fiber:
2
g
|
Sugar:
13
g
|
Vitamin A:
845
IU
|
Vitamin C:
1
mg
|
Calcium:
364
mg
|
Iron:
3
mg
Buttermilk Biscuit recipe adapted from Williams Sonoma
Sausage Gravy first published on The Daring Gourmet January 14, 2014