This post contains affiliate links.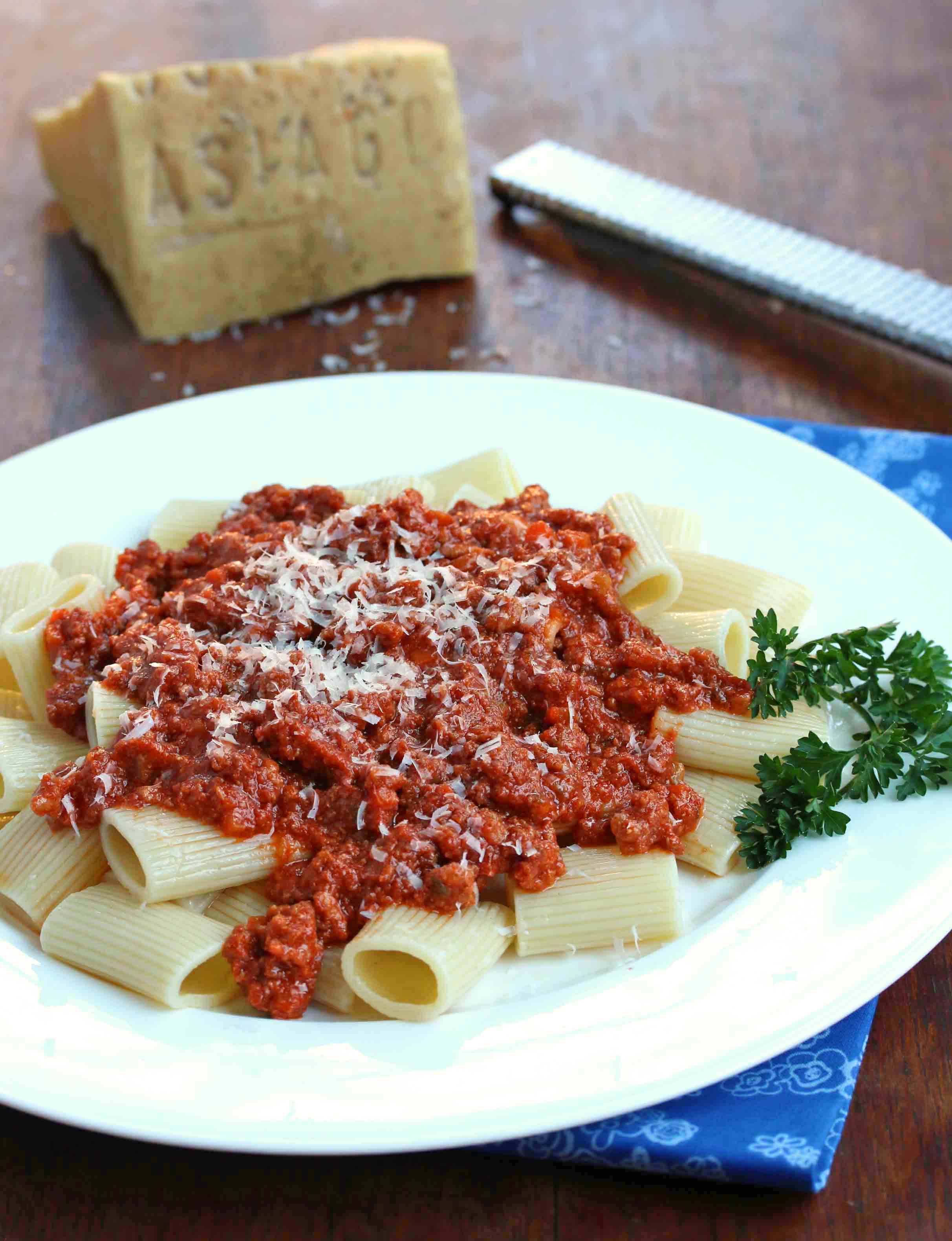 Traditional Italian Bolognese uses three meats and pancetta (or bacon) to achieve the flavor that has made it so famous.  The long, slow cooking time results in melt-in-your-mouth tenderness and a depth of flavor that will satisfy your tummy and your soul.
Classic Italian bolognese traditionally uses ground beef, ground veal, ground pork and often pancetta (Italian bacon).  The pork adds sweetness to the sauce, the veal adds finesse, and the pancetta…well, we all know what bacon does.  It's like manna from heaven.
I've made this bolognese both with pork and pork sausage and I personally prefer the flavor element that the sausage adds.  You can use either. Also, the inclusion of the sage and porcini isn't traditional, but I love the flavor they add to the bolognese.  And we might as well take some culinary license on a third item while we're at it and add a little red wine with the white for an even more robust flavor.  A classic Italian bolognese – with a couple of twists.
This sauce freezes well and can be used in any pasta dish, including lasagna.  You can make it in bulk and freeze it in containers so you always have some on hand when you need it.
The key to a good bolognese is to not cut corners with respect to the length of the cooking time and the quality of ingredients.  The long cooking time is crucial for breaking down the food and releasing the flavors of each ingredient.  A bolognese that's cooked for 30 minutes will taste vastly different than the bolognese that has simmered for 3 hours.
Quality Tomatoes
Another key element is to use the best quality ingredients.  The tomatoes, for example.  Use Italian, that is, tomatoes that are actually imported from Italy.  They can be purchased at specialty stores, I've seen some at World Market, and of course online.  I'm not generally an ingredient snob (sometimes, but not always).  With many things I'm of the philosophy that it's the seasonings and cooking process that transform a recipe more than anything.  The poor French peasants taught us that when they took a sinewy old rooster, plopped it in a pot and slow-cooked it with a bottle of red wine and made it taste amazing (that's how the famous Coq Au Vin originated, now a gourmet dish).  But there are instances, like this, where the quality of ingredients matter big time.  Tomatoes from Italy are much sweeter and much more flavorful.
Here are a couple that I use and like.  The Mutti tomatoes brand below is a puree that's smooth and ready to go.  The Strianese San Marzano tomatoes are stewed and traditionally they are crushed by hand and then added to the bolognese.  The hand-crushing process is probably similar to the philosophy behind crushing grapes with feet for wine  – can't beat that added human touch, right?  Note that the Strianese tomatoes bear the mark of "DOP".  That's a geographically protected mark that certifies quality.  Italian ingredient snobs stand by these DOP tomatoes and defend them to the death.  They tend to be about double the price of non-DOP Italian tomatoes.  The Mutti brand, just as an example, is not DOP but it's far better than any non-Italian tomato products.  Whether you go with the cheaper or more expensive ones, just be sure to go with imported Italian tomatoes.
On the right we have some absolute gems that I've introduced you to in the past:  Dried porcini mushrooms.  These Italian mushrooms have the most amazing flavor.  I love to grind them in a coffee/spice grinder and add them to soups and sauces.  They're simply heavenly.  You can find them in well-stocked grocery stores as well as online HERE.
Quality Fresh Meats
Another key is using the freshest and highest quality meats possible.  Get them from a trusted source.
Quality Cheese
Now, let's talk cheese for a moment.  I love cheese.  All kinds.  From all regions of the world.  The art of cheese-making has always fascinated me.  My mother and I took a couple of cheese-making classes in Germany and it's an art I would love to explore further someday.
As fond as I am of German, Swiss, French, Danish and Dutch cheeses, I have to admit, Italy dominates the world of cheese.  They produce more than 300 varieties of cheese!  Three hundred!  It's mind-blowing.  And Italian cheese is phenomenal.  Today we're taking a brief look at Asiago cheese.  And not just any Asiago cheese, but the real deal:  Asiago Cheese DOP (remember that abbreviation from earlier?  More on it below).  I recently had the pleasure of trying some and let's just say that I'm lamenting that it's all gone.  I accompanied my bolognese with freshly grated aged Asiago and it took the dish to a whole other level.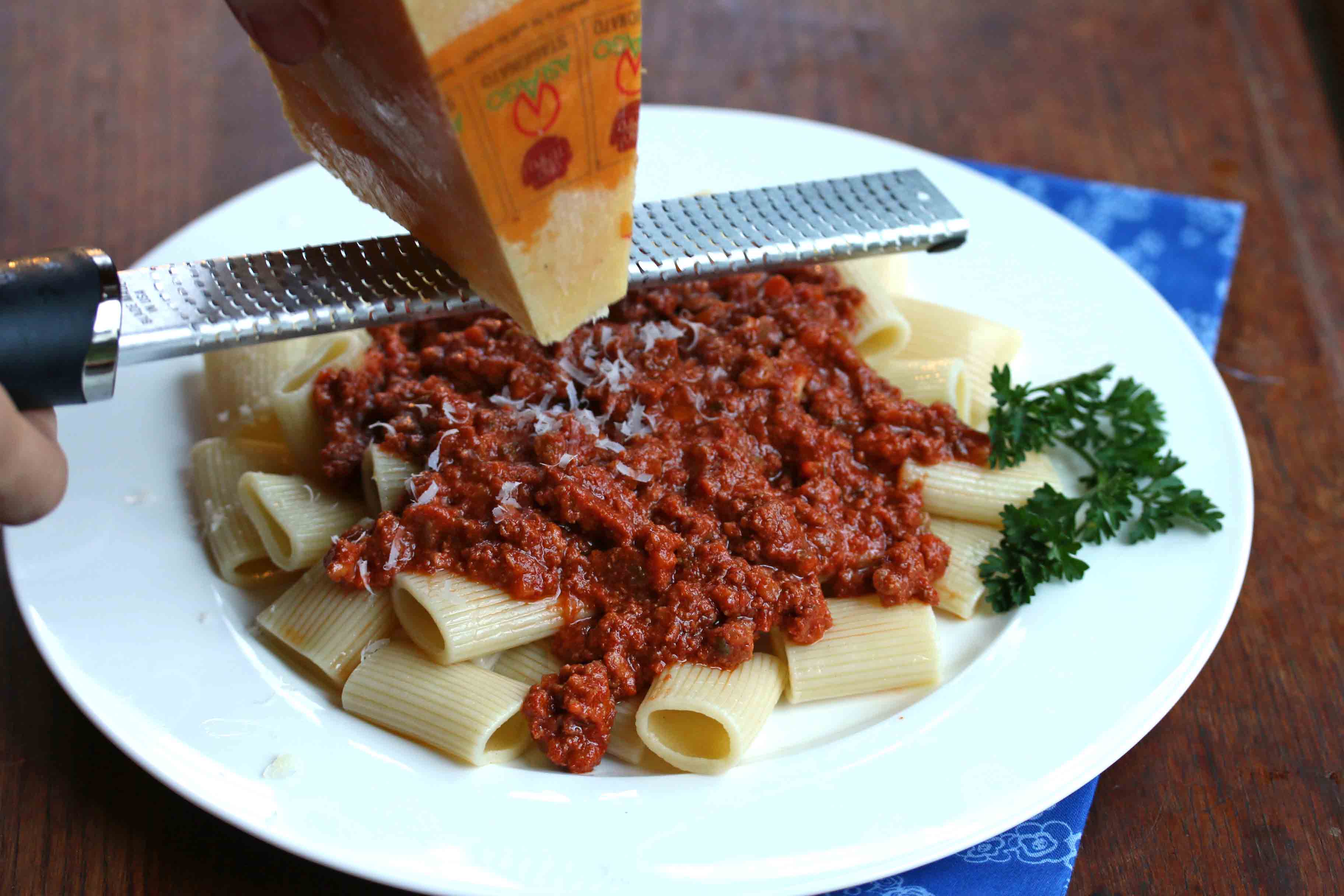 I love this description from their website:  "Aged Asiago is a flavorful cheese with a strong personality. It should be chewed slowly until its aromatic notes explode in the mouth."
The flavor is strong, simultaneously sweet and piquant, and different flavor qualities come through the longer you hold it in your mouth.  It's marvelous.
Check out this beautiful video on how aged Asiago cheese is made.
As with virtually everything, there are counterfeits on the market and they taste nothing like the real thing.  If the cheese is authentic it will be stamped "DOP", which stands for "protected destination of origin."  The reason that's significant is because that stamp guarantees product excellence.  It is a geographically protected designation that sets European agri-food apart for authenticity and quality.  In the case of Asiago Cheese DOP, it is guaranteed to have been produced, matured, packaged and distributed in compliance with the Asiago DOP Cheese Production Regulations.  It's the authentic Asiago cheese from Italy.  And it's one incredible cheese.
Asiago Cheese DOP can be found in several supermarkets, including Kroger, Whole Foods, Wegmans and Sam's Club.  It can also be found online as such storefronts like igourmet, Alma Gourmet, Di Brunos Bros and Murray's Cheese.
AND NOW FOR THE BOLOGNESE RECIPE!
Equipped with your fresh meat products, Italian tomatoes, mushrooms and cheese, we are ready to COOK!
Let's get started!
Very finely chop the carrots, celery, onions and garlic.  You don't want large chunks of it in the sauce.  You want them to blend in, almost unnoticeably.
In a large Dutch Oven over medium-high heat, fry the bacon until done.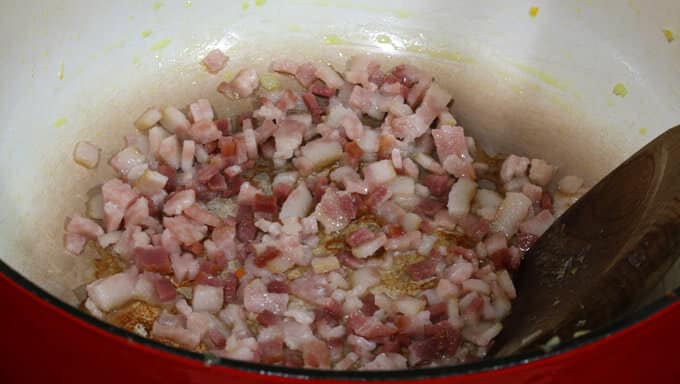 Add all chopped vegetables (don't drain that bacon grease!) along with the butter and cook until softened, 5-7 minutes.
Add the beef, veal and sausage/pork and cook until the pink is gone, another 5 minutes.
Add the milk, bring to a boil, reduce the heat to low, cover and simmer for 1 hour.
Add the veal or beef stock and the white and red wine.
Add the tomato puree or crushed tomatoes.
Add the ground porcini, salt, pepper, nutmeg, sage, rosemary and bay leaf.
Bring the sauce to a boil, reduce to low, cover and simmer for 2 hours.  The sauce will thicken further than the picture below over the course of the two hours.  If the sauce is still a little too runny, remove the lid and simmer another 30 minutes.  Stir in the chopped fresh parsley and add salt and pepper to taste.
Serve over pasta, fresh pasta is best, with some freshly grated aged Italian cheese.
Classic Italian Bolognese
:
Kimberly Killebrew, www.daringgourmet.com
Ingredients
4 ounces pancetta or bacon, diced
5 tablespoons butter
1 medium yellow onion, very finely chopped
1 large carrot, very finely chopped
1 large celery, very finely chopped
2 large cloves garlic, minced
½ pound ground beef
½ pound ground veal
½ pound ground bulk pork sausage or plain ground pork
½ teaspoon salt
2 cups whole milk
1 cup veal or beef consomme
1 cup dry white wine
½ cup dry red wine
1 (28 ounce) can or jar Italian imported tomato puree or Italian imported stewed tomatoes crushed by hand
2 tablespoons ground dried porcini mushrooms
1½ teaspoons salt
¾ teaspoon freshly ground black pepper
⅛ teaspoon freshly ground nutmeg
½ teaspoon ground fennel seed
1 teaspoon sugar
1 bay leaf
2 tablespoons chopped fresh sage
1 tablespoons chopped fresh rosemary
2 tablespoons chopped fresh parsley
Instructions
Fry the bacon in a large Dutch oven over medium-high heat until done (don't drain the bacon grease). Add the butter and the onion, carrot, celery and garlic and cook until softened, 5-7 minutes.
Add the ground beef, veal, sausage and salt and cook until no pink remains. Add the milk, bring to a boil, reduce the heat to low, cover and simmer for 1 hour.
Add the consomme, white and red wine, tomatoes and all remaining ingredients except for the parsley. Bring to a boil, reduce the heat to low, cover and simmer for 2 hours, stirring occasionally. If the bolognese is too runny, uncover and simmer another 30 minutes or until sufficiently thickened. Stir in the parsley and simmer for another minute.
Serve over pasta (fresh is best) with some freshly grated aged Italian cheese.
Note: This sauce freezes well and can be used in any pasta dish, including lasagna.