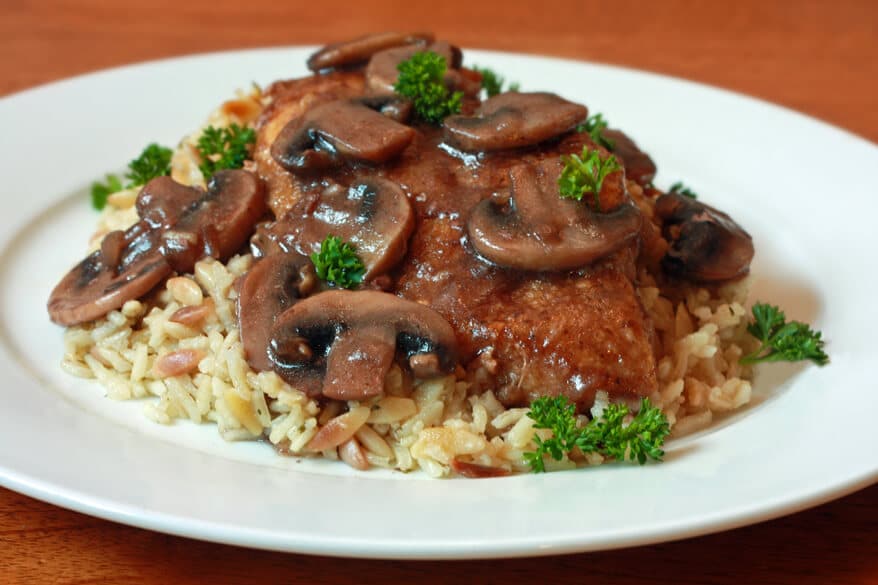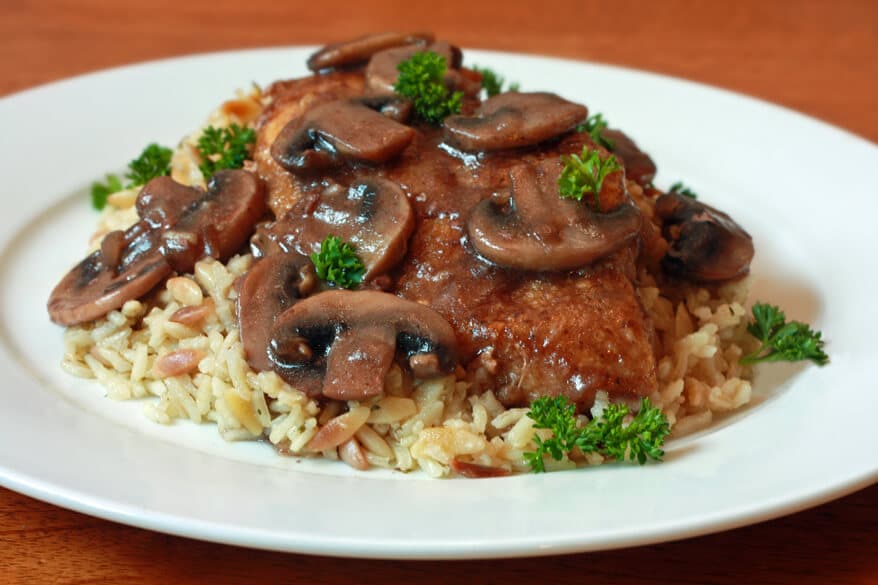 Several of my friends tell me that Chicken Marsala is one of their favorite things to order at restaurants.  Now is your opportunity to make this scrumptious dish yourself, only even better than what you ordered out!  Why better?  For several reasons, but one of them is it has a secret ingredient that will drive your taste buds to culinary madness.
Porcini mushrooms.  These dried little mushrooms from Italy have a deliciously rich, earthy flavor that will add a new dimension of flavor to this classic dish.  Though a little on the pricey side, you only need a little bit, so a small 2-4 oz package, for example, will stretch a long way.  I purchased mine from FungusAmongUs.
Also, I like sauce.  The more the better.  While this isn't a "saucy" dish, this recipe won't leave your chicken dry.
The photograph shows a rice and orzo combination.  Make whatever accompaniment you prefer – rice, rice and orzo, or egg noodles.  All are good choices.

Chicken Marsala
:
The Daring Gourmet, www.daringgourmet.com
Ingredients
4 skinless, boneless chicken breast halves, about 6 oz each, lightly pounded to an even thickness
Salt and freshly ground pepper
¼ cup all-purpose (plain) flour
2 tbs neutral-flavored oil
2 tbs unsalted butter
¾ lb fresh cremini or white button mushrooms, brushed clean and sliced
3 tbs finely chopped shallot
1½ tbs ground dried porcini mushrooms
¾ cup dry Marsala
¾ cup chicken stock
1½ cups uncooked white rice, cooked according to package instructions or 1 package egg noodles cooked according to package instructions
Instructions
Season each chicken breast with salt and pepper. Place the flour in a flat bowl and dredge the chicken in it, shaking off the excess flour.
Heat the oil in a Dutch oven over medium-high heat. Cook the chicken breasts on both sides until lightly browned, about 6-8 minutes. Place chicken breasts on a plate and cover with aluminum foil to keep warm.
In the same pan, melt the butter over medium heat. Add the mushrooms and cook, stirring occasionally, until the juice released from the mushrooms evaporates, 7-8 minutes. Add the shallot and cook for 2 minutes. Add the porcini mushrooms and stir to combine. Add the marsala and stock and bring to a boil for 2 minutes. Add the chicken to the pan and gently coat the chicken with the sauce. Reduce the heat to low and simmer for 3-4 minutes, or until the sauce is thickened. Add salt and pepper to taste.
Serve hot, with rice or noodles.