Treat yourself to Lamb Ragu tonight, a classic Italian comfort dish that's hearty, sophisticated, easy to make, and incredibly delicious! If you're looking for a new weeknight dinner that the whole family will love, this lamb ragu recipe is a must try!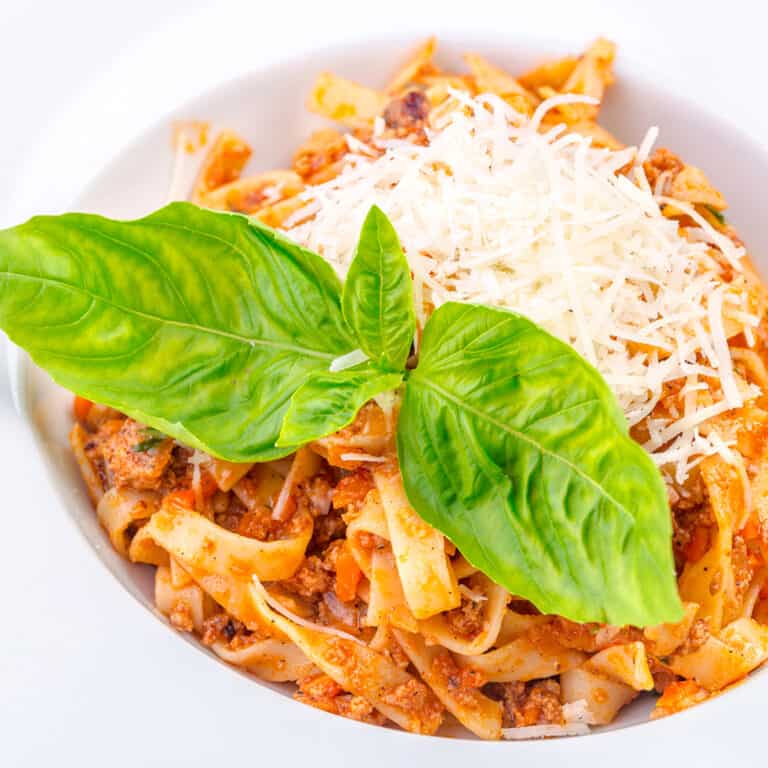 © Sergey Tolmachyov | Dreamstime
We had family over recently and I made this for dinner. I have members in my family who aren't fans of lamb but I decided not to say anything – to just let them try it and see what happened. Not only did they swoon over it, after I told them it was lamb every one of them asked for seconds!
Lamb ragu is a dish that is so incredibly delicious, yet relatively few people have taken the opportunity to try it. A traditional Italian pasta dish, lamb ragu is far too ignored in kitchens and restaurants across the world – and it's time to change that!  If you like pasta dinners like bolognese or beef ragu, then chances are you'll love this lamb dish just as much – if not more!
Tips for Making the Most Delicious Lamb Ragu
The most important key to making the best lamb ragu is a slow cooking time.  The only way to achieve the perfect texture and incredible depth of flavor of the meat sauce is to be patient – to cook it over low heat for several hours. And that's after taking the time to first saute the vegetables which releases the sugar in them, making them sweeter and more flavorful.  If you stumble upon another recipe that advertises a quick cooking time for lamb ragu, SKIP it!  Trust me on this one, your patience will pay off!
Use the best crushed tomatoes you can find.  Quality tomatoes go a long way in the outcome of this sauce.  For the wine, there's no need to use something expensive as the subtle notes will be lost in the other flavors of the sauce.  I always recommend a wine that's middle of the road – not the very cheapest but a notch or two up from there.
Lastly, my "secret" ingredient.  Too many sauces in my opinion lack depth.  They miss that certain "something."  That's where my secret ingredient comes in that takes the flavor of this lamb sauce over the edge:  Dried porcini mushrooms.  That one little tablespoon of ground porcinis gives the sauce a delectable umami boost that is just unbelievable.  And if you're not a fan of mushrooms don't worry, you can't taste the mushrooms specifically, it just adds an amazing "depth" and complexity to the sauce.  
If I were to compare sauces to music, I'd say that some sauces focus on high treble notes and leave out the necessary low bass notes. In my humble opinion, the addition of dried porcini mushrooms provides the perfect amount of bass drums to this lamb ragu sauce!
Can I Make Lamb Ragu in the Slow Cooker?
If you'd prefer to use your slow cooker, that works as well.  Once your mixture on the stovetop reaches a boil, carefully pour it into your slow cooker. On the "low" setting, let the sauce sit, unbothered, for 3-4 hours. Remember that every time you open the lid to check on the sauce, you'll need to add an extra few minutes to the cooking time – the same is true for the stovetop slow cooking method as well!
Can I Freeze It?
Yes you can!  It freezes well for up to 4 months and you can reheat it in the microwave or on the stovetop.  This lamb ragu makes excellent leftovers because the flavor is even better the next day!
What to Serve With Lamb Ragu
Lamb ragu is delicious over any type of pasta.  Spaghetti, rigatoni, penne, gnocchi, you name it.  While I'm partial to pasta for this ragu, you can also serve it with rice or potatoes.  For a low carb option spiralized zucchini noodles are great.    
Serve it with a fresh and crispy leafy green salad and you're all set!  
BEST Lamb Ragu Recipe
Let's get started!
Fry the bacon until done.  Don't drain the grease – it adds so much flavor!  Add onions, garlic, carrots and celery and cook for another 7-8 minutes or until the veggies are softened.
Add the ground lamb and cook until no longer pink, breaking up any large chunks.
Add the red wine and bring to a boil.  Boil for about 3 minutes or until most of the wine has evaporated.
Stir in the remaining ingredients and bring to a simmer.
Cover and simmer over low heat for 3-4 hours.  It will certainly taste good after 2 hours but the longer the better and we recommend at least 3 hours, preferably 4, for the best flavor.  Remove the bay leaf.  Add salt and pepper to taste.
Serve the sauce over pasta with some shredded Parmesan cheese.  Enjoy!
Craving more Italian food? Be sure to try some of these Italian favorites: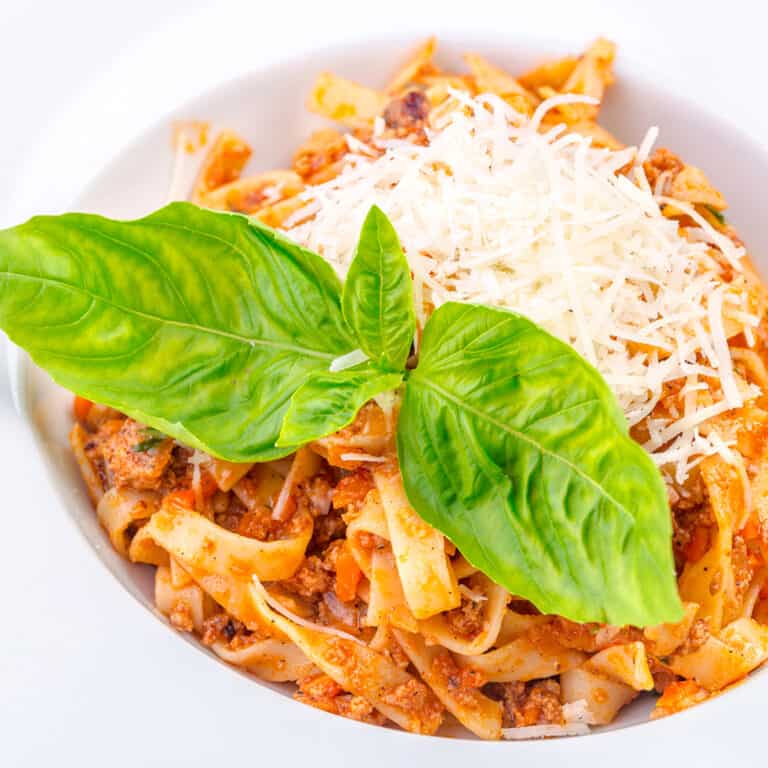 Lamb Ragu
This lamb ragu is classic Italian comfort dish that's hearty, sophisticated, easy to make, and incredibly delicious!
Ingredients
5

slices bacon

, diced

1

large yellow onion

, finely chopped

2

medium carrots

, finely diced

2

celery ribs

, finely diced

3

cloves

garlic

, minced

2

pounds

ground lamb

1

cup

dry red wine

28

ounce

can crushed tomatoes

1/3

cup

tomato paste

1/2

cup

heavy cream

1

tablespoon

ground dried porcini mushrooms

(grind them in a coffee/spice grinder, blender, or put them in a ziplock bag and pound them to a powder)

1

teaspoon

lemon juice

1 1/2

teaspoons

salt

1/2

teaspoon

freshly ground black pepper

1/2

teaspoon

dried rosemary

1/2

teaspoon

dried thyme

1/2

teaspoon

dried oregano

1/4

teaspoon

dried sage

1

bay leaf

16

ounces

dried pasta

, cooked al dente according to package instructions
Instructions
In a heavy pot or Dutch oven cook the bacon until done (don't drain the grease, it adds a ton of flavor) .  Add the onions, carrots and celery and cook until softened, 5-7 minutes.  Add the ground lamb and cook until no longer pink, breaking up any chunks.  Add the red wine, bring to a full boil, and boil for about 3 minutes until it is mostly evaporated.  Add all remaining ingredients, bring to a boil, reduce the heat to low, cover, and simmer for a minimum 3 hours, preferably 4 hours for the best flavor.  Discard the bay leaf Add salt and pepper to taste.

Serve with hot pasta and some freshly grated Parmesan cheese.

SLOW COOKER VERSION: After boiling the red wine and adding in the remaining ingredients, transfer everything to the slow cooker and cook on LOW for 4 hours.
Nutrition
Calories:
719
kcal
|
Carbohydrates:
56
g
|
Protein:
31
g
|
Fat:
39
g
|
Saturated Fat:
17
g
|
Trans Fat:
1
g
|
Cholesterol:
112
mg
|
Sodium:
832
mg
|
Potassium:
904
mg
|
Fiber:
5
g
|
Sugar:
9
g
|
Vitamin A:
3162
IU
|
Vitamin C:
14
mg
|
Calcium:
93
mg
|
Iron:
4
mg
Originally published on The Daring Gourmet March 2, 2021