Thank you to Lindsay® for sponsoring this post!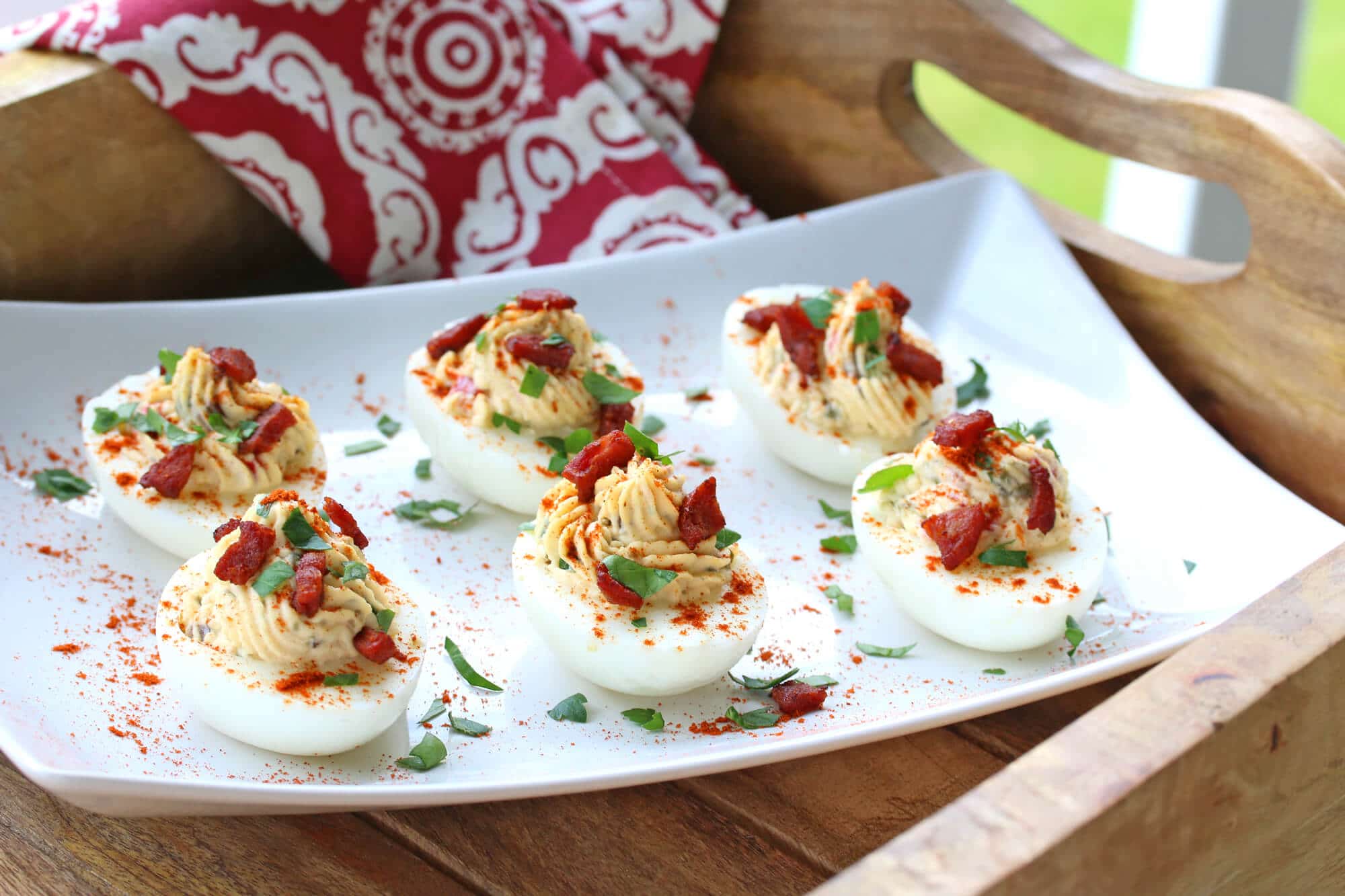 Spaniards are masters of appetizers, which they call "tapas."  For them it's an art form and every restaurant and bar features its own carefully crafted selection of tapas.  
In Spain when you go out for dinner it's common to skip the restaurant altogether and go bar-hopping for food.  That's because each bar proudly offers their own selection of tapas.  So people will commonly hop from one bar to the next, sampling the best that each bar has to offer.  
This tradition of bar-hopping for tapas will go on late into the night and even the wee hours of the morning.  Even on weekday Summer nights if you drive around at one o'clock in the morning (I'm holding my hand up) you will find Spaniards sitting outside of the bars, enjoying drinks and tapas.  On our last trip there we found ourselves wondering, don't they have jobs to get to the next morning and how do they manage work on such little sleep?  But somehow they do.  It's simply the Spaniards living true to their reputation for loving the night life!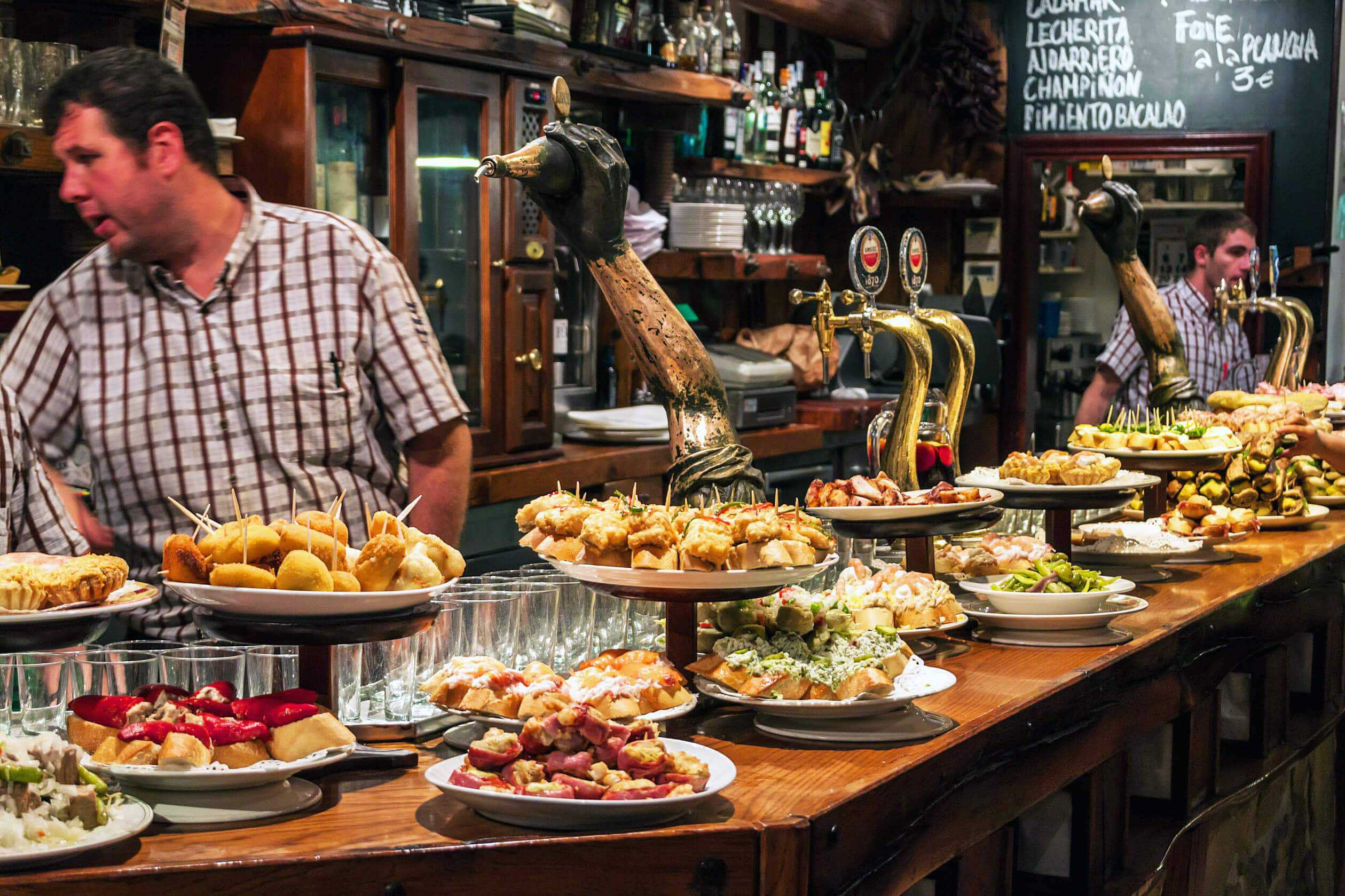 So what do Spaniards and tapas have to do with deviled eggs?  Well, I'll tell you.  
But before we get to the eggs let's address the deviled.  That term originated in Great Britain in the 1800's as a verb describing the process of making foods spicy, i.e., to "devil" something or to render something "deviled", clearly a religious metaphor likening the spiciness of the food to the scorching heat of hell.  It's also no wonder that some churches forbade the use of this term (church potlucks?) for reasons of blaspheme.  Nevertheless, the catchy term "deviled" caught on and also made its way to the United States where the term remains the designated name for hard-boiled eggs that are hollowed and filled back in with the seasoned yolks.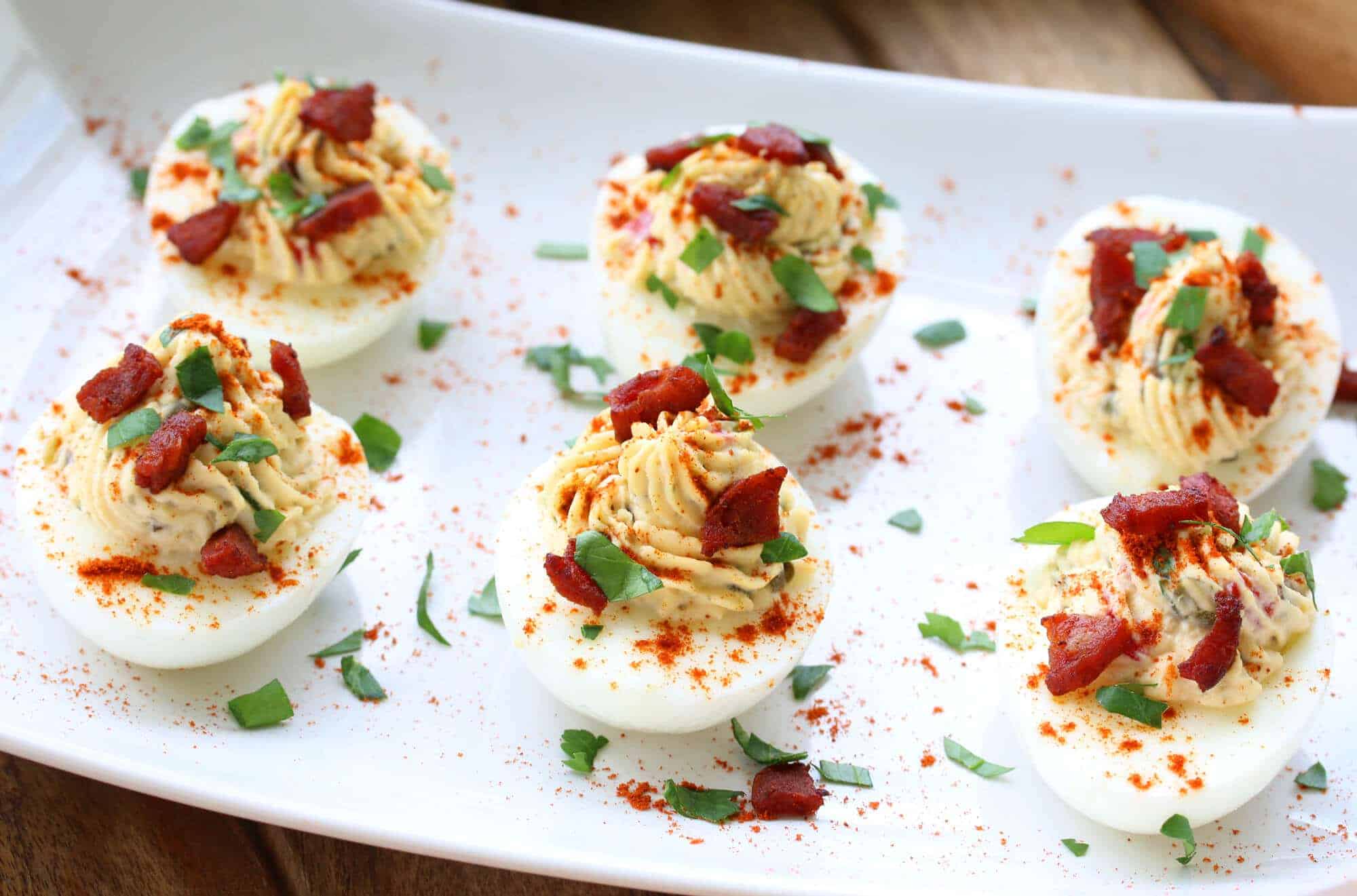 But the general concept of deviled eggs actually dates back to Ancient Rome.   It was a favorite among the Romans to serve hard-boiled eggs served with spicy sauces before the main meal.  In fact, eating these appetizers was so commonplace that they had a phrase for it  -"Ab ova ad mala" – or "from eggs to apples", referring to the progression from the beginning of the meal with eggs as starters to the end of the meal with dessert.
But the more recent ancestor of deviled eggs is – you got it – Spain.  Specifically the Andalusia region of southern Spain.
Here are just three of the beautiful areas of Andalusia we visited this Summer.
Seville.  We didn't get to meet the barber but we met a city that we fell in love with.  The architecture and history is absolutely stunning.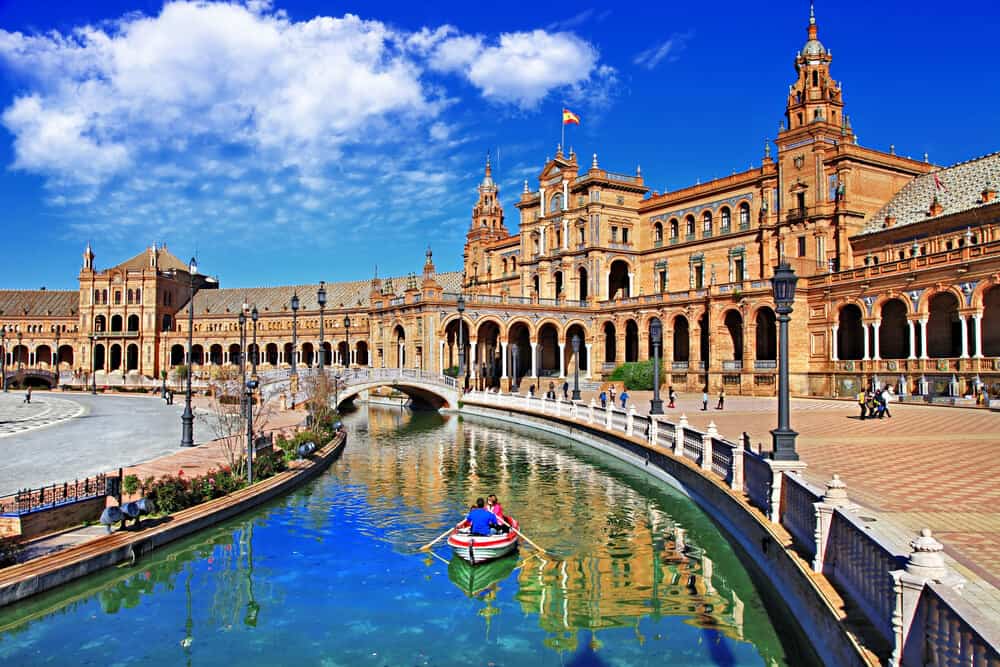 The famous Paseo de la Explanada in the city of Alicante:  A promenade that runs parallel to the port and is made up of 6.5  million tesserae creating a wavy mosaic pattern of red, white and blue colors.  
Sagunto.  We came across this town by accident as we were heading down to Seville.  We saw the old Moorish fortress at the top of the hill from the highway and veered off the road to spend a few hours exploring this charming town steeped in history and with a really neat historic Jewish quarter.  Here we are next to a tiny 18th-century church overlooking the city.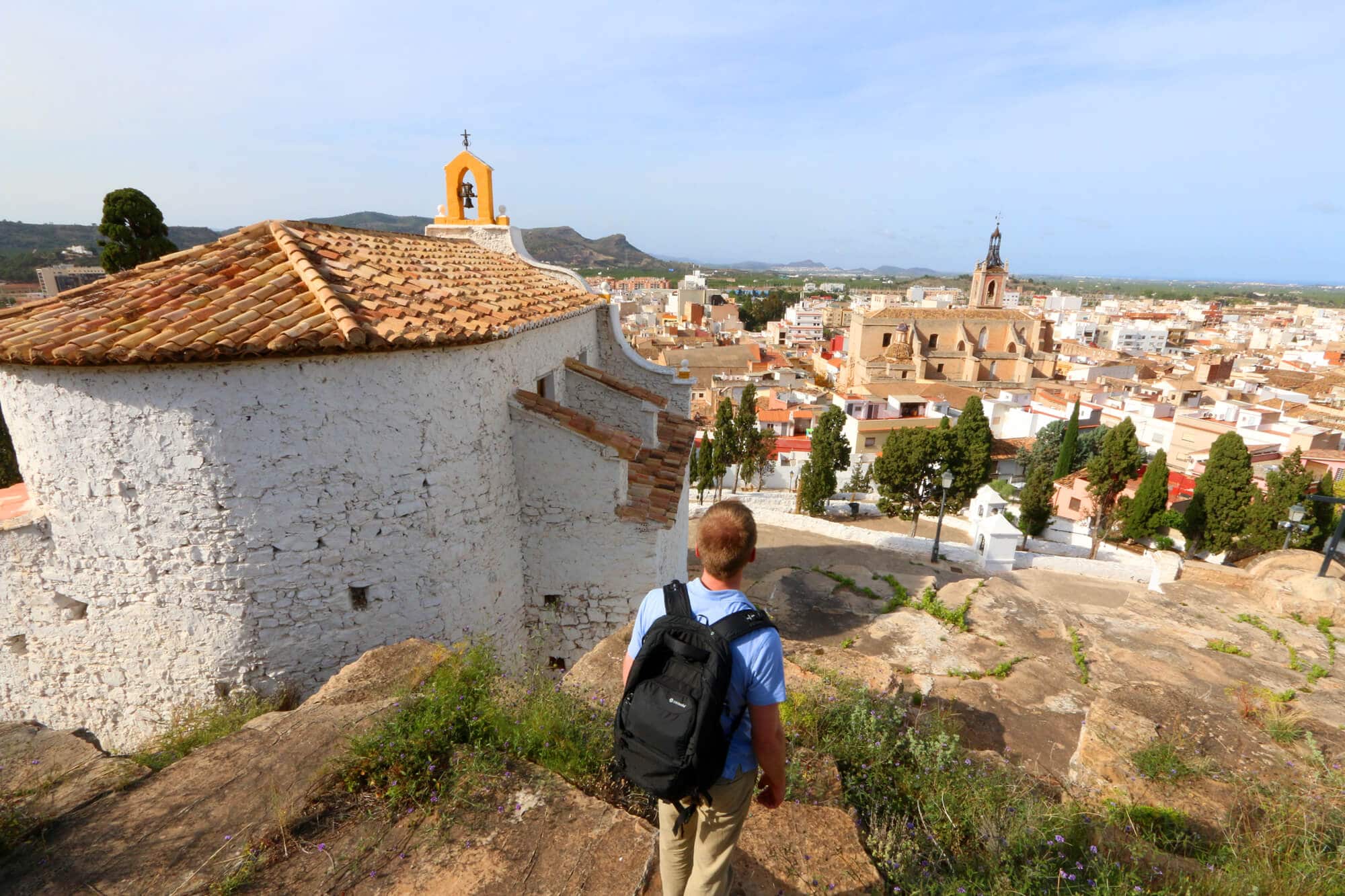 Back to the subject of deviled eggs and their Andalusian origin:  A 13th century Spanish cookbook describes the process of hollowing out hard-boiled eggs, mixing the yolks with spices and other ingredients, and stuffing the mixture back into the egg white for serving.
By the 15th century deviled eggs had become a smash hit across Europe, served at parties and various other functions among the upper classes.  They were "the thing."  They were eventually introduced to the United States in the late 19th century where they appeared in an early cookbook that added an ingredient that is now the staple binding agent, mayonnaise.
In honor of their Spanish origin I've created these Spanish Deviled Eggs pulling in several ingredients that are integral to Spanish cuisine:  Olives,  pimientos, capers, smoked paprika (pimenton de La Vera), and chorizo (not the ground meat Mexican version but Spanish chorizo, which is a dry-cured sausage).
Visually appealing and packed with flavor, these Spanish Deviled eggs are perfect for entertaining, a New Year's Day buffet or any other occasion!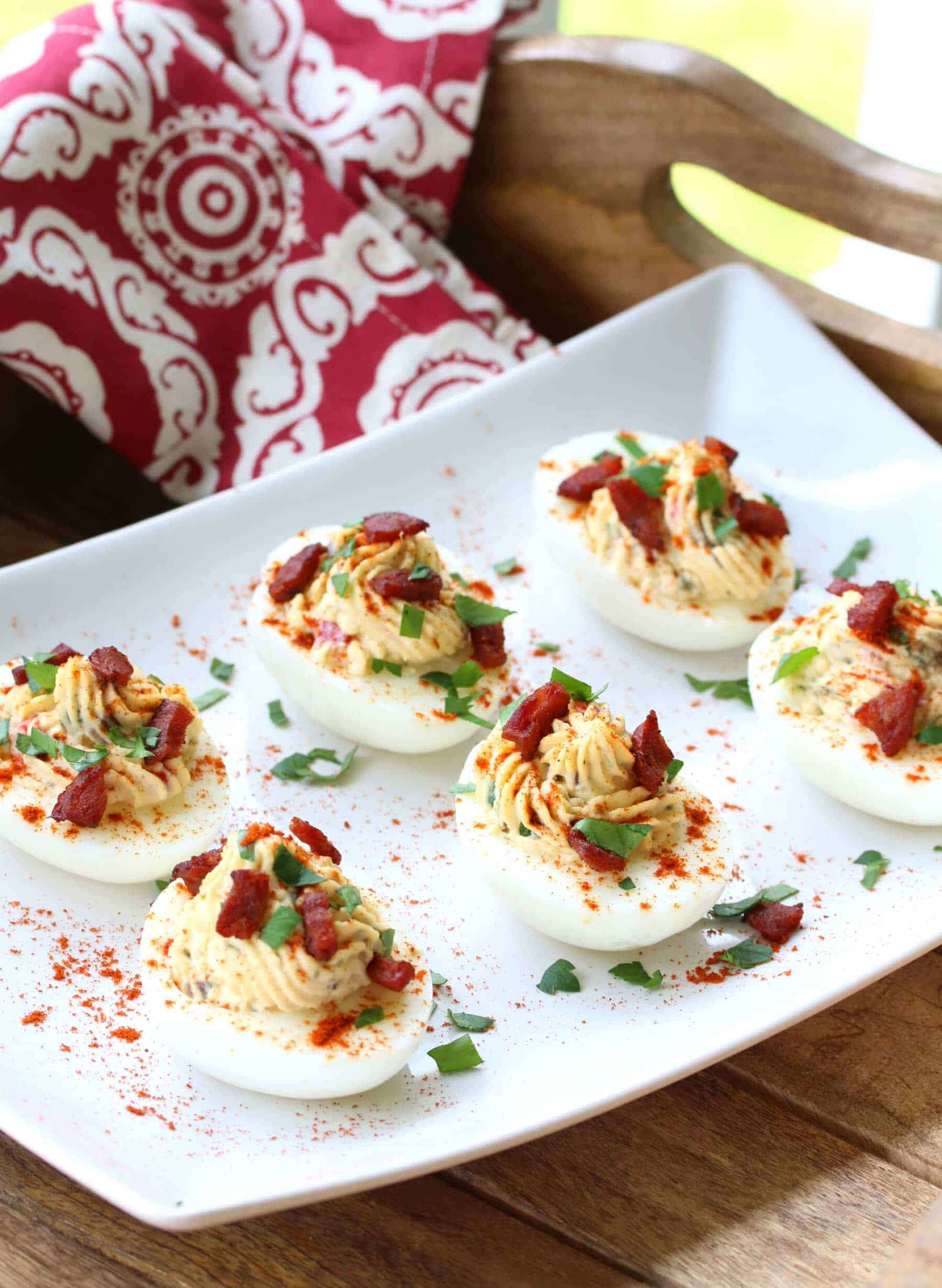 Let's get started!
For our deviled eggs I'm using three Lindsay® products:  Their Naturals Black Olives which contribute a buttery, earthy and mild flavor; Pimientos for color and a touch of sweet; and Capers which add a nice element of brininess to the deviled eggs.
We're going to start by frying the dry-cured Spanish chorizo so it can cool down before we add it to the yolk mixture.  Fry it until it's crispy and then transfer it to some paper towels to absorb the extra grease.

Cut the cold, hard-boiled eggs in half and remove the egg yolks.
Place the cooked egg yolks in a bowl with the pimientos, olives, capers, parsley, mayonnaise, mustard, salt and pepper. Mash and stir together until smooth.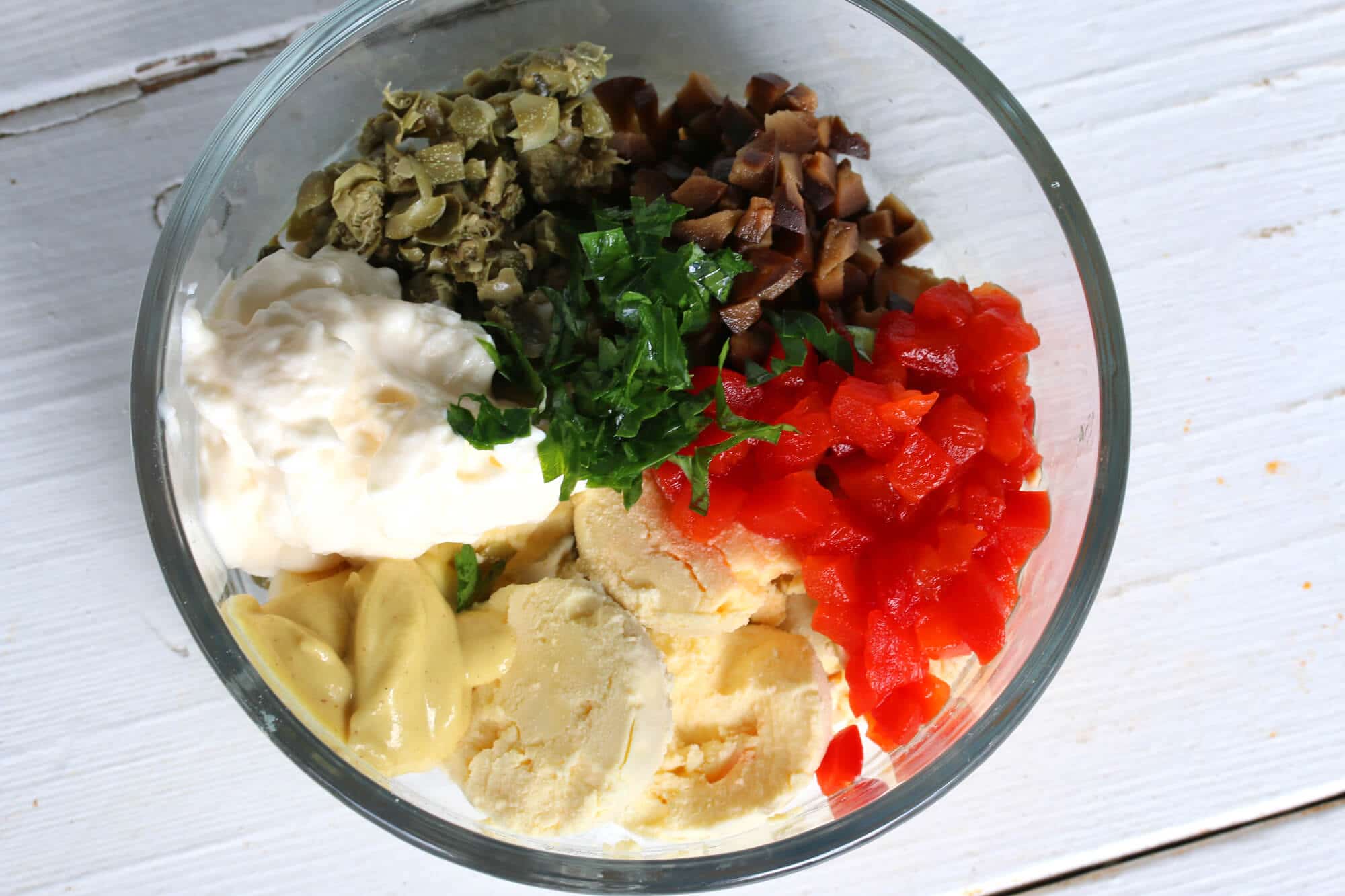 Pipe the mixture into the egg halves.
Piping is optional but it makes a massive difference in the appearance of the finished eggs.
Lightly sprinkle the eggs with smoked paprika.
Sprinkle the crispy chorizo over the eggs.
Sprinkle with some chopped fresh parsley.
Store the eggs in the fridge in an airtight container to prevent them from browning.   These can be made a day in advance.
Enjoy!
Spanish Deviled Eggs
Ingredients
12

shelled hard-boiled eggs cut in half lengthwise

,yolks scooped out and set aside

4

ounces

Spanish dry-cured chorizo

,finely diced

3

tablespoons

Lindsay® Pimientos

,drained, patted dry and finely chopped

3

tablespoons

Lindsay® Naturals Black or Green Olives

,rinsed, patted dry and finely chopped

2

tablespoons

Lindsay® Capers

,rinsed, patted dry and finely chopped

1

tablespoon

chopped fresh parsley

1/3

cup

mayonnaise

1

tablespoon

Dijon mustard

1/8

teaspoon

kosher salt

1/8

teaspoon

freshly ground black pepper

Smoked paprika

, for sprinkling

Extra chopped parsley for sprinkling
Instructions
Fry the chorizo in a pan over medium heat until crispy. Transfer to paper towels and blot dry.

Place the cooked egg yolks in a bowl with the pimientos, olives, capers, parsley, mayonnaise, mustard, salt and pepper. Mash and stir together until smooth.

Pipe the mixture into the egg halves, top with the crispy chorizo and sprinkle with smoked paprika and parsley. Serve immediately or store them in the fridge in an airtight container (to prevent browning) until ready to serve. Can be made a day ahead.
Nutrition
Calories:
76
kcal
|
Protein:
4
g
|
Fat:
6
g
|
Saturated Fat:
1
g
|
Cholesterol:
87
mg
|
Sodium:
162
mg
|
Potassium:
52
mg
|
Vitamin A:
185
IU
|
Vitamin C:
1.8
mg
|
Calcium:
13
mg
|
Iron:
0.5
mg
Thank you to Lindsay® for sponsoring this post and to my readers for supporting the brands who help make The Daring Gourmet possible!