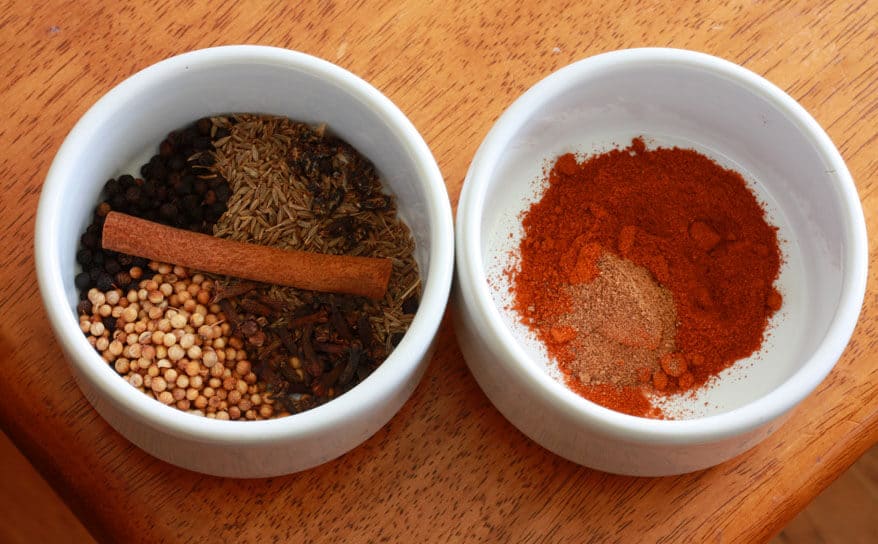 Baharat, Arabic for "spice", is a popular spice blend found in Arab cuisine.  Ingredients can vary, but most baharat recipes include black pepper, paprika, cumin, coriander, cinnamon, cloves, cardamom and nutmeg.  An intensely flavorful spice blend, Baharat can liven up any dish.  It is commonly used as a rub for lamb, chicken, beef and fish and can be combined with olive oil and lemon juice for a delicious marinade.  It is also used in soups, sauces and rice dishes.
One fabulous rice dish using baharat is Chicken Machboos (Spiced Chicken and Rice), the national dish of Bahrain.
Simply dry roast the whole spices in a skillet for a few minutes.  Let them cool.
Add them to a spice or coffee grinder along with the powdered spices and grind to a fine powder.
Use immediately or store in an airtight jar until ready to use.
Baharat (Arabic Spice Blend)
A popular spice blend used throughout the Middle East, it will liven up anything it's added to. Delicious as a rub for meat, chicken and fish, and used in soups, sauces and rice dishes.
:
The Daring Gourmet, www.daringgourmet.com
Recipe type:
Seasoning Blend
Ingredients
1 tablespoon black peppercorns
1 tablespoon cumin seeds
2 teaspoons coriander seeds
1 cinnamon stick (about 2 inches long)
1 teaspoon whole cloves
¼ teaspoon cardamom seeds
1 tablespoon paprika powder
¼ teaspoon ground nutmeg
Instructions
Set the paprika and nutmeg powders aside. Place all remaining ingredients (whole seeds, cinnamon stick and cloves) in a small frying pan and dry roast over medium-high heat, tossing regularly to prevent scorching, for 3-4 minutes or until very fragrant. Transfer to a spice or coffee grinder and let cool. Add the paprika and nutmeg and grind all the ingredients to a fine powder. Store left over baharat in an airtight jar.