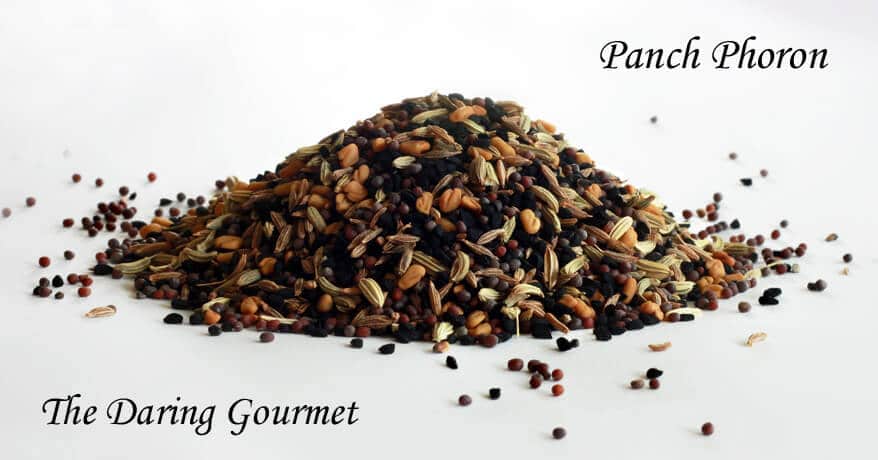 Panch Phoron (also called panch phoran or paanch phoron) literally means "five spices."  It is a spice blend commonly used in Eastern India and Bangladesh and consists of the following seeds:  Cumin, Brown Mustard, Fenugreek, Nigella and Fennel.  The spices are left whole and, depending on how they're being used, are either dry roasted or fried in oil in order to coax out their pungent flavors.
Panch Phoron is delicious as a rub for meats, added to Indian stews, sprinkled on vegetables, or used for pickling vegetables.  It is also a delicious addition to any "carb-like" foods such as breads like naan bread.  I wrote about Nigella Seeds a few days ago in my post for Indian Mango Chutney.  It is quite the extraordinary spice and can be purchased online or in Indian specialty stores.  There really are no adequate words to describe its flavor.  It adds a wonderful depth and flavor to any dish it's added to and really brings Panch Phoron to life.  A quick spice blend to make, give it a try and you'll be reaching for it any time you have a hankering for authentic Indian food.  I will posting some of my recipes in the near future that call this spice blend.  Stay tuned!
Here is one delicious and easy way to use panch phoron:  Check out Panch Phoron Roasted Potatoes.  Enjoy them as part of an Indian dinner or as a stand-alone snack.
Quick and easy to assemble, you simply measure out and combine the five different spice seeds.  Keep the Panch Phoron spice blend in an airtight jar and it will keep for many months.  Here are the five spices used in this blend, pulled from my well-stocked spice cabinet.  Many health food stores and co-ops sell their spices in bulk and you can simply scoop out the quantity you need.  most will carry all of these spices, with the exception of the nigella seeds which can be purchased online or at an Indian grocery store.
Panch Phoron is usually a mixture of equal amounts of each spice.  I choose to use less fenugreek because of its bitter taste.  Feel free to increase the quantity if you like.
Try this seasoning blend with this recipe for delicious Panch Phoron Roasted Potatoes!

Panch Phoron (Indian Five Spice Blend)
A robust and delicious Indian "five spice" blend that is delicious as a rub for meats, added to Indian stews, sprinkled on roasted vegetables and potatoes, and sprinkled on or incorporated into breads before baking.
:
The Daring Gourmet, www.daringgourmet.com
Recipe type:
Seasoning Blend
Instructions
Combine the seeds in a small bowl. Store in an airtight container.
Depending on what kind of dish you make with these seeds, they can either be fried briefly in oil or dry roasted to coax out their rich flavors.
Indian food lovers, don't forget to also try this recipe for the BEST
Indian Mango Chutney!