Thank you to NAKANO for sponsoring this post!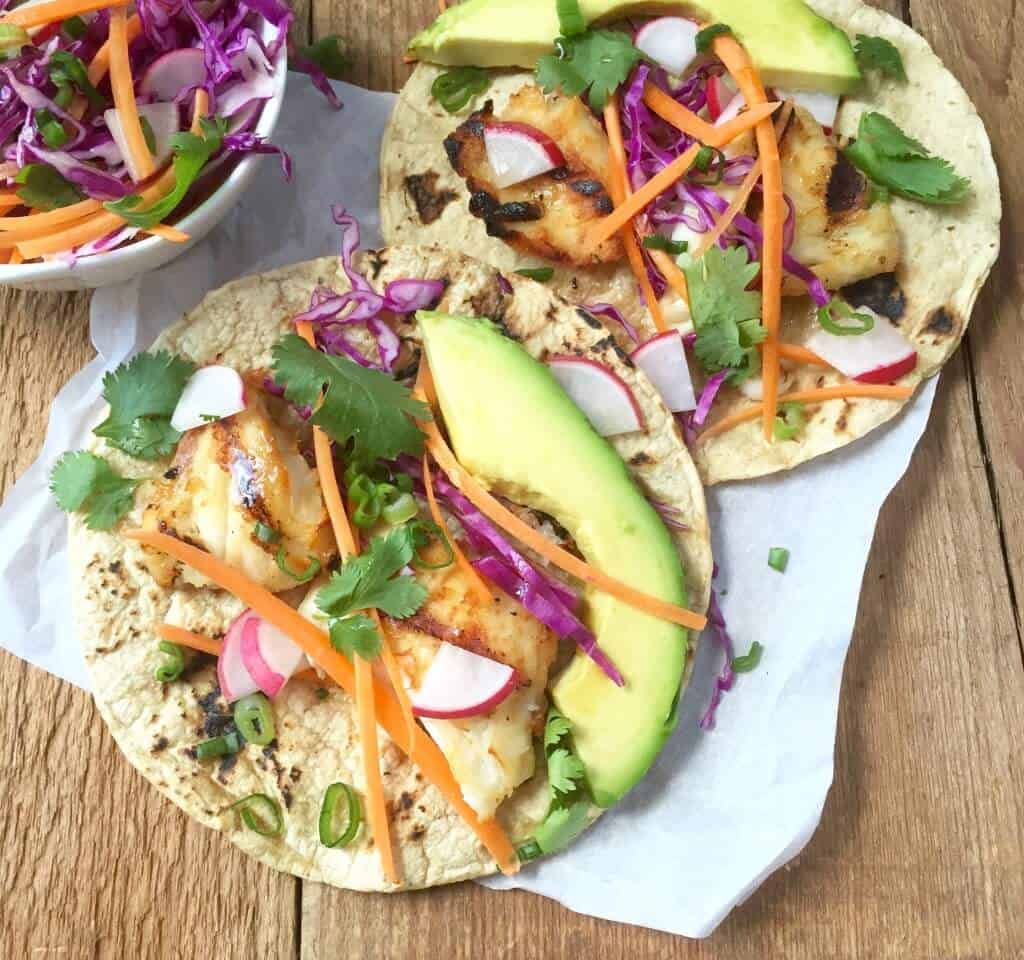 Our Summer here has been a hot one!  It's been a record low for rain with a grueling consistent 85-95 degree weather (for us Washingtonians that's grueling).  But it sure has done absolute wonders for our garden!
In addition to those beauties below, we've got beets, kohlrabi, collard greens, carrots, green beans, black eyed peas, crookneck squash, radishes, 10 different tomato varieties, sweet corn, acorn squash, spaghetti squash (42 of them, yikes!), pumpkins, brussels sprouts, strawberries, celery and we've actually got watermelons and cantaloupes growing right here in western WA!

Summer with its abundance of fresh fruits and veggies provides plenty of excuses to stay healthy during the hot months.
Summer isn't over folks, so let's celebrate!  Here are a few tips for a healthier Summer by registered nutritionist Dawn Jackson Blatner along with her simple and tasty recipe for Asian-style Grilled Fish Tacos.
Healthy Summer Eating Tips
1.       Stay hydrated. Drink plenty of water throughout the day to stay hydrated and keep skin looking its best. Plus, hydration is a secret weapon for staying focused and energized.
2.       (If you're a tea drinker) Drink green tea rather than sweet tea. Sweet tea has a lot of sugar and calories, which is the last thing you want weighing you down in the summer. Instead, drink unsweetened green tea which is full of healthy compounds, like catechins, that give your metabolism a boost.
3.       Make smoothie pops. Drinking smoothies is all the rage, but in the summer, freeze your favorite fruit and veggie smoothies into popsicles for a wholesome and refreshing treat.
4.       Snack smarter. Keep cut-up seasonal vegetables such as cucumbers, bell peppers, zucchini and carrots in resealable containers for easy grab and go snacking. Splash on NAKANO Rice Vinegar to all of your veggies for a super flavor boost.
5.       Stay balanced. Fill your plate with half veggies, a quarter lean protein and a quarter of whole grains for a balanced meal. This will keep energy levels up so you can enjoy more summer fun.
6.       Grill fruit for dessert. When your sweet tooth needs a treat, grill seasonal fruits like peaches, plums and pineapple for dessert. The heat of the grill brings out even more of fruit's natural sweetness.
7.       Enjoy light, but flavorful meals. Like today's recipe for Asian-style Grilled Fish Tacos.
This healthy Summer recipe showcases fish and a vibrant array of veggies, all brought together with a flavorful vinaigrette featuring NAKANO rice vinegar!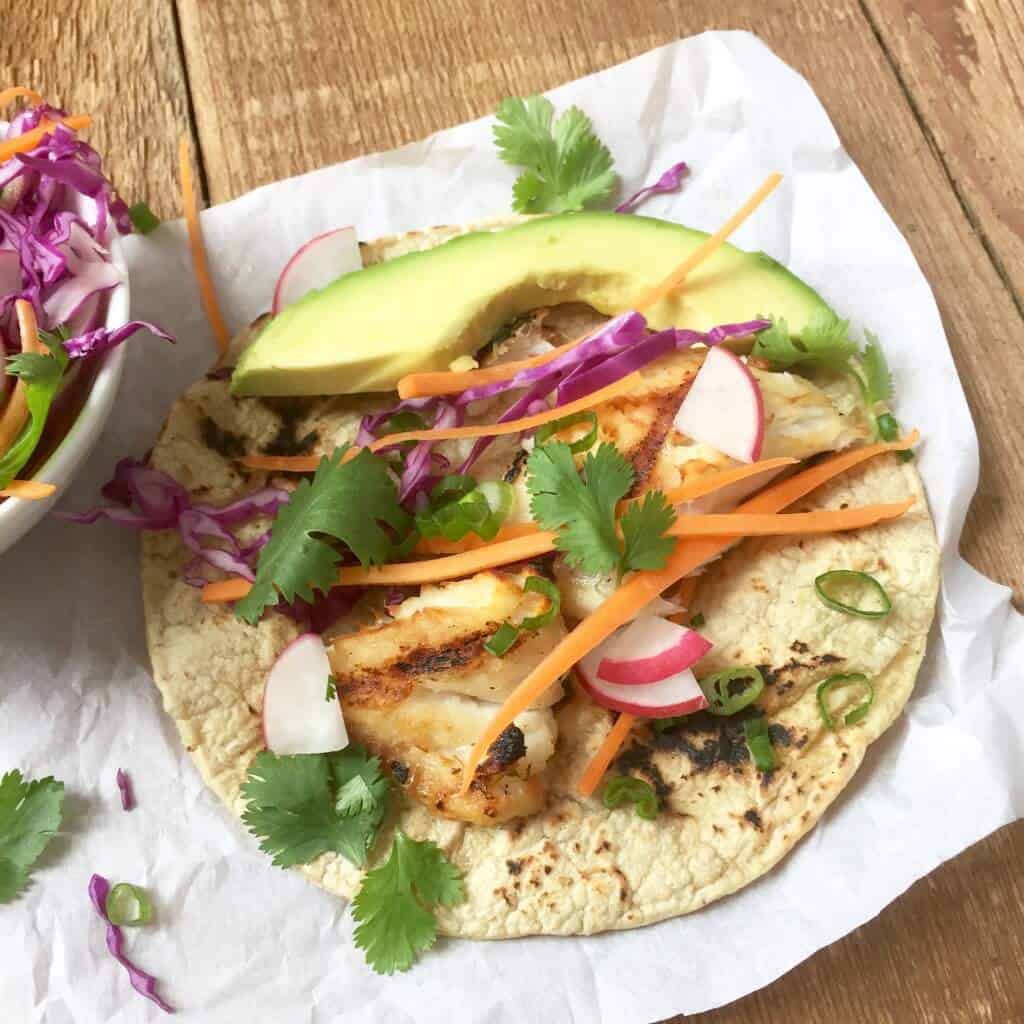 When it's hot outside spending a lot of time over the stovetop or in front of a hot oven isn't fun.  These tacos require just a brief grilling time for the fish and prep time is minimal.  Just chop the veggies and grill the fish and whisk together delicious vinaigrette with the help of NAKANO's all-natural rice vinegar.
My husband loooooves fish tacos and grilling the fish gives them such a fabulous touch.  But if you don't have a barbecue, you can easily grill the fish in the oven.
To assemble, pile the fish on the taco shells with some slaw and avocado and serve with some extra slaw on the side.  That's it, a very simple, tasty and healthy Summer meal.
Enjoy!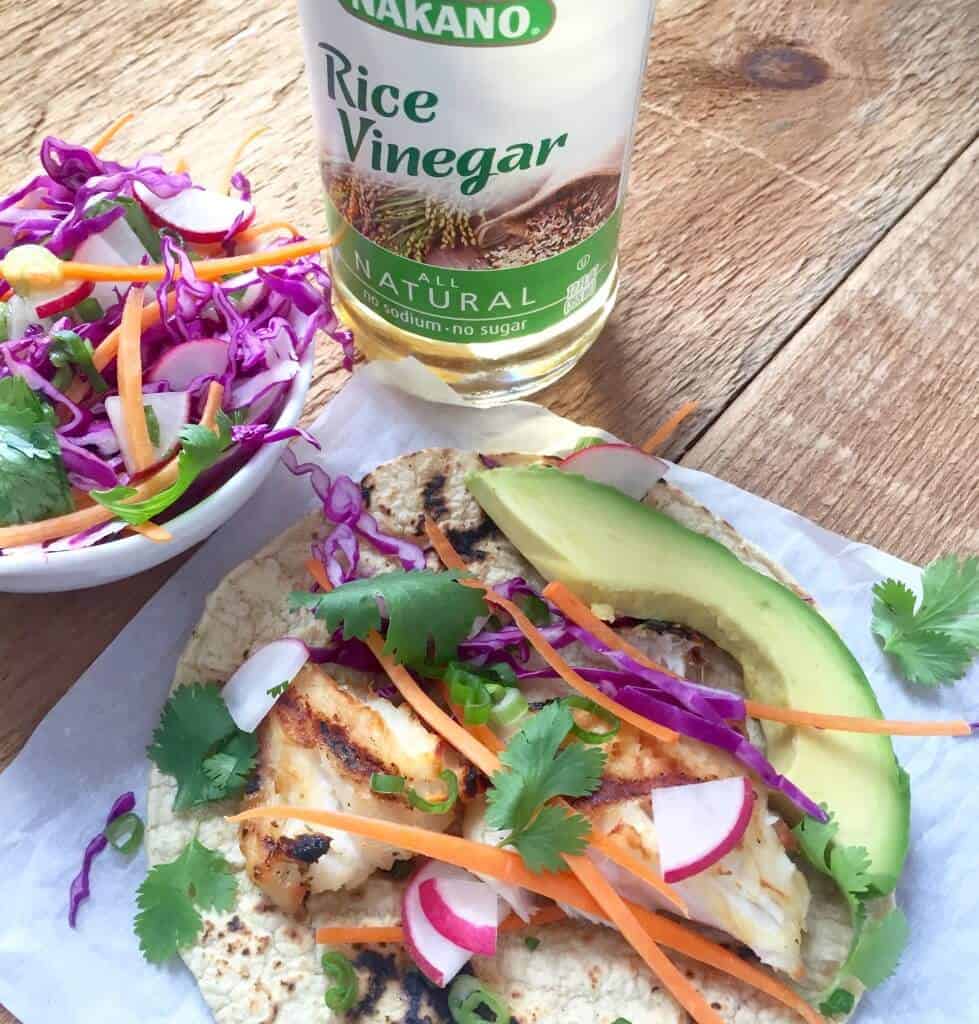 And now for our awesome GIVEAWAY!
One lucky winner will receive an entire set of seasoned vinegars from NAKANO!  Superbly delicious on salads, vegetables, in marinades and vinaigrettes, and so much more!
All you have to do is leave a comment below answering this question:  What do you do to stay healthy during the Summer?  That's it!  One winner will be randomly selected and notified via email.  If the winner hasn't responded within 48 hours a follow-up winner will be selected.  (U.S. residents only.)  This giveaway ends at Midnight PST on September 2, 2015.
*This giveaway is now CLOSED. Congratulations to our winner, Valerie!
Asian-style Grilled Fish Tacos
:
Recipe by Dawn Jackson Blatner
Ingredients
For the Dressing:
3 tablespoons NAKANO Natural Rice Vinegar
2 tablespoons low-sodium tamari or soy sauce
2 tablespoons honey
1 tablespoon dark sesame oil
For the Slaw:
3 cups shredded cabbage (purple and/or Napa)
1 cup shredded carrot (3 carrots)
¼ cup chopped green onions (3 green onions)
¼ cup thinly sliced radish (2 radishes)
¼ cup chopped cilantro
For the Tacos:
8 corn tortillas, warmed
¾ pound (12 ounces) white fish, lightly salted and grilled (on barbecue or in the oven)
1 avocado, sliced
Instructions
To grill the fish: Heat the grill to medium-high. Be sure the grates are clean and well-oiled or the fish will stick. Place the fish on the hot grill and grill on each side for 2-3 minutes, depending on the thickness of the fish. The internal temperature of the fish should register between 130-135°F. Let the fish rest for a couple of minutes. Alternately, cook the fish in the oven: Preheat to 450 F, place fish on a lightly greased baking sheet and bake for 10-15 minutes, depending on thickness.
To make the dressing: Whisk the NAKANO Rice Vinegar, tamari, honey and sesame oil together in a large bowl. Add the shredded cabbage, carrots, green onions, radish, cilantro and toss to coat.
To serve, top the warm tortillas with fish, slaw and slices of avocado. Serve immediately with some extra slaw on the side.
Notes
*Time saver: Use 4 cups pre-shredded coleslaw mix instead of cabbage and carrots.

*Nutrition information for 2 tacos (values are rounded to the nearest whole number): 400 calories; 15 g fat (2.5g saturated fat); 50 mg cholesterol; 45 g carbohydrate; 28 g protein; 8 g fiber; 440 mg sodium; 13 g sugar; 110% vitamin A, 70% vitamin C, 15% calcium, 15% iron
Disclosure: A special thank you to NAKANO for sponsoring this post and giveaway!  Recipe and photos by Dawn Jackson Blatner used with permission.