As an Amazon Associate I earn from qualifying purchases.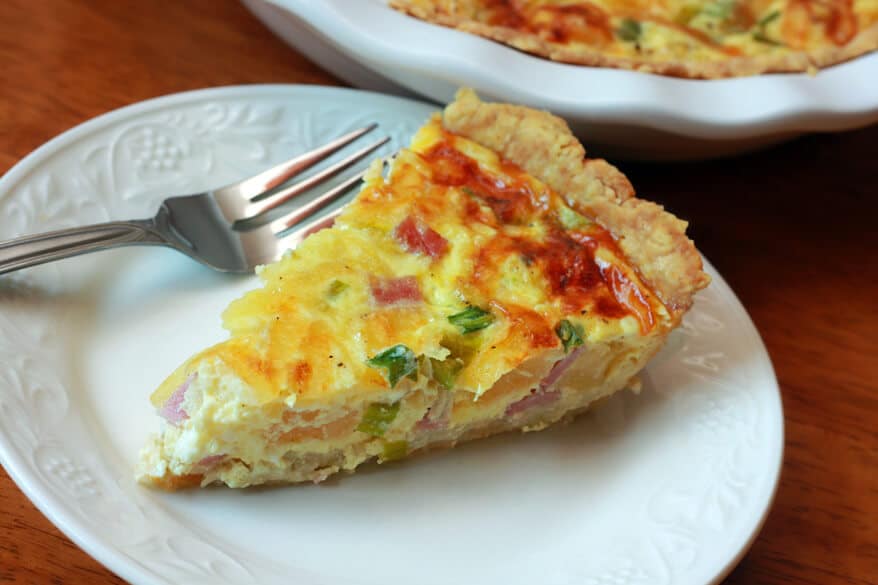 I just recently made a Canadian bacon & pineapple pizza – my husband's favorite – and still had some of the toppings left.  I didn't want to make another pizza and I didn't want to let the ingredients go to waste.  And so this delightfully delicious quiche was born.  Swiss cheese makes a great companion to these ingredients, but cheddar and colby work nicely as well.
Use a ready-made pie crust for a quick and simple dish, or use the recipe provided.  Either way, you're going to love this quiche.  Enjoy it for breakfast, brunch or dinner.
Canadian Bacon & Pineapple Quiche
:
The Daring Gourmet, www.daringgourmet.com
Ingredients
Bought refrigerated pie crust or make your own:
Quiche crust recipe:
1½ cups all-purpose flour
½ teaspoon salt
1 stick (1/2 cup) unsalted butter, cut into cubes and chilled
3-4 tablespoons ice water
For the quiche filling:
1 cup half and half
3 eggs
¼ teaspoon salt
Pinch of nutmeg
½ cup diced Canadian bacon
¾ cup diced pineapple, thoroughly drained
1 small onion, grated
2 green onions, sliced
4 oz Swiss cheese, grated
Instructions
For the quiche crust:
In a medium mixing bowl, combine the flour and salt.
Add the butter and use a pastry blender or two knives to cut the butter into the flour until the mixture resembles coarse breadcrumbs.
Sprinkle in the water, 1 tablespoon at a time, stirring with a fork until a rough dough mass is formed.
Form the dough into a ball and then flatten into a round disk. Use immediately or wrap in plastic wrap and refrigerate for up to two days.
Roll out the dough into a 12-inch round place it in a lightly greased 9-inch tart pan. Trim away any excess dough spilling over the edges.
Prick the bottom and sides of the pastry shell with the tines of a fork.
Press a sheet of aluminum foil into the pastry shell.
Preheat the oven to 425 F and bake for 8 minutes. Then remove the foil and bake for another 3-4 minutes or until the pastry crust is dry but not brown. Remove from the oven and set aside.
For the quiche filling:
In a large mixing bowl, combine the half and half, eggs, salt and nutmeg. Whisk the mixture until smooth.
Add the Canadian bacon, pineapple, onion, and green onion and stir to combine.
Pour the mixture into the quiche crust and sprinkle the cheese evenly over the top.
Bake in a preheated oven at 325 F for 35-40 minutes or until golden brown on top and the middle of the quiche is firm.
Serves 4-6