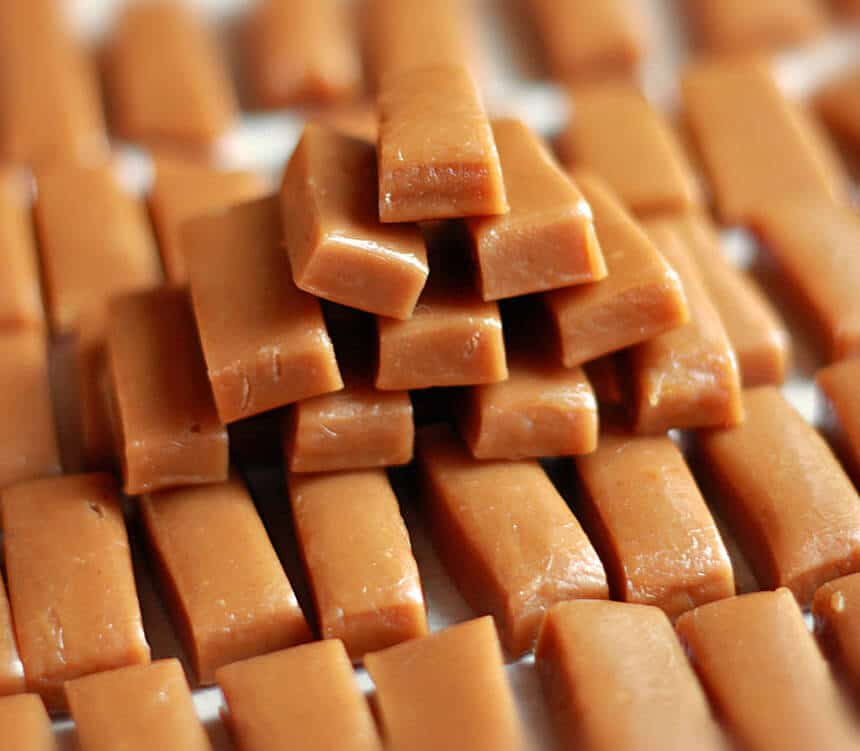 It was time for something sweet.  This caramel candy recipe is full-proof, easy to make, and yields deliciously sweet and buttery little caramel "gold bars."  Perfect for your sugar fix!      (It was for mine)
For an easy way to subscribe to The Daring Gourmet and receive notifications of the latest recipes, head on over to The Daring Gourmet Facebook Page and click the "like" button.  See y'all over there!

Caramel Candy Gold Bars
Sweet and buttery caramel candies.
:
The Daring Gourmet, www.daringgourmet.com
Ingredients
2 cups white granulated sugar
1 cup brown sugar, firmly packed
1 cup corn syrup
1 cup butter, unsalted
2 cups heavy whipping cream
1 cup evaporated milk
2 teaspoons vanilla extract
Instructions
Grease a 12x15 inch sheet cake pan.
In a medium pot, combine the white and brown sugars, the corn syrup, butter, heavy cream, and evaporated milk. Cook the mixture over medium heat, stirring constantly. When a candy thermometer reaches 250 degrees F, remove the pot from the heat and stir in the vanilla.
Pour the caramel mixture into the prepared pan and let it cool almost completely (but still soft enough to cut) before cutting the caramel into small 1 inch long bars. Wrap each caramel bar in wax paper, twisting the ends.
Adapted from allrecipes