A deliciously rich and flavorful Bechamel Sauce recipe that features the addition of Parmesan cheese for a truly unforgettable sauce!  Easy to make and wonderfully versatile!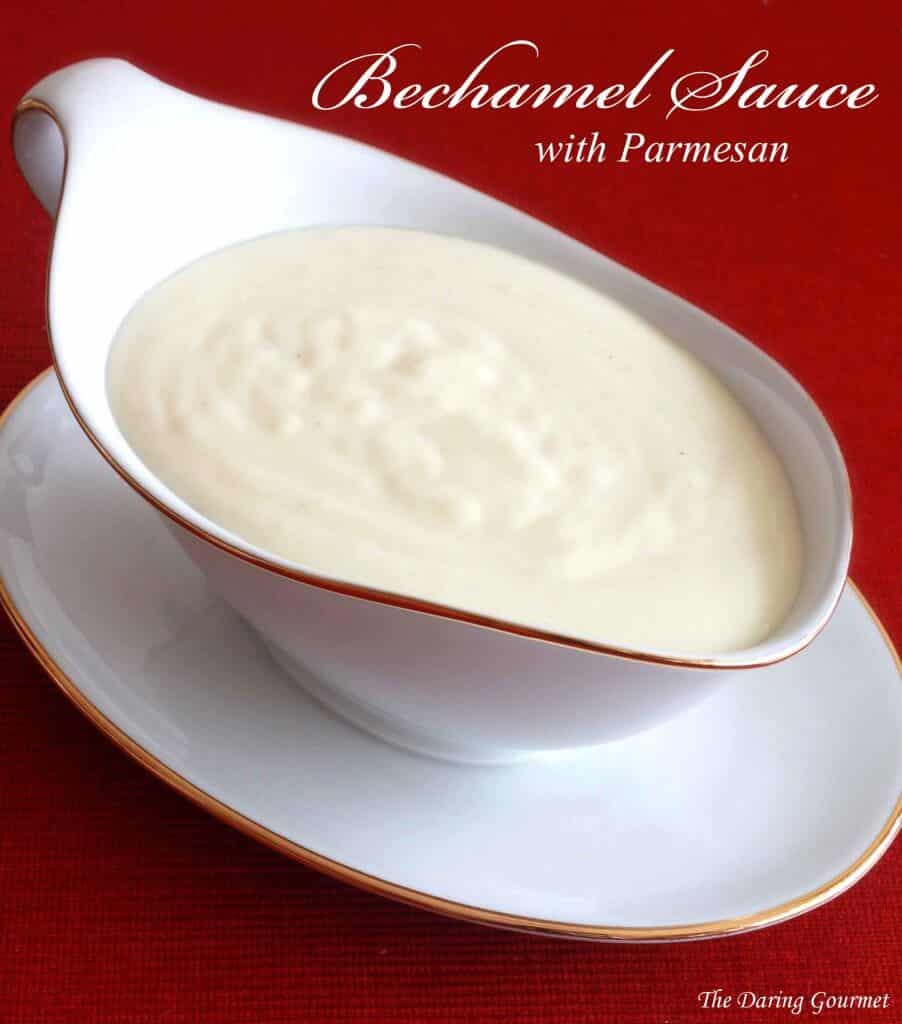 An easy, perfectly creamy bechamel sauce with Parmesan cheese for a wonderfully delicate flavor.  Probably the most versatile of all sauces, you'll be making this again and again!
Béchamel is a sauce every cook needs to know how to make.  A simple "white sauce",  béchamel is considered one of the "mother sauces" of French and Italian cuisine as it forms the base for a number of other classic sauces like Mornay, Nantua, Mustard, Soubise, Cheddar Cheese Sauce, and others.
Where Did Bechamel Sauce Originate?
Enjoying a long history, béchamel has been made in Italy for centuries, particularly in Tuscan and Emilian cuisine, and was later imported to France, appearing in a French cookbook around 1651.  Originally known as "balsamella" in Italian, the name it is most commonly called by today is "béchamel", named after the marquis de Béchameil, chief steward to King Louis XIV and patron of the arts.  The sauce was named after him because he was credited with perfecting it from an older cream-based sauce.  Per Wikipedia, when the sauce was dedicated to Béchameil to flatter him, the Duke of Escars exclaimed:
"That fellow Béchameil has all the luck! I was serving breast of chicken à la crème more than 20 years before he was born, but I have never had the chance of giving my name to even the most modest sauce!"

For you French purists:  "Est-il heureux, ce petit Béchameil ! J'avais fait servir des émincés de blancs de volaille à la crème plus de vingt ans avant qu'il fût au monde et, voyez, pourtant je n'ai jamais eu le bonheur de pouvoir donner mon nom à la plus petite sauce!"
As classic today as it was then, bechamel is a timeless sauce that is enjoyed in the most rustic of kitchens to the most luxurious, high-end restaurants.
This version incorporates some Parmesan cheese for added depth and flavor.  You can omit it if you prefer, no other adjustments needed.  You can also add a different cheese of choice.  FYI, if you add Gruyère (or white cheddar) along with the Parmesan the Béchamel technically becomes a Mornay sauce.   Just a little Sauce Making 101.
Classically trained cooks are taught to make béchamel in three thicknesses.  A thin béchamel is often used as the base for creamy soups while a thick béchamel is what's used in soufflé.  A medium-thick béchamel, which is what this recipe is, is the most versatile and is used as its own sauce or as the base for a variety of other sauces.  The thickness of the béchamel is determined by how much flour is used (and the quantity of butter would be adjusted accordingly).
How to Serve Bechamel Sauce
Bechamel sauce is deliciously versatile.  It makes a great base for creamy pasta sauce (eg, saute some mushrooms and onions and fold them into the sauce, add some additional cheese or some spinach), use it in creamy casseroles or creamy soups, in a white sauce version of shepard's pie, mac n' cheese, or try a béchamel-style carbonara with a little garlic and bacon.  It's also commonly used in lasagna and makes a wonderful sauce for any number of cooked vegetables.  Try this sauce in our delicious Baked Endives with Ham and Bechamel!
However you use it, you'll be amazed how these few simple ingredients are transformed into a luxuriously creamy and delicious sauce.
How to Make Bechamel Sauce
Let's get started!
Melt the butter in a saucepan over medium-high heat and whisk in the flour until no clumps remain.  Let the mixture bubble, whisking constantly, for two minutes until light golden.  This is known as a "roux" and for lighter-colored sauces you want keep the roux to a light golden.  For darker, brown sauces you would let the mixture simmer longer until brown.  The process of making a roux is key to achieving flavor in sauces and gravies.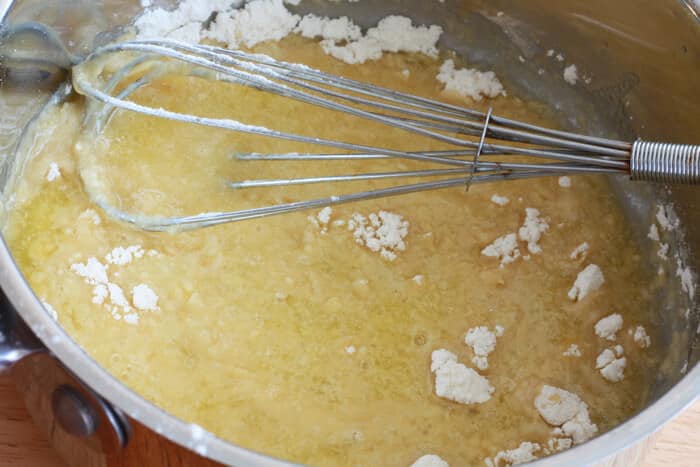 While continually whisking, gradually add the milk.  Slowly bring it to a boil, reduce the heat and simmer for 10 minutes until thickened, whisking frequently to prevent lumps or scorching.   Add the salt, nutmeg and Parmesan cheese and whisk to combine.  For best results, use freshly ground nutmeg.  I found a good deal online for whole nutmeg and those are what I used.  Use the fine grating side of a cheese grater – the taste and aroma of fresh nutmeg is wonderful!
Simmer for another minute then remove from heat.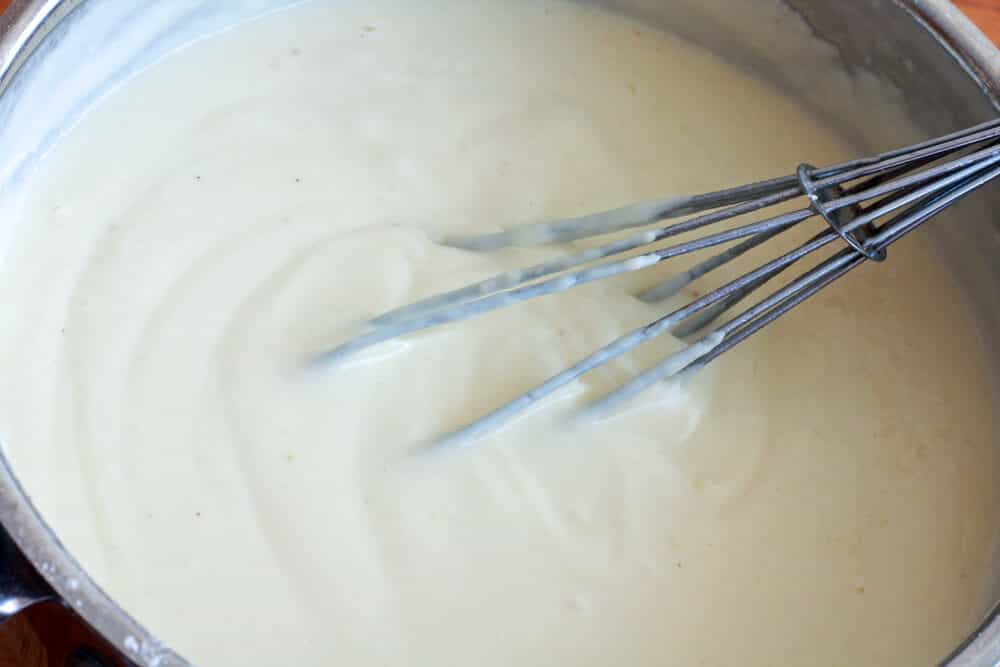 It's that simple and your béchamel sauce is ready!
Enjoy!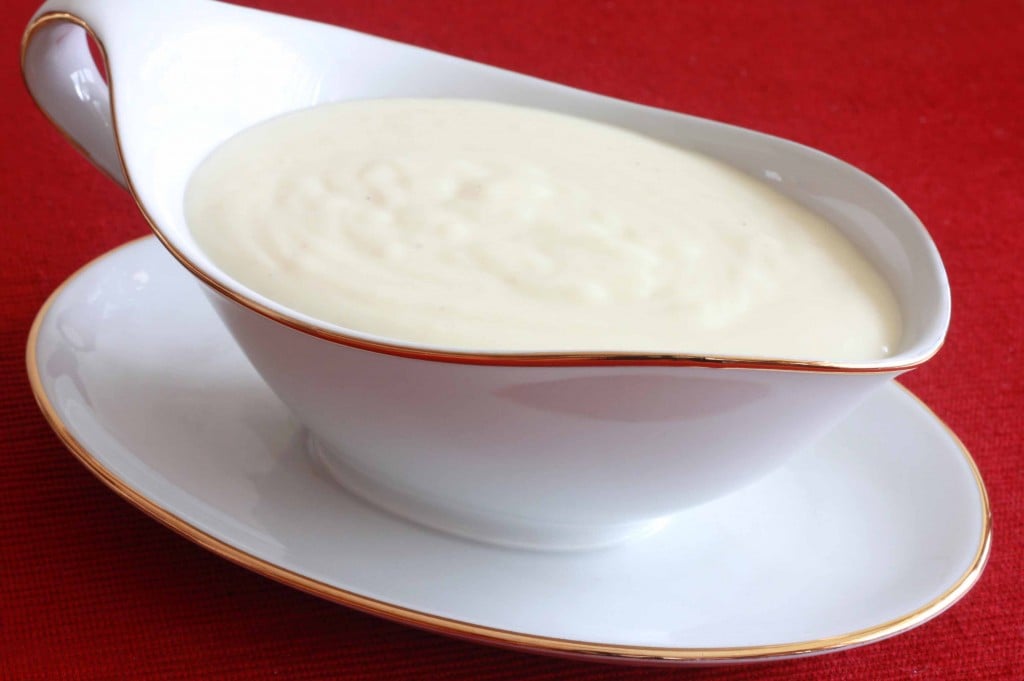 For more delicious classic French sauces be sure to try our:
Bechamel Sauce
A deliciously rich and flavorful Bechamel that features the additional of Parmesan cheese for a truly unforgettable sauce! 
Ingredients
1/3

cup

unsalted butter

1/3

cup

flour

3

cups

whole milk

1 1/4

teaspoons

salt

1/2

teaspoon

freshly ground whole nutmeg

1/2

cup

grated Parmesan cheese
Instructions
Melt the butter over medium heat. Add the flour and use a wire whisk to blend it with the butter. Let the mixture bubble for 2 minutes until light golden, continually whisking. Gradually add the milk while continually whisking to prevent lumps and whisk until smooth. Slowly bring it to a boil, reduce the heat and simmer for 10 minutes until thickened, whisking frequently to prevent lumps and scorching. Add the Parmesan cheese, salt and nutmeg and whisk until smooth. Simmer for another minute then remove from heat. (If the sauce is too thick, add a little milk.) Add salt to taste.

Makes about 4 cups.
Nutrition
Serving:
0.25
cup
|
Calories:
85
kcal
|
Carbohydrates:
4
g
|
Protein:
3
g
|
Fat:
6
g
|
Saturated Fat:
4
g
|
Trans Fat:
1
g
|
Cholesterol:
17
mg
|
Sodium:
250
mg
|
Potassium:
68
mg
|
Fiber:
1
g
|
Sugar:
2
g
|
Vitamin A:
219
IU
|
Vitamin C:
1
mg
|
Calcium:
88
mg
|
Iron:
1
mg