As an Amazon Associate I earn from qualifying purchases.
Nothing remotely fancy – just a simple, traditional, homespun German favorite that takes all of 5 minutes to throw together.
There isn't a German alive who isn't familiar with Fleischsalat.  In Germany it's practically as common as peanut butter and jelly is here in the U.S..  It's a sandwich spread that consists of mayonnaise, pickles and bologna.  But the key is those ingredients must all be German because the American equivalent is very, very different.
Fleischsalat takes me back to my childhood, youth and young adulthood in Germany.  I ate this stuff pretty frequently!  One of my favorite things to do was to pick up some freshly baked Brötchen at the local bakery, grab some Fleischsalat from the grocery store like Aldi, Lidl or Real, and then go home and bite into that crusty roll slathered thick with Fleischsalat.  I love it!
In Germany Fleischsalat is readily available in every grocery store, but since you can't find it anywhere here in the U.S. (unless you have a local German deli that makes it), I'm providing a copycat recipe that tastes exactly like the Fleischsalat we know and love in Germany.
There are different variations of Fleischsalat, but the standard and traditional version – and the kind you find in most German delis and grocery stores – is this one.  Simple with no embellishments and thoroughly yummy.
Please, please, please don't use American bologna.  Not unless you want to gag or make me gag at the thought of you eating it. German bologna is more like a mortadella with a more delicate flavor and texture.  Check out your grocery store deli or the pre-sliced meat section for a product like the one in the first picture below.
The other thing, if you have access to German mayonnaise, such as this Thomy Mayonnaise, use it.  There's a significant difference between German and American mayonnaise (the former tastes really good and the latter tastes tolerable).  Especially if you're wanting to get the true taste of German Fleischsalat, use the German mayo.  If you don't have access to it or can't order it from Amazon, then use the American stuff.
However, using German pickles is a must.  A MUST.  The difference between German and American pickles is like night and day – no comparison.  No substitutions.  Not if you want it to taste like it's supposed to.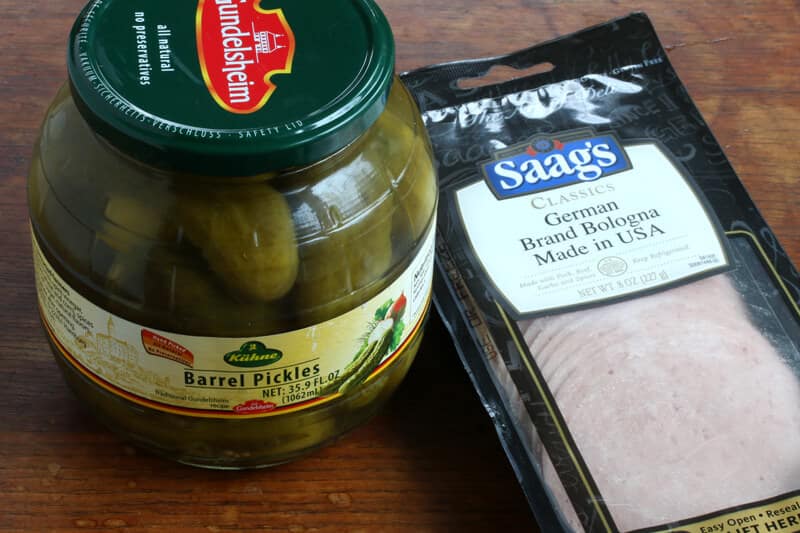 Ready to make this quick-and-simple yummy German sandwich spread?  Then let's get started!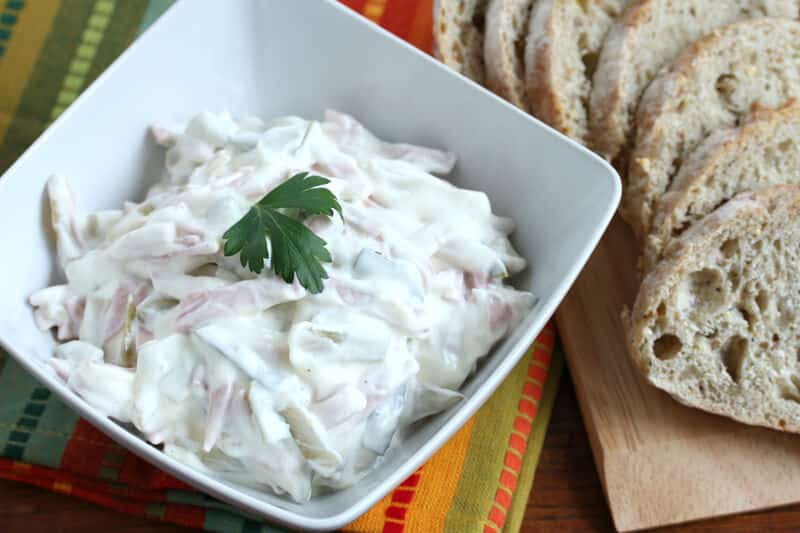 Thinly slice (like julienne) the pickles and bologna, in pieces about 1-inch in length and about 1/4 inch wide.
By the way, if you're looking for a good pairing knife, I use and love my German Wusthof 3 1/2 inch pairing knife.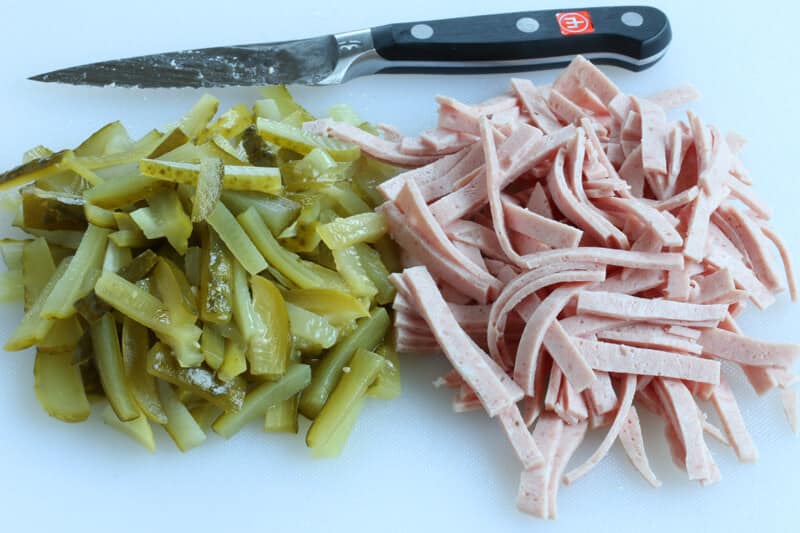 If at all possible, for this to taste the way it's supposed to, use German mayonnaise, like this Thomy Mayonnaise.
Combine all the ingredients, including the pickle juice, and add salt and pepper to taste.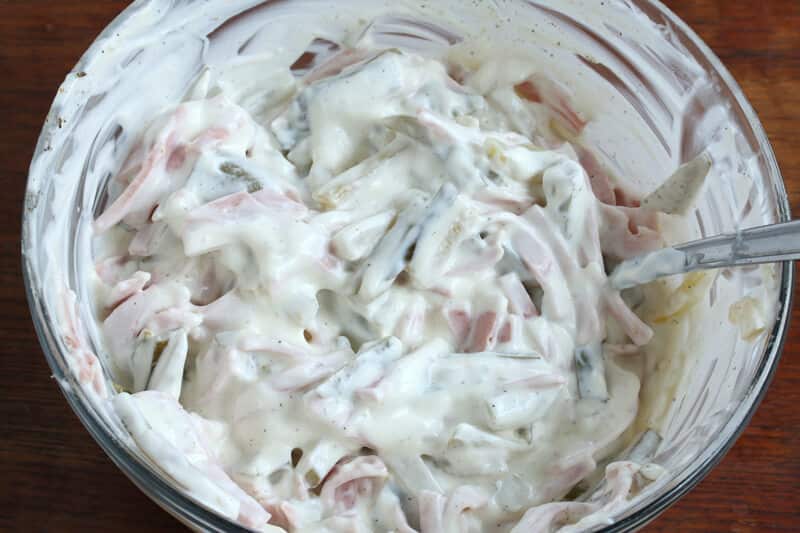 Serve this as a sandwich spread on crusty rolls, French bread, baguettes, or artisan bread.
Enjoy!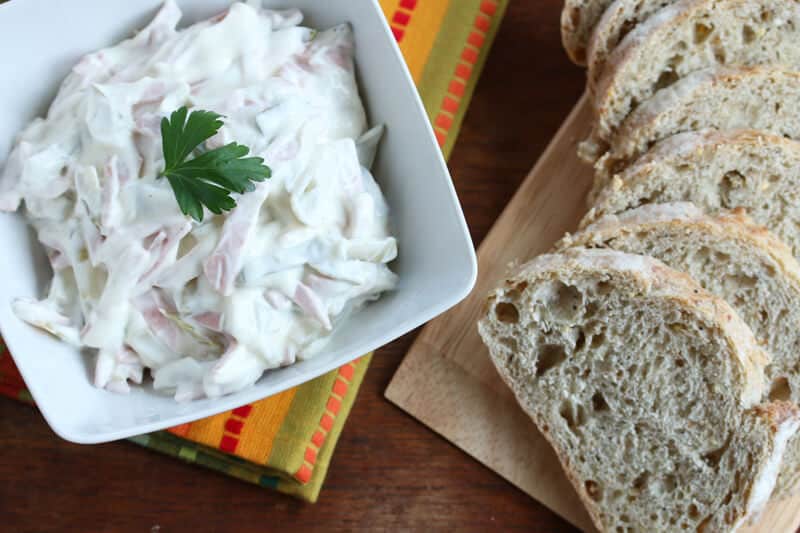 Homemade German Fleischsalat (Sandwich Spread)
:
Kimberly Killebrew, www.daringgourmet.com
Ingredients
1 cup German-style bologna cut into thin strips, about ¼ inch wide and 1 inch long
1 cup German pickles (this is a MUST, no American substitutions), cut the same as the bologna
1 cup German mayonnaise (or American if you can't access German)
½ teaspoon sugar
2 teaspoons pickle juice from the jar
Salt and pepper to taste
Instructions
Combine all the ingredients in a medium-sized bowl, add salt and pepper to taste.
Serve as a sandwich spread on crusty rolls, French bread, baguettes, or artisan bread.