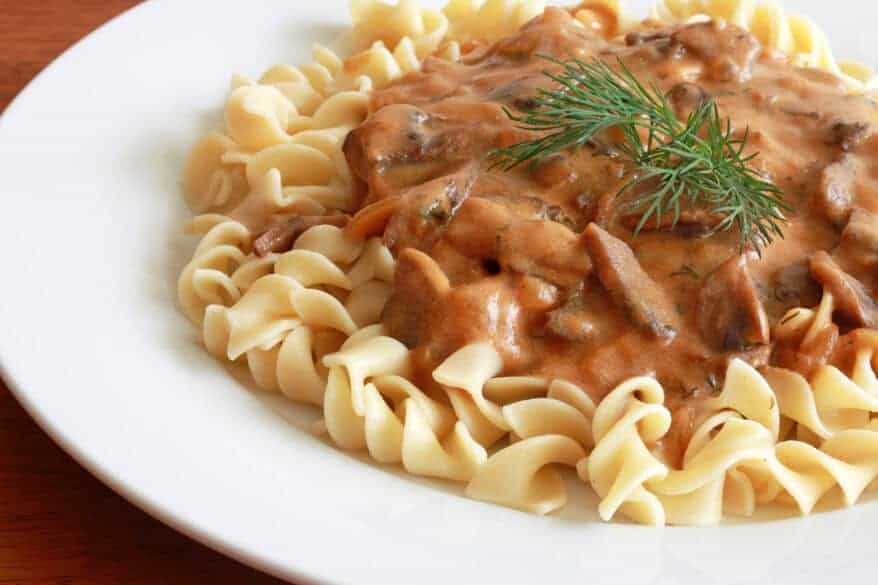 This is the pasta sauce version of my popular Hungarian Mushroom Soup.  I had noted at the end of that recipe that the soup was fantastic as a sauce and simply required extra thickening to transform it.  We had family over this past weekend and I made this sauce version served over egg noodles.  Everyone had seconds.   Though the recipe is identical to its soup cousin (just made thicker with extra flour), it's too delicious to go unrecognized.  It deserves its own post.
This simple to make sauce is fantastic.  The cooking process really accentuates that delicious mushroom flavor and the roux (very important step in the recipe instructions – whisking the flour and butter till it's a rich caramel brown) provides a depth and richness that will make your taste buds sing.
Easily adapted to both vegetarian and vegan diets, I've provided those alterations in the recipe printout.
Let's get started!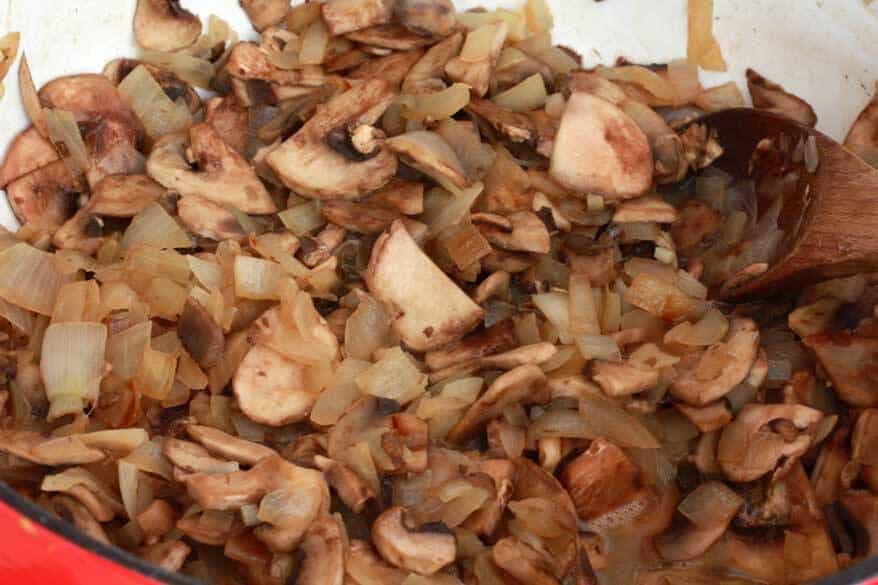 Serve over egg noodles or Homemade German Spätzle.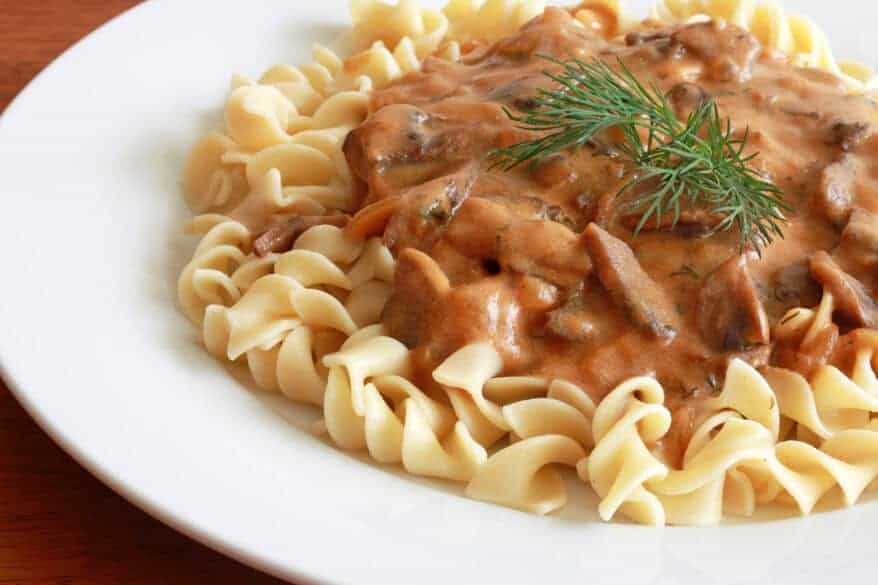 Hungarian Mushroom Pasta
Mushrooms, paprika, fresh dill, and a specially prepared roux add depth and richness to this delicious sauce.
:
The Daring Gourmet, www.daringgourmet.com
Ingredients
2 tablespoons butter (vegan substitute: vegetable spread, like Earth Balance)
1 large onion, diced
1 clove garlic, minced
12 oz mushrooms (cremini or white button mushrooms, chopped)
2 tablespoons paprika
4 teaspoons fresh dill, chopped or 2 teaspoons dried dill
1 beef boullion cube (vegetarian/vegan: vegetable bouillon)
½ teaspoon salt
¼ teaspoons black pepper
3 tablespoons butter (vegan substitute: vegetable spread, like Earth Balance)
4 tablespoons flour
1 cup milk (vegan: use soy or hemp milk)
2 cups beef broth (vegan: use vegetable broth)
1 tablespoon soy sauce
½ cup sour cream (vegan: use vegan sour cream)
1 pound egg noodles, cooked according to package instructions
Fresh dill or parsley, chopped, for garnish
Extra sour cream, for garnish
Instructions
Melt 2 tablespoons of butter in small pan. Saute the onions until translucent and just barely beginning to brown. Add the garlic and saute for another minute. Add the mushrooms and sauté for 5 minutes until the mushrooms release their juices. Add the paprika, dill, salt and pepper. Set aside.
In a Dutch oven, melt 3 tablespoons of butter and stir in the flour, constantly whisking for several minutes until the mixture is a rich, caramelized brown. Add the milk, broth, bouillon cube, and soy sauce, still whisking until the mixture is smooth. Add the mushroom mixture. Bring to a boil, reduce heat to medium, cover and simmer for 15 minutes, stirring occasionally. If the sauce is too thin, allow it to simmer uncovered for a few more minutes to reach desired consistency. If it's too thick, add a little extra milk. Stir in the sour cream and dill and simmer for another 2 minutes. Add salt and pepper to taste.
Serve immediately over pasta with some more fresh chopped dill or parsley as garnish. Add a dollop of sour cream if desired.