This post contains affiliate links.
Winter brings with it a generous harvest of tropical fruits.  And though National Mango Day is August 14th, you've probably noticed some good deals on mangoes lately.  I scooped up a basket full of them to make a big batch of Indian Mango Chutney to bottle.
Chutney dates back to 500 BC.  Chutneys are endless in variety and ingredients, but they generally consist of fruit, vinegar, and sugar cooked down to a reduction. The word "chutney" is derived from the Sanskrit word caṭnī, meaning to lick.  In other words, finger-lickin' good!
Here is a recipe I developed a few years ago for an Indian Mango Chutney.  It's sweet and spicy and is delicious either as a spread, a dip, or used in cooking a variety of Indian cuisine (recipes will follow!).  Ginger, garlic and red chilies are sauteed in oil and then cumin, coriander, turmeric, cloves, cinnamon and cardamom are added to coax out their robust flavors.  Fresh mango, sugar and vinegar is added and it is slowly cooked down to a sticky and delicious concoction.
Another spice that is in this recipe is nigella, which comes from an annual flowering plant native to south and southwest Asia.  Other names for it include black cumin, onion seed and kalonji.  It's hard to describe the flavor of nigella.  Wikipedia describes them as "a combination of onions, black pepper and oregano, with a bitterness like mustard seeds."  The flavor is really unlike anything you've tasted before.  It's fantastic!  I love to use it at every possible opportunity when I make Indian or Middle Eastern foods.  It's wonderful in curries and it positively transforms breads and potatoes.  Nigella is commonly sprinkled on naan bread in India and is a wonderful spice to use in any "carb-based" dish.  It's adds a delicious dimension of flavor to this mango chutney.
This chutney is great as a stand-alone spread, but it's also fantastic to cook with.  Here are three recipes using this chutney and more will come: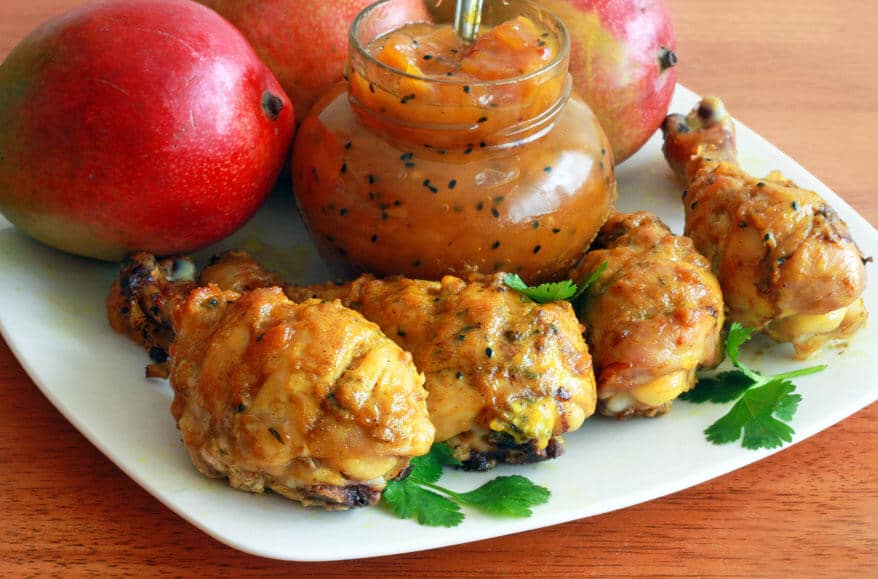 Grilled Cheese & Chutney Sandwiches
Pulled Chicken Mango Sandwiches
Before we move on to the chutney recipe, please take a moment to 
* "like" The Daring Gourmet on Facebook 
*and be sure to sign up for my FREE newsletter so you never miss a recipe!
So happy to have you on board!
Now, let's get started on that heavenly chutney!
You'll need about 4-5 ripe mangoes.
Peel the mangoes.
Cut off as much of the mango off the stubborn pit as you can and chop up the mango flesh.  Set aside.
Get some fresh ginger and garlic.
Finely mince the ginger and garlic.
Over medium-high heat, heat some vegetable oil in a medium stock pot and saute the garlic, ginger and some diced red chilies for about a minute.
Add the spices and saute for another minute.
Add the chopped mangoes to the pot.
Add the sugar and salt.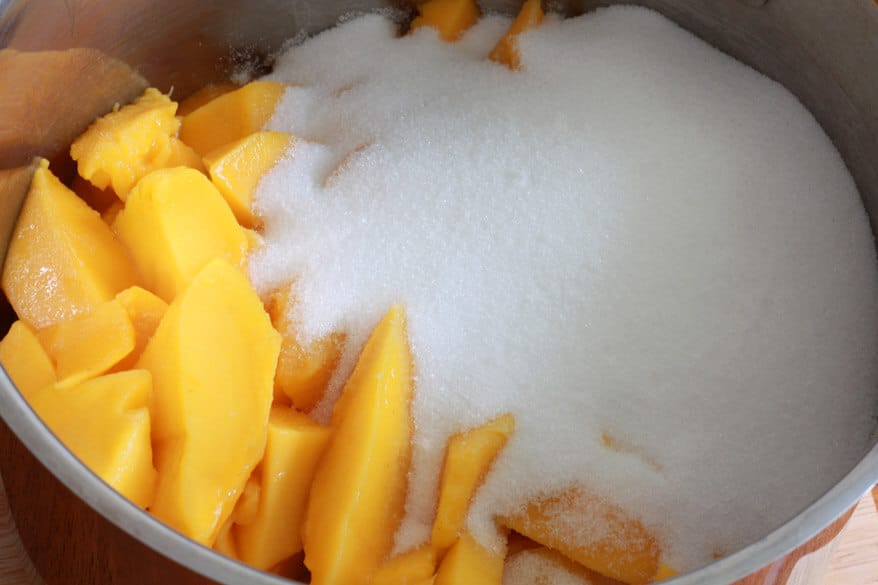 Add the white vinegar.
Stir up the mixture and bring to a boil.  Reduce the heat to medium-low and continue on a steady simmer for one hour.
After an hour of simmering.  Depending on how finely you diced the mango, you can either leave it as is, or you can use a potato masher or blender stick to mash up some of the larger pieces.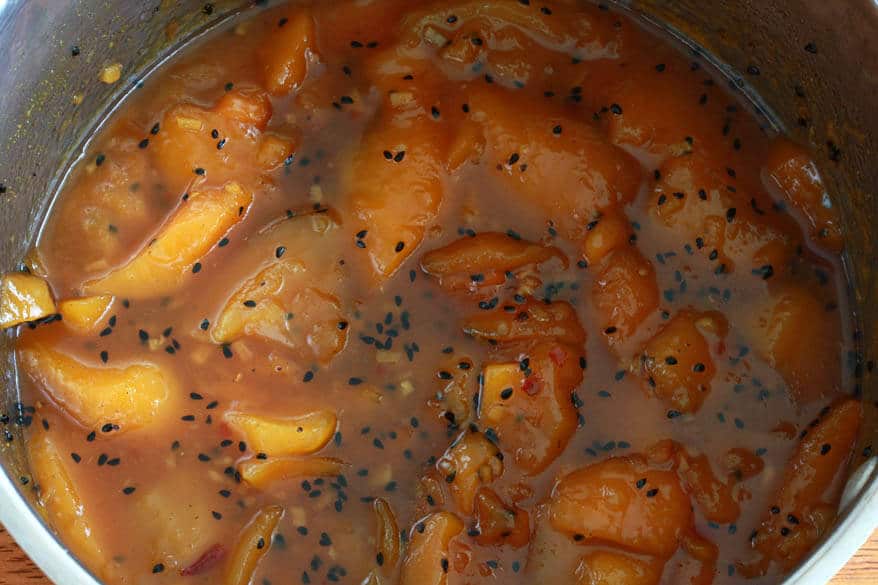 After a bit of mashing.  Stored in jars in the fridge this chutney will last up to at least two months.  You can also freeze it for several months.  For long-term storage, can it in airtight jars:  Pour the mixture directly into sterilized jars and process in a water bath for 10 minutes.  Let sit undisturbed for 24 hours then store jars in a dark, cool place.  Will keep for at least a year.
Indian Mango Chutney
Delicious as sweet and spicy spread, dipping sauce, or condiment to add to your curries.
:
Kimberly Killebrew, www.daringgourmet.com
Serves:
About 5 Half Pints
Ingredients
1 tablespoon cooking oil
2 teaspoons fresh ginger, finely minced
2 cloves garlic, finely minced
1 red chili, sliced
2 teaspoons whole nigella seeds
1 teaspoon ground coriander
½ teaspoon ground cumin
¼ teaspoon turmeric
¼ teaspoon ground cardamom
¼ teaspoon ground cloves
¼ teaspoon ground cinnamon
¼ teaspoon salt
4-5 mangoes (about 250-300 grams each), peeled and diced
2 cups white granulated sugar
1 cup white vinegar
Instructions
Heat the oil over medium-high in a medium stock pot. Saute the ginger, garlic and red chilies for a minute. Add the spices and saute for another minute. Add the diced mangoes, sugar, salt, and vinegar and stir to combine. Bring it to a rapid boil and reduce to medium-low. Steady simmer for 1 hour. Remove from heat and allow it to cool. If you prefer smaller chunks, use a potato masher to mash the mixture to the desired consistency.
For storage, chutney will keep for a while because of the high acidity content. A conservative time frame would be up to 2 months in the fridge (in a sealed jar) or for several months in the freezer. Canning of course yields the longest shelf-life: Pour the hot mixture directly into sterilized jars and process in a water bath for 10 minutes. Let sit undisturbed for 24 hours, then store in a dark, cool place. Will keep for at least a year.