Battered and fried chicken pieces are simmered in a delicious sweet and sour sauce with bell peppers, green onions and pineapple.  Easy to make and thoroughly delicious!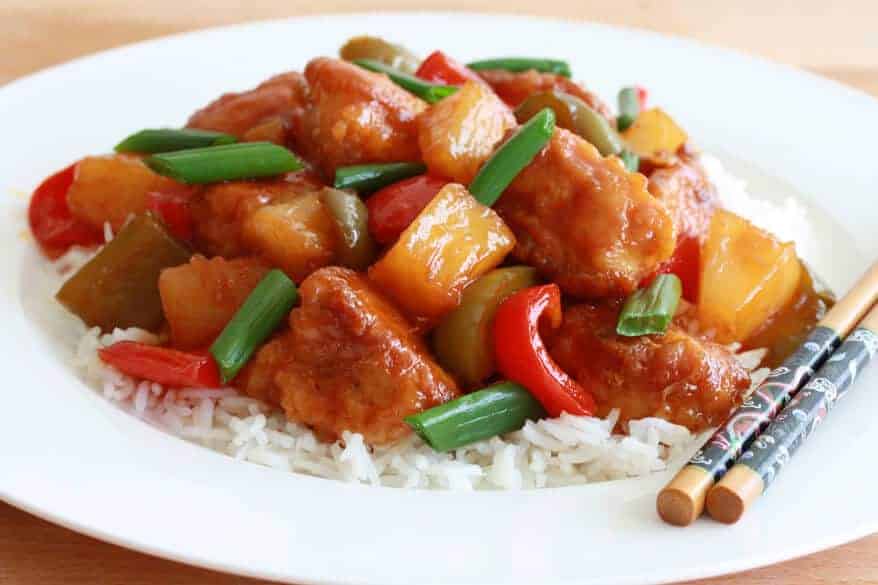 Originating in China and popular throughout many parts of the world, sweet and sour chicken is a classic.  There are many variations of it and for this recipe we combine the slightly spicy flavor of bell pepper with the sweetness of pineapple, a fabulous combination.  That's the way my mom made it for our family and it was always a favorite.
An important key to making a good sweet and sour sauce is to be sure that the "sour" component isn't completely overpowered by the "sweet."  The proper balance is essential.
Cider and balsamic vinegar aren't quite strong enough, use the  strongest vinegar you have.  I like to supplement white vinegar with a few dashes of a German vinegar called Essig Essenz, which is a super concentrated vinegar with a great flavor and you only need a tiny bit of it.  Though you won't find it in grocery stores in the United States, it's actually fairly popular among Asian Americans and consequently you can find it in some well-stocked Asian grocery stores.  You can also purchase Essig Essenz on Amazon.  It's fabulous in vinegar-based salad dressings (and a must in Swabian potato salad).  But rest assured, even if if you only use white vinegar in this sweet and sour chicken it's going to taste amazing!
This dish is easy to make and the flavor is downright fabulous.  Another thing you're going to love is the texture of the chicken. The chicken is battered and fried before adding it to the sauce which produces not only an exquisite crust but leaves the interior of the chicken perfectly white and moist.  While it's not a step you have to take, I highly recommend it.
This sweet and sour chicken is sure to rival your favorite Chinese takeout.  Fun, flavorful, colorful and a universal favorite, your family and friends will love it!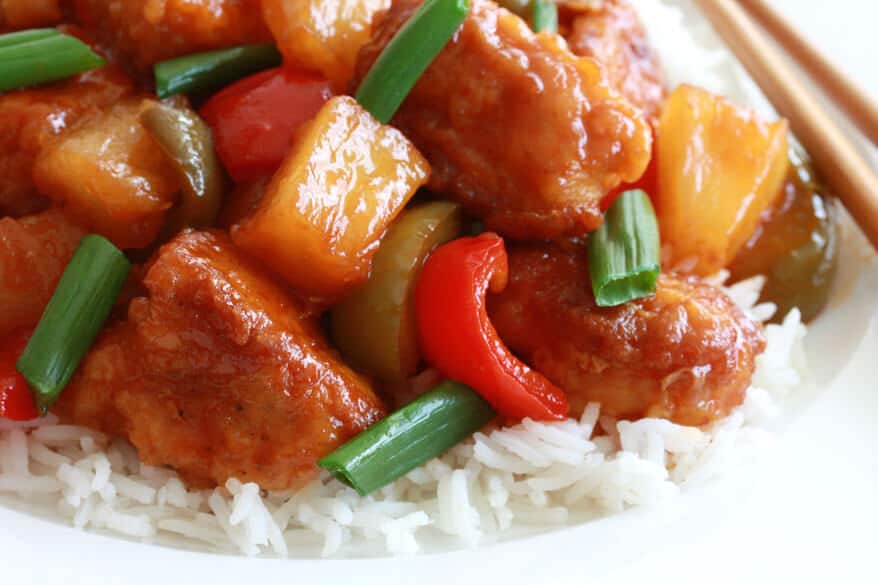 Let's get started!
Let's make the sauce first.  Combine all the sauce ingredients in a bowl.  Set aside.
Chop the bell peppers and slice the green onions.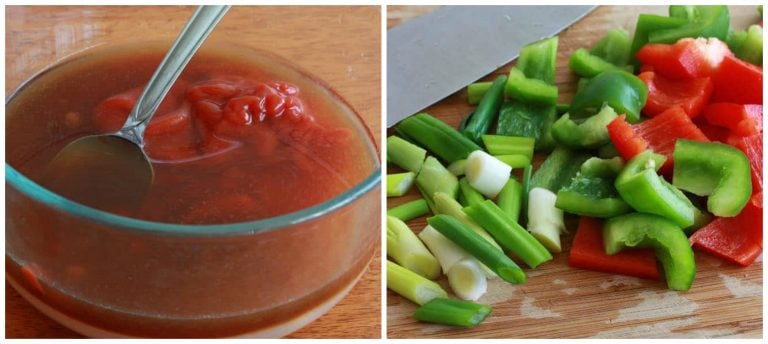 Dice the chicken into bite-sized pieces.  Lightly salt and pepper the chicken.
Put the cornstarch and beaten eggs in separate bowls.  Coat the chicken pieces in the cornstarch and then in the egg mixture.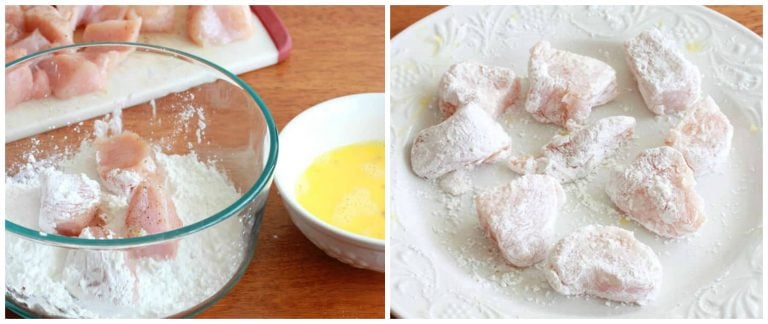 Heat the oil in a large skillet over medium-high heat.  When you add a drop of water to the oil and it sputters, the oil is ready.  Add the chicken and lightly brown on all sides.
After the chicken is done, transfer the pieces to a paper towel-lined plate.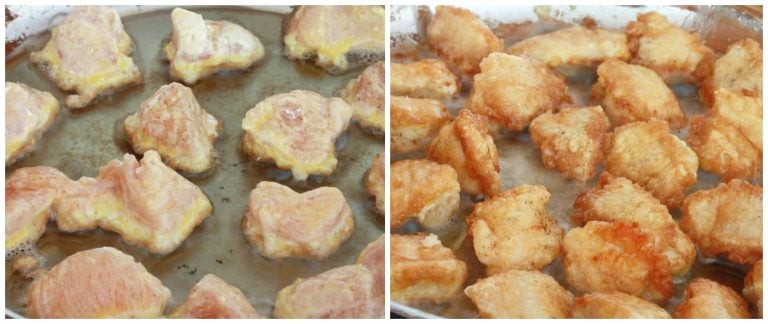 Add the bell peppers to the skillet and cook for 4-5 minutes until they start to soften.
Add the chicken, pineapple and green onions.  Stir in the sauce and simmer for 6-8 minutes.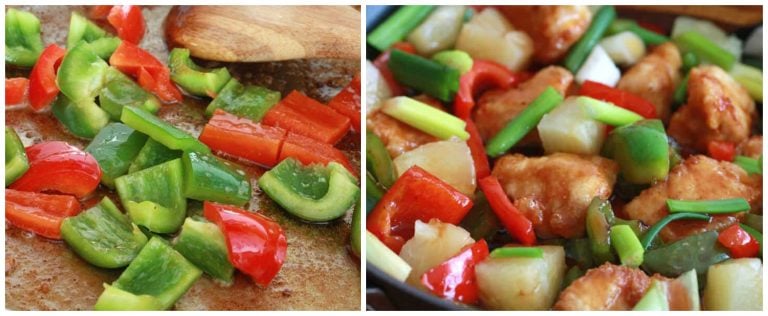 Stir the chicken and veggies to redistribute the sauce and serve immediately with steamed rice.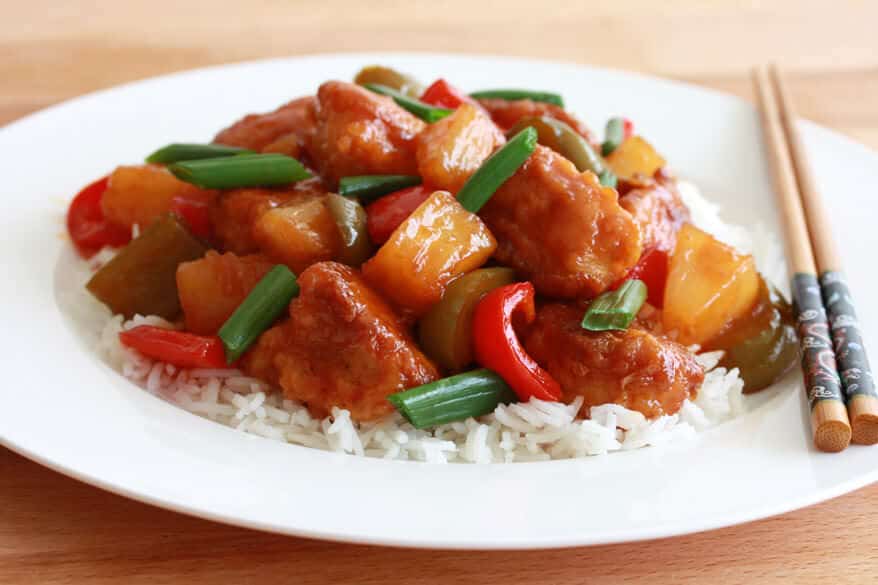 Enjoy!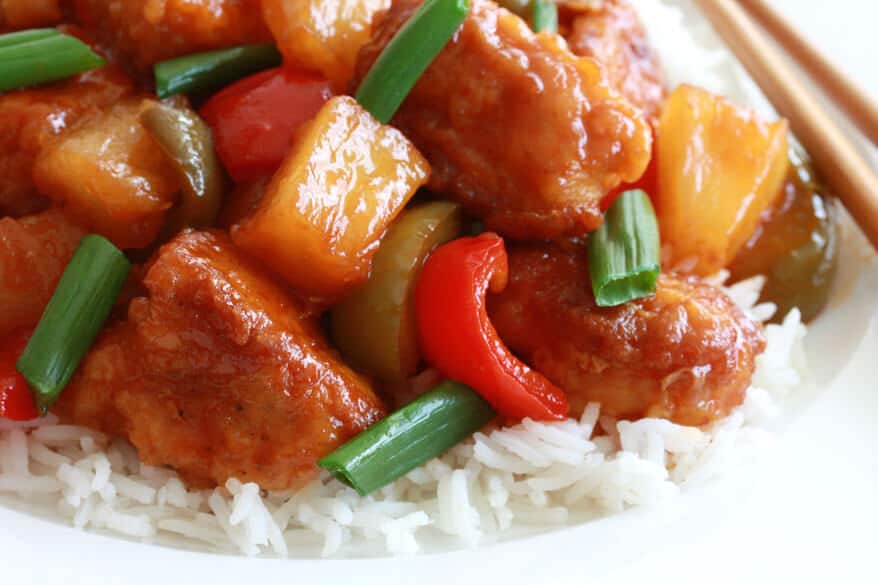 Asian food fans, don't forget to check out this recipe for the Best Homemade Teriyaki Sauce!
Sweet and Sour Chicken
This sweet and sour chicken rivals your favorite Chinese takeout or restaurant!
Ingredients
1

pound

boneless skinless chicken breast, cut into 3/4 inch cubes

(or use thigh meat which has even more flavor)

1/2

cup

cornstarch

2

large eggs

,beaten

1/4

cup

high heat cooking oil

(I use avocado oil)

3/4

cup

white sugar

1/4

cup

pineapple juice from the can of pineapple chunks

(see below)

1/3

cup

white vinegar

1/4

cup

ketchup

2

tablespoons

soy sauce

1/2

teaspoon

garlic powder

3/4

cup

canned pineapple chunks

drained (reserve juice for the sauce)

1

red bell pepper

seeded and cut into 3/4 inch chunks

1

green bell pepper

seeded and cut into 3/4 inch chunks

6

green onions

cut into 3/4 inch slices
Instructions
Put the cornstarch in a bowl and the beaten eggs in another bowl. Lightly season the chicken with salt and pepper. Dip the chicken pieces into cornstarch, coating all sides, and then dip them in the beaten eggs.

Heat the oil in a large skillet over medium high heat. Brown the chicken on all sides in batches, being careful not to overcrowd the pan. Transfer the chicken to a paper towel-lined plate.

Add the bell peppers to the skillet and cook for 4-5 minutes. Add the green onions, stir to combine, and add the chicken and pineapple.

In a bowl, combine the sugar, pineapple juice, vinegar, ketchup, soy sauce and garlic powder. Stir until the sugar is dissolved. Pour the sauce into the skillet and stir to coat the chicken and vegetables. Bring to a boil, reduce the heat to medium, cover, and simmer for 10 minutes, stirring a couple of times.

Serve immediately with steamed rice.
Nutrition
Calories:
583
kcal
|
Carbohydrates:
68
g
|
Protein:
29
g
|
Fat:
20
g
|
Saturated Fat:
3
g
|
Cholesterol:
153
mg
|
Sodium:
497
mg
|
Potassium:
743
mg
|
Fiber:
2
g