I wanted to make a slightly healthier snack for my little ones today (and my big one) and these cookies were the result.  Enjoy them with a glass of milk!
I made some of the using the traditional peanut butter cookie criss-cross method (pressing them down with a fork) and left some in a ball without pressing them down with the design.  The ones left in a ball before baking were softer and chewier (a consistency which is more challenging to achieve with whole wheat cookies), and the ones pressed down with the criss-cross design were crunchier.  So, depending on which cookie texture you prefer, choose one of these methods accordingly.

Whole Wheat Peanut Butter Oatmeal Cookies
:
The Daring Gourmet, www.daringgourmet.com
Ingredients
½ cup unsalted butter, at room temperature
¾ cup brown sugar
½ cup natural, unsweetened peanut butter
1 egg
1 teaspoon vanilla
¼ teaspoon salt
½ teaspoon baking soda
½ teaspoon baking powder
1 cups rolled oats
¾ cup whole wheat flour
½ cup chocolate chips (optional)
Instructions
Preheat the oven to 350 F.
Add the butter and sugar to a large mixing bowl. Using an electric mixer, cream the butter and sugar for about 3 minutes, until fluffy and lighter in color. Add the peanut butter and mix until combined. Add the egg and vanilla and mix until combined.
In a separate bowl, sift the flour, salt, baking powder and baking soda and stir to combine. Stir in the oats. Gradually add the flour/oat mixture to the sugar mixture, using a wooden spoon to stir just until combined. Do not over-stir.
Scoop the batter by the tablespoon to form 1-inch balls and place them on a cookie sheet. Press down on each one with a fork to create a criss-cross pattern.
Bake for 10 minutes. Remove from the oven and allow the cookies to sit for 2 minutes on the baking sheet before transferring them to a wire rack to cool.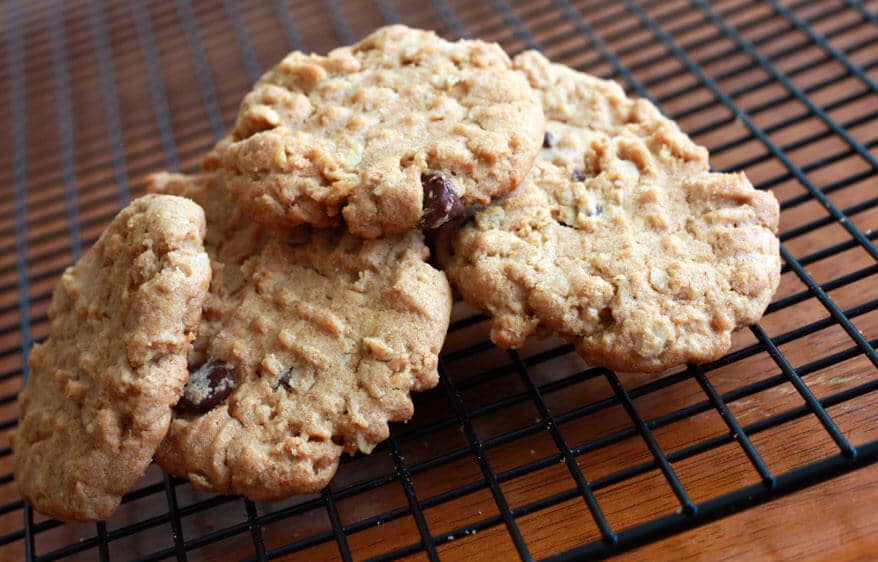 Also try these Mega Healthy Peanut Butter Cookies!