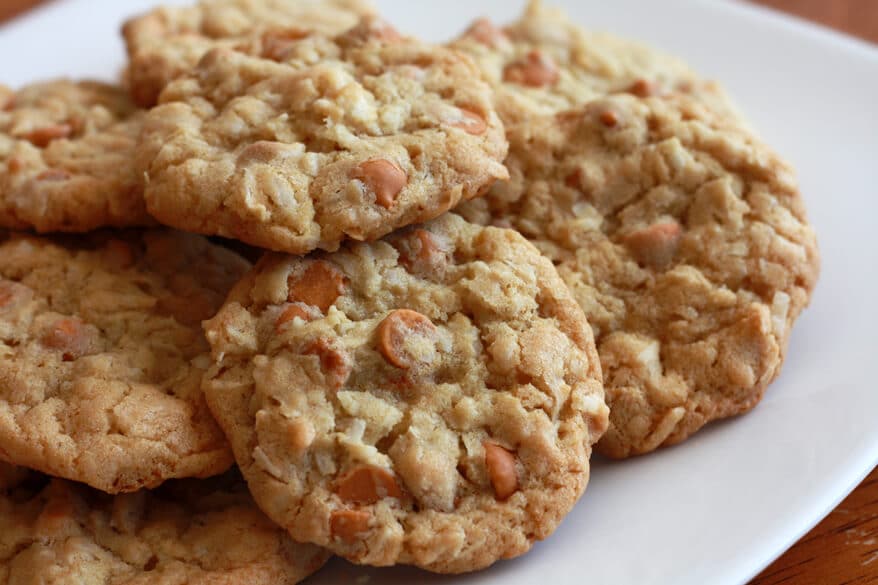 You're sure to love these buttery cookies made with butterscotch chips and sweet flaky coconut.  Sit back, relax, and enjoy them with a glass of milk.  You deserve it.
Butterscotch Coconut Cookies
:
The Daring Gourmet, www.daringgourmet.com
Ingredients
1½ cups all-purpose flour
½ teaspoon baking powder
½ teaspoon baking soda
½ teaspoon salt
½ cup unsalted butter, softened
½ cup white sugar
½ cup brown sugar, firmly packed
1 large egg
1 teaspoon vanilla extract
1½ cups sweetened dried coconut flakes
1½ cups butterscotch chips
Instructions
Preheat the oven to 325 F.
Sift the flour, baking powder, baking soda, and salt together into a small bowl.
In a large bowl, cream the butter with an electric mixer on high speed until pale yellow and fluffy. Add the white and brown sugars and continue beating until the grittiness is gone when the mixture is rubbed between your finger and thumb. Add the egg and vanilla and beat on low speed until blended.
Add the flour mixture to the butter mixture and, using a wooden spoon, stir until just blended. Do not over-stir. Add the coconut and butterscotch chips, stirring just until blended.
Prepare a baking sheet.
Using a rounded tablespoon, drop the dough onto the baking sheet, spacing the cookies about 2 inches apart.
Bake the cookies for about 15 minutes, or until golden brown around the edges. Let the cookies cool briefly on the baking sheet before transferring them to a wire rack to cool completely. Repeat the process with the remaining dough.
Adapted from Marie Simmons' "Butterscotch Coconut Cookies".