Authentic German Zwiebelkuchen recipe from the heart of Swabia in southern Germany!  Loads of caramelized onions and savory bacon are packed into this incredibly delicious pie that has been a favorite for generations!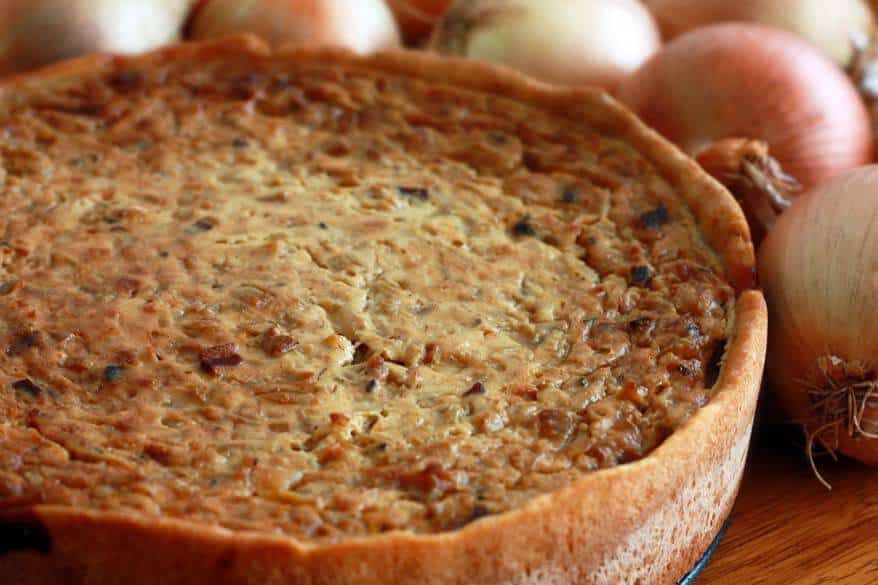 What is Zwiebelkuchen?
Autumn in Germany means a great many things to me, among them the brilliance of leaves changing color, harvested grapes from scenic hillsides, and Zwiebelkuchen, one of my favorite baked goods.  This directly translates to "onion cake" but it's actually a delicious savory pie.
Growing up in southern Germany, I always looked forward to the Fall, one reason being that it meant enjoying this incredibly delicious German Zwiebelkuchen.  Another reason – grape season. Traditionally Zwiebelkuchen is enjoyed with a glass of Federweisser, or grape must.  Not being an alcohol drinker, I always enjoyed it with a glass of delicious freshly squeezed grape juice. During the Fall, right after the grape harvests, you can find roadside stands selling it in large jugs and never did a year go by that we didn't stop at least once to load up.
There are a few varieties of Zwiebelkuchen, depending which region you're in.  Some are flat and cut into squares with a thinner layer of the topping, others are thicker and deeper like pie.  This version is from Swabia where I grew up.  A favorite past-time is going to the Black Forest in the Fall and enjoying a slice of Schwäbischer Zwiebelkuchen at a Cafe, made with delicious local Black Forest bacon.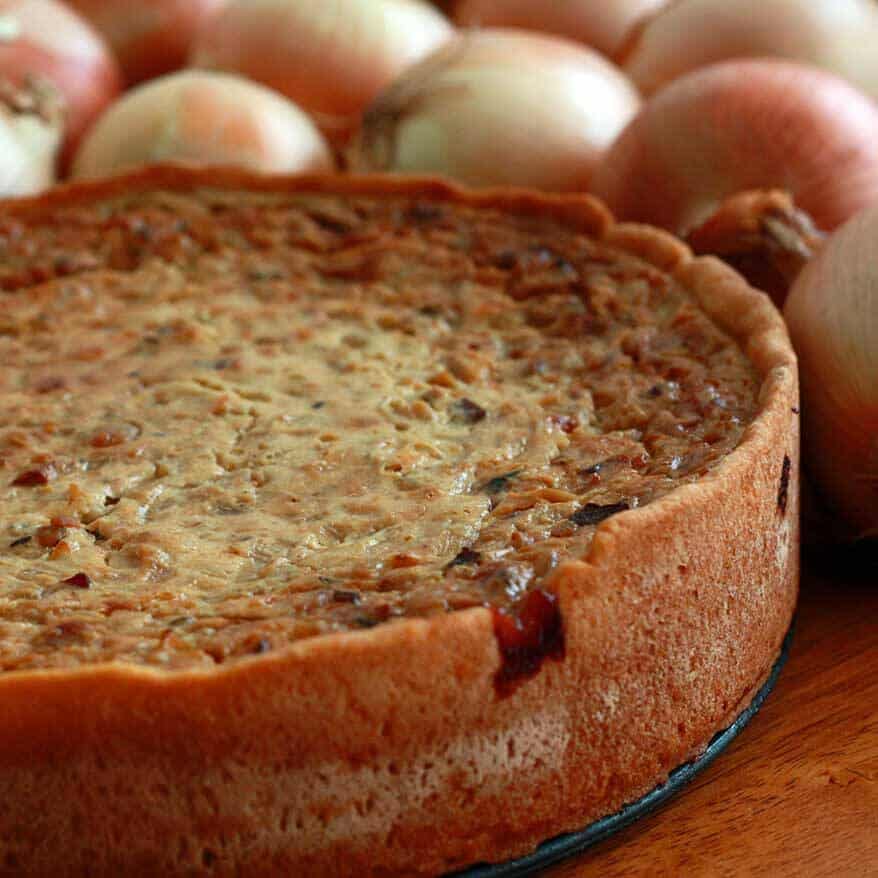 Swabian Zwiebelkuchen is typically round and deep, like quiche, though the flat varieties can also be found in bakeries throughout southern Germany.  But whatever the shape, traditional Zwiebelkuchen always consists of yeast dough, topped with buttery caramelized onions, savory bacon, and a thick creamy base.  Often, as in this version, caraway seeds are also included which add a wonderful depth and dimension of flavor.
I developed this recipe a few years ago as Autumn set in and I was craving the Zwiebelkuchen I always enjoyed in Germany.  If you like onions, butter and bacon, you will love this Zwiebelkuchen, guaranteed!
Note:
1)  Use good quality bacon with a nice, smoky flavor for best results.
2)  You can also use pie crust (homemade or store-bought refrigerated) if you prefer.
*Dough recipe has been updated, there was a typo in the milk quantity.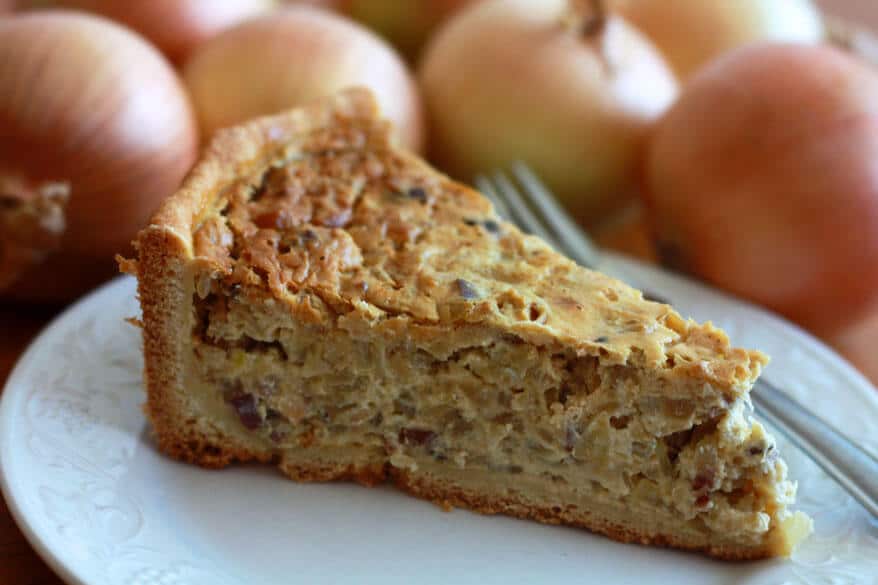 Zwiebelkuchen Recipe
Let's get started!
Fry the bacon until crispy.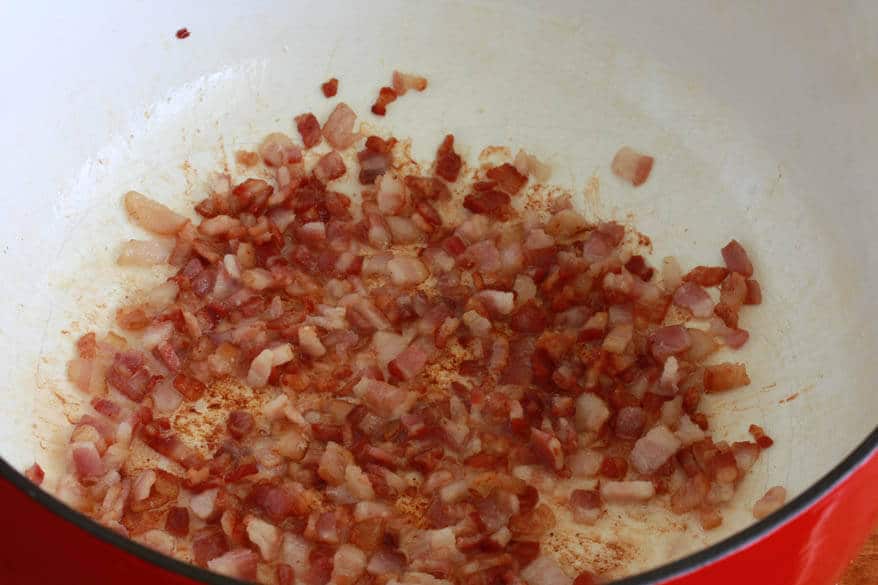 Add the onions and cook for 30-30 minutes until nicely caramelized.
Let the onion mixture cool.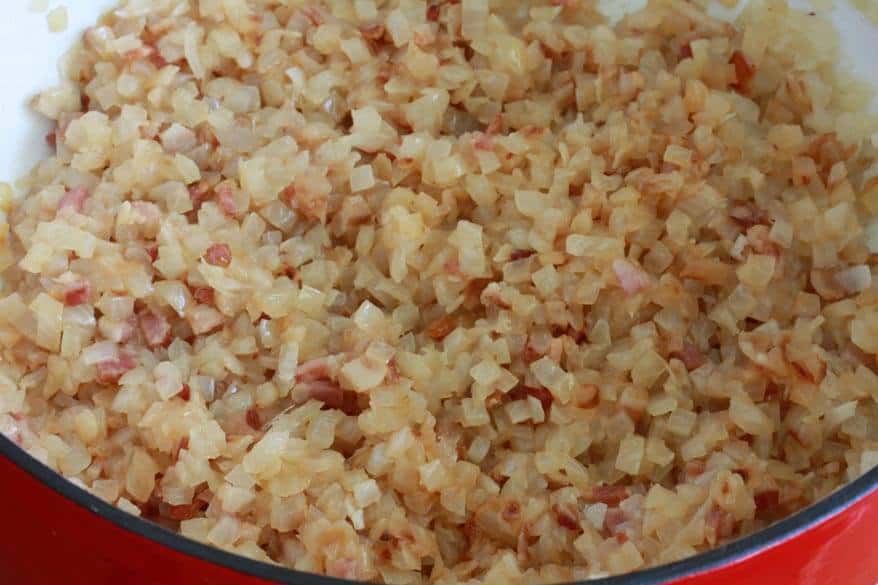 Combine all the filling ingredients in a bowl.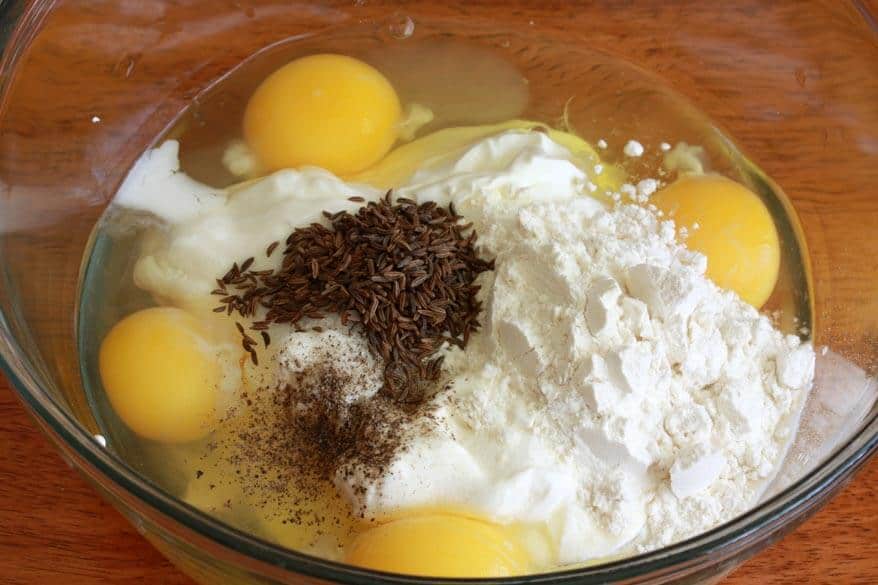 Beat until combined.
Add the onion mixture and stir to combine.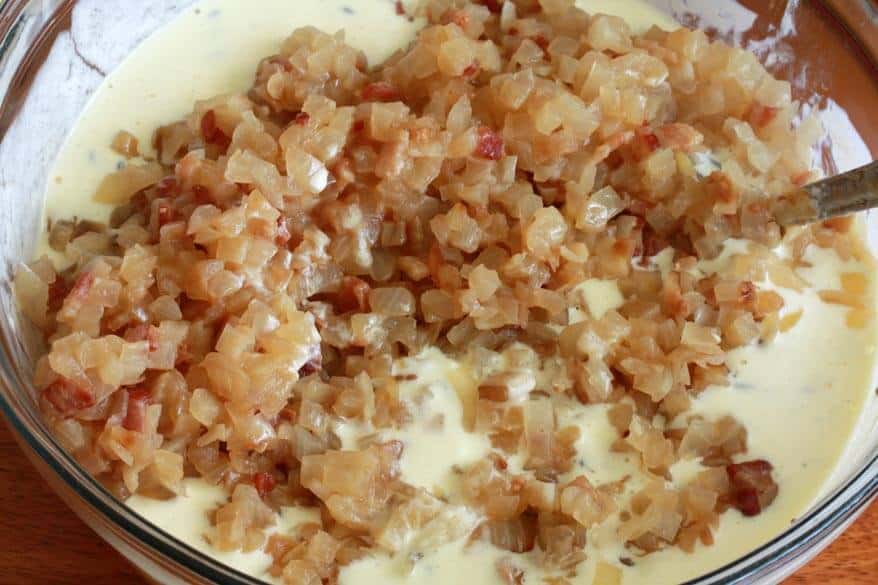 Pour the filling mixture into the prepared pie crust in a 9-inch springform.
A springform is critical as you will need to release the pie from it.  I'm happy with my Cuisinart Chef's Classic Non-Stick Springform.
Sprinkle with a few caraway seeds.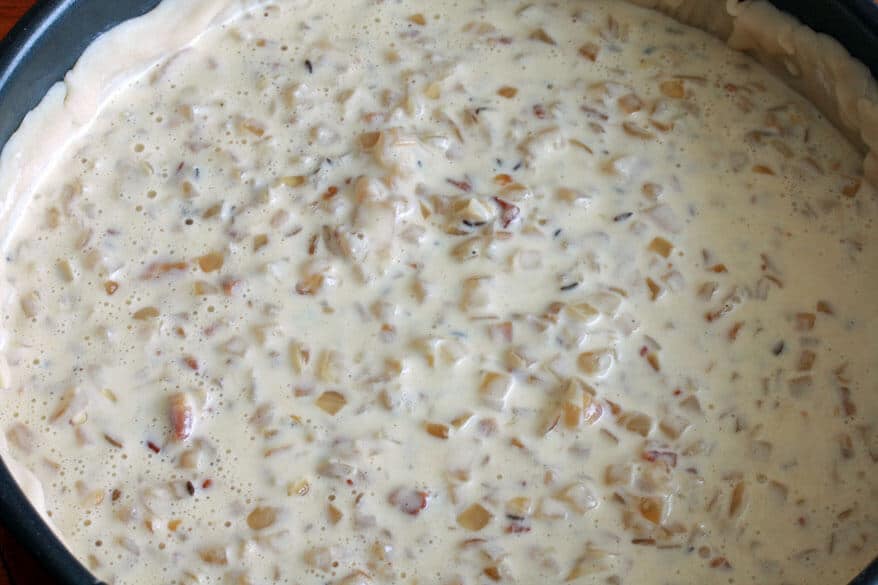 Bake in the oven preheated to 400 degrees F for 55-60 minutes or until the top is light brown and the center of the pie feels fairly firm to the touch.
Let cool for at least 20 minutes before serving. Can be eaten lukewarm or cold.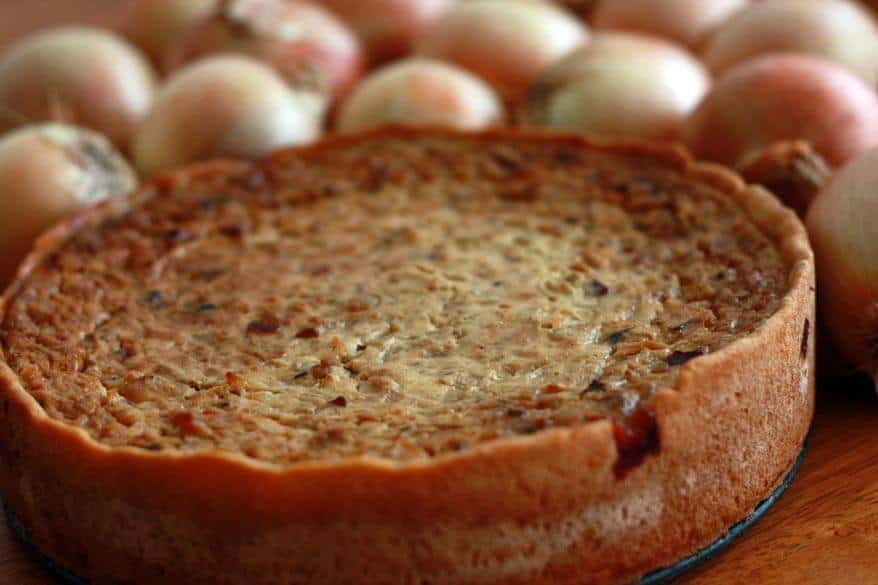 Enjoy!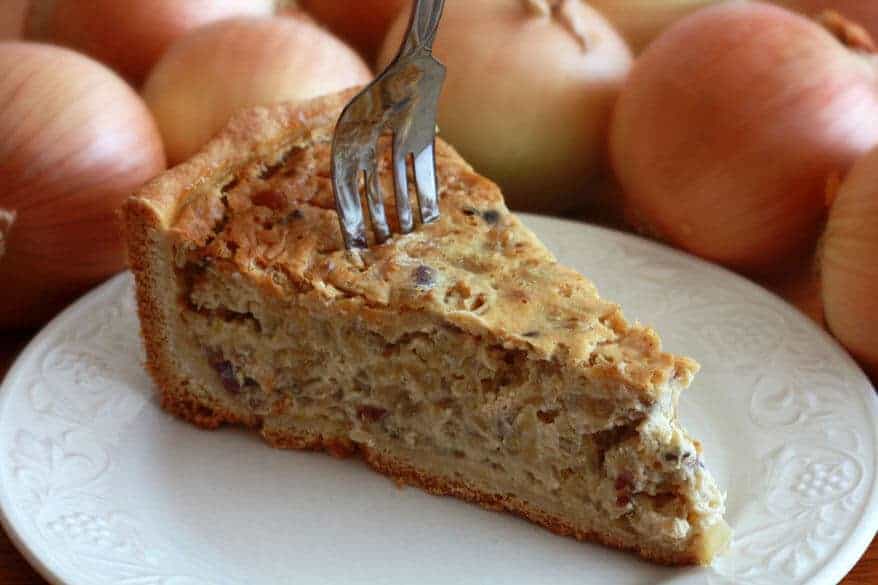 For more traditional German recipes be sure to try our: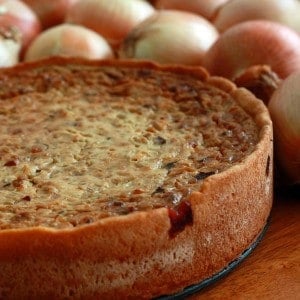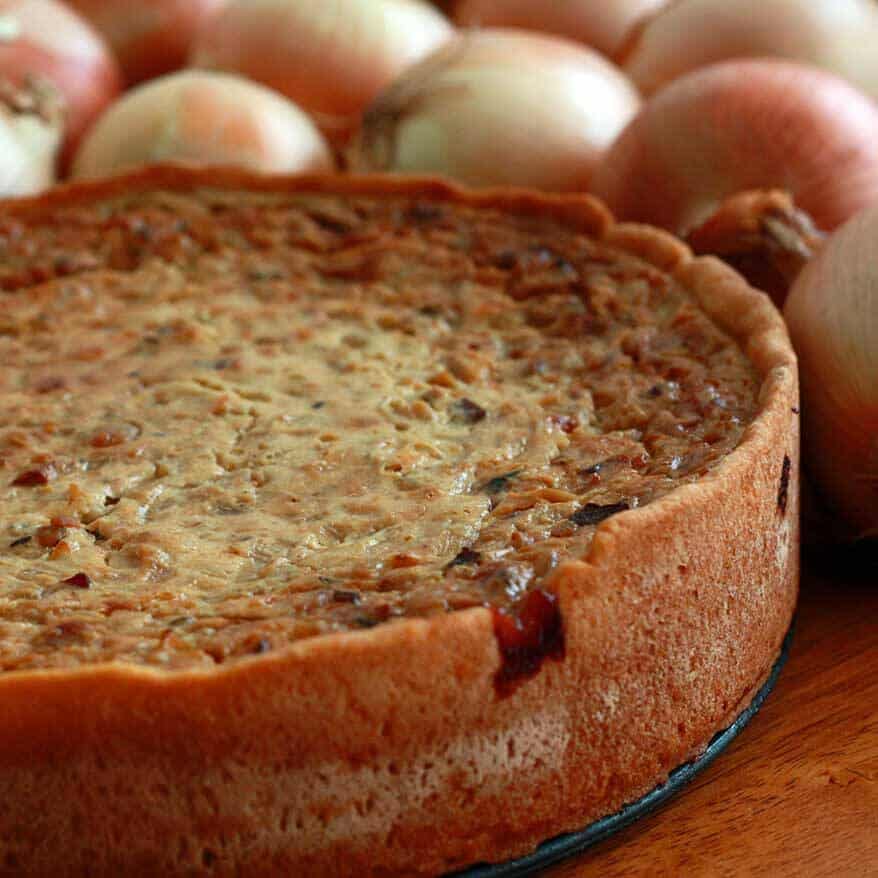 Zwiebelkuchen (German Onion Pie)
Germany's most famous (and delicious) way of celebrating Autumn! This version comes from Germany's southern region of Swabia.
Ingredients
Note: You can use pie crust instead of yeast dough per personal preference

For the Yeast Dough Crust:

1 1/2

cups

all-purpose flour

½

teaspoon

salt

4

tablespoons

butter at room temperature and cut into small cubes

1/4

cup

plus 1 tablespoon warm

(not hot) milk

1

package yeast

For the filling:

2

tablespoons

butter

2 ¼

lbs

yellow onions

,finely diced

5

slices

thick cut bacon

,finely diced

1 ½

cups

full fat sour cream

4

large eggs

,or 3 extra large

2

tablespoons

all-purpose flour

2

teaspoons

salt

1

teaspoon

caraway seeds

Freshly ground black pepper
Instructions
To make the crust:

Dissolve the yeast in the warm milk and let stand for 5 minutes. Place the flour and salt in a food processor and make a well in the center. Add the butter and pour the milk mixture over. Using a dough hook, knead the dough on the "bread" setting for about 6 minutes. Add more milk or flour as needed. Form the dough into a ball, spray the same bowl with oil oil, cover loosely with plastic wrap, and let the dough rise in a warm place until nearly doubled in size. (I usually turn the oven on 350 degrees F for about 1 minute just until it's a warm, turn it off, and let the dough rise in the oven).

To make the filling:

Fry up the bacon. When the bacon is done add the onions to it along with 2 tablespoons of butter. Reduce the heat and let the onions slowly caramelize to a nice golden brown, about 30-40 minutes. Remove from heat and allow the mixture to cool.

In a bowl, combine 1 ½ cups full fat sour cream, eggs, 2 tablespoons all-purpose flour, 2 teaspoons salt, 1 teaspoon caraway seeds, and some freshly ground pepper. Add the onion/bacon mixture to it and thoroughly combine everything.

If using refrigerated pie crust, grease the springform and gently press the crust into the pan, leaving about 1/2 inch or so margin along the top. If making the dough yourself, once the yeast dough has risen, butter a medium-sized

springform

(9 inches or so) and spread out the yeast dough on the bottom and up the sides (leaving about ½ inch from the top). The dough will keep retracting, just work fairly quickly and then immediately pour the onion mixture into it (it will hold the dough in place), sprinkle a few caraway seeds on top, and put it in the oven.

Place the Zwiebelkuchen on the middle shelf in the oven preheated to 400 degrees F and bake for 55-60 minutes, until the top is light brown and the center of the pie feels fairly firm to the touch. Let cool for at least 20 minutes before serving. Can be eaten lukewarm or cold.
Nutrition
Calories:
398
kcal
|
Carbohydrates:
27
g
|
Protein:
11
g
|
Fat:
26
g
|
Saturated Fat:
12
g
|
Cholesterol:
160
mg
|
Sodium:
1314
mg
|
Potassium:
146
mg
|
Fiber:
1
g
|
Vitamin A:
535
IU
|
Calcium:
37
mg
|
Iron:
2.3
mg