As an Amazon Associate I earn from qualifying purchases.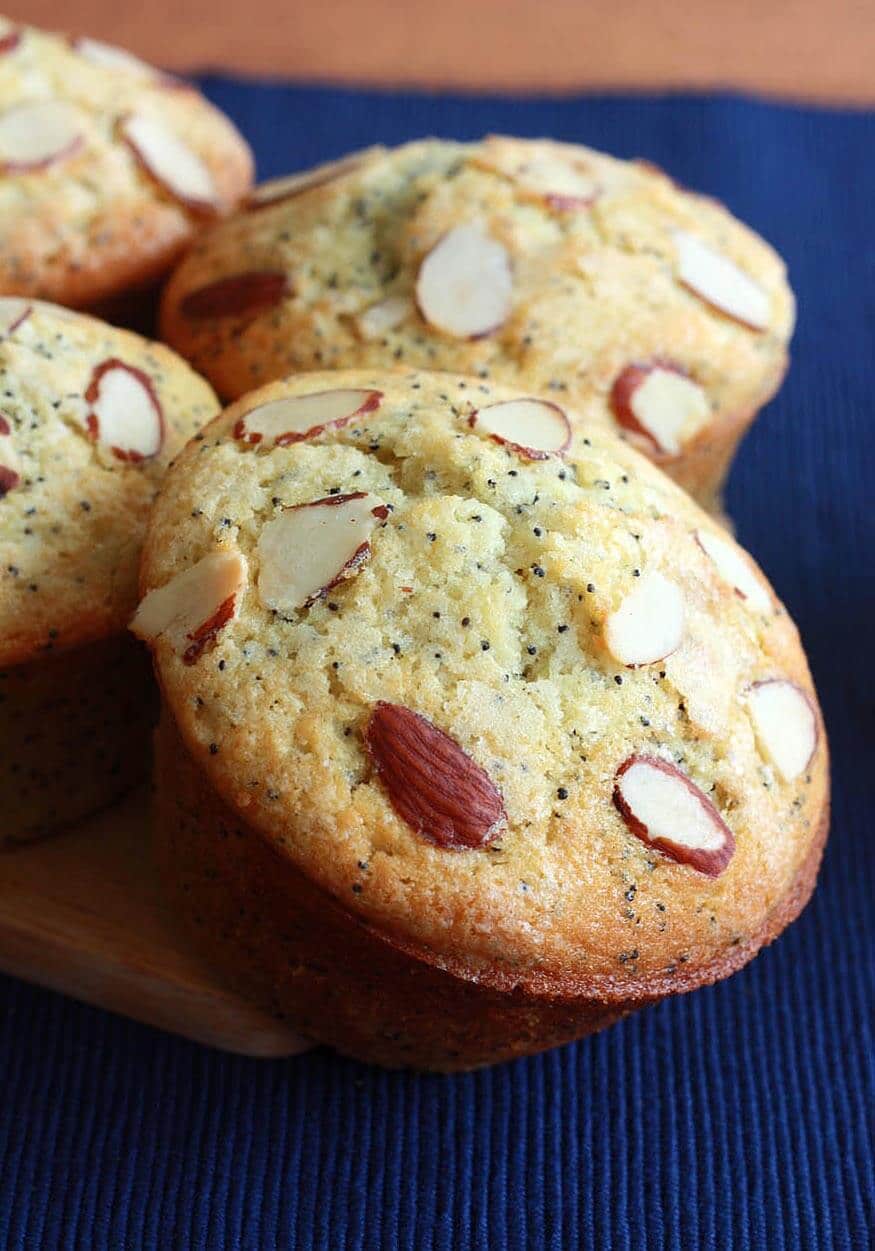 I know the title sounds terribly bold and audacious.  I mean, let's face it – Otis Spunkmeyer makes some pretty dang good tasting muffins.  And his Almond Poppy Seed muffins are no exception.  But mine rival his for two reasons:  1)  The list of ingredients in my version is much shorter (and that's usually a good thing), and 2) Otis stopped making this particular flavor several years ago, so that makes my claim easy!
And if I may humbly offer a third reason in parentheses:  ( 3)  Not only is this version healthier for the lack of a lengthy list of ingredients, but I think you'll agree that these muffins taste at least as good, if not better, than any you've had from the store or your favorite coffee shop.)
Who doesn't love a good muffin?  Whether sweet or savory, a good muffin is one of man's best friends.  The cakey, non-yeast type of muffin became popular some time in the 1800's and recipes can found in cookbooks dating back to that time.  The flavor varieties nowadays are limitless, but poppy seed muffins remain one of the most popular kinds of all.
Just be careful of one thing:  They're also known for producing false drug tests results because of the trace amount of narcotics contained in the poppy seeds.  (Think "opium.")  So, time the consumption of these muffins accordingly ;)
You're going to love these muffins.  If you end up making them for some occasion, be sure to make extra because you won't be able to fight the urge to eat a couple before you make it to the party.  Either that, or keep them tightly covered in the car so that the aroma doesn't tempt you beyond your ability to resist.  Fabulous flavor, amazing aroma, perfect texture and degree of moistness.  These muffins are dangerous.  And I'm not referring to the narcotics content either.
I even subjected these muffins to the most rigorous test of all:  My brother, Mark.  Yes, he is the ultimate muffin connoisseur and he gave these two thumbs up!
There are several elements that go into making the perfect muffin.  The ingredients, the ratios, how much or little you mix the batter, the oven temperature, the length of baking time, etc.  I'm going to walk you through the steps so that you can achieve perfection!  After all, nothing short of perfection will do when it comes to a muffin, right?  Right!
One thing you'll notice about these muffins is that I make them with coconut oil.  I love coconut oil.  It  not only makes the crumb more moist, it adds a subtle freshness to the muffins that makes them all the more irresistible.  I also use buttermilk, which also contributes these same two elements.
So let's stop all the talking and get to the baking!
Oh, but first, please take a moment to connect with me over at The Daring Gourmet's Facebook Page (click "LIKE") so that you'll never miss a recipe!
Okay, here we go!  I'm excited, are you?  This is what we're going to bake: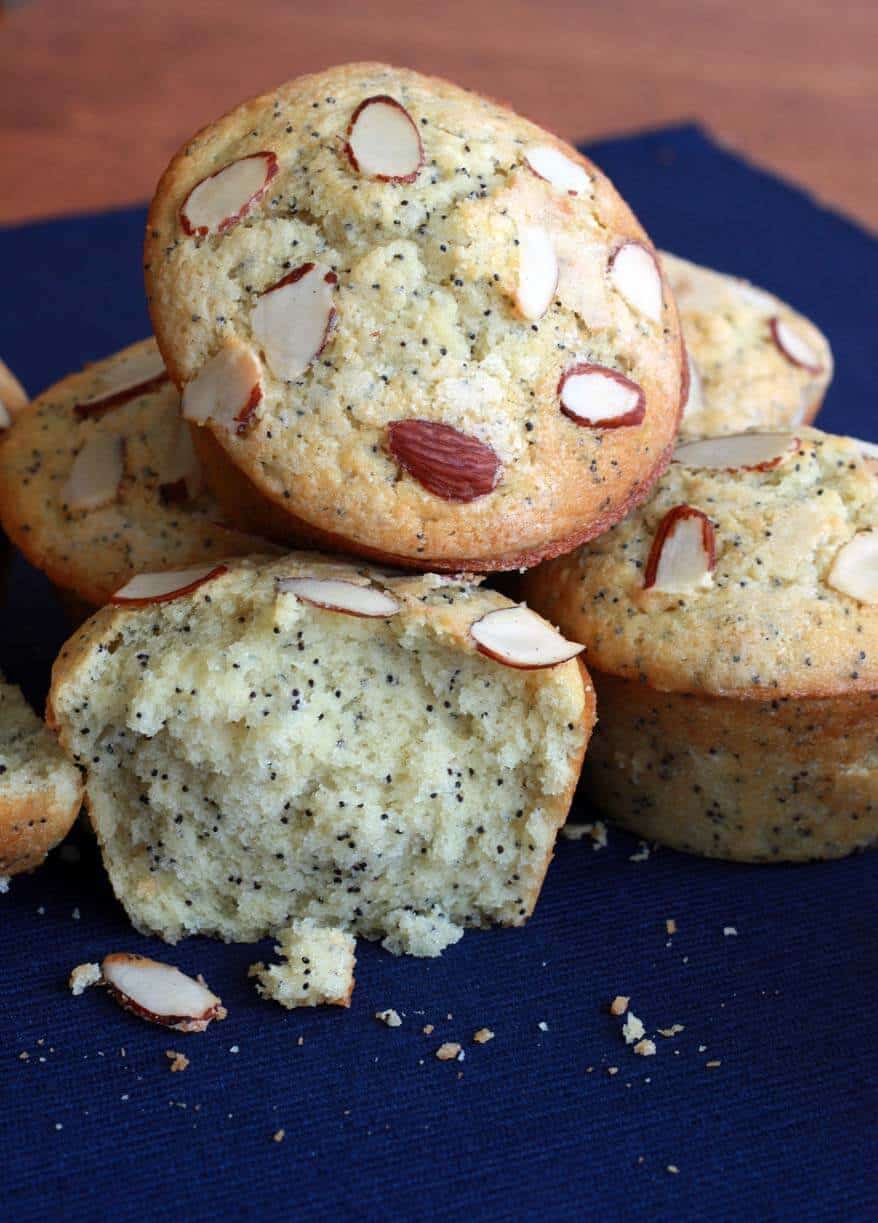 Place the butter, coconut oil and sugar in a large mixing bowl.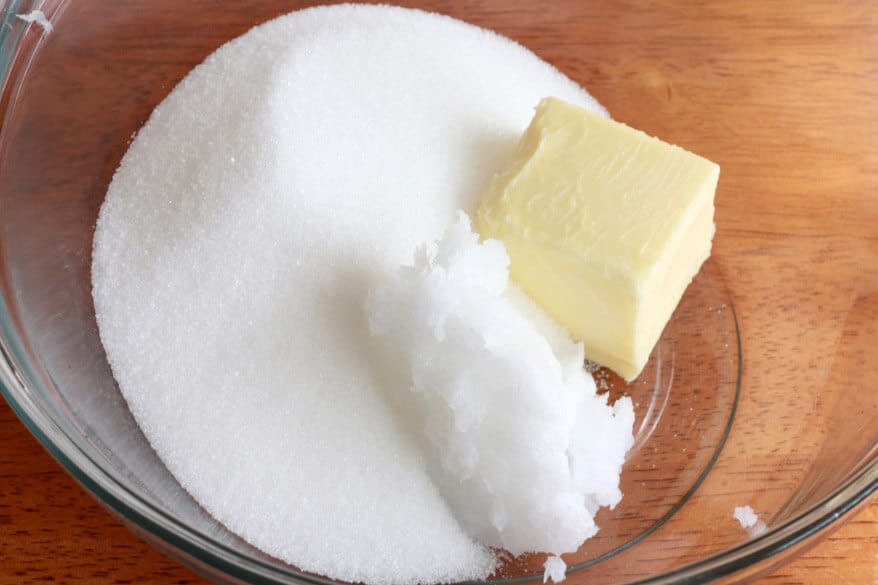 Beat until the ingredients are fully incorporated, about 3 minutes.
Add the eggs, vanilla extract, and almond extract.  Note: Be sure to use good quality almond extract.  Low quality ones won't yield much flavor.
Add the buttermilk and beat just until combined.  It's okay if there are some lumps of flour.  Do not over-beat or the muffins won't rise properly and will be dense.
In a small bowl, combine the flour, baking powder, baking soda and salt.
Add the dry mixture to the wet mixture.  Beat just until combined.  Some lumps of flour will remain and that's okay.  Do not over-beat or the muffins will not rise properly and be dense.
Add the poppy seeds.
Stir gently to combine.
Fill some jumbo/king-size muffin tins until almost full.  This will help give you a good rise and dome on the top of the muffin.
Sprinkle with a few sliced almonds.
Bake in a preheated oven at 375 degrees F for 20-25 minutes, or until a toothpick inserted into the center comes out clean but moist.  Do not overbake.  And do not open the oven too soon or it will affect the rise.  (I know, muffins a picky lot.)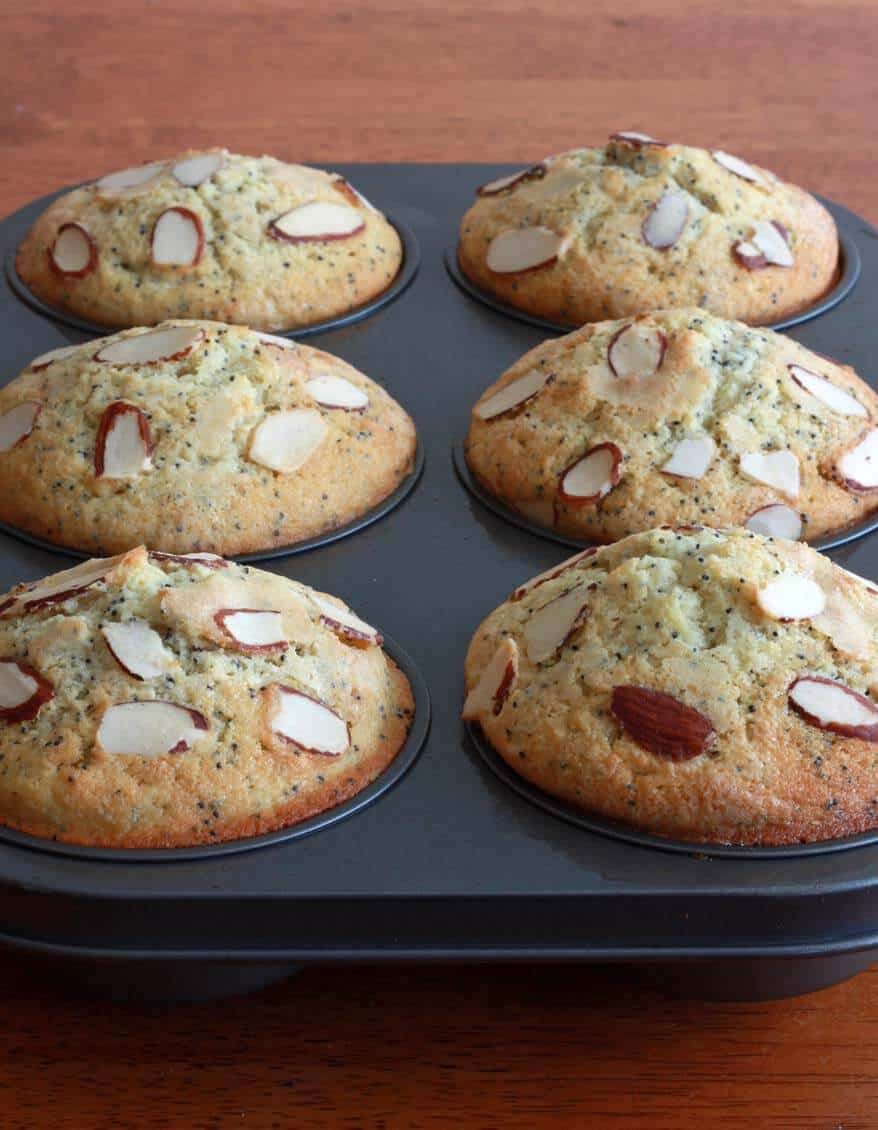 Muffins, glorious muffins!  Let the muffins remain in the muffin pan for at least 5 minutes before removing and transferring them to a cooling rack.
ENJOY!
Better Than Otis Almond Poppy Seed Muffins
:
The Daring Gourmet, www.daringgourmet.com
Ingredients
2 cups all-purpose flour
2½ teaspoons baking powder
½ teaspoon baking soda
½ teaspoon salt
1 cup white granulated sugar
¼ cup unsalted butter
¼ cup virgin coconut oil
2 large eggs
1 tablespoon good quality almond extract
1 teaspoon vanilla extract
1 cup buttermilk
2 tablespoons poppy seeds
Sliced almonds
Instructions
Preheat the oven to 375 degrees F.
Combine the flour, baking powder, baking soda, and salt in a small bowl and set aside.
In a large mixing bowl, cream the butter, coconut oil, and sugar for at least 3 minutes.
Add the eggs, almond and vanilla extract, and buttermilk and beat until combined.
Add the dry ingredients to the wet ingredients and beat just until combined, being careful not to over-beat. Lumps of flour will remain and that's okay.
Add the poppy seeds and stir gently until combined.
Fill 6 jumbo/king-sized muffin tins till almost full.
Sprinkle with a few sliced almonds.
Bake for 20-25 minutes or until a toothpick inserted into the middle comes out clean but moist. Be careful not to overbake and do not open the oven too early.