What is more All-American than a pork chop dinner?  These Southern-style pork chops have a succulent coating that balances the moist and crispy textures.  It's full, fruity flavor will have you savoring every mouthful. And how about some delicious perfectly crispy browned Herb Roasted Potato Wedges on the side?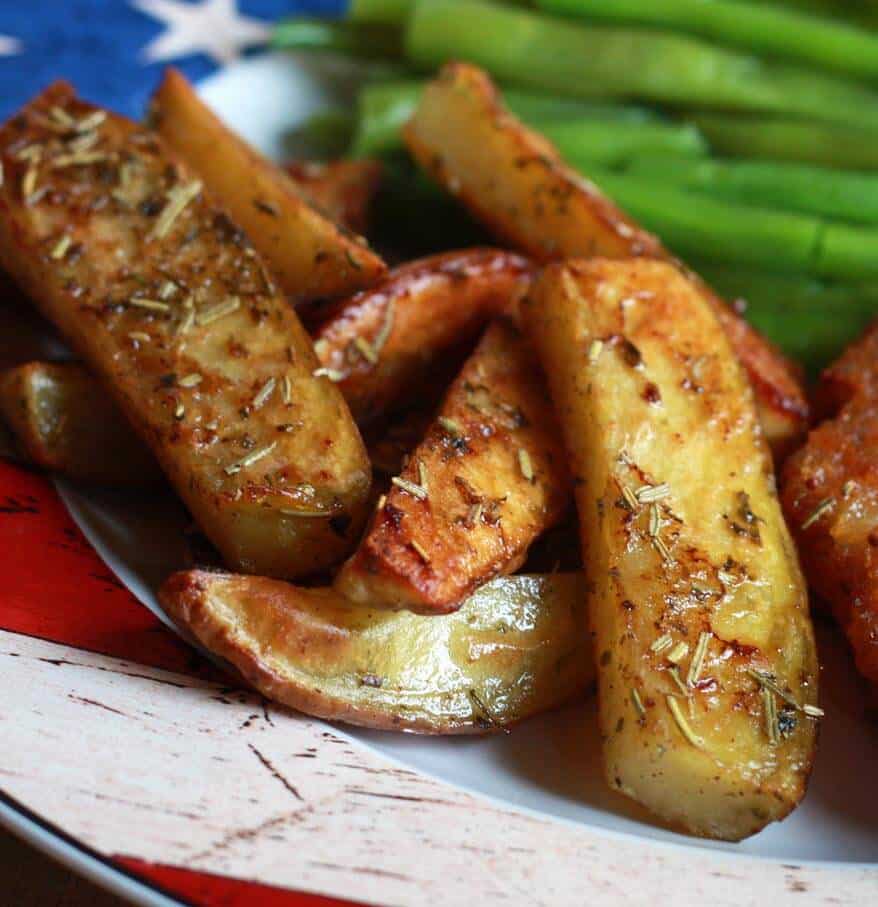 Peach-crusted Pork Chops with Herb-roasted Potato Wedges
:
The Daring Gourmet, www.daringgourmet.com
Ingredients
2 tablespoons yellow mustard seeds
1 tablespoon brown mustard seeds
⅓ cup fresh lemon juice
¾ cup peach preserves
½ cup mayonnaise
⅓ cup Dijon mustard
½ teaspoon vanilla extract
1 teaspoon cider vinegar
2 shallots, finely chopped
1 tablespoon fresh rosemary, chopped
Salt and freshly ground pepper to taste
4 pork loin chops, each about 6 oz and about ¾ inch thick
½ cup dried bread crumbs (use gluten free breadcrumbs if needed)
Instructions
Preheat the oven to 400 F. Lightly butter a baking dish large enough to hold the pork chops side by side.
In a medium bowl, combine the mustard seeds and lemon juice and set aside for 30 minutes so that the mustard seeds can swell and soften. Add the peach preserves, mayonnaise, mustard, vanilla extract, cider vinegar, shallots, rosemary, salt, and pepper. Spread one-third of the glaze on the bottom of the baking dish. Place the pork chops on the top of the glaze. Spread the remaining glaze evenly over the pork chops and sprinkle with the bread crumbs.
Cover the baking dish and bake for 20 minutes. Uncover and bake for another 15 minutes, or until the pork chops are done. Serve immediately.