As an Amazon Associate I earn from qualifying purchases.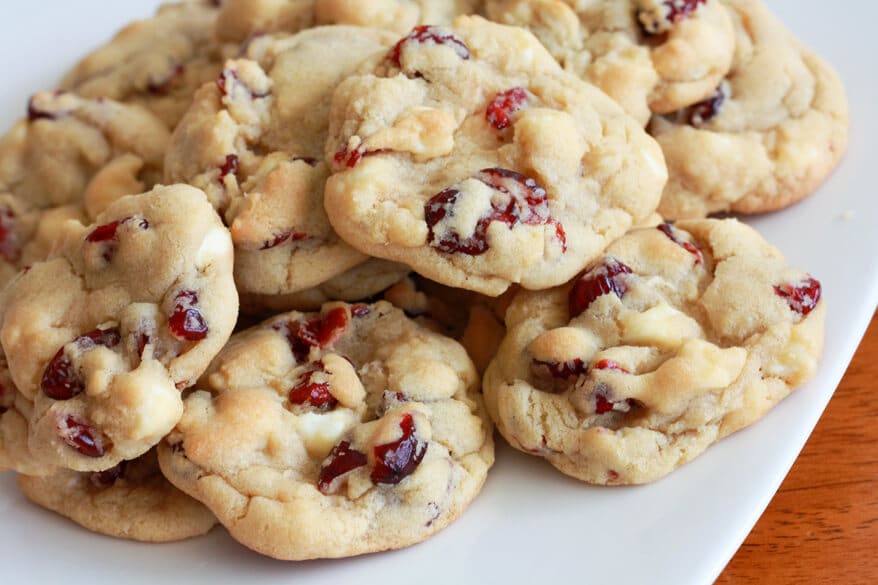 The craving has hit.  Just looking at the pictures.  And I haven't even made it past the third sentence yet.  Ohhh, I'm in trouble.  Let me step away from the computer just long enough to get a grip on myself…
*sigh*
Okay, I'm back and ready to keep typing now.  (Still really (REALLY) wanting some of these cookies though.)
These White Chocolate Cherry Macadamia Cookies have been a hit wherever and to whomever I've taken them.  Make a batch of these for your sweetheart as the perfect Valentine's Day treat.  You know what they say about the way to a man's heart.  So whether you want to win him or keep him, these little jewels will do the trick :)  Buttery, chewy, delightful.  Prepare to fall in love…
These are also the perfect cookies to make for the Holidays.  You can use either dried cherries or cranberries.

White Chocolate Cherry Cookies
:
The Daring Gourmet, www.daringgourmet.com
Ingredients
½ cup butter, softened
½ cup packed brown sugar
½ cup white sugar
1 egg
1 teaspoon vanilla extract
1½ cups all-purpose flour
½ teaspoon baking soda
¼ teaspoon salt
¾ cup white chocolate chips
½ cup chopped macadamia nuts
1 cup dried cherries
Instructions
Preheat oven to 375 F. Grease a cookie sheet.
In a large mixing bowl, combine the butter and sugars. Using an electric mixer, cream the butter and sugars until fluffy and pale in color, 3-5 minutes. This step is important for ensuring soft, chewy cookies. Beat in the egg and vanilla extract.
In a separate bowl, combine the flour, baking soda and salt. Using a wooden spoon, carefully stir the flour mixture into the butter mixture, just until combined. Stir in the white chocolate chips, dried cherries and macadamia nuts.
Drop heaping spoonfuls of the batter onto the greased cookie sheet.
Bake the cookies for 8-10 minutes or until they just begin to turn golden around the edges. Allow the cookies to cool for 2 minutes on the cookie sheet before transferring them to a wire rack to cool completely.
*Note: It isn't necessary for this recipe (I personally prefer the cherries to be chewy), but you can optionally place the dried cherries in a bowl and cover them with boiling water to soften them. Let them soak for 7-8 then thoroughly drain them. If you choose to soak them, use only ½-3/4 cup dried cherries as they will expand.
Thanks to my friend, Candy, for inspiring me with the idea to add the final crowning touch…macadamia nuts!
link