Warning – this homemade Creole Mustard recipe is going to keep you coming back for more! This mustard is made with a Creole kick that will really make your mouth water. Make a jar today, and you'll find yourself using it all the time!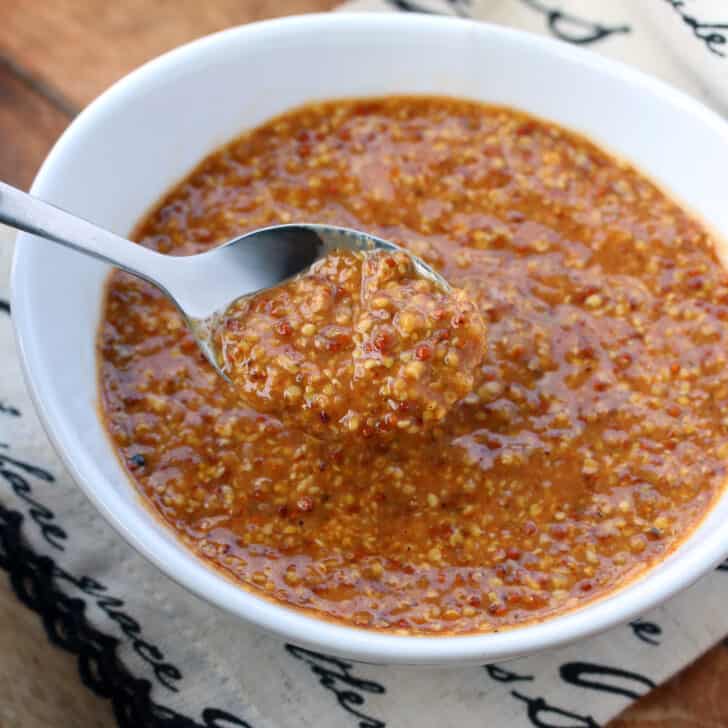 I really haven't bought sauces, condiments, or dips from the store in the longest time. Why? It's so much more rewarding to make them at home!  They're not only vastly healthier (free from all those junk ingredients!), they're also MUCH tastier!  This creole mustard recipe really can't be beat by anything from the grocery store. The bold flavors of this mustard are incredibly delicious  and it's SO easy to whip up a jar of it!
What is Creole Mustard?
It's a spicy whole grain mustard that hails from the southeastern United States, specifically New Orleans where it is most popular.  The flavors are a fusion of French, Spanish and African influences and it is a bold, spicy, and flavorful condiment that is as versatile as it is delicious.
Let's talk about just how "from scratch" you want your creole mustard to be.  When I make my Bavarian Sweet Mustard, I use whole mustard seeds, making the entire condiment from completely from scratch.  You can also follow that same process for creole mustard (omit the juniper, allspice, cloves, and nutmeg and stir in the creole seasonings at the very end before setting the mustard aside to cure for a few weeks), but using whole seeds does require a minimum of a 3-4 week maturing process before it's ready to use. If you don't want to wait that long, it's far quicker to use a store-bought stone-ground mustard as the base, and then just add the other ingredients to it.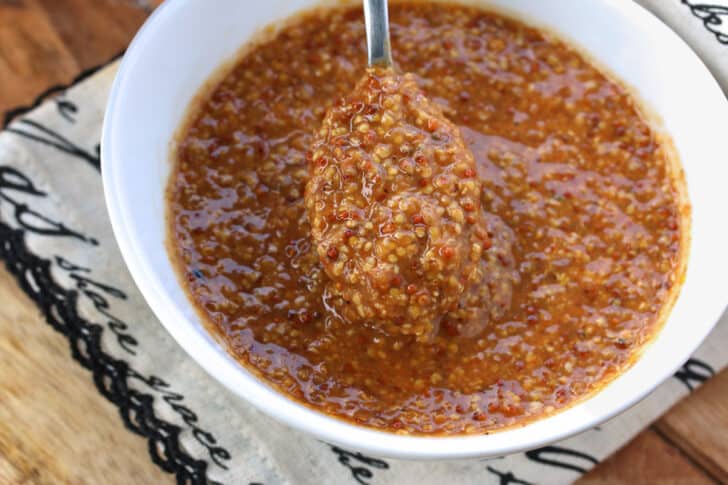 I highly recommend using my homemade Creole Seasoning for this.  The flavors are far bolder and more vibrant than anything you'll buy at the store.  Our homemade seasoning will infuse your mustard with those classic Creole flavors.  If you're wondering what creole seasoning is, it's a mouthwatering mix of spices – garlic, onion, paprika, cayenne, thyme, oregano, basil, salt, pepper and smoked paprika.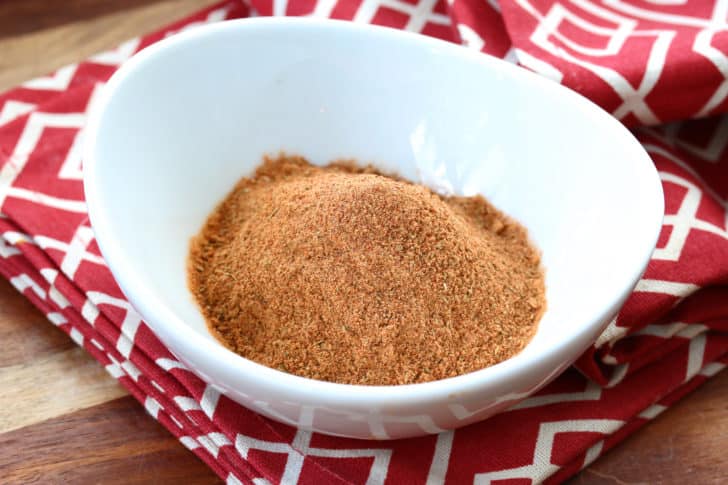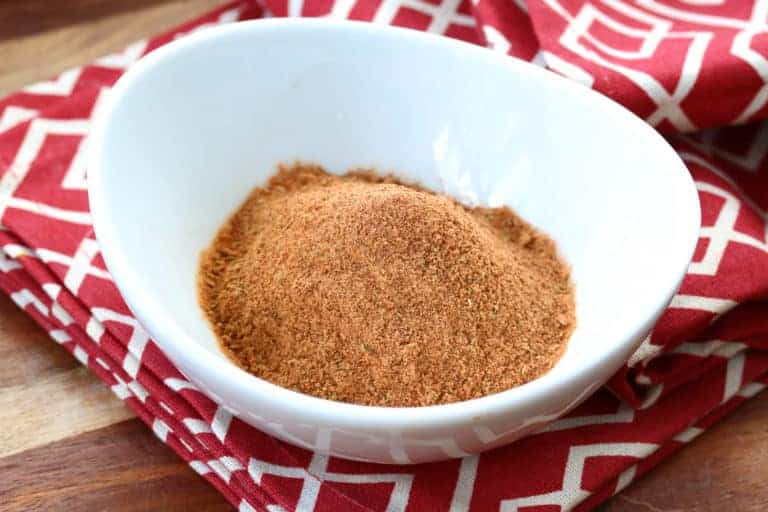 You're going to have some creole seasoning left over after making your mustard, and you'll be glad that you do!   It's an incredibly flavorful seasoning that's deliciously versatile as an all-purpose blend.  It's great for tossing into or sprinkling on any number of dishes.  And of course meals like Jambalaya are impossible to make without it. I also love sprinkling it on foods like popcorn, steamed or roasted veggies, and mashed potatoes for a little taste of Creole!
Tips for making Homemade Creole Mustard
Don't try to rush the process! After making your mustard, you'll want to try it right away. However, it needs to be kept in an airtight container (like a glass jar) in the fridge for at least 24 hours before serving. The flavors need to develop and meld together. 

If you want your creole mustard to be extra spicy, toss in some more horseradish. The more horseradish you add, the spicier it will be. Just be cautious – a lot of horseradish can definitely be an overpowering flavor!  You can also add more hot sauce to heat things up. 
How to Use Creole Mustard
Just think about anything you'd use mustard on……and replace it with Creole mustard.  It pretty much makes anything more delicious!
Ham and cheese or fried chicken sandwiches, wraps, hot dogs, burgers, crab cakes, po' boys, wings, potato and pasta salads, pretzel sticks, roast pork, chicken or ham, grilled sausages, deviled eggs, in glazes and marinades, use it to whip up a Creole mustard sauce for dipping by mixing in some mayonnaise and honey or use it to make Creole remoulade sauce…and anything else you'd normally use mustard in that you want to jazz up with a different flavor twist! 
Another fun way to serve it is on a charcuterie board. Next time you throw a board together, try adding a little creole mustard to the mix and watch as your guests' faces light up in delighted surprise!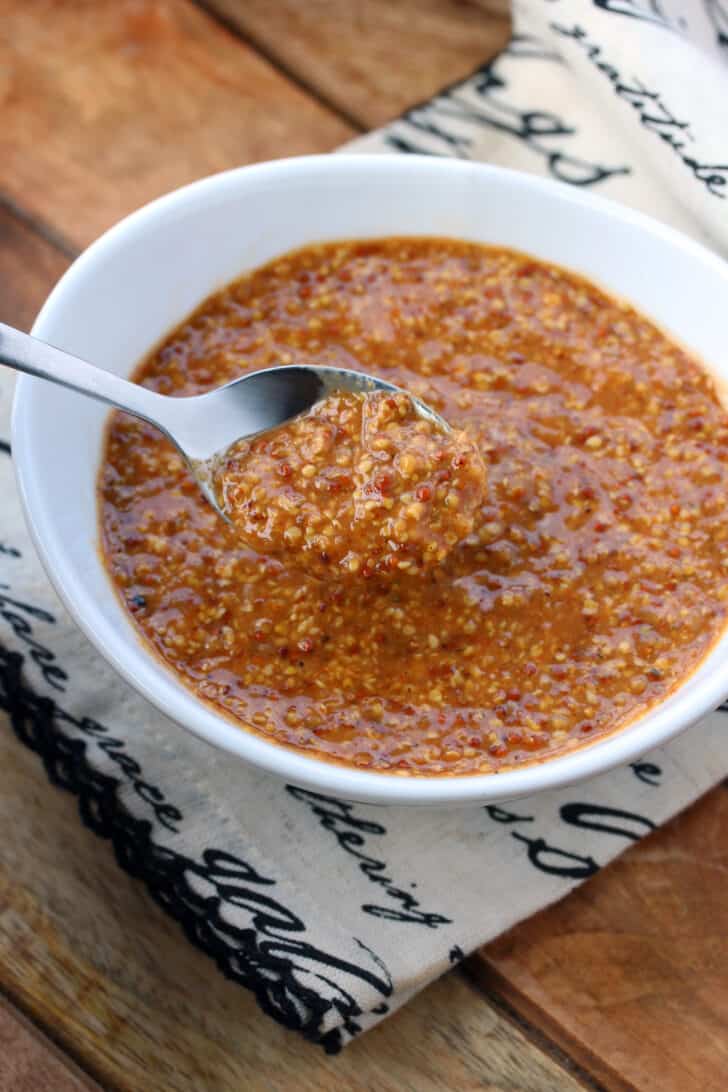 Creole Mustard Recipe
Let's get started!
It takes all of 5 minutes of prep.  Simply stir all the ingredients together in a glass jar.  Cover with the lid and store in the fridge for at least 24 hours before using to give the flavors time to meld.  Keep stored in the fridge where it will keep for at least a month.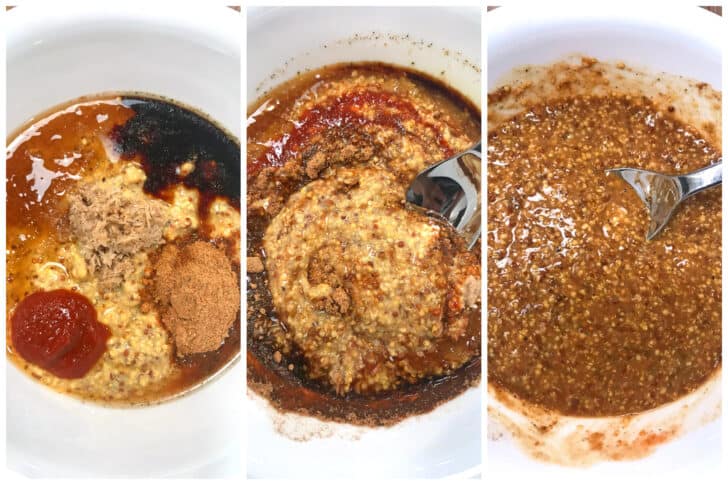 Enjoy!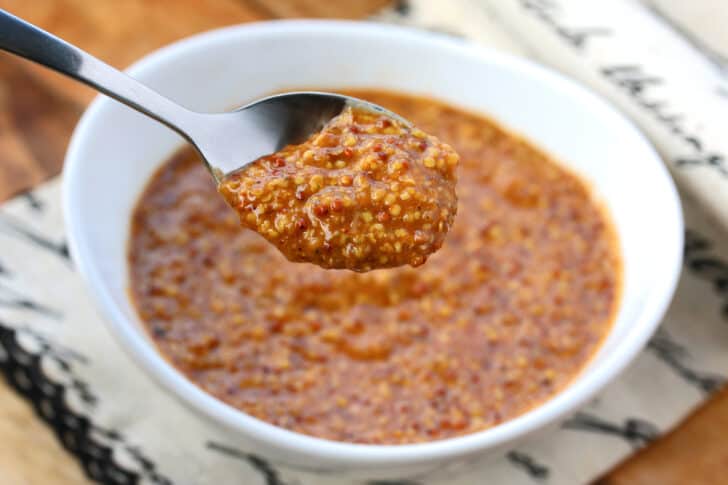 For more delicious homemade sauces be sure to try our:  
Creole Mustard
Quick and easy to make, replace anything calling for mustard with this Creole mustard to give it a spicy and delicious flavor twist!
Ingredients
1/2

cup

stone-ground mustard

(plain, not flavored)

2

teaspoons

honey

1/2 to 1

teaspoon

Homemade Creole Seasoning

(strongly recommended over store-bought; click link on left for recipe)

2

teaspoons

horseradish

(use more or less depending on heat preference)

1

teaspoon

Worcestershire sauce

1/2

teaspoon

molasses

1

teaspoon

hot sauce (e.g., Tobasco)

, optional for added heat
Instructions
Stir all the ingredients together in a glass jar.  Cover with the lid and store in the fridge for at least 24 hours before using to give the flavors time to meld.  Keep stored in the fridge where it will keep for at least a month.
Nutrition
Serving:
2
teaspoons
|
Calories:
10
kcal
|
Carbohydrates:
2
g
|
Protein:
1
g
|
Fat:
1
g
|
Saturated Fat:
1
g
|
Trans Fat:
1
g
|
Sodium:
101
mg
|
Potassium:
20
mg
|
Fiber:
1
g
|
Sugar:
1
g
|
Vitamin A:
6
IU
|
Vitamin C:
1
mg
|
Calcium:
6
mg
|
Iron:
1
mg