As an Amazon Associate I earn from qualifying purchases.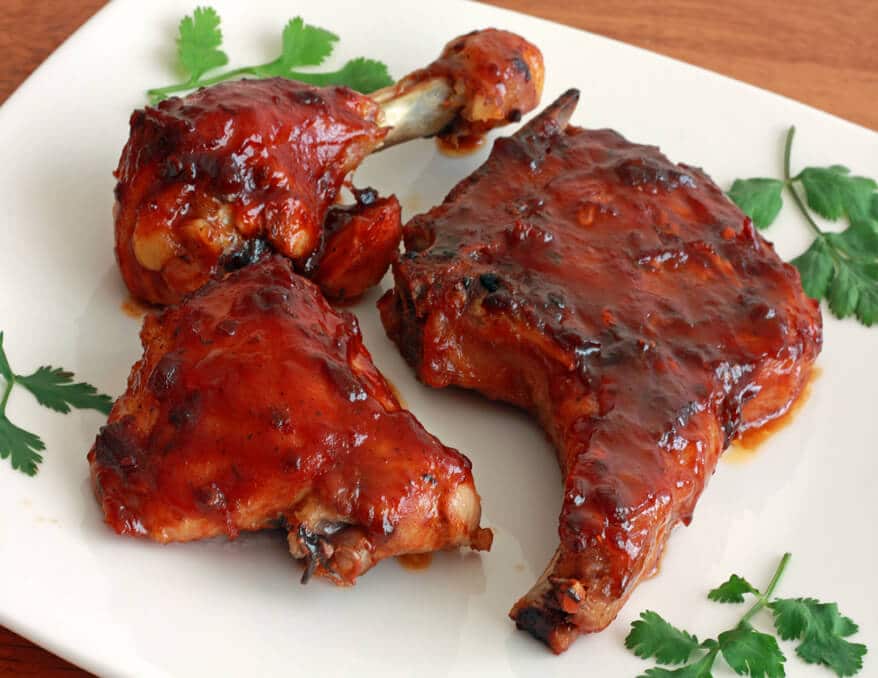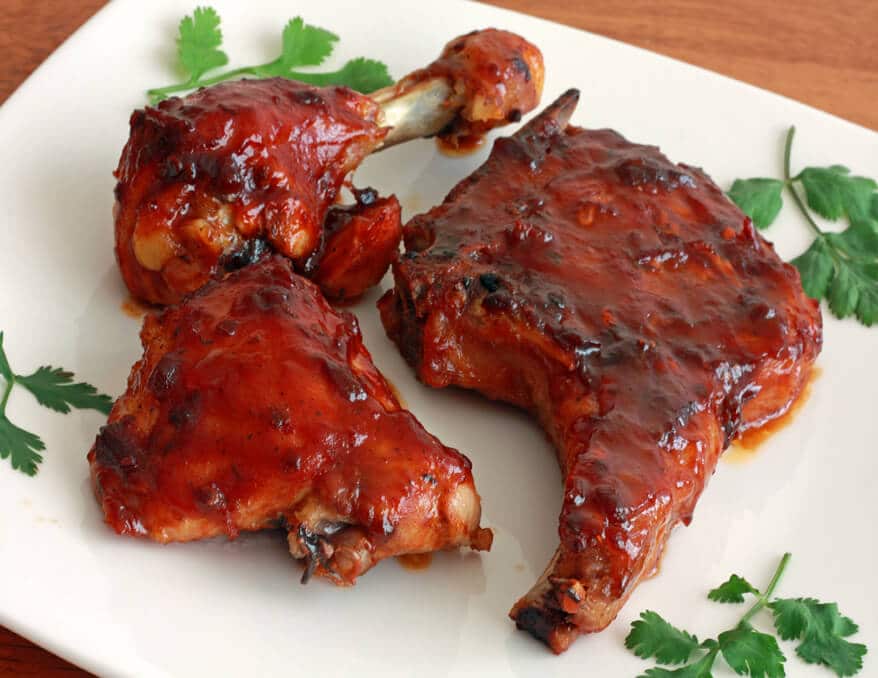 Well, I still had half a can of chipotles en adobo left over from yesterday's dish (as will you when you make it), so of course today's post had to be something chipotle-related!  I was initially thinking pork chops…with a creamy sauce…a creamy chipotle sauce…breaded pork chops with a creamy chipotle sauce.  Doesn't that sound yummy?  I'll definitely experiment with that one sometime down the road, but in the end I decided to make something versatile enough for both pork and chicken.  A BBQ sauce!  As I reached into my cupboard for some ingredients, I saw our bottle of maple syrup.  Hmmmm…smoky and spicy combined with sweet, fruity and caramel-like.  I grabbed the bottle and went to work!  The end result:  A sweet, spicy, smoky barbecue sauce that will perfectly complement your oven-baked, grilled, or roasted chicken and pork.
Today we're making oven-baked chicken and pork chops (not that the two go together, but I wanted to experiment with both kinds of meat using this new sauce – I'm not going to make any recommendations to you without first putting it to the test!).
The prep is quick and easy.  Dab the chicken or pork chops (whichever you are using) with paper towels.  I removed the skin from my chicken – leave it on if you prefer.  Sprinkle salt and pepper over the bottom and top sides.
Spray a little vegetable spray on the bottom of a baking dish and set the meat inside.
To make the barbecue sauce, finely chip the chipotle en adobo sauce.  You'll use two.  If you prefer less spicy, remove and discard the seeds.
Add the chipotles the rest of the barbecue sauce ingredients and stir to combine.
Place the sauce in a small saucepan and bring it to a simmer.  Reduce the heat to low and simmer the sauce, uncovered, for 20 minutes, stirring occasionally.  This barbecue sauce is absolutely best if it's made the day before and is allowed to sit in the fridge so the flavors can full combine.
Baste the top and bottom of each piece of chicken or pork.
Cover the baking dish with aluminum foil and bake at 350 F for 1 hour.  Remove the foil, baste the tops with more sauce, increase the oven temperature to 400 F and cook, uncovered, for another 10 minutes.
Serve with your choice of sides.  This sauce makes enough for 6 servings of meat.

Oven-baked Chicken & Pork Chops with Chipotle Maple Barbecue Sauce
:
The Daring Gourmet, www.daringgourmet.com
Ingredients
6 pork chops or 6 large pieces of chicken
salt and pepper
½ cup ketchup
½ cup maple syrup
¼ cup water
1½ tablespoons brown sugar
1 tablespoon apple cider vinegar
1 teaspoon Worcestershire sauce
1 teaspoon molasses
2 chipotles en adobo sauce, finely chopped - seeded if you prefer less spicy (can be found in any Mexican store or well-stocked grocery store)
1 teaspoon adobo sauce from the can
1½ teaspoons salt
½ teaspoon onion powder
½ teaspoon garlic powder
2 teaspoons paprika
½ teaspoon black pepper
¼ teaspoon oregano
¼ teaspoon thyme
¼ teaspoon rosemary
Instructions
Pat the meat dry with a paper towel. Sprinkle top and bottom with salt and pepper. Place the meat in a baking dish.
To make the barbecue sauce, combine all remaining ingredients and place them in a small saucepan. Bring to a simmer, reduce the heat to low and simmer, uncovered for 20 minutes. This barbecue sauce should ideally be made the day before and left in the fridge to allow the flavors to fully combine. This makes a big difference in flavor.
Baste the meat with half of the barbecue sauce. Cover the baking dish with aluminum foil and bake at 350 F for 1 hour. Remove the foil, baste the meat with the remaining sauce, increase the heat to 400 F and bake, uncovered for another 10 minutes. Serve with your choice of sides.
Note: This is also perfect for the grill!