A mouthwatering Sicilian-style grilled tuna steaks recipe! Grilled to perfection and topped with the flavors of sun-kissed Sicily.  It's easy and delicious!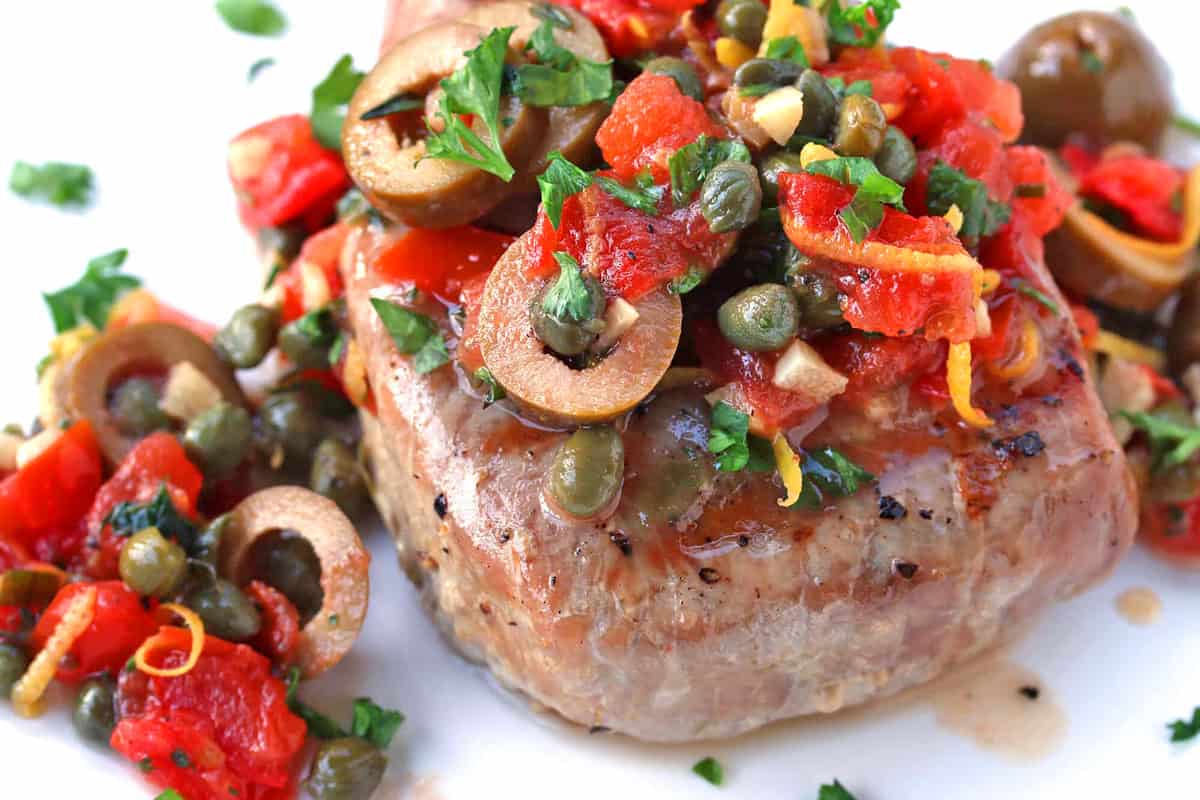 A special thank you to Lindsay for sponsoring this post
From my early childhood trips to Italy's beaches to my farewell trip to Tuscany as an adult before leaving Europe for the U.S., Italy has always been very nostalgic to me and I have a lot of fond memories imprinted in my heart of Italy's landscapes, culture, food and people.
Today we're featuring a dish inspired by Sicily, an autonomous region of southern Italy and the largest island in the Mediterranean Sea.  With traces of human activity dating back as early as 12,000 BC, Sicily has a particularly rich and unique culture, especially with respect to its ancient architectural remnants like the Necropolis, Selinute and Valley of the Temples, as well as a long history of art, literature, music and food.
Another fascinating piece of Sicilian history, and yet another reason I'm captivated by the area, is that Sicily shares an important connection with Swabia, Germany.  Sicily came under the rule of the Hohenstaufen family, a dynasty of German kings (several of whom were crowned Holy Roman Emperor) originating from Stauf castle in Göppingen, the suburb of Stuttgart I lived in when I was two years old before moving to other areas of Stuttgart.  It's also where my grandparents lived for over 40 years.  Sicily became settled by the Swabians and many people from other regions of Germany in the late 12th century and was influenced by them in the areas of architecture, art, religion, music and cuisine.
"If the Normans brought Sicily back into the European orbit following centuries of Byzantine and Arab rule, the Swabians made it one of the most important regions of Europe" (Best of Sicily Magazine).
Now how about that!
But enough about the history, let's talk FOOD!
Sicily's savory cuisine is considered among the healthiest in Italy with a huge emphasis on seafood, particularly tuna and swordfish, and fresh vegetables and fruits like tomatoes, olives, citrus, capers, beans and artichokes.  We're pulling in several of those flavors in today's Sicilian-style Grilled Tuna Steaks.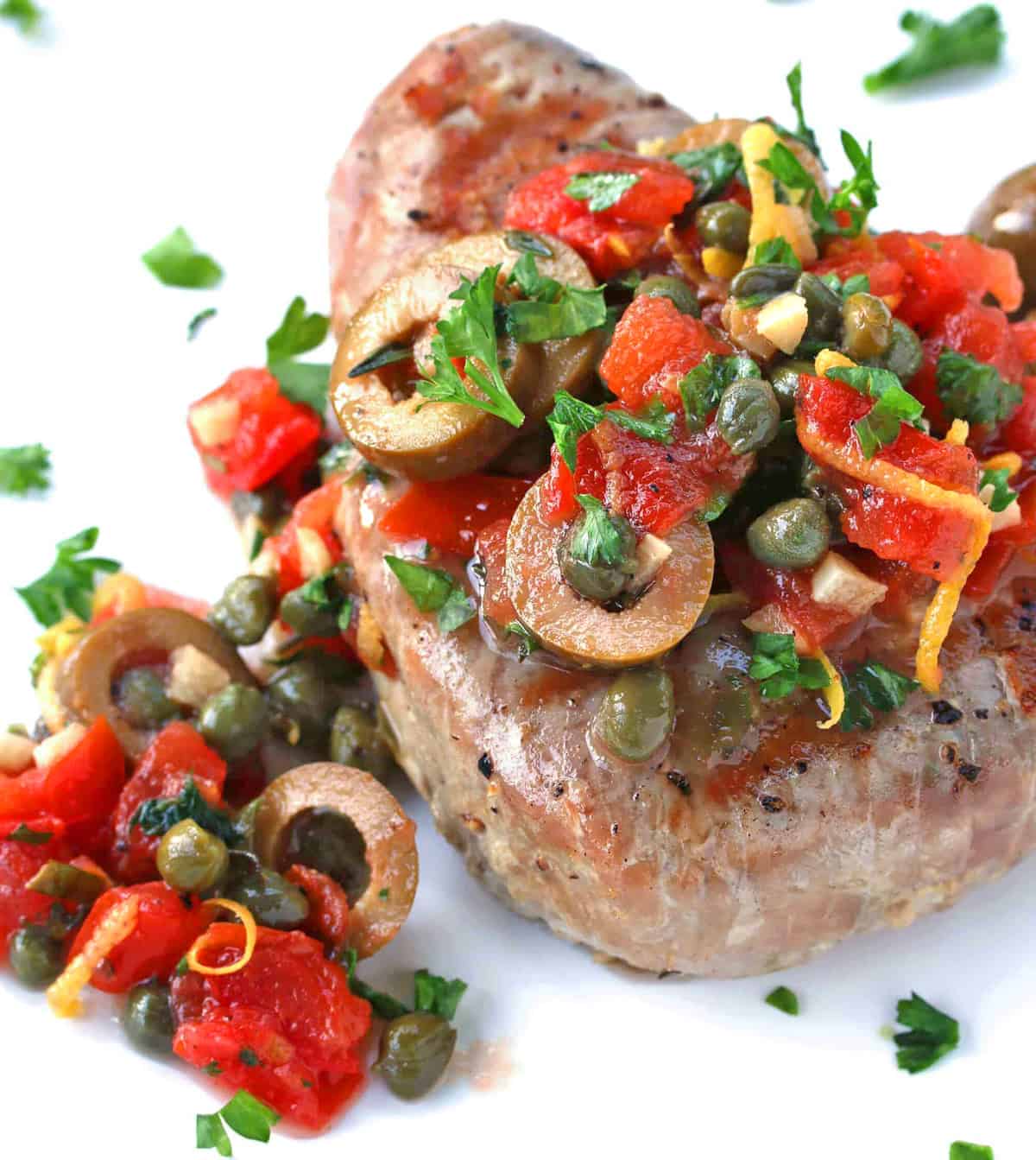 The sauce is my favorite part of the dish.  It's awesome!  And if you're not a seafood fan this sauce will also pair beautifully with grilled chicken.
We're using fresh sun-ripened tomatoes, parsley, rosemary, thyme, garlic, lemon zest and juice, white wine, olives and capers.   I love Lindsay products and am using their Sicilian-style pitted olives and capers (here's a coupon for your next purchase).
This flavorful sauce will transport you to the sunny coasts of Sicily!
Have you cooked with capers before?  If not it's time to give them a try.
Capers play a prominent role in Sicilian and Mediterranean cuisine at large, and have been used since the time of ancient Greece. Here's a picturesque tour of a caper farm in Sicily.  Capers come from a perennial plant that grows edible flower buds (aka capers) and berries.   The flower buds and berries are both pickled in brine and added to a variety of dishes like meat, sauces, salads, eggs benedict, tapenade, pesto and pasta salads.  But it's the flower buds, or capers, that we're most familiar with.
After opening a jar to make this Sicilian-style Tuna you'll still have some capers left.  If you need some more ideas for using them up, try our Chicken Piccata and Greek Lemon Chicken.   Other classic dishes using capers include pasta puttanesca and some French dishes like salade niçoise. 
This recipe for grilled tuna steaks incorporates a variety of fresh, healthy and flavorful ingredients and comes together in just minutes!
You can even make the sauce ahead of time and then simply throw the tuna steaks on the grill and be ready to eat in just the few minutes' time it takes to grill the tuna!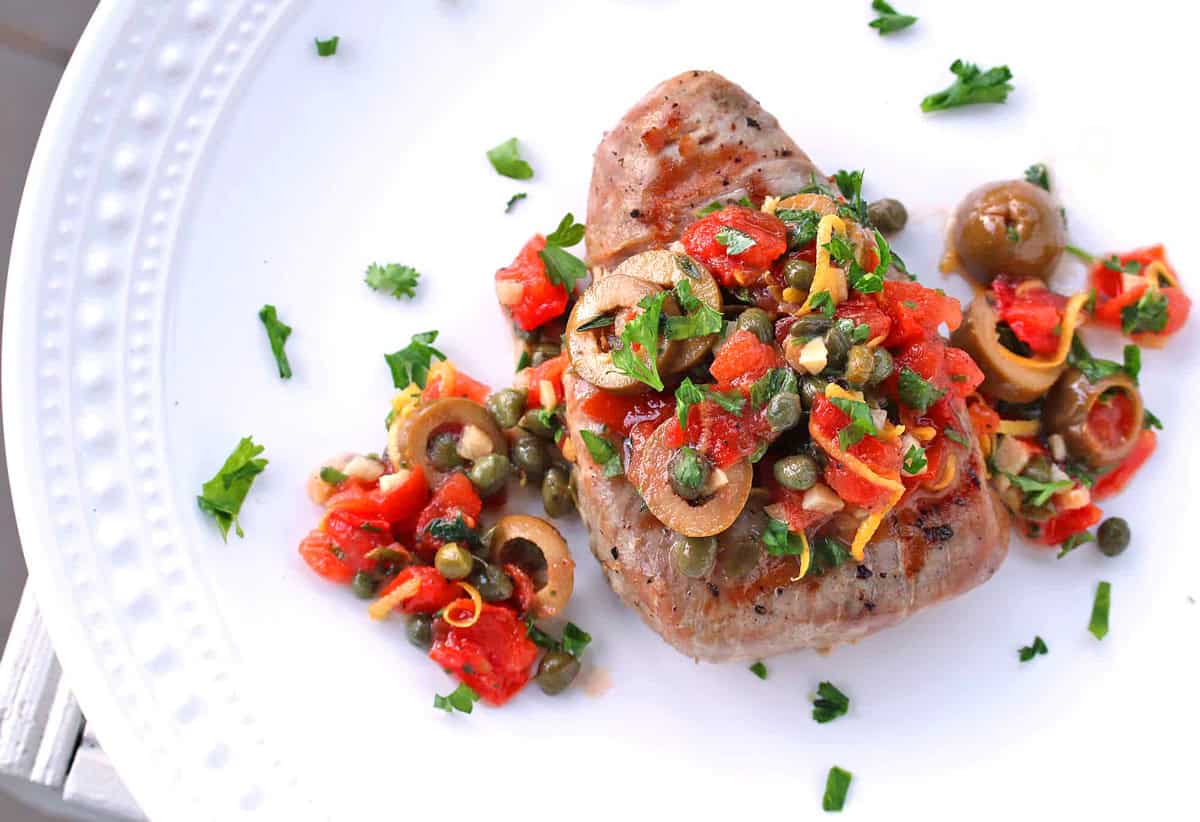 Sicilian Style Grilled Tuna Steaks Recipe
Let's get started!
Heat the oil in a small skillet over medium heat and cook the garlic for a minute or two.
Add the tomatoes and cook for another couple of minutes.
Add the white wine and bring it to a rapid boil for 2 minutes.
Add all remaining ingredients except for the parsley and simmer uncovered for 5 minutes.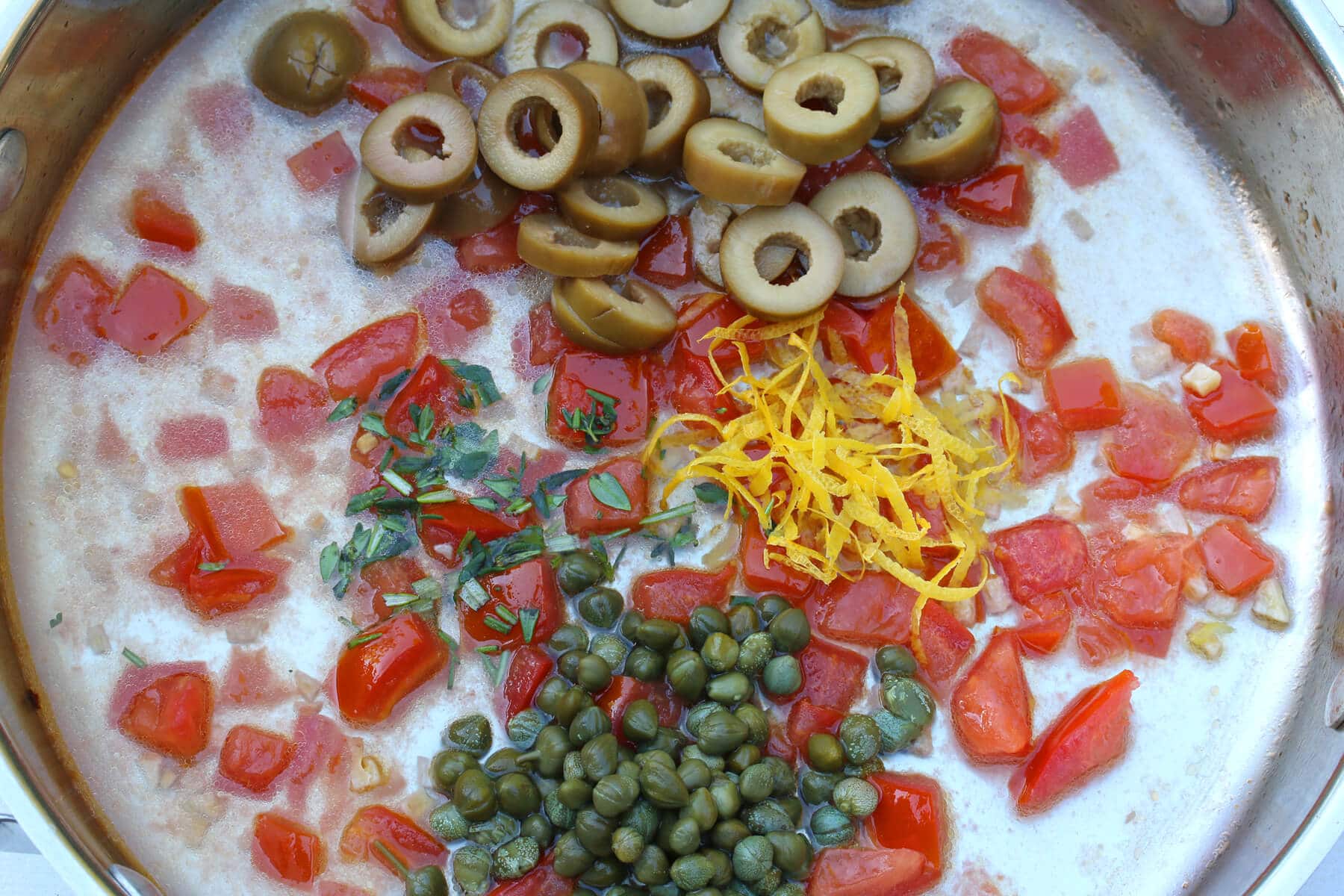 Stir in the parsley and remove from the heat.
Set aside while you're preparing the tuna.
The only preparation the tuna needs is a light coat of oil and some salt and freshly ground black pepper.
Get your grill super hot and oil the cooking grates.  It's important that your grill is really hot to sear the tuna the moments it's placed on the grates.  The goal for properly cooking tuna is to sear it over high, direct heat and to leave the inside more or less rare, otherwise tuna gets dried out and tough very quickly and loses its silken texture.
For tuna steaks that are an inch thick you'll sear both sides for 1-2 minutes.  To get the criss-cross grill marks turn the steaks counter-clockwise after about a minute, then sear for another minute.  Flip over the steaks and repeat.
Our tuna steaks are done and ready for this wonderful Sicilian-style topping.
Place the tuna steaks on individual plates and top with the sauce.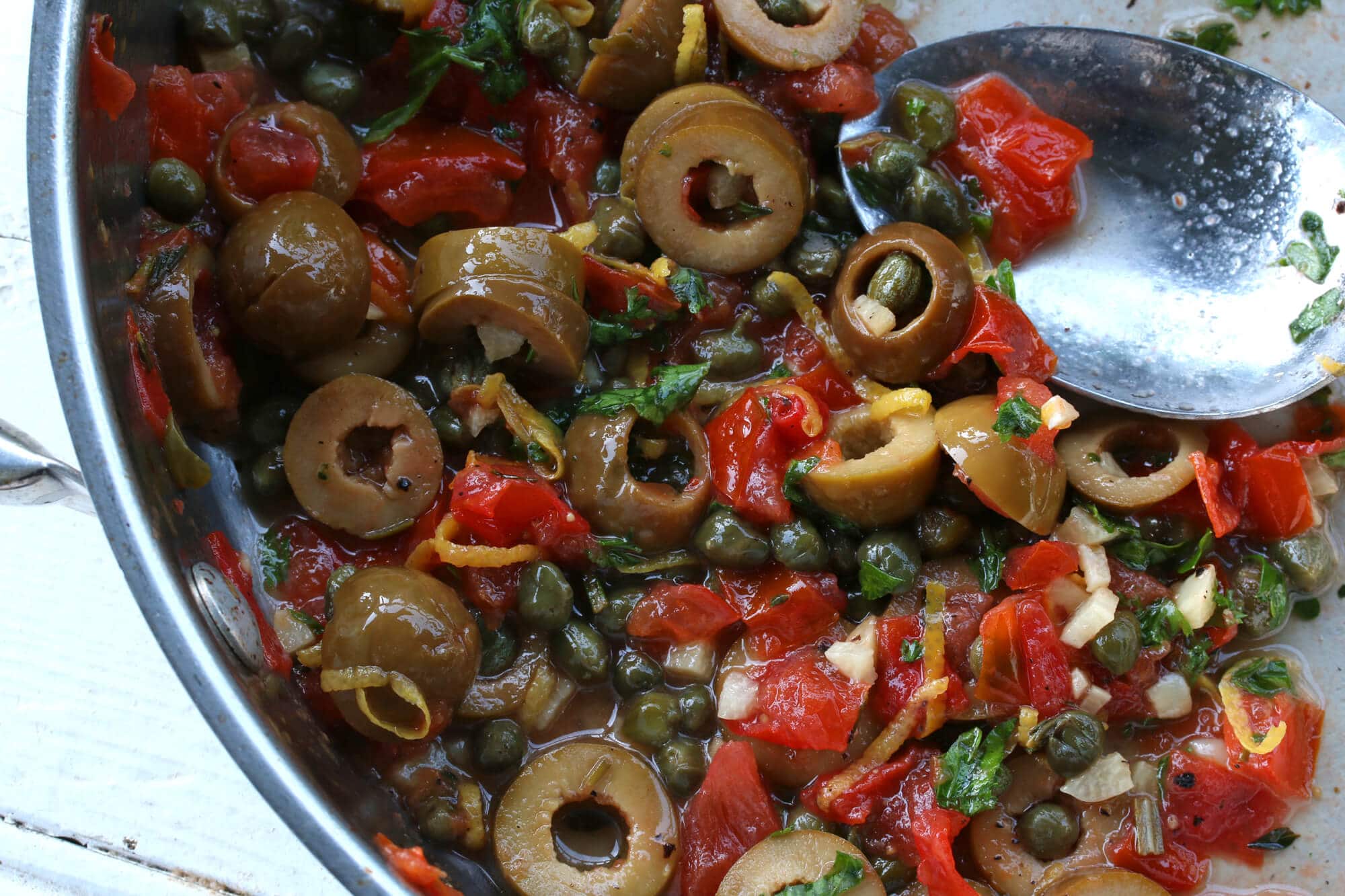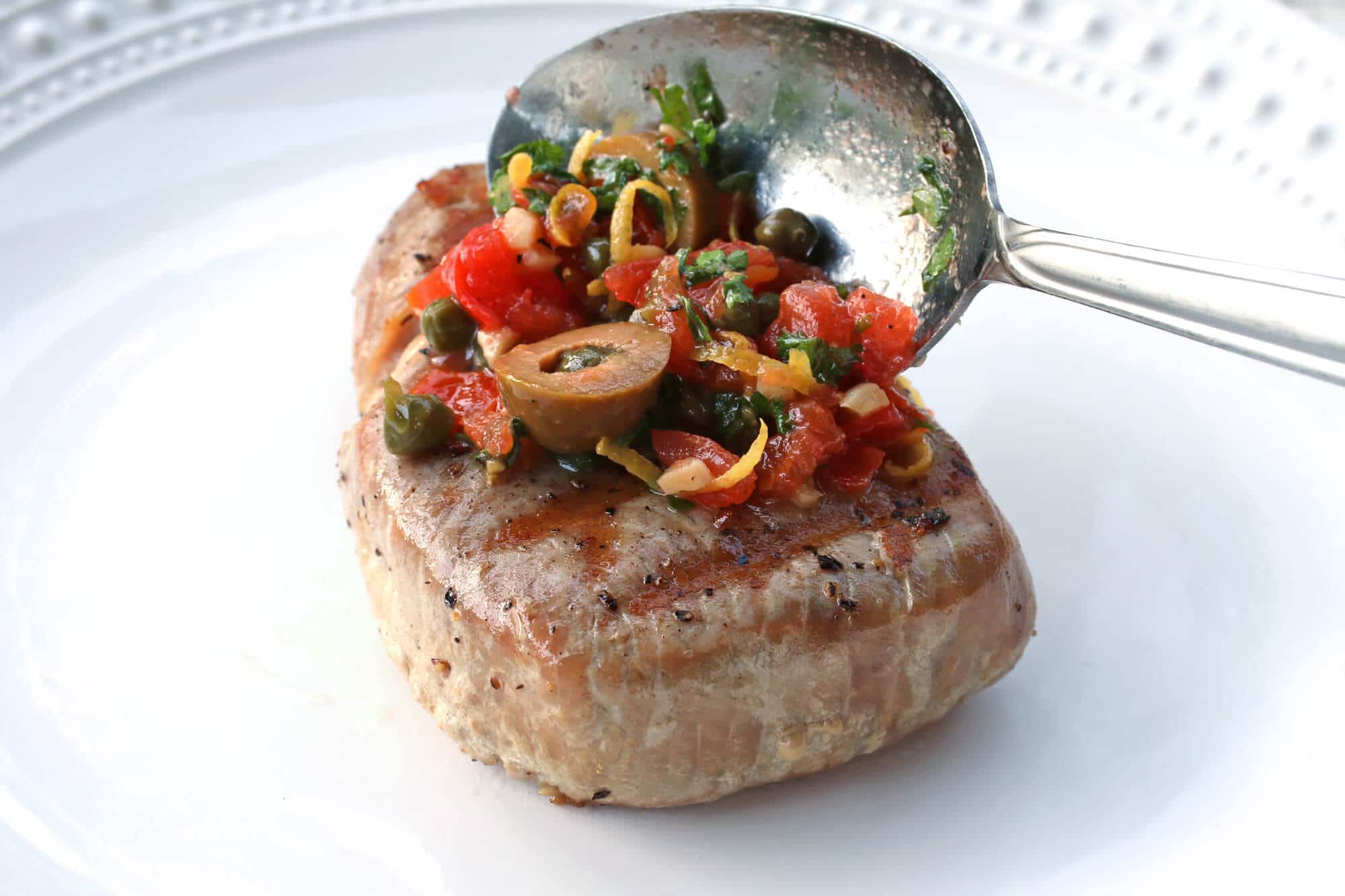 Serve immediately.
Buon Appetito!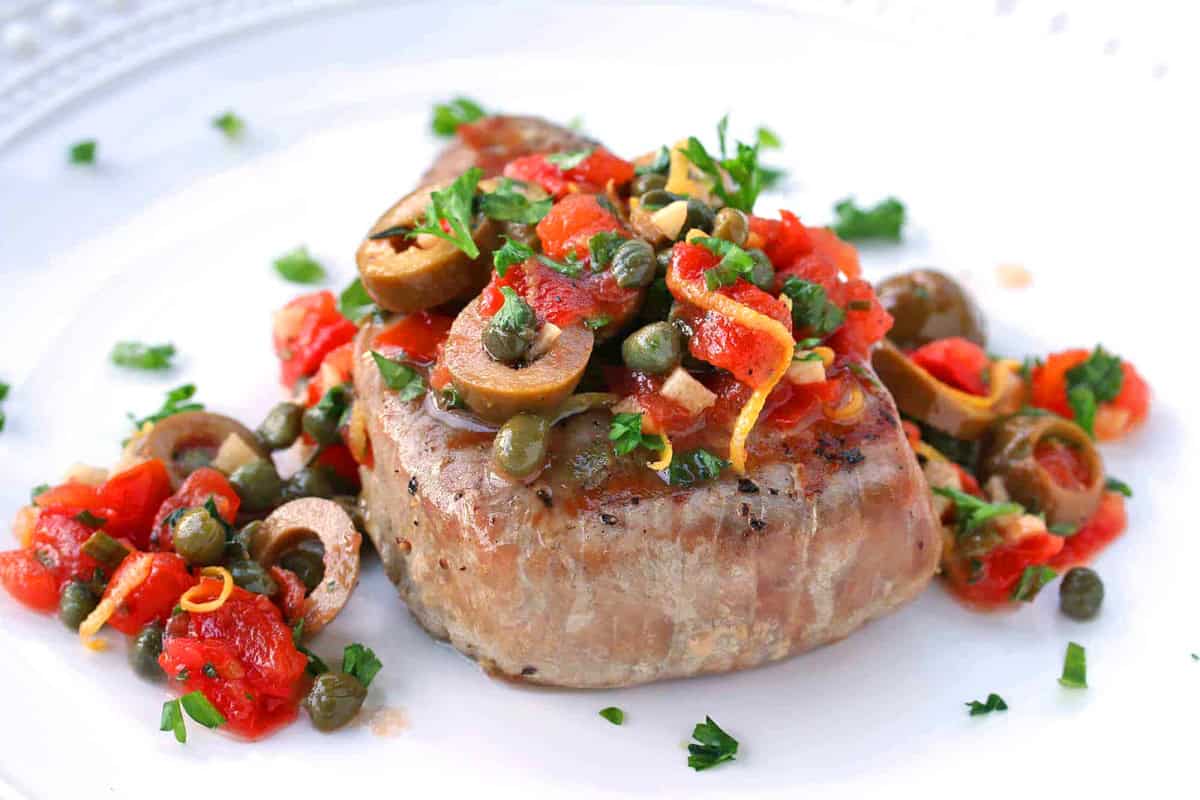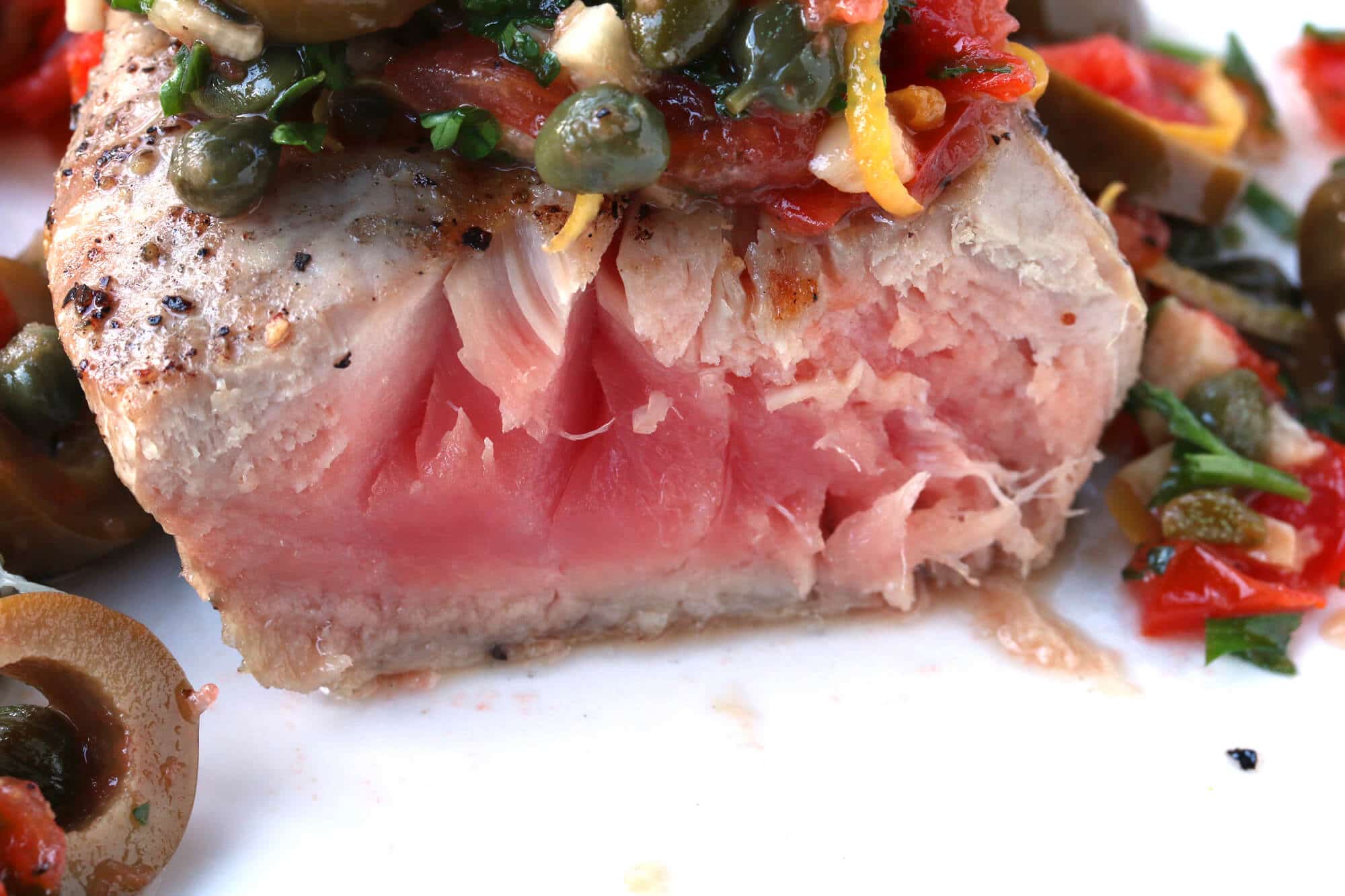 Sicilian-style Grilled Tuna Steaks
Enjoy the flavors of Sicily with these delicious grilled tuna steaks!
Ingredients
4

tuna steaks

,about 6 ounces each and 1 inch thick (swordfish makes a great substitute)

Extra virgin olive oil for brushing

Kosher salt and freshly ground black pepper

1

tablespoon

extra virgin olive oil

2

cloves

garlic

minced

1

cup

diced fresh tomatoes

1

cup

dry white wine

2/3

cup

sliced firm green olives

(I used Lindsay Sicilian-style Olives)

1/4

cup

capers

,drained (I used Lindsay)

1 1/2

tablespoons

fresh lemon zest

2

tablespoons

fresh lemon juice

2

teaspoons

chopped fresh thyme

1/4

teaspoon

salt

1/4

teaspoon

freshly ground black pepper

1/4

cup

chopped fresh parsley
Instructions
Brush the tuna with some oil and sprinkle with salt and pepper. Heat the grill and brush the cooking grates with oil.

Heat the oil in a small skillet over medium heat and cook the garlic for a minute. Add the tomatoes and cook for another couple of minutes. Add the wine and bring to a rapid boil for two minutes. Add all remaining ingredients except for the parsley and simmer uncovered for 5 minutes. Stir in the parsley and remove from heat.

Sear the tuna steaks over high, direct heat for 1-2 minutes on each side. (For the best texture and to prevent becoming dried out tuna should be rare to medium rare on the inside.)

Serve the tuna steaks immediately topped with the sauce.
Nutrition
Calories:
374
kcal
|
Carbohydrates:
6
g
|
Protein:
40
g
|
Fat:
15
g
|
Saturated Fat:
3
g
|
Cholesterol:
64
mg
|
Sodium:
872
mg
|
Potassium:
589
mg
|
Fiber:
2
g
|
Sugar:
2
g
|
Vitamin A:
4490
IU
|
Vitamin C:
18.4
mg
|
Calcium:
54
mg
|
Iron:
2.7
mg
Images of Sicily used with permission via cc licensing: Isole Eolie, Miguel Virkkunen Carvalho, Dennis Jarvis, Spencer Means, Stefano La Rosa.