This post contains affiliate links.
Thank you to Food Should Taste Good for sponsoring this post!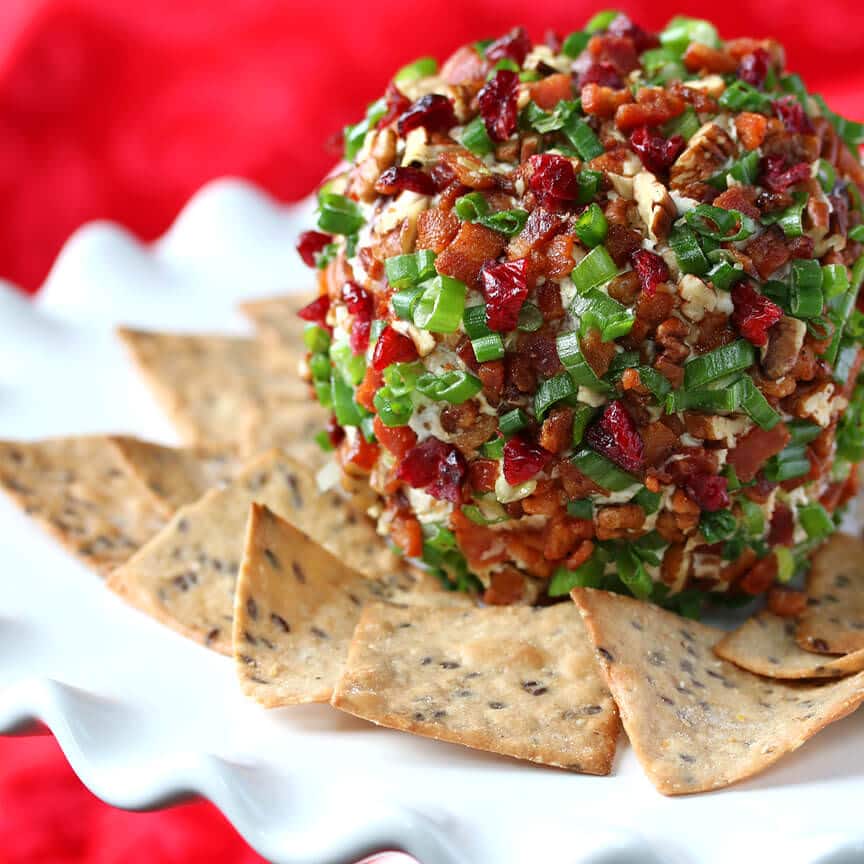 The cheese ball needs to make a comeback.
But not as a repetition of history.
No, the cheese balls of yesteryear deservedly earned a bad rap.  You know the ones:  A mass of sticky artificial orange industrial goo (ie, Velveeta) squished into a ball, rolled in some nuts and served with crackers.   By the time this round object masquerading as cheese had been sitting at room temperature for 37 minutes it became so unappetizing in appearance that the party guests began drifting further and further away from the table.
Fortunately in recent years cream cheese has taken the place of the unidentifiable orange stuff.  Its tangy, neutral flavor is the perfect base for any number of fun flavor combinations.
I think I've only ever made a grand total of four cheese balls in my life.   But this one has led me to an irrevocable decision:  Cheese balls need to make a regular appearance in my home.  They're just too good not to.
Today's cheeseball features the Christmas colors of red, white and green in the form of smoky bacon, sweet dried cranberries, cream cheese and green onions and those flavors accompanied by Cheddar cheese, pecans and kicked up several flavor notches with blue cheese.  It's delicious!
Even our 3 year old daughter thought so because within the course of 10 minutes she made no less than 12 trips back to the plate to reload.
You already know we're fans of Food Should Taste Good chips for a number of reasons (they're all-natural, certified gluten-free, vegan and kosher.  No MSG, no GMO's and made with simple, wholesome ingredients).  For this cheese ball I wanted to try their sea-salted brown rice crackers (for my GF readers, they're gluten free) and I opened up a box.  Our kids both went to town on them, scooping up the cheese ball.  By the time they had their fill of everything my husband and I stared at the few remaining morsels.  "I'll make another one," I announced.  And I did.  And it won't be the last.
Super easy to make, you can shape this into a cheese ball or into a log or any design you heart desires.  Either way, it's going to be a hit!
For best results just be sure to let the cheese ball sit in the fridge for at least a few hours so the flavor have time to meld.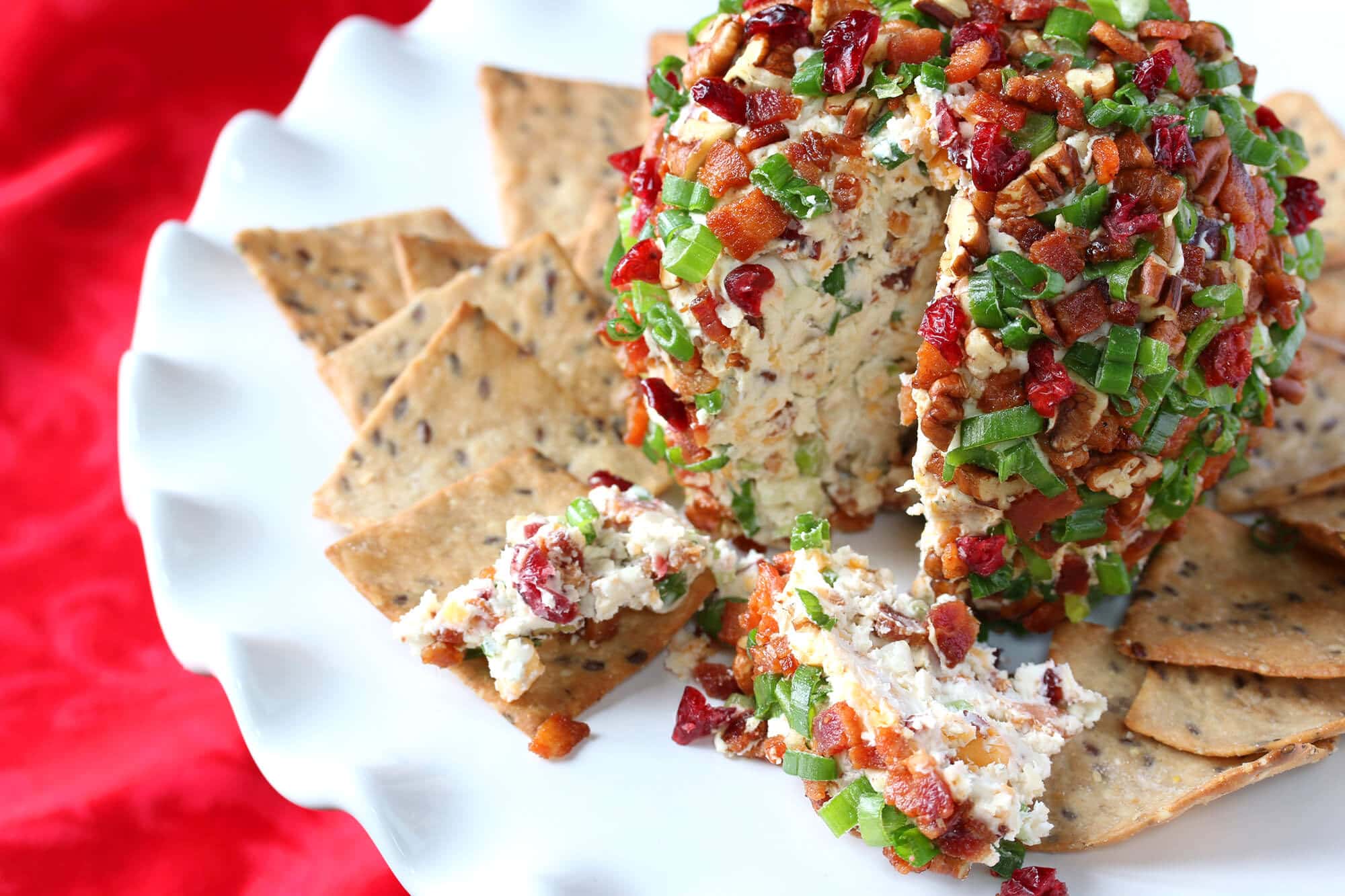 Let's get started!
Combine all the ingredients in a bowl.
Stir or knead together until thoroughly combined.
Shape into a ball (or log if preferred) and wrap in plastic wrap.  Refrigerate for at least an hour or up to 2 days.
Toss the outer layer ingredients to combine and spread them out on a plate.  Roll the ball in them to even coat the outer layer.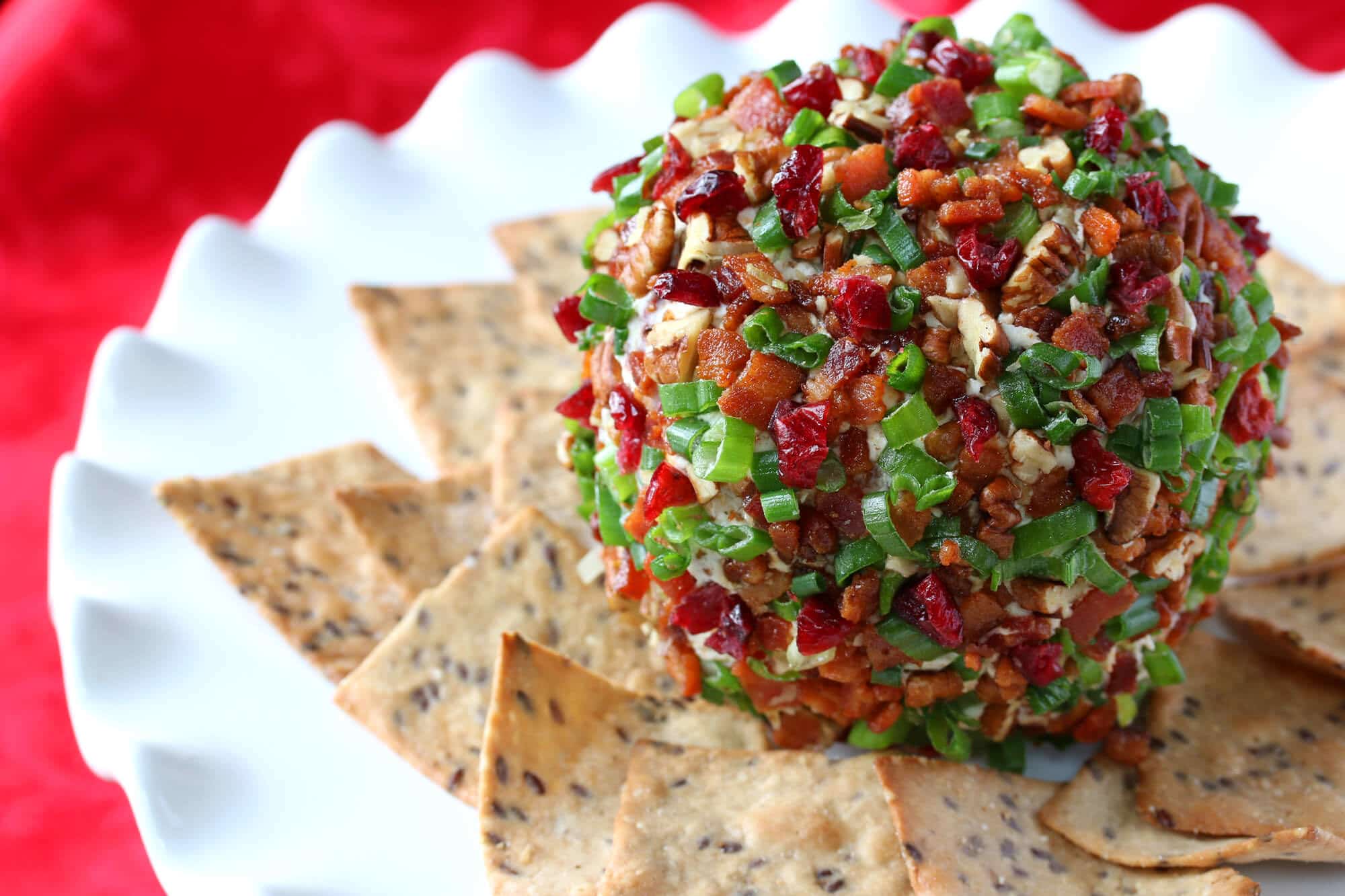 Serve with crackers and enjoy!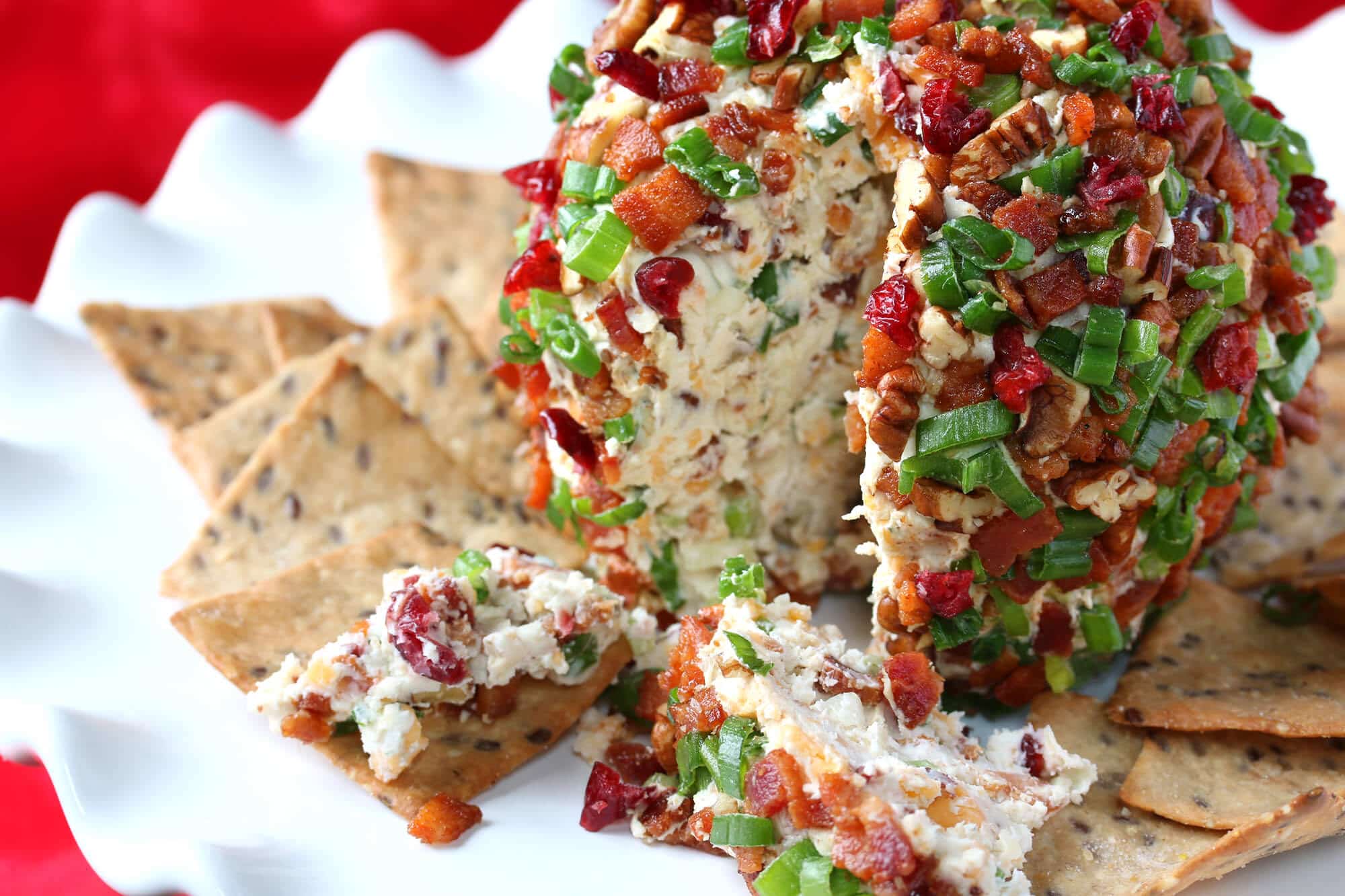 Bacon, Blue Cheese and Cranberry Cheese Ball with Pecans
:
The Daring Gourmet, www.daringgourmet.com
Ingredients
1 8-ounce package cream cheese, softened
½ cup shredded Cheddar cheese
¼ cup crumbled blue cheese
4 strips thick-cut bacon, cooked and crumbled
2 green onions, sliced
3 tablespoons chopped pecans
3 tablespoons chopped dried cranberries
For the outer layer:
2 green onions, sliced
2 tablespoons chopped pecans
2 tablespoons chopped dried cranberries
2 tablespoons crumbled bacon
Food Should Taste Good Brown Rice Crackers (or crackers of choice) for serving
Instructions
Place all the ingredients in a bowl and stir or knead together until thoroughly combined. Form the mass into a ball or log (whichever shape desired) and wrap it in plastic wrap. Refrigerate for at least one hour or up to 2 days.
Toss the outer layer ingredients together and spread them out on a plate. Roll the cheese ball in them to evenly coat the surface.
Serve with crackers.
A special thank you to Food Should Taste Good for sponsoring this post!  As always, all opinions are entirely my own.