Potently flavorful and fragrant, this is a central ingredient in many Chinese dishes and will work absolute MIRACLES for the foods you add it to!  Made from scratch with an unrivaled depth of flavor that will "wow" your taste buds, look no further for the BEST hoisin sauce recipe!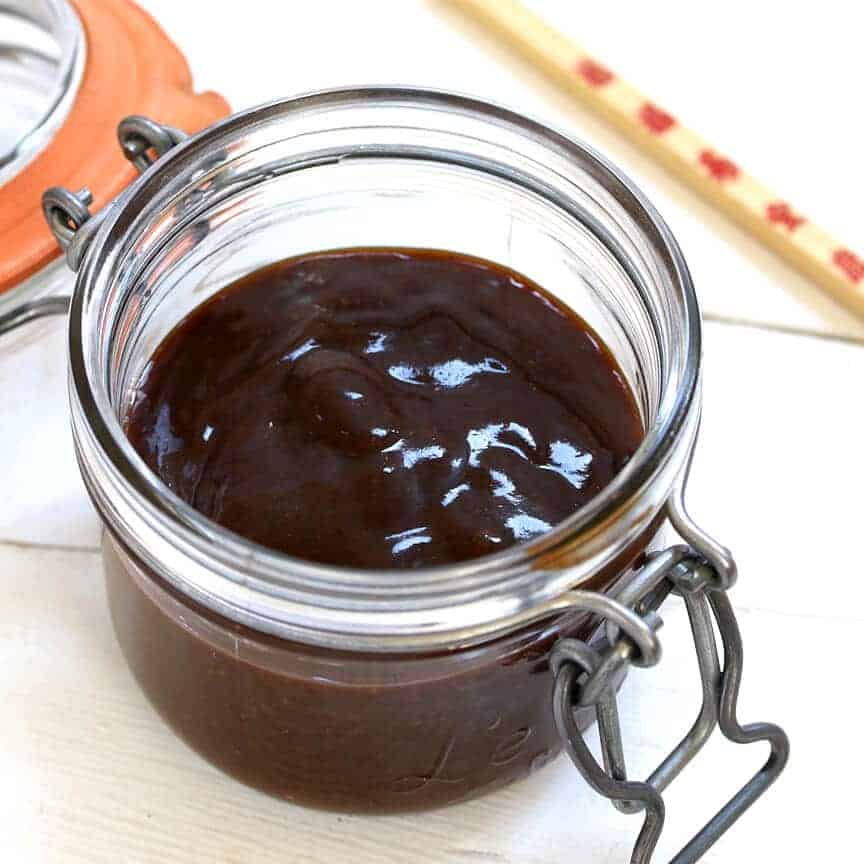 What is Hoisin Sauce?
Hoisin sauce is a thick, dark, fragrant and flavorful sauce that is commonly used as a dipping sauce, a glaze for meats and added to stir fries.  It balances both sweet, tangy and salty flavors and contributes an intense umami element to whatever food it's added to.
Although the name hoisin is Chinese for "seafood" it does not contain any seafood, rather the name likely refers to the fact that the sauce is a common accompaniment for seafood.
Hoisin Sauce Uses
Think of hoisin sauce as an incredible all-purpose condiment.  It has so many uses and will add depth, flavor and umami to a wide variety of dishes. Here are just a few ways you can use it:
In stir-fries and on noodles
Slathered on chicken, pork, ribs, duck or tofu and baked or grilled
Added to veggies
In marinades, vinaigrettes and barbecue sauces
A general substitute for ketchup
A new twist for meatloaf
Slathered on burgers
For pulled pork or pulled chicken
Added to soup broths for a great flavor
The base sauce for Chinese-style pizza
Added to mayo for a Chinese twist
As a dipping sauce for Chinese dumplings, egg rolls, wontons, chicken nuggets, etc.

© Beataaldridge | Dreamstime
How to Make Hoisin Sauce
As with most things, store-bought hoisin sauce doesn't even begin to compare to homemade.  The flavor and potency of this authentic homemade hoisin sauce will absolutely wow your taste buds!
You'll find a lot of recipes online for hoisin sauce calling for things like peanut butter and molasses – neither of those belong in hoisin sauce and do not remotely resemble the right flavor.  Leave those two items on the shelf and instead grab the two key ingredients you'll need to make the real deal: Chinese Five Spice and Black Bean Sauce.
You can find Chinese five spice in the spice section of most grocery stores.  The black bean sauce may be a little more challenging to find.  However in both cases we HIGHLY recommend making your own anyway in order to achieve the absolute BEST flavor results.
Black bean sauce is a key ingredient to the best Chinese food, so you'll want the ingredients on hand to make that anyway.
So now all you have to do is combine the Chinese five spice powder with the black bean sauce and a few other ingredients and you've got the best homemade hoisin sauce ever!  Check out our reader's reviews in the comments below.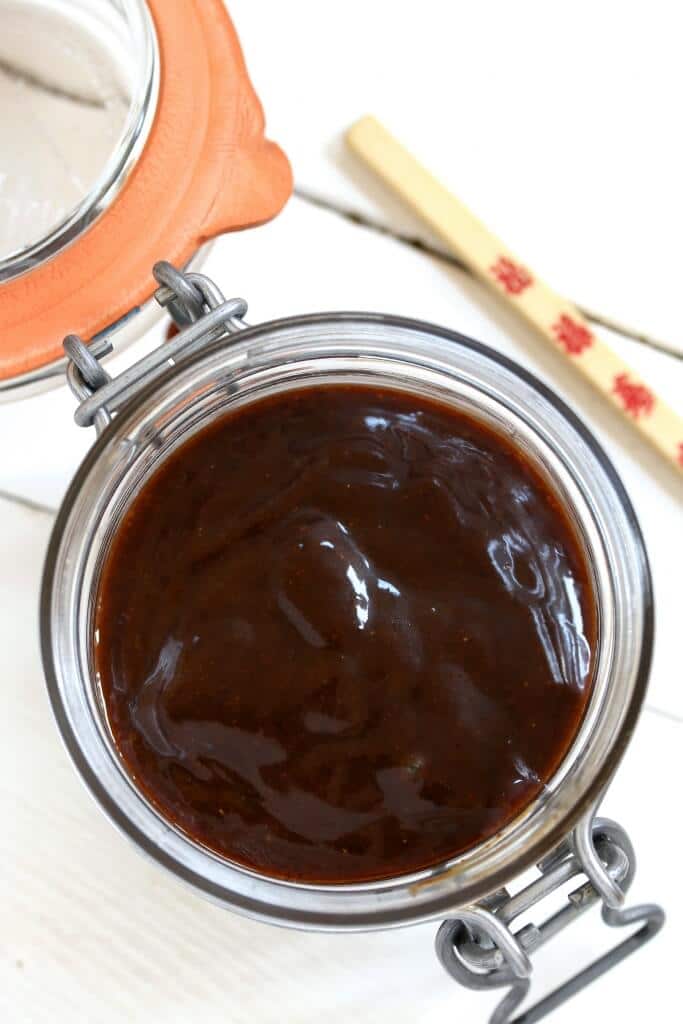 Can I Make This Sugar Free?
Yes!  While there still be a little bit of sugar from the prunes, you can make this sauce low sugar by using a brown sugar alternative like Sukrin Gold.
Hoisin Sauce Recipe
Let's get started!
There are just two steps to make this sauce:
Place all the ingredients in a blender
Puree until smooth.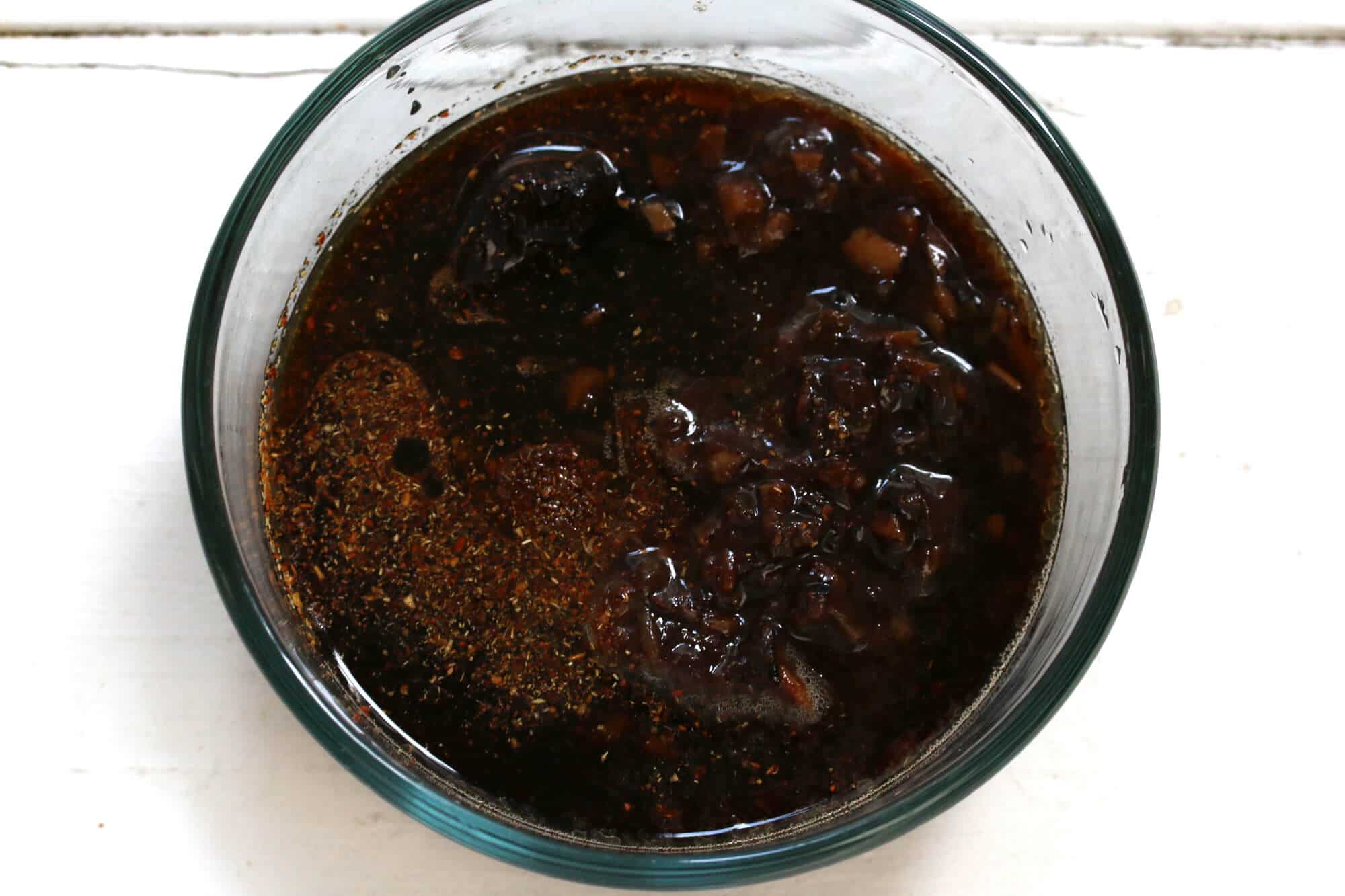 That's all there's to it!
Pour the sauce into a glass jar with a lid and store it in the refrigerator where it will keep for about a week.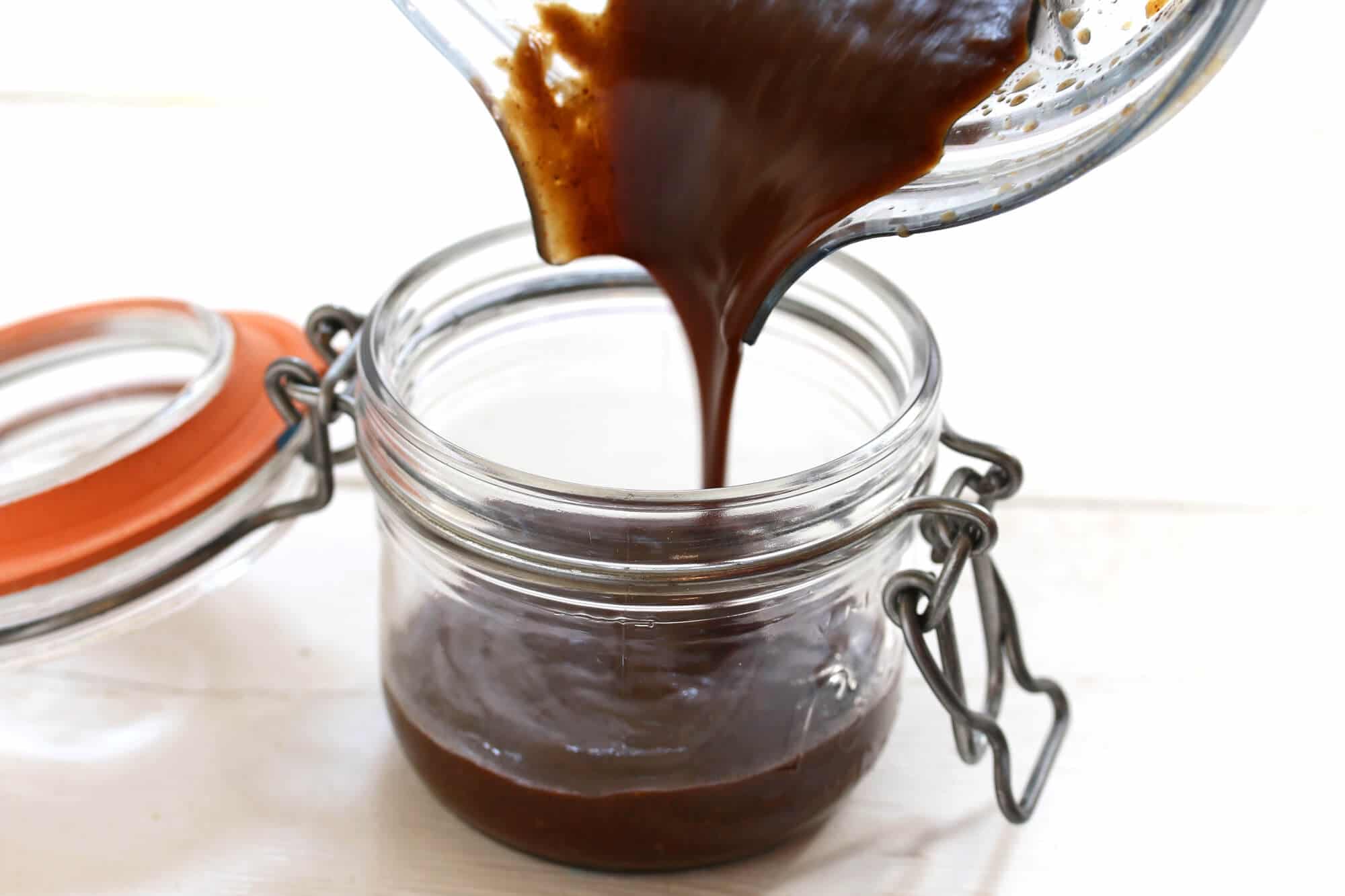 You can also freeze this for up to 3 months if you have more than you're able to use or if you want to make a larger batch to conveniently have on hand whenever you need it.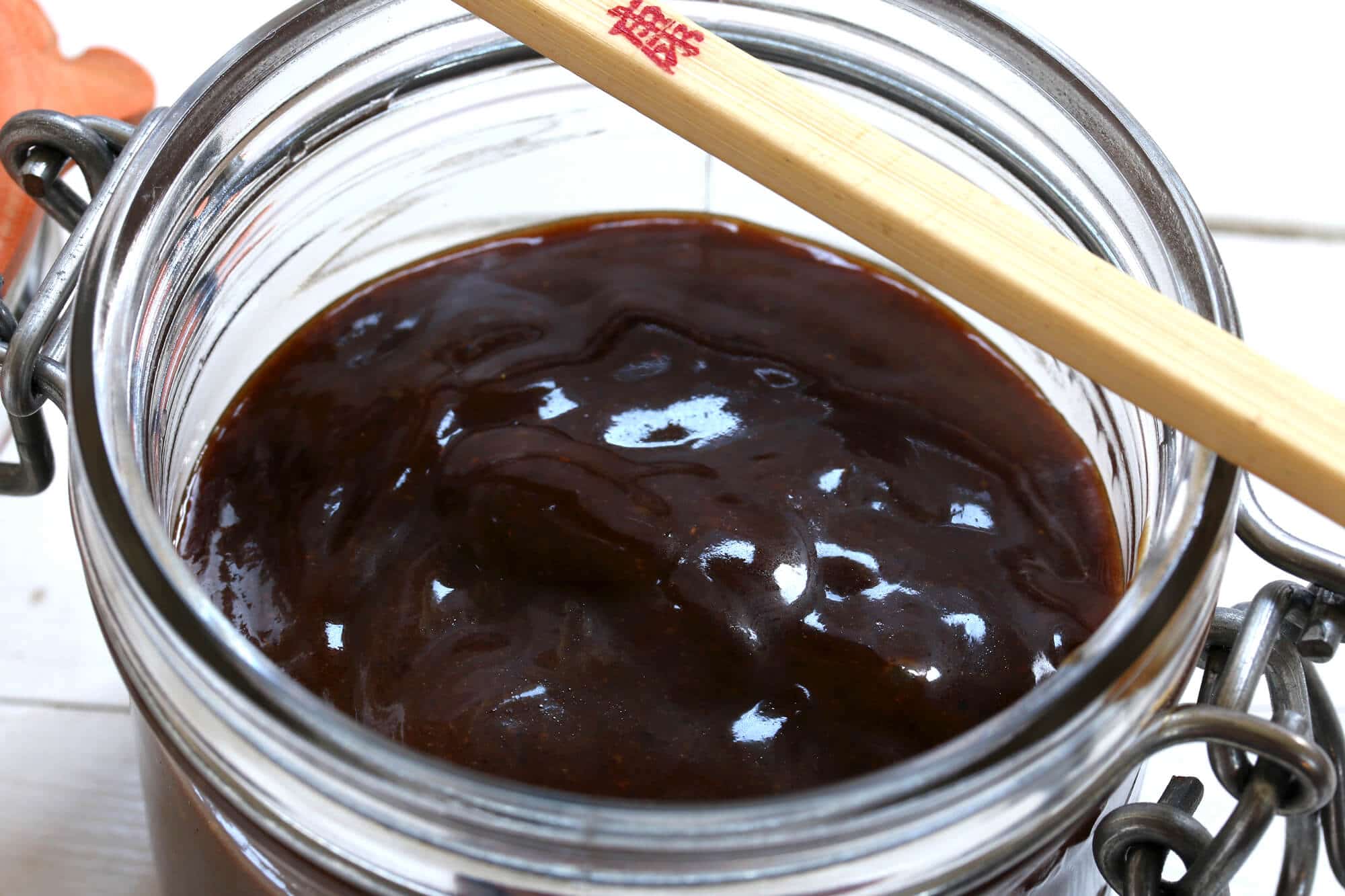 Enjoy!
See "Hoisin Sauce Uses" above for some delicious ideas on how to use this versatile condiment.
For more phenomenal Asian condiments, be sure to try our: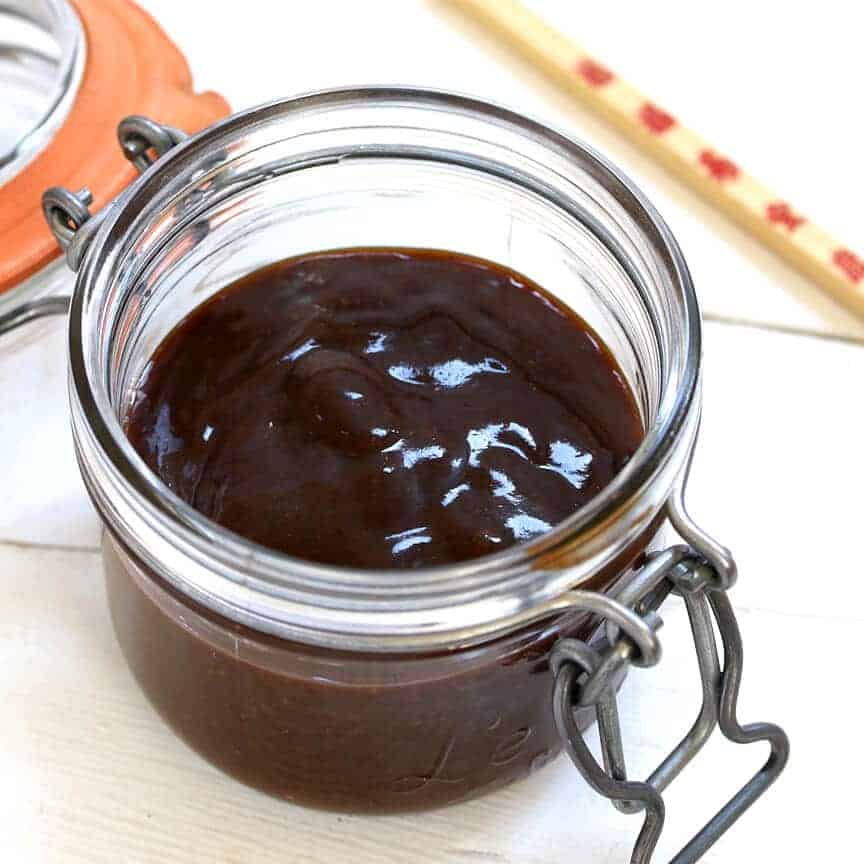 Authentic Hoisin Sauce
An incredible depth of flavor, this will work magic on the dishes you add it to. Simply the best, you'll never use store-bought again!
Instructions
Combine all ingredients in a blender and puree until smooth. Store in the fridge in a non-reactive airtight container. Chill overnight or preferable 24 hours before using. Will keep in the fridge for up to 2 weeks.
Nutrition
Serving:
1
tablespoon
|
Calories:
35
kcal
|
Carbohydrates:
7
g
|
Sodium:
89
mg
|
Potassium:
31
mg
|
Sugar:
6
g
|
Vitamin A:
20
IU
|
Calcium:
6
mg
|
Iron:
0.1
mg
Originally published on The Daring Gourmet on April 26, 2016