This homemade Everything Bagel Seasoning recipe is sure to become a favorite blend that you'll reach for time and time again!  Wonderfully fragrant and bursting with flavor, this popular seasoning blend makes practically everything taste more delicious!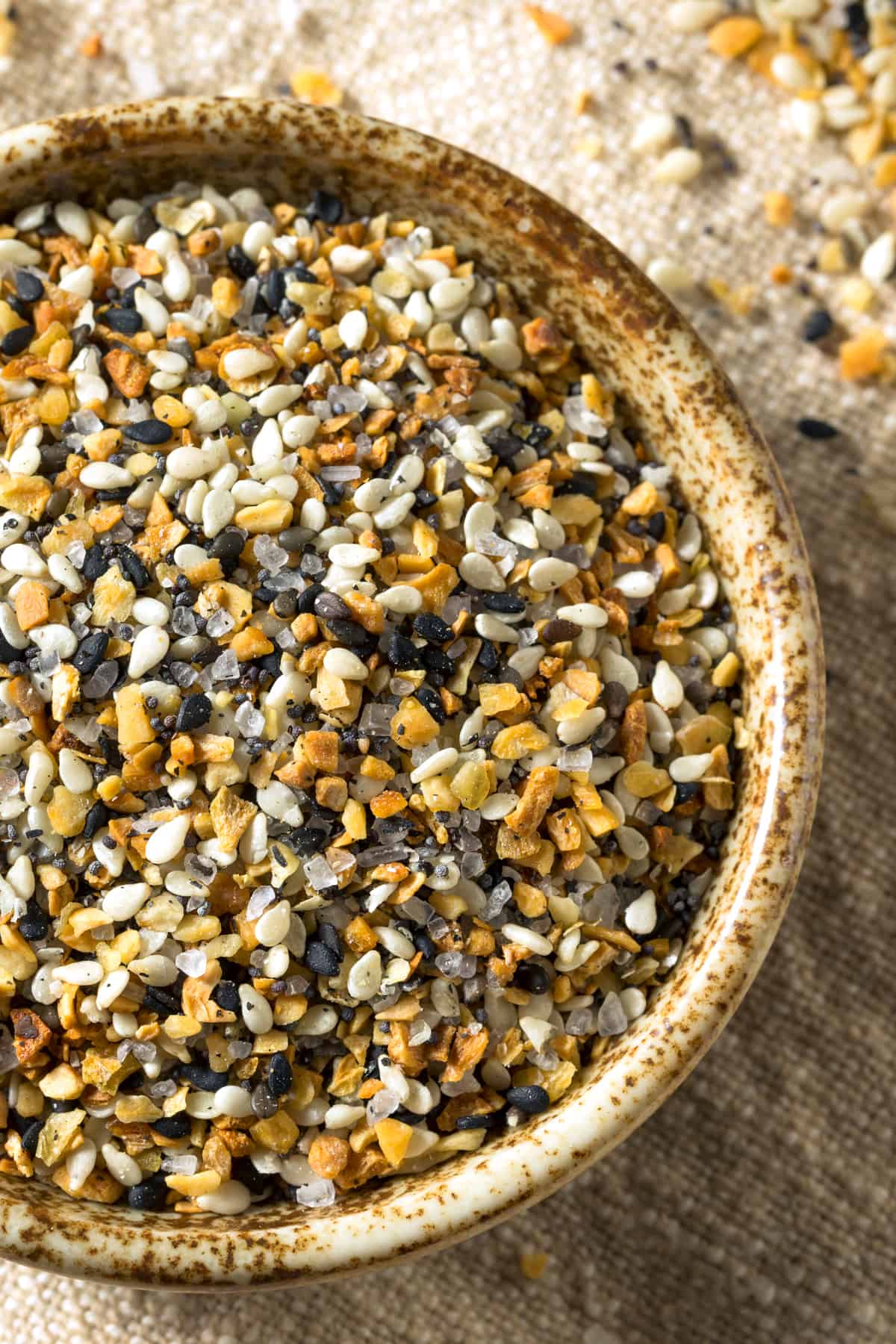 What is an Everything Bagel?
Our featured seasoning blend comes from what is known as an "everything bagel", which is a type of bagel that is topped with, well, everything – all the toppings most commonly associated with bagels.  It's the bagel for people like me who can't decide whether they're in the mood for a sesame, poppy, garlic, or onion bagel, and so rather than make us choose just one, the bagel is heaped with EVERYTHING!  The result is a robust and flavorful combination with a slightly crunchy texture that has become a popular choice among bagel enthusiasts worldwide.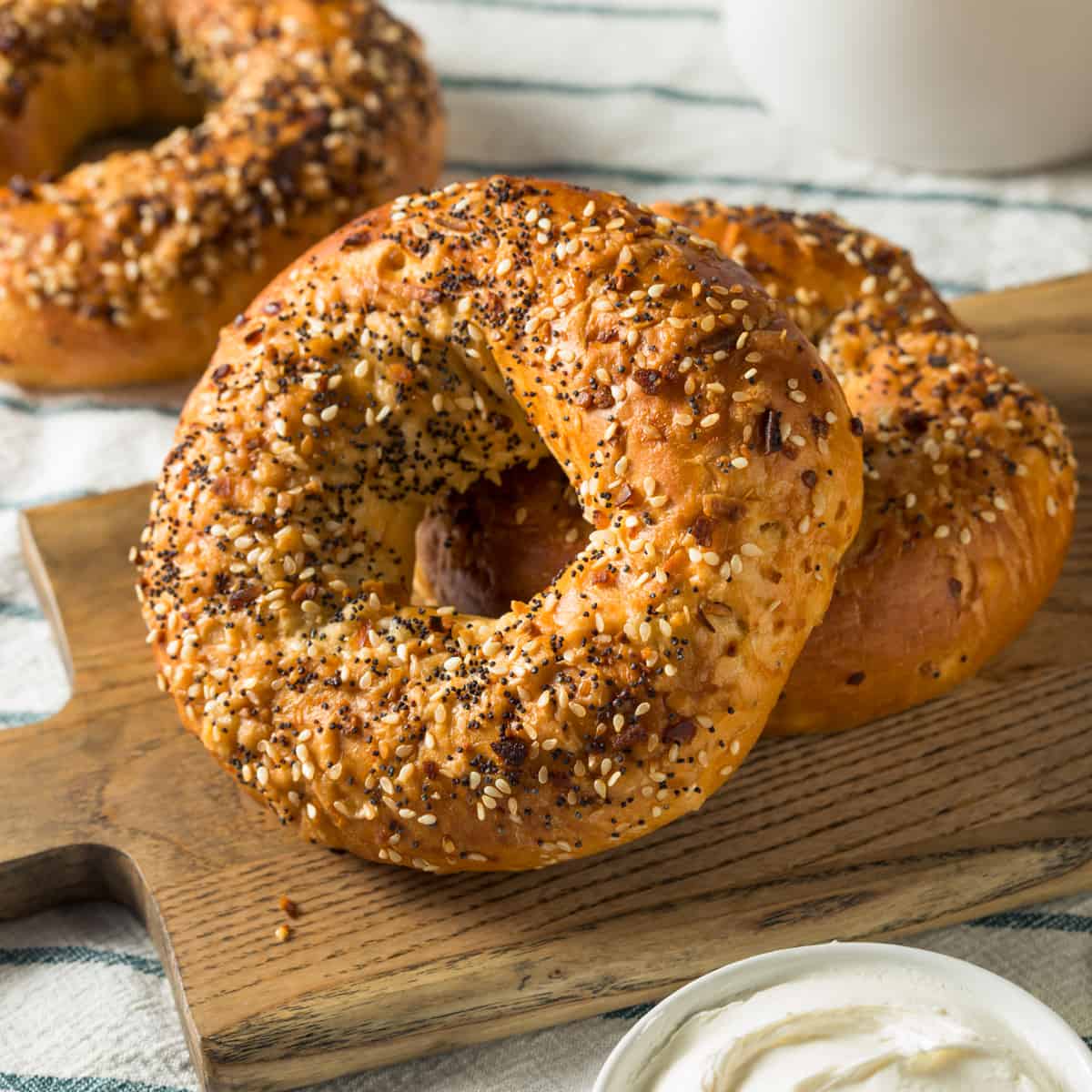 What is in Everything Bagel Seasoning?
As its name suggests, Everything Bagel Seasoning, also called Everything But the Bagel Seasoning, is a blend that incorporates the seasonings that go into an "everything bagel".  It's deliciously fragrant, earthy, and nutty and positively bursting with flavor.  The typical ingredients are:
Some variations exist (for example some people include caraway seeds or chili flakes), but this is the most common blend of ingredients.
Avoid using regular salt as it will sink to the bottom and won't distribute evenly when you shake the seasoning onto whatever you're sprinkling it on.  For that reason it's important to use flaked salt.  I LOVE and highly recommend Maldon sea salt.
For a fun and yummy twist, try substituting some of the flaked salt with smoked Maldon sea salt!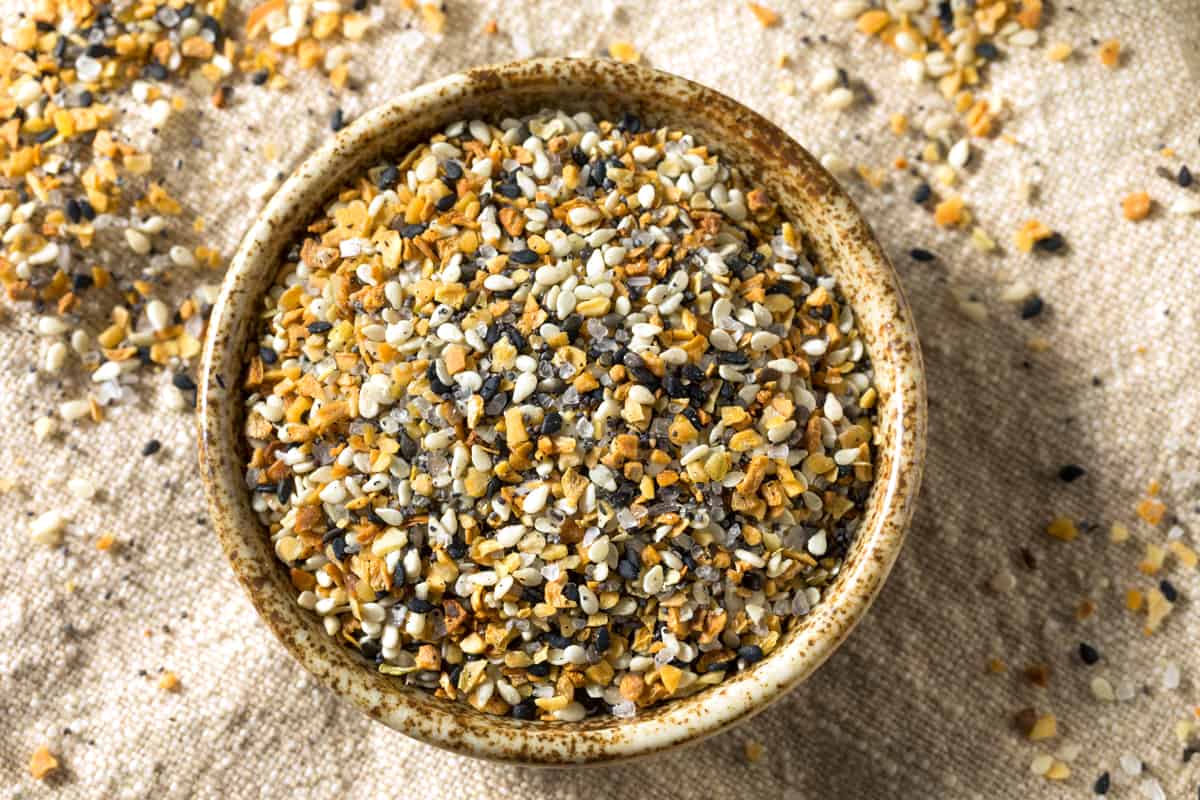 How to Use Everything Bagel Seasoning
Everything Bagel Seasoning can be used in a variety of ways to enhance the flavor of foods.  Here are some popular uses:
Bagels, Breads, Rolls and Pizza Dough: Use everything bagel seasoning as a topping for homemade bagels, breads, rolls, or pizza dough before baking.  I also love sprinkling it on my homemade focaccia (use this recipe but omit the olives).
Bagel Chips and Pita Chips:  Sprinkle it on your bagel or pita chips before baking.
Eggs: Sprinkle it on scrambled eggs, fried eggs, hard boiled eggs, or omelets.
Avocado Toast: Sprinkle it on top of avocado toast for flavor and texture contrast.
Salads: Sprinkle it on your salads for a flavor boost and nice bit of crunch.  Alternatively, you can add it to your salad dressings.
Roasted Vegetables: Toss roasted vegetables with a bit of olive oil and everything bagel seasoning before roasting.
Dips and Spreads: Mix it into hummus, cream cheese or yogurt-based dips.
Seasoning for Meat or Fish: Sprinkle it on chicken, fish, or steak before grilling or baking.
Breadcrumb Coating:  Mix it with breadcrumbs as a coating for chicken or pork.  
Add some to your cottage cheese.
Sprinkle it on popcorn.
Sprinkle it on baked potatoes or sliced tomatoes.
The Key to the BEST Everything But the Bagel Seasoning
For one, it's the ratio of ingredients.  A generous amount of onion and garlic is key to the flavor.  But very importantly, it's what you DO to the onion and garlic and sesame seeds, and it's a step that other recipes omit:  TOAST them!  It's no secret that roasting garlic and onions and toasting sesame seeds (think tahini and toasted sesame oil) is what makes them taste amazing, and the same treatment holds true for this seasoning blend.  This one step will completely transform your seasoning blend, really bringing out the flavors of those ingredients.  Now, if you're using your Everything Bagel Seasoning on homemade bagels and bread that you'll be baking, you don't need to toast the ingredients in advance because the oven will do that for you as the bread items are baking.  But if you're using your seasoning blend in non-baking applications trust me, taking that extra minute or two to briefly toast the onion, garlic, and sesame seeds will make ALL difference in the flavor of your blend.
Everything Bagel Seasoning Recipe
To make this blend:
Briefly toast the white sesame seeds, onion and garlic in a dry skillet over medium heat until they just start to turn golden and are fragrant.  Remove from heat and let cool completely.  NOTE:  If you're using this blend on homemade bagels or breads you do not need to toast these ingredients as the oven will do that while the bread items are baking.
Combine the sesame seeds, onion and garlic with the remaining ingredients and store in an airtight jar in a dark, cool place.
If you toasted the ingredients, for the best flavor we recommend using the blend within one month.  Otherwise, it will keep for at least 3 months.
Enjoy!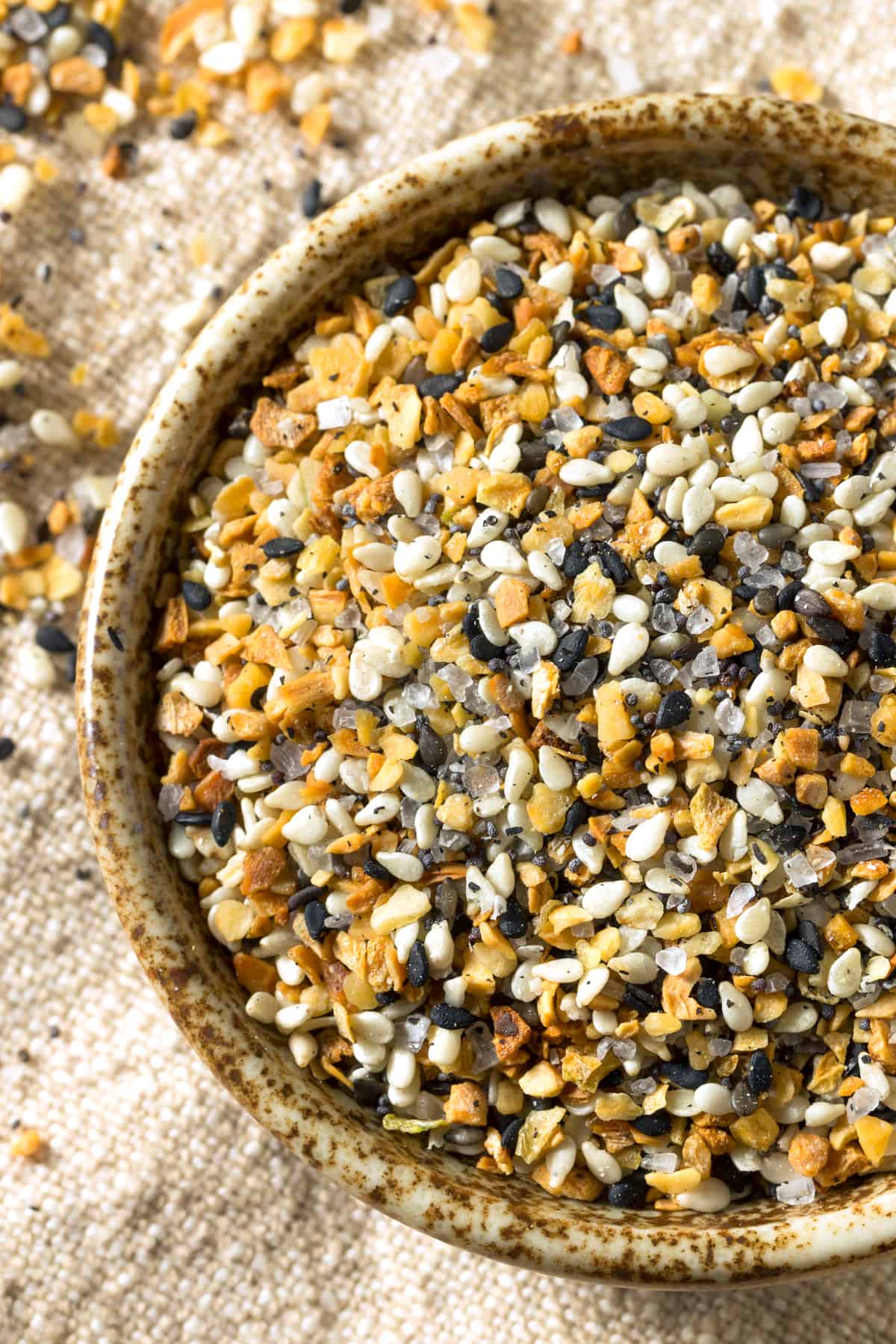 For more homemade seasoning blends be sure to try our: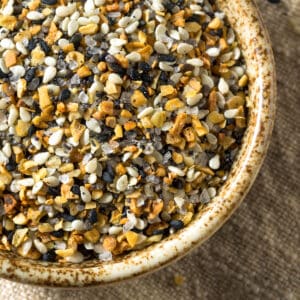 Everything Bagel Seasoning
A fragrant and thoroughly delicious Everything Bagel Seasoning that adds flavor and texture to your favorite foods!
Instructions
Briefly toast the white sesame seeds, onion, and garlic in a dry skillet over medium heat until they just start to turn golden and are fragrant.  Remove from heat and let cool completely.  NOTE:  If you're using this blend on homemade bagels or breads you do not need to toast these ingredients as the oven will do that while the bread items are baking.

Combine the sesame seeds, onion and garlic with the remaining ingredients and store in an airtight jar in a dark, cool place.

If you toasted the ingredients we recommend using the blend within one month for the best flavor, otherwise it will keep for at least 3 months.

Makes about 1/2 cup
Nutrition
Serving:
2
teaspoons
|
Calories:
19
kcal
|
Carbohydrates:
2
g
|
Protein:
1
g
|
Fat:
1
g
|
Saturated Fat:
0.2
g
|
Polyunsaturated Fat:
1
g
|
Monounsaturated Fat:
0.4
g
|
Sodium:
873
mg
|
Potassium:
33
mg
|
Fiber:
1
g
|
Sugar:
0.1
g
|
Vitamin A:
0.2
IU
|
Vitamin C:
0.1
mg
|
Calcium:
32
mg
|
Iron:
0.5
mg