Made with ingredients you already have in your pantry, this homemade Pumpkin Pie Spice recipe is super quick to make and is cheaper and much more FLAVORFUL than store-bought!   Use this in any recipe calling for pumpkin spice and you'll immediately notice the massive flavor improvement from this fresh spice blend.  There's just simply good reason to buy pumpkin pie spice!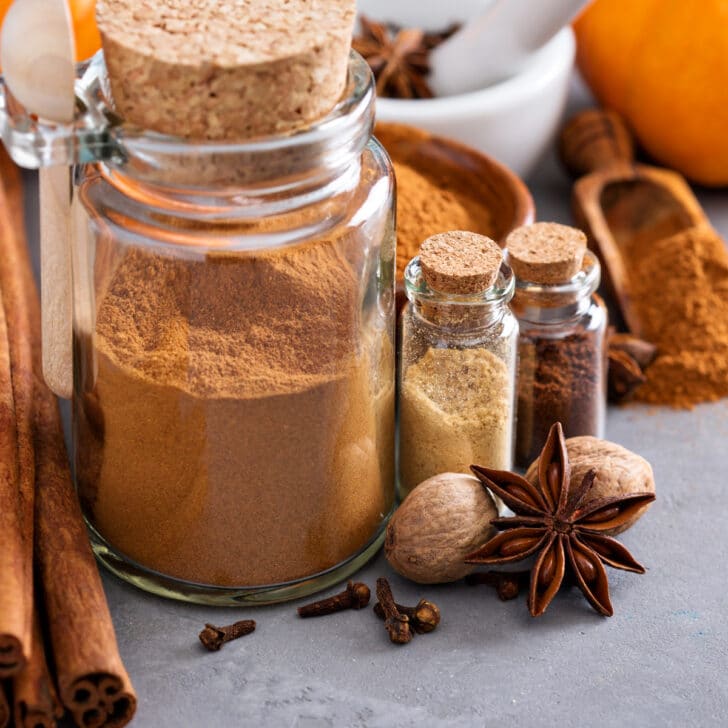 This homemade pumpkin pie spice comes together in less than 5 minutes so you can easily make fresh, flavorful batches of it on demand!
I ALWAYS recommend making homemade spice blends.  There are several good reasons for that:  First and foremost 1) It's fresher and MUCH more flavorful (who knows how long those store-bought blends have been sitting in the warehouse and then on the store shelves), 2) You have full control over the quality of the ingredients you're using, 3) You can tailor the ratios of the individual spices to your taste, and 4) It's MUCH cheaper to make your own!  So as with all spice blends, there is simply no good reason to ever buy pumpkin pie spice!
Pumpkin Pie Spice Recipe
To make this blend simply place all of the spices in a jar and give it a shake until the spices are combined.  Store it in an airtight jar.  It will keep for several months but I recommend making small batches to use up quickly so the flavors stay vibrant.
If you don't have mace you can substitute more nutmeg, but we highly recommend mace for the wonderful "old fashioned" flavor it contributes.
This spice blend is easily customizable.  For a more intense flavor you can increase the allspice and cloves, and for a softer, warmer flavor you can increase the cinnamon.   You can play with the spice ratios and tailor it to your own tastes.
How To Use Pumpkin Pie Spice
Those warm and cozy spices that your and winter recipes call for such as cinnamon, ginger, nutmeg, mace, cloves, and allspice…when you put them all together they've come to be known as Pumpkin Pie Spice.  So using this pumpkin pie spice blend is as easy as substituting it in place of any recipe that calls for any combination of those spices.  So if a waffle recipe calls for some cinnamon and cloves, you can jazz up the flavor by using some of this pumpkin spice instead.
To add a dash of warmth and flavor to your desserts, add some pumpkin spice to your muffins, cakes, cookies, banana bread, waffles, pancakes, rice krispie treats, French toast, and of course your pumpkin or sweet potato pie.
But don't stop at desserts:  Add it to your roasted squash or root vegetables, add a dash to your Sunday roast or stew for a delightful exotic touch, sprinkle some over your morning oatmeal, your midday milkshake, evening hot chocolate, or add it to your breads, whipped cream, yogurt, and ice cream.  It's a surprisingly versatile spice blend!
And put in a jar it to make the perfect gift to give to family and friends to ring in the chilly months!
For more delicious homemade spice blends be sure to try our: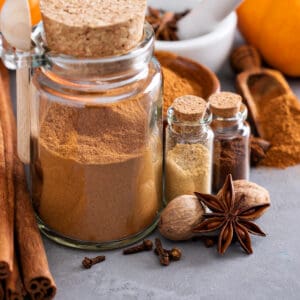 Pumpkin Pie Spice
Fresher, more flavorful, and cheaper than store-bought, this homemade Pumpkin Pie Spice is deliciously versatile!
Ingredients
2

tablespoons

ground cinnamon

2

teaspoons

ground ginger

3/4

teaspoon

ground nutmeg

3/4

teaspoon

ground mace

1/2

teaspoon

ground allspice

1/2

teaspoon

ground cloves
Instructions
Place all the spices in a jar and shake until combined. Store in an airtight jar, preferably in a dark, cool place. Will keep for several months.
Nutrition
Calories:
24
kcal
|
Carbohydrates:
6
g
|
Protein:
1
g
|
Fat:
1
g
|
Saturated Fat:
1
g
|
Sodium:
3
mg
|
Potassium:
41
mg
|
Fiber:
3
g
|
Sugar:
1
g
|
Calcium:
53
mg
|
Iron:
1
mg
Image of glass jar © Elena Veselova| Dreamstime
Originally published on The Daring Gourmet November 25, 2020