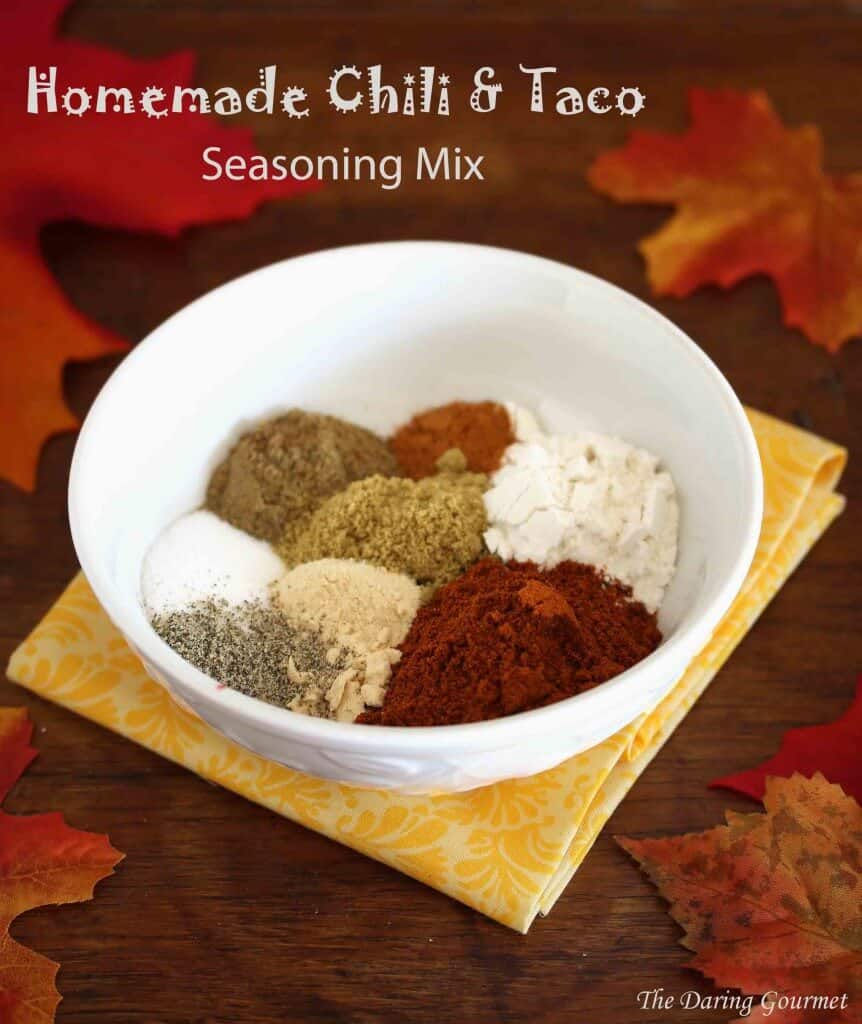 Leave the store bought seasoning pouches on the shelf.  Not only is this homemade version free of any fillers and MSG, it tastes better!
Use this Homemade Chili and Taco Seasoning Mix exactly as you would the store bought stuff in any recipe that calls for it.  It takes all of 2 minutes to make it.  Make some ahead of time and keep it stored in an airtight container until you're ready to use it.  It also makes a cute gift idea to give away in little sachets!
This Homemade Chili and Taco Seasoning Mix comes with just the right ratio of flavors.  Feel free to substitute or add a particular chili powder of your choice.  For example, depending on what I'm making I'll sometimes add some additional ancho chili powder.  Or if I'm using it for something really spicy I'll add some extra cayenne pepper.
For a delicious batch of chili, tacos, burritos, Mexican-style casseroles, etc, this is the perfect seasoning blend.
To make it simply combine all ingredients and store in an airtight jar, bag or container until ready to use.  I prefer to grind all of my different spice blends up in a Spice and Coffee Grinder.  They're inexpensive and will last you a long time for the purpose (I've been using mine for almost 8 years).
Happy spice blend making!

Homemade Chili & Taco Seasoning Mix
Quick and easy to make, free of any fillers or MSG, and tastes better than store bought! Use this Homemade Chili and Taco Seasoning Mix as you would the bought packaged mixes.
:
Kimberly Killebrew, www.daringgourmet.com
Serves:
Equivalent of 1 store bought package
Ingredients
2 tablespoons flour
3 tablespoons chili powder
½ teaspoon crushed dried red pepper (or cayenne pepper)
1 teaspoon sugar
2½ teaspoons salt
½ teaspoon dried minced garlic
2 teaspoons cumin
1 tablespoon beef bouillon granules
1 teaspoon onion powder
½ teaspoon garlic powder
½ teaspoon freshly ground black pepper
Cayenne pepper (according to desired heat level)
Instructions
Combine all ingredients in a spice and coffee grinder (optional but recommended), grind for about 30 seconds, and store in an airtight jar, bag or container until ready to use. This recipe roughly equals one pouch of store bought chili or taco seasoning mix.