One of Germany's most popular and beloved foods, here is a fool-proof and authentic German Spaetzle recipe!  Perfect texture and perfect flavor, these are just like you know and love them from the Swabia region of Southern Germany where they originated!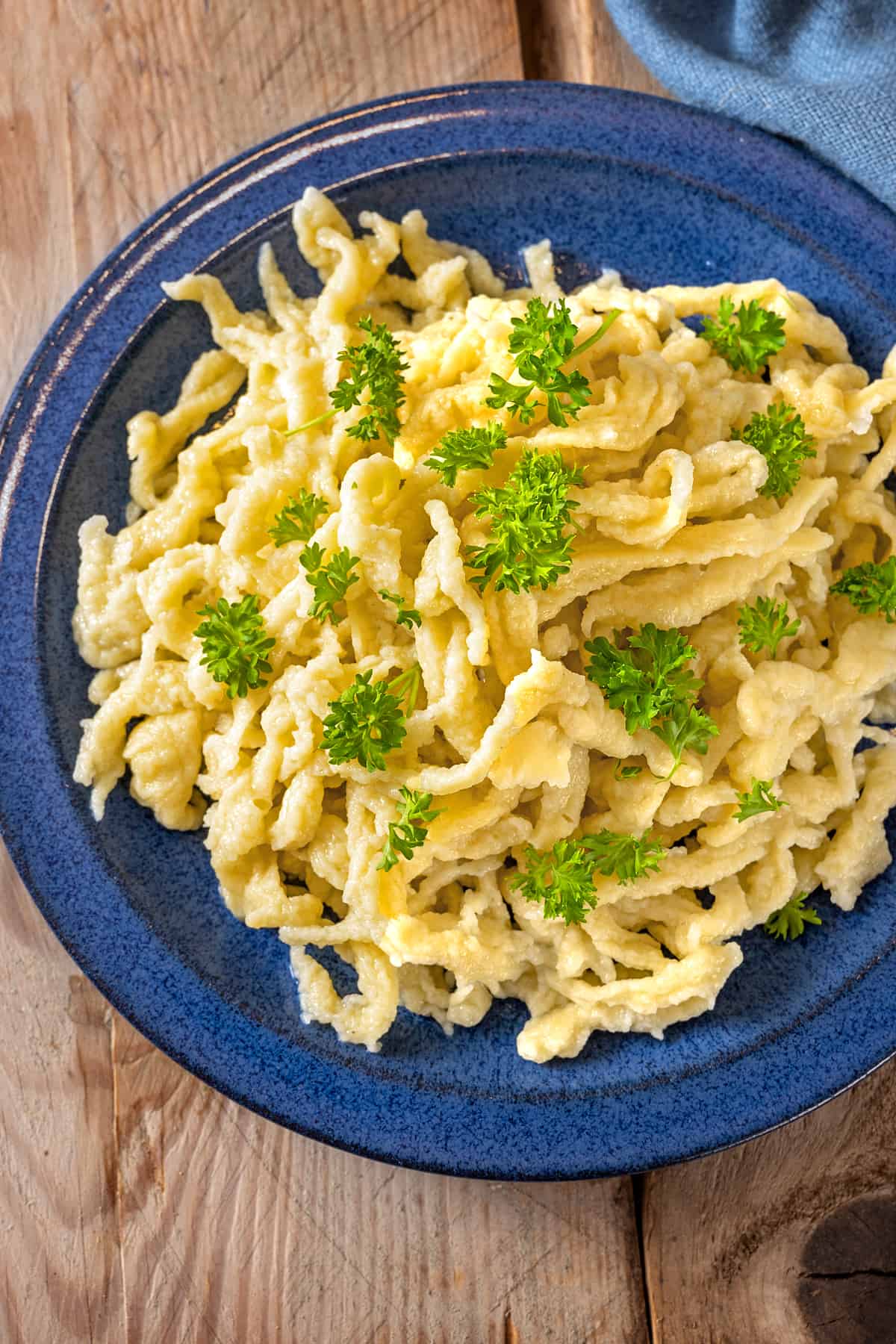 One of the most beloved foods in Germany that tourists go home talking about is Spaetzle, the famous German egg noodles from the Baden-Württemberg region of southwest Germany.  This area is also known as Schwabenland, or Swabia.  I grew up in Stuttgart, the capital of Baden-Württemberg, watching my Mom and Oma make spaetzle – I learned from the best!
Stuttgart is Germany's 6th largest city with a population of over 600,000. It's a bustling city of industry as well as one of great beauty and impressive history.  Stuttgart is the proud home of Mercedes-Benz, Porsche, Bosch, and the first VW Beetle prototype.  Stuttgart is also one of Germany's largest wine-producing cities and their wine-making dates back to 1108 A.D. when a Catholic monastery started making it.  Stuttgart is also home to some of the greatest philosophers and literary giants, is home to several large universities, three beautiful castles, the VfB Stuttgart (one of Germany's great soccer teams), as well as one of Germany's most famous Christmas markets.
Other famous cities in Baden-Württemberg include Heidelberg, Baden-Baden, Tübingen, Ulm, Karlsruhe, and Mannheim and it's also home to the Black Forest, the Swabian Alb, numerous rivers, lakes, and inspiring castles (like Schloss Lichtenstein below, one of my favorites).  Needless to say, there was never a dull moment growing up in Baden-Württemberg and I never took for granted the beauty of the surroundings and the richness of the culture.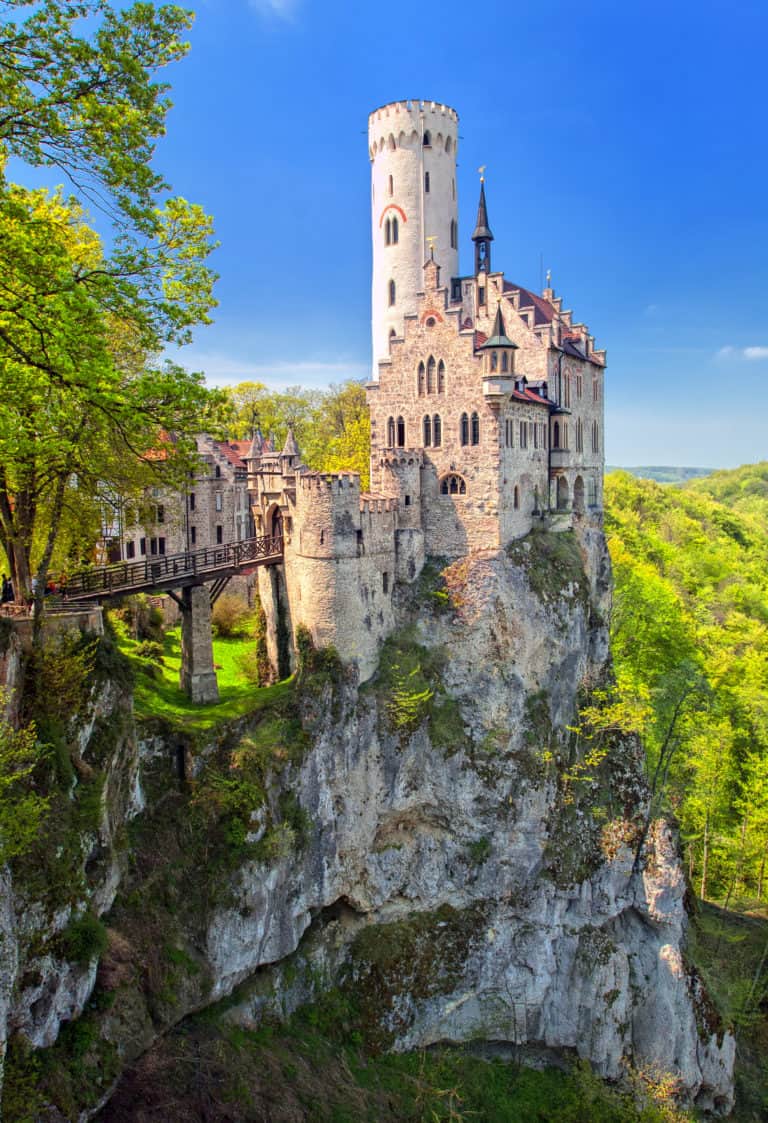 shutterstock
But let's talk Swabian FOOD!  Swabia is home to some of Germany's best food (many, including myself, will argue it's home to the best food in all of Germany).  And that's saying a lot because every region of Germany has some amazing food.  Swabia is known for its soups, sauces, meats, wursts, and salads, to name a few.  It's also home to some unique varieties of pasta including Spätzle, Schupfnudeln and Maultaschen, a unique kind of Swabian ravioli, is another popular and beloved dish.
What is Spaetzle?
Today we're featuring Spätzle, a Swabian specialty that is also enjoyed in Austria and Switzerland.  Spaetzle is a special type of egg noodle that is enjoyed with sauces and gravies as well as incorporated into a variety of different dishes.  One example is Käsespätzle (a cheese spatzle casserole with crispy fried onions).
Where did the name "Spätzle" originate?  It comes from the German word Spatzen, meaning "little sparrows", because that's what they were thought to resemble when they were traditionally made by hand.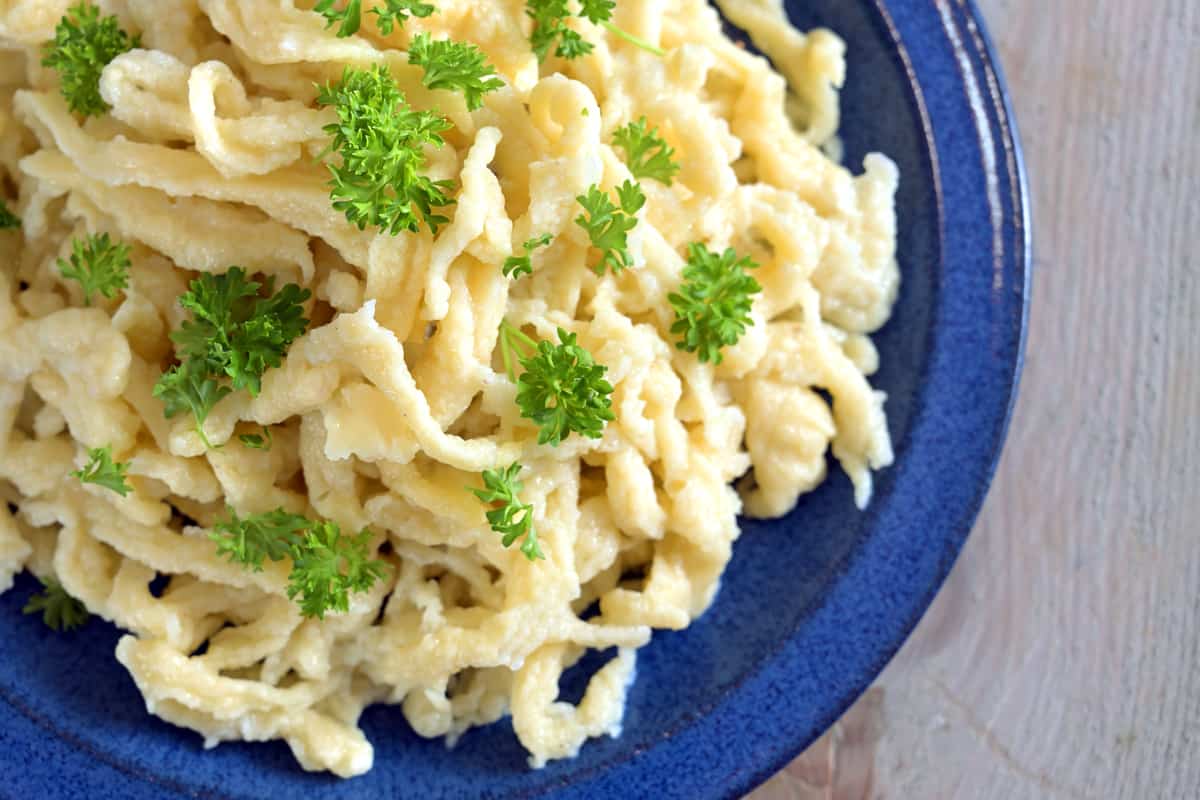 What to Serve with Spaetzle
Spaetzle is very versatile and can be served a variety of ways.  Here are a ways to serve spaetzle:
Buttered Spaetzle: This is one of the simplest and most traditional ways to serve spaetzle. After boiling and draining the cooked spaetzle, toss them with melted butter and sprinkle with chopped parsley.
German Cheese Spaetzle (Käsespätzle): Another Swabian classic and personal favorite, try our recipe for Käsespätzle.
Savory Sauces: Spaetzle can be served with any sauce or gravy.  Serve it with our classic German Geschnetzeltes or use it to make our Hungarian Mushroom Pasta.
Accompaniment to Meats: Spaetzle is the perfect choice to serve with any saucy meat dish like Jagerschnitzel, Rouladen, and Sauerbraten.
Pasta Salads: For a variation on traditional pasta salad, toss the spaetzle with fresh vegetables, herbs, a vinaigrette, and some diced cheese and ham.
In Soups: In some regions, spaetzle is added to soups, much like dumplings. Drop small portions of spaetzle dough directly into simmering soup and let them cook until they float to the surface as in this German Pea Soup.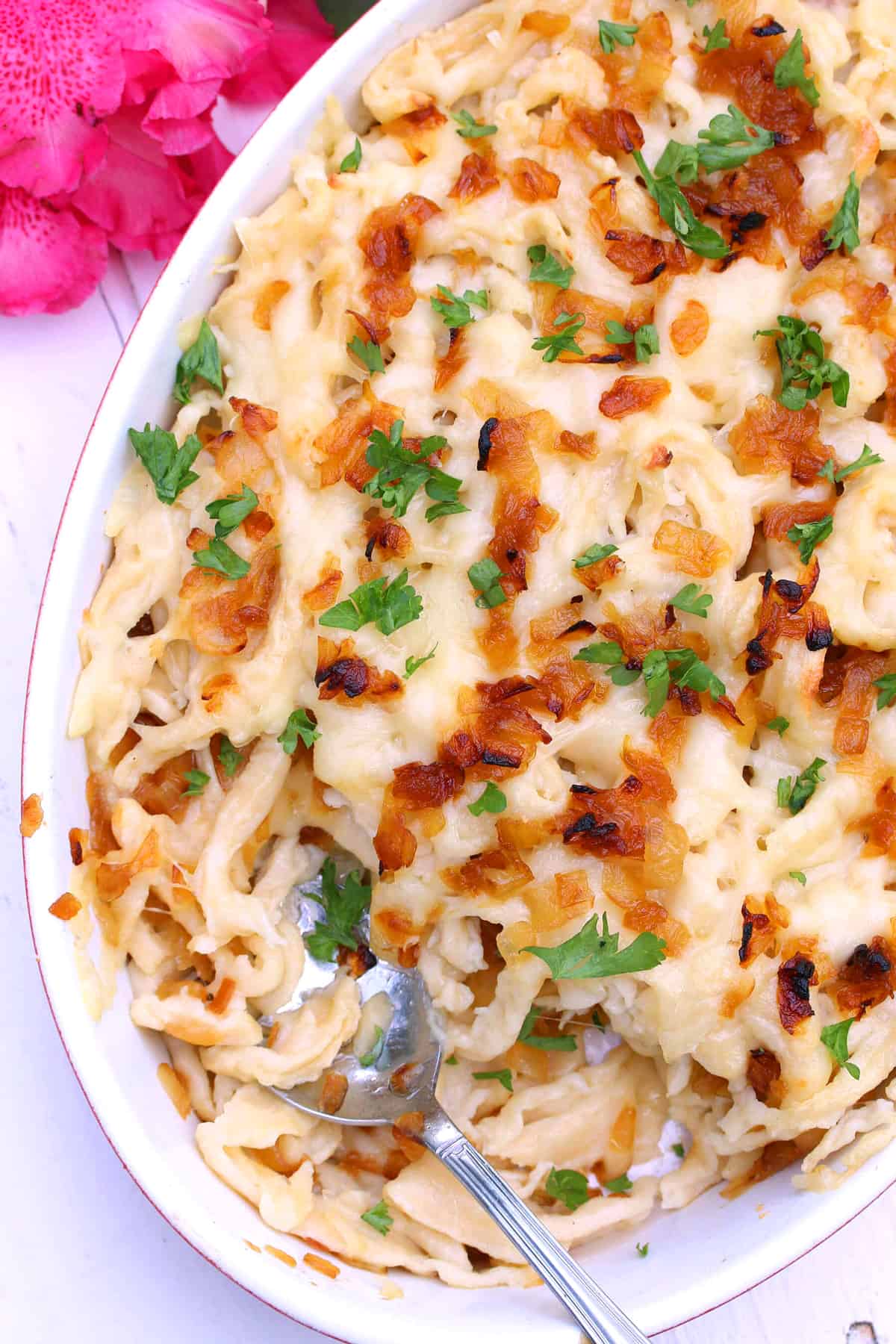 Can Spaetzle Be Made Ahead of Time?
Yes, it can be stored in the fridge for at least a couple of days and then reheated.  Melt some butter in a large skillet and toss the Spätzle in it to heat through.
Spaetzle Recipe
Let's get started!
This spaetzle recipe uses a stand mixer to knead/mix the dough.  This is actually the first time I've made it that way.  I've always done it by hand (you "knead" it by vigorously whipping it in a bowl with a spoon – over and over and over for around 20 minutes.  It's a lot of work!)  I decided to to try it with a stand mixer instead and it turned every bit as good – and it sure saves a lot of muscle strain!
Add the flour and salt in the bowl of a stand mixer.  Stir to combine.
Crack four eggs into a bowl and whisk to combine.
Make a well in the center of the flour and add the eggs.
Add the milk or water and with the dough hook o the stand mixer attached, knead/mix the dough on the "2" setting for 16-20 minutes.  Add more flour if the mixture is too runny, or more milk if it is too stiff.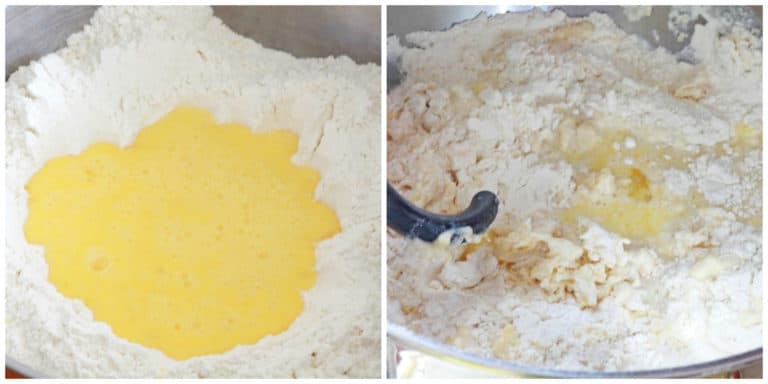 How Do I Know When the Spaetzle Batter Is Ready?
The batter is done when "bubbles" begin to form.  After 15 minutes or less of beating, use a wooden spoon and scoop and pull to stretch the batter; if bubbly holes appear, the dough is done.  If not, continue "kneading" with the mixer for another minute or two, repeating the "test" process.  See the bubble hole below?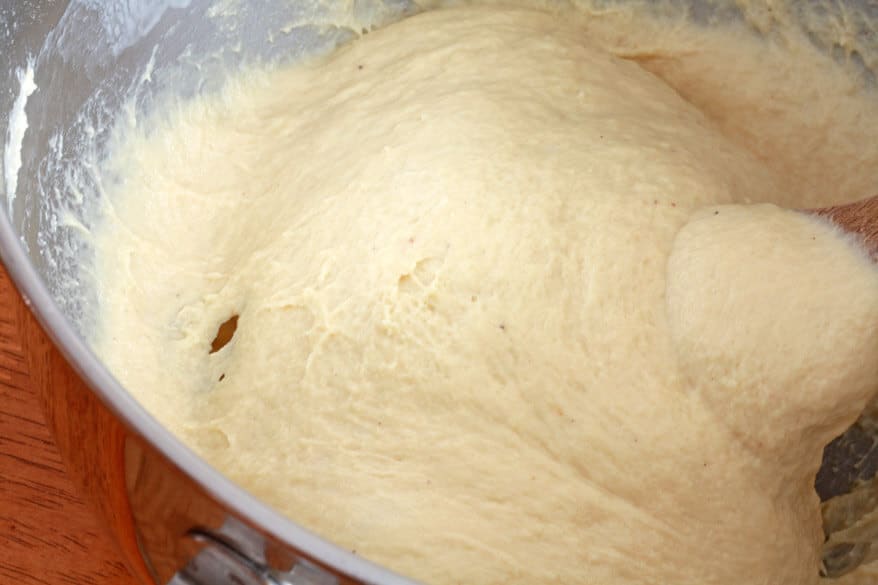 When those bubbly holes start appearing you know your batter is done.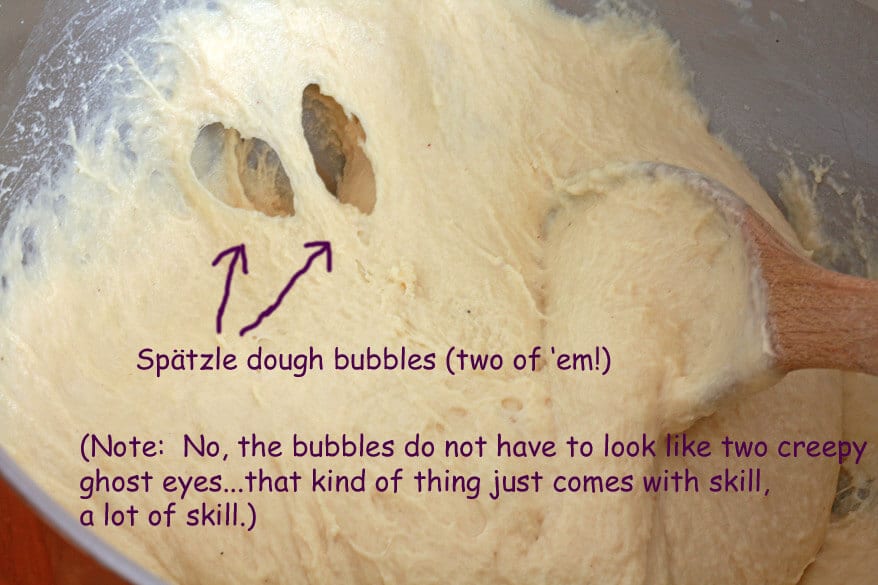 What Is the Best Spaetzle Maker?
Now that the batter is read it's time to make the Spätzle.
Traditionally, Spätzle was made by hand using a Spätzlebrett, or Spaetzle board.  You would rub a slab of dough out onto a wetted board and use a pastry cutter or long sharp knife to quickly cut off strands of the dough into simmering water.  Swabian women of previous generations were highly skilled at this and could do it so fast it would make you dizzy to watch.  Nowadays most Germans use a Spätzle maker (and even more just buy it ready made at the store.  It's the "convenience generation").
As I already mentioned, there are a few different kinds of Spätzle makers out there and you can find them easily online.
Below left is my Spaetzle maker that I bought in Germany and it's awesome.  This kind is pricey but it will last a lifetime.  It's called the Original Kull Spätzle Maker and is made in Germany.  It's built like a tank and will become a family heirloom you can pass down for generations.  Another brand that is much cheaper and is also made in Germany is this Westmark Spätzle Maker.   These Spätzle presses can also be used as potato ricers.
Below right is another option, the Küchenprofi Spätzle Lid & Scraper.  I've used this one as well with good results and it's much cheaper.  It produces a shorter, stubbier spatzle noodle.  Alternatively you can also use a metal steamer because it's similarly constructed with large holes.  You place some of the dough in the steamer over the simmering water and scrape the dough through the holes.
There's also the Küchenprofi Spätzle Plane with Pusher, which is my least favorite as it can be a little clumsy, messy, and more difficult to work with but I know people who use it.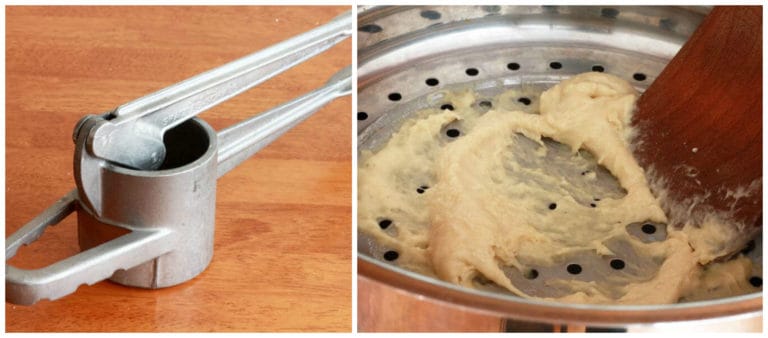 My preference is the first Spaetzle maker I linked to and what we're using in the pictures below.  Place the Spaetzle maker over a pot of lightly salted simmering water and scoop some dough into it.
Press the Spätzle maker down to squeeze the Spätzle noodles out into the simmering water.  Simmer the Spätzle for about 2-3 minutes or until they float to the top.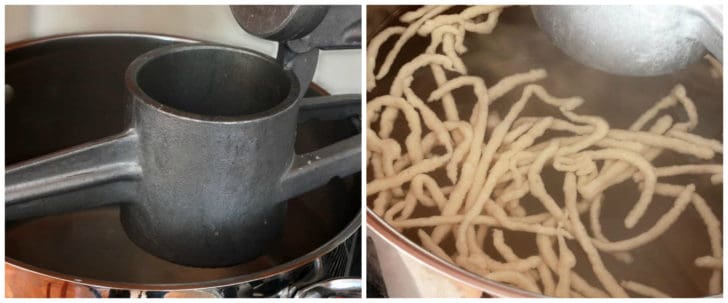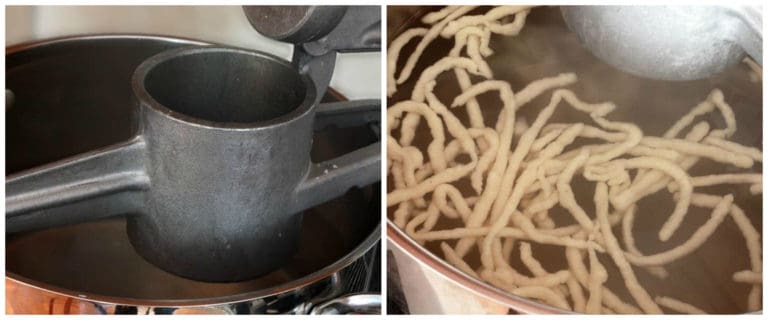 Using a slotted spoon, transfer the Spätzle to a colander and then immediately put them in a bowl of very cold water.  This helps them firm up to the desired consistency.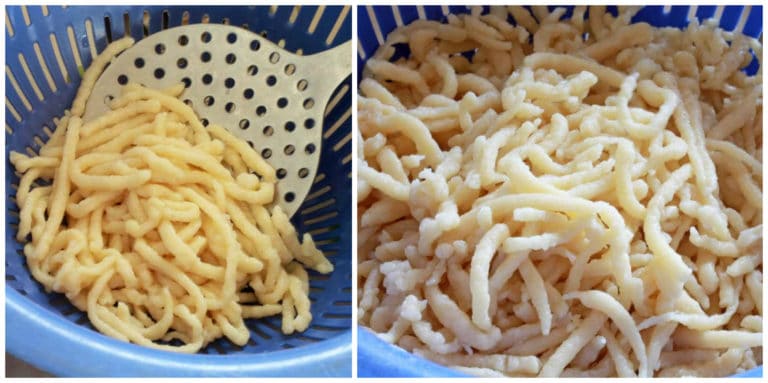 Drain the Spätzle again and toss with a little oil or melted butter to keep them from sticking.
Spätzle will keep in the fridge for at least a couple of days and then heated to serve.   Melt some butter in a pan and toss the Spaetzle in it to warm through.
See "What to Serve With Spaetzle" above in blog post for ideas!
Guten Appetit!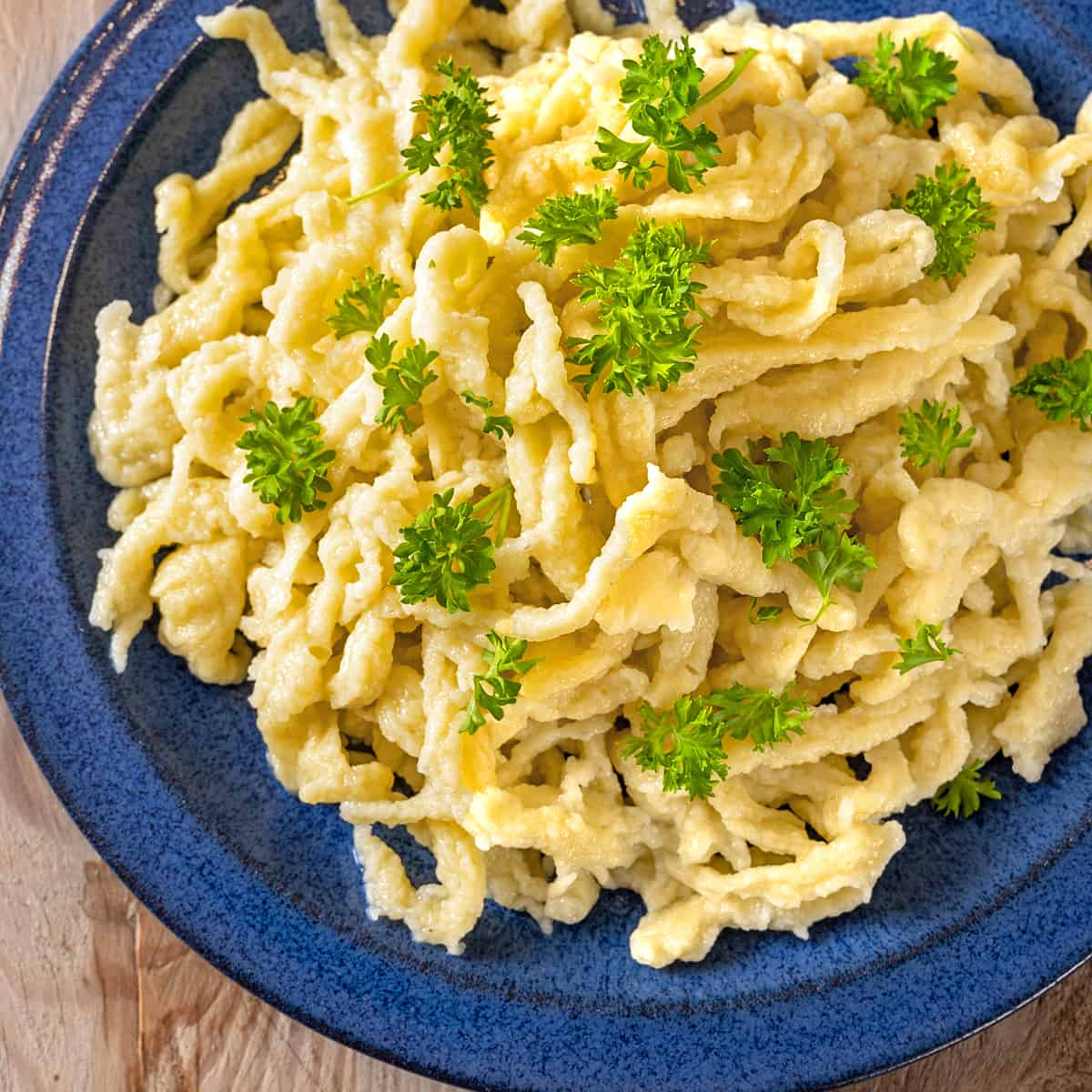 For more favorite traditional German dishes be sure to try our: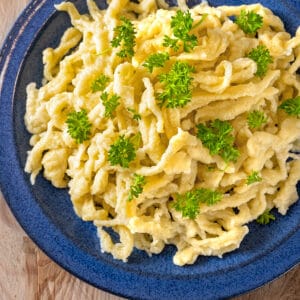 Traditional German Spaetzle
Perfect texture and perfect flavor, these traditional German Spaetzle are just like you know and love them from the Swabia region of Southern Germany!
Ingredients
2

cups

all-purpose flour

(you can also use whole wheat flour)

1 1/2

teaspoons

salt

1/8

teaspoon

freshly ground nutmeg

, optional (not traditional but adds a splash of flavor)

4

large eggs

1/2

cup

milk or water + more as needed

(milk produces a richer Spaetzle) (**add more flour if the dough is too runny, add more milk or water if it's too stiff)

butter for serving
Instructions
Add the flour and salt to the bowl of a stand mixer. Stir to combine. Crack the eggs into a small bowl and whisk them. Make a well in the center of the flour mixture and pour the eggs in it. Add the milk (start with using slightly less and add more as needed). Attach a dough hook to the stand mixer and "knead" the dough for 16-20 minutes, or until bubbles appear (see pictured instructions for details). After 15 minutes or less of beating, use a wooden spoon to scoop and pull the dough. If bubbles/holes appear, the dough is done.

Bring at least 2 quarts of lightly salted water to a boil, then reduce to a simmer. Using a Spätzle maker of your choice (I use and prefer the Spätzle press), press the noodles into the simmering water and cook for about 2-3 minutes, or until the noodles float to the top. Use a slotted spoon to transfer the noodles to a colander, and then dump the noodles in a large bowl of ice water. Drain the noodles again, toss with some melted butter and serve warm.

Make Ahead: The Spaetzle can be stored in the fridge for at least a couple of days and then reheated. Melt some butter in a large skillet and toss the Spätzle in it to heat through.
Notes
Traditionally Spätzle batter is quite thick because it was cut into noodles using the board & knife method. Even if using a Spätzle press or other method, thicker batter yields a better consistency. If you're using the Spätzle press yes, it will require some muscle strength - you don't want the batter to be so runny that it squishes right through with ease. That said, if you're straining way too hard to press the batter through, go ahead and add a bit more liquid to thin it out.
Nutrition
Calories:
345
kcal
|
Carbohydrates:
63
g
|
Protein:
12
g
|
Fat:
3
g
|
Saturated Fat:
1
g
|
Cholesterol:
109
mg
|
Sodium:
237
mg
|
Potassium:
129
mg
|
Fiber:
2
g
|
Vitamin A:
160
IU
|
Calcium:
29
mg
|
Iron:
4.4
mg
Originally published on The Daring Gourmet on August 3, 2013