Popular throughout Switzerland, Germany, eastern France and Austria, this Swiss Wurstsalat (Sausage Salad) is low carb, high protein and PACKED with flavor.  It's satisfying and delicious!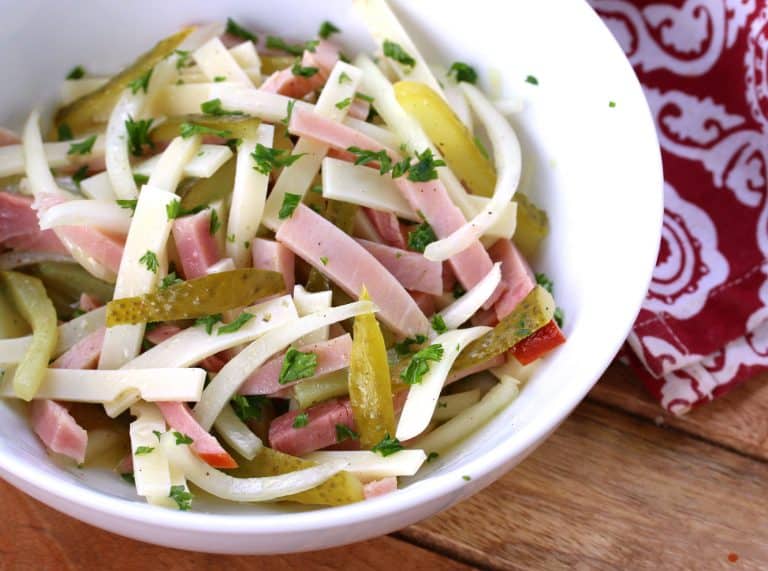 Growing up in southern Germany, I used to love going to the Gasthaus and ordering a light but filling lunch of Wurstsalat.  A plate would come out with a mound of Fleischwurst or Lyoner, Emmentaler, pickles, onions, parsley or chives, all sliced and tossed in a delicious vinaigrette.  On the side would be a basket of fresh crusty bread that I would enjoy with the salad and use it to mop up the juices.  This Schweizer Wurstsalat (Swiss sausage salad) makes a wonderfully flavorful, rustic and thoroughly satisfying meal.
You wouldn't know it if you've been following my blog the past few months (sweets & treats and holiday baking!), but I've been eating very low-carb for several months to keep my energy steady and meet my fitness goals.  This Wurstsalat is one of my favorite go-to recipes.  It's not only very low-carb, it's quick to make, can be made well in advance, keeps for a couple of days and it's delicious.  I like to keep it on hand for a ready lunch or light dinner.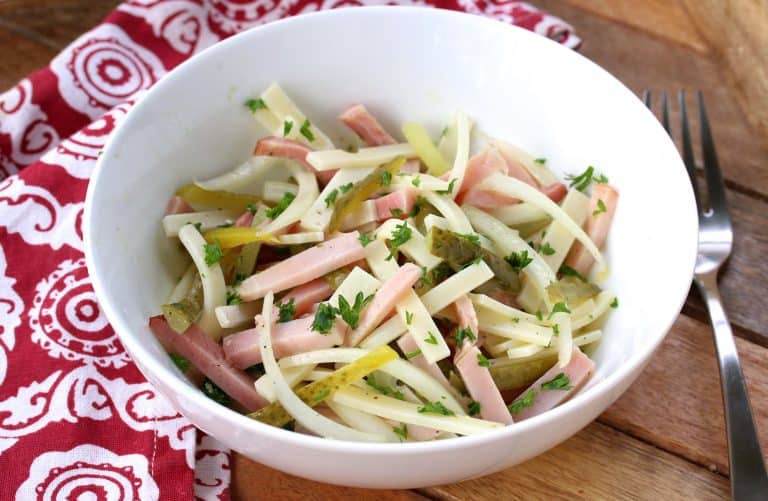 What is Wurstsalat?
Wurstsalat is German for "meat salad" though it also typically contains cheese, onions, and pickles.  There are quite a few variations of Wurstsalat.  There's Swiss Wurstsalat which includes Swiss cheese and will often use a Swiss sausage known as cervelat.  Asacian Wurstsalat also includes Swiss cheese but uses a different sausage meat.  There's also Swabian Wurstsalat (where I grew up) that has no cheese but is made from two types of sausage, including blood sausage.  And there's Bavarian Wurstsalat (where my mom is from) which uses Fleischwurst/Lyoner and has no cheese.  I've seen recipes that call it "Bavarian Wurstsalat…with Swiss Cheese" or "Swabian Wurstsalat with Swiss Cheese", etc, but really, I don't have a problem letting the Swiss take the credit for this Wurstsalat.  After all, the Germans have plenty of other dishes to brag about ;)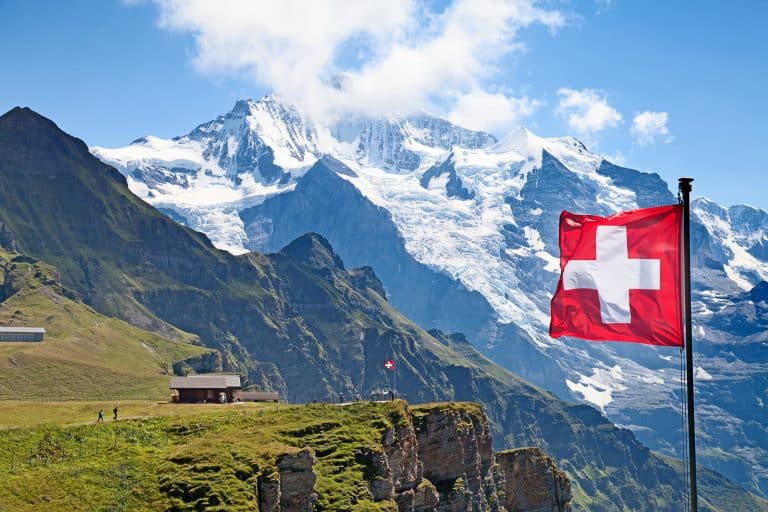 Essential Ingredients for the Best Wurstsalat
For this Swiss Wurstsalat using the right ingredients is really important for achieving an authentic flavor.  First, the pickles.  Use German pickles.  They taste nothing like American pickles.  Using the right pickles probably makes a bigger difference than any other ingredient in this salad.  Many large, well-stock grocery stores carry German pickles and they're far cheaper there than online.  Alternatively though you can find German pickles on Amazon.
Secondly, use German mustard.  It tastes nothing like Dijon or American yellow mustard.  This is harder to find locally and online may be your best bet.  You can buy German mustard on Amazon.  I like this particular brand plus once it's gone you get a mug.
Thirdly, use genuine Swiss cheese, i.e. Emmentaler.  I can't speak for "Swiss" cheese made in other countries but the "Swiss" cheese made here in the U.S. tastes nothing like the real stuff and is really anemic tasting.
Fourth, use sunflower oil.  This is the most traditional and commonly used for Wurstsalat in many of its varieties.  The flavor of the sunflower oil is what you need to achieve the right taste.
The final ingredient to address is the vinegar.  You can use apple cider vinegar and some use white wine vinegar.  I prefer the flavor of apple cider vinegar in this salad.  But what I like most is actually a combination of malt vinegar (even though it's not traditional), apple cider vinegar and a splash of Essig Essenz.  It's a terrific combination.  Regardless of what kind of vinegar you use, I recommend adding a little bit of Essig Essenz for an excellent and authentic flavor.  It's also the vinegar that is commonly used in German vinegar-based potato salads.  It's highly concentrated vinegar so you only use a tiny, tiny bit of it.  But a tiny bit goes a long way to contributing a great flavor.
The ratios of the base ingredients in this recipe are guidelines.  Feel free to alter them to include more or less meat, cheese, onions or pickles according to your preferences.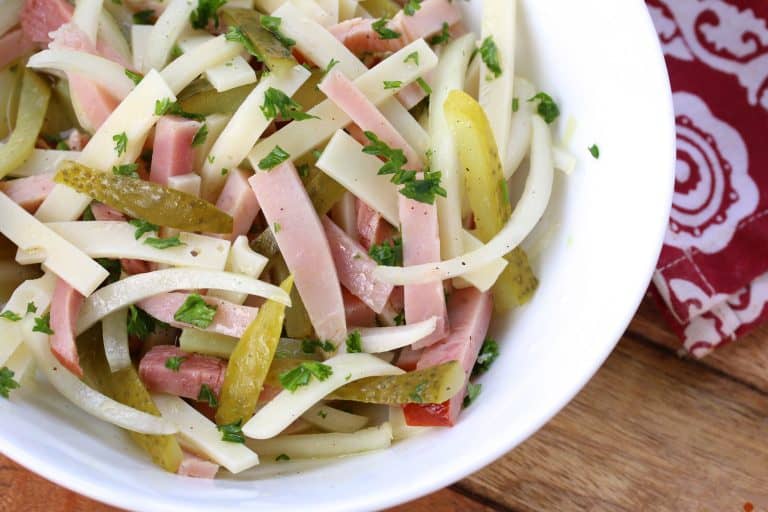 Wurstsalat Recipe
Let's get started!
Combine the vinaigrette ingredients in a bowl or jar and whisk or shake until emulsified.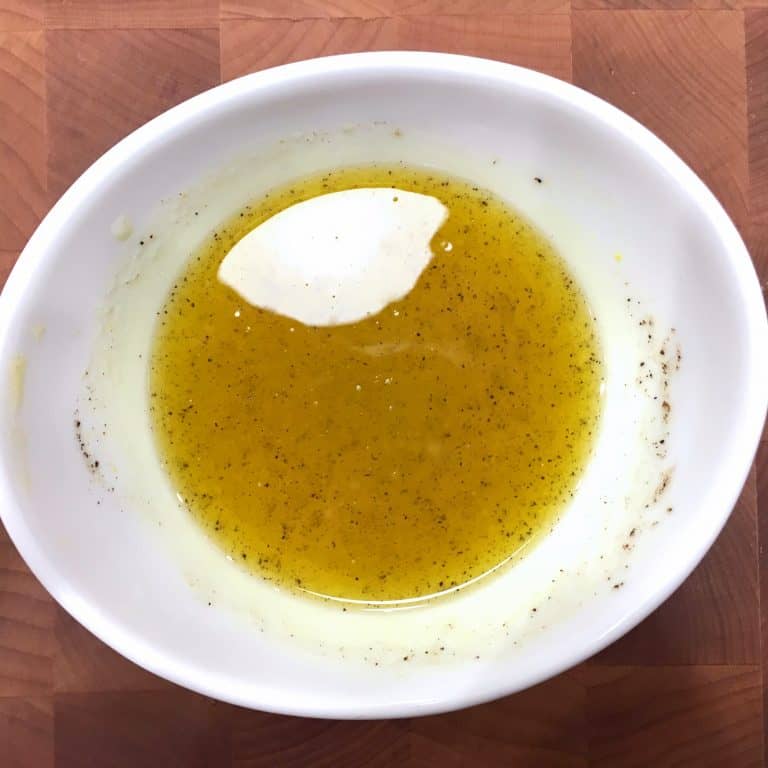 Slice the meat, cheese, pickles, onions and place them in a bowl with the chopped parsley.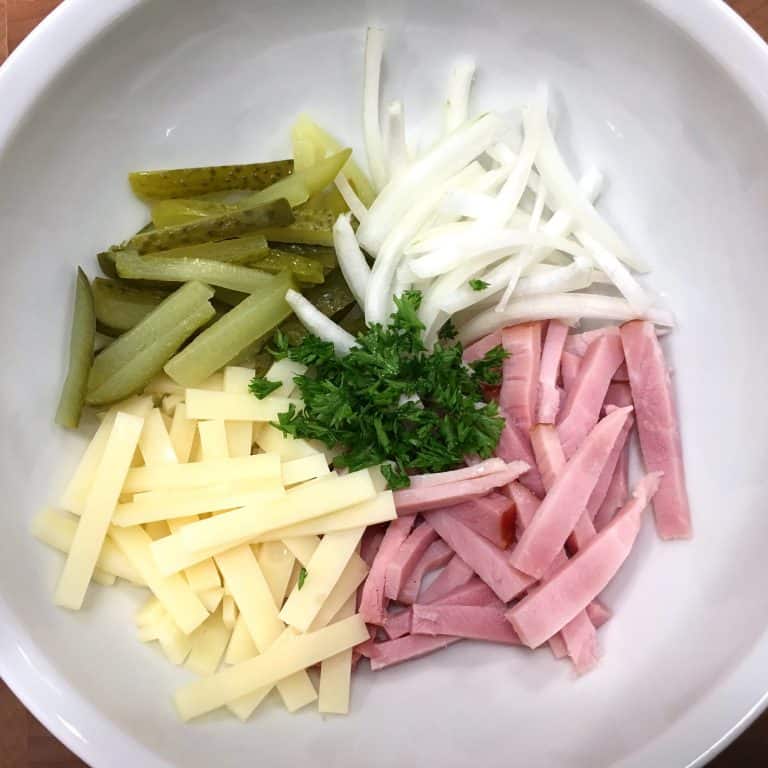 Pour the vinaigrette over the salad.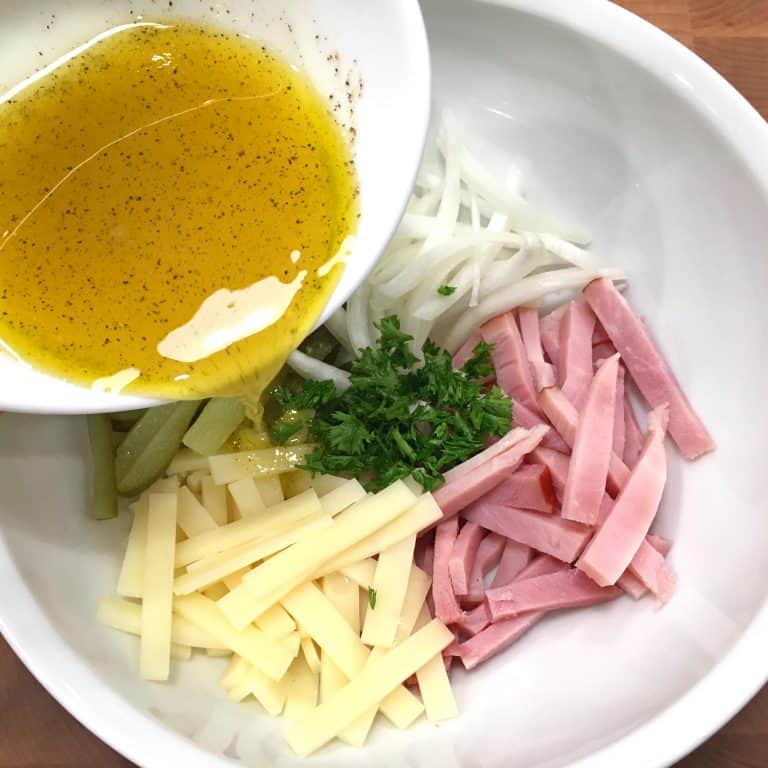 Toss to thoroughly coat the salad, add more salt and pepper to taste, and then chill for at least an hour before serving, giving it another couple of stirs.
Serve the Schweizer Wurstsalat cold or at room temperature with some crusty bread for lunch for as a light dinner.
Enjoy!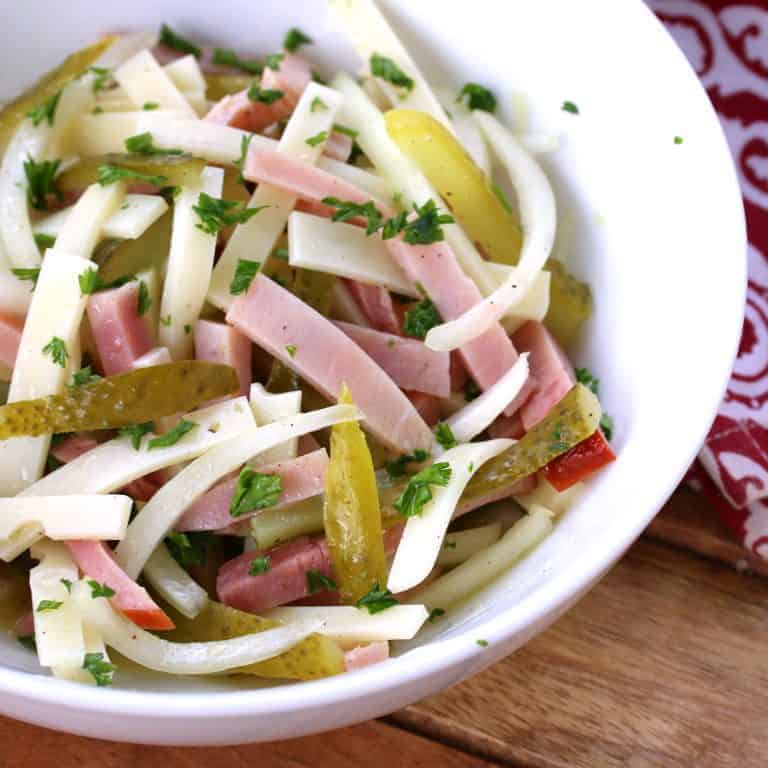 For more traditional German recipes be sure to try our: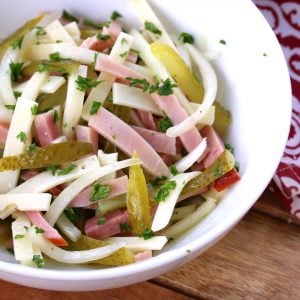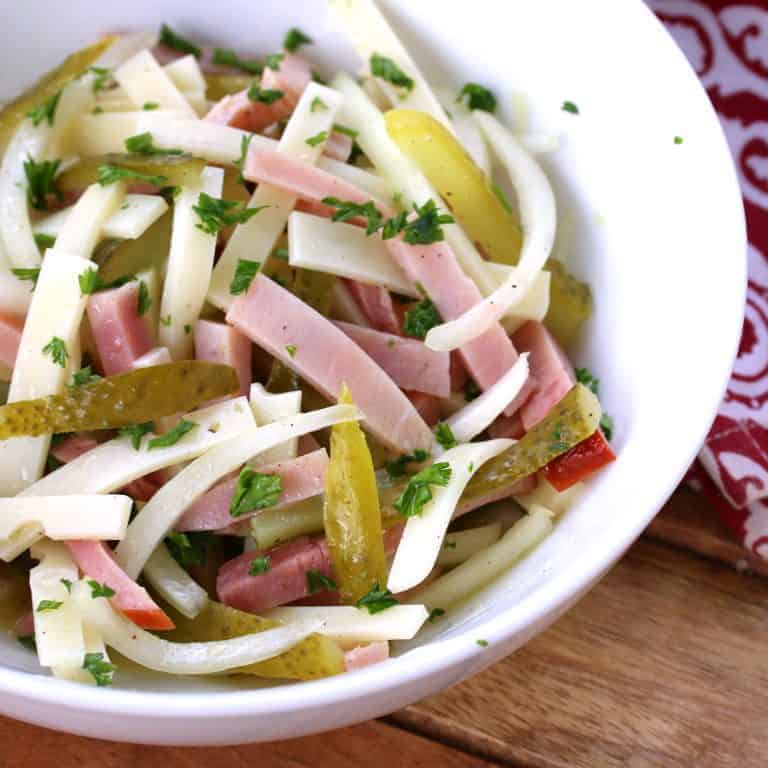 Wurstsalat (Swiss/German Sausage Salad)
Popular throughout Switzerland, Germany, eastern France and Austria, this Swiss Wurstsalat (Sausage Salad) is low carb, high protein and PACKED with flavor. It's satisfying and delicious!
Ingredients
10

ounces

Swiss cervelat, Lyoner, Fleischwurst, ring bologna or ham

, cut into strips (if using cervelat, slice it thinly)

8

ounces

Emmentaler cheese

, cut into strips (can substitute some Gruyere for a stronger flavor)

6

ounces

German pickles

, cut into strips

1

medium or large yellow onion

, halved and thinly sliced

3

tablespoons

chopped fresh parsley

For the Vinaigrette:

3

tablespoons

apple cider vinegar

malt vinegar (optional)

(I love to use half malt vinegar/half apple cider vinegar for a fantastic flavor)

3

tablespoons

pickle juice from the German pickles

2

tablespoons

sunflower oil

2

teaspoons

German yellow mustard

1/2

teaspoon

granulated cane sugar

(recommend for best flavor but omit if eating keto)

1/4

teaspoon

salt

1/4

teaspoon

freshly ground black pepper

optional: chopped chives for garnish
Instructions
Combine the vinaigrette ingredients in a bowl or jar and whisk or shake until emulsified.

Slice the meat, cheese, pickles, onions and place them in a bowl with the chopped parsley.

Pour the vinaigrette over the salad.

Toss to thoroughly coat the salad, add more salt and pepper to taste, and then chill for at least an hour before serving, giving it another couple of stirs.

Serve the Swiss Wurstsalat cold or at room temperature with some crusty bread for lunch for as a light dinner. (Omit the bread for low carb or keto.)
Nutrition
Serving:
1
serving
|
Calories:
374
kcal
|
Carbohydrates:
6
g
|
Protein:
27
g
|
Fat:
25
g
|
Saturated Fat:
11
g
|
Fiber:
1
g
|
Sugar:
3
g
Originally published on The Daring Gourmet January 5, 2019