This post contains affiliate links.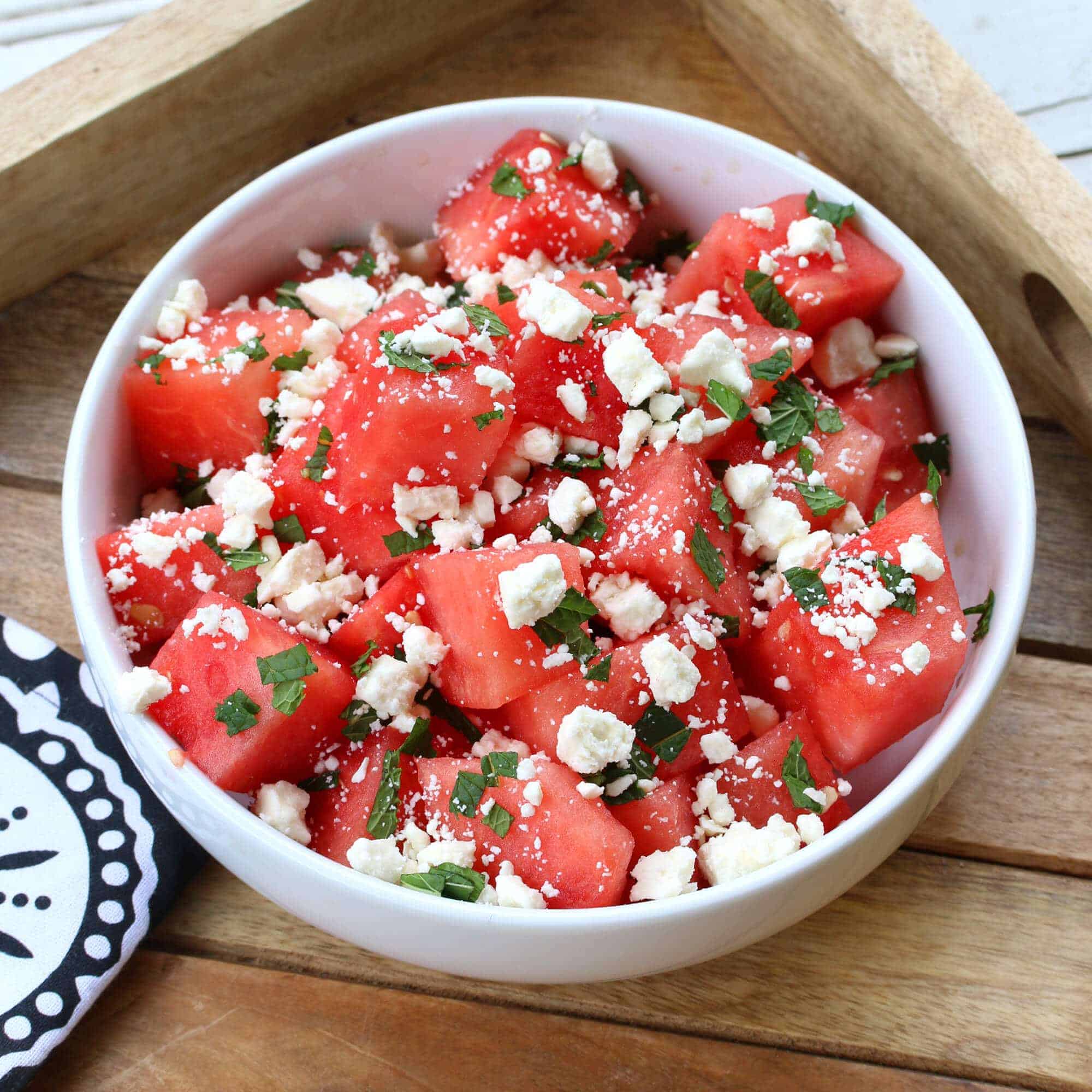 Watermelon was my favorite fruit as a child and continues to be something I also look forward to come summer.  While mediocre watermelons are pretty "meh," a really good watermelon is pure heaven.
And you know what?  I just learned something about watermelons that I never knew.
Did you know that watermelon is technically a berry?  A berry!  (There's something superbly comical in that, don't you think?)
That got me interested and I started researching the topic further.  It turns out that we have most everything backwards.
Tell it like it is, Wikipedia:  "The scientific usage of the term "berry" differs from common usage. In scientific terminology, a berry is a fruit produced from the ovary of a single flower in which the outer layer of the ovary wall develops into an edible fleshy portion (pericarp). The definition includes many fruits that are not commonly known as berries, such as grapes, tomatoes, cucumbers, eggplants (aubergines), pumpkins and bananas. Fruits excluded by the botanical definition include strawberries, raspberries, and blackberries, which are aggregate fruits."
Mind-boggling, isn't it?
So basically, berries aren't berries and everything else is.
(Gross generalization, I know.)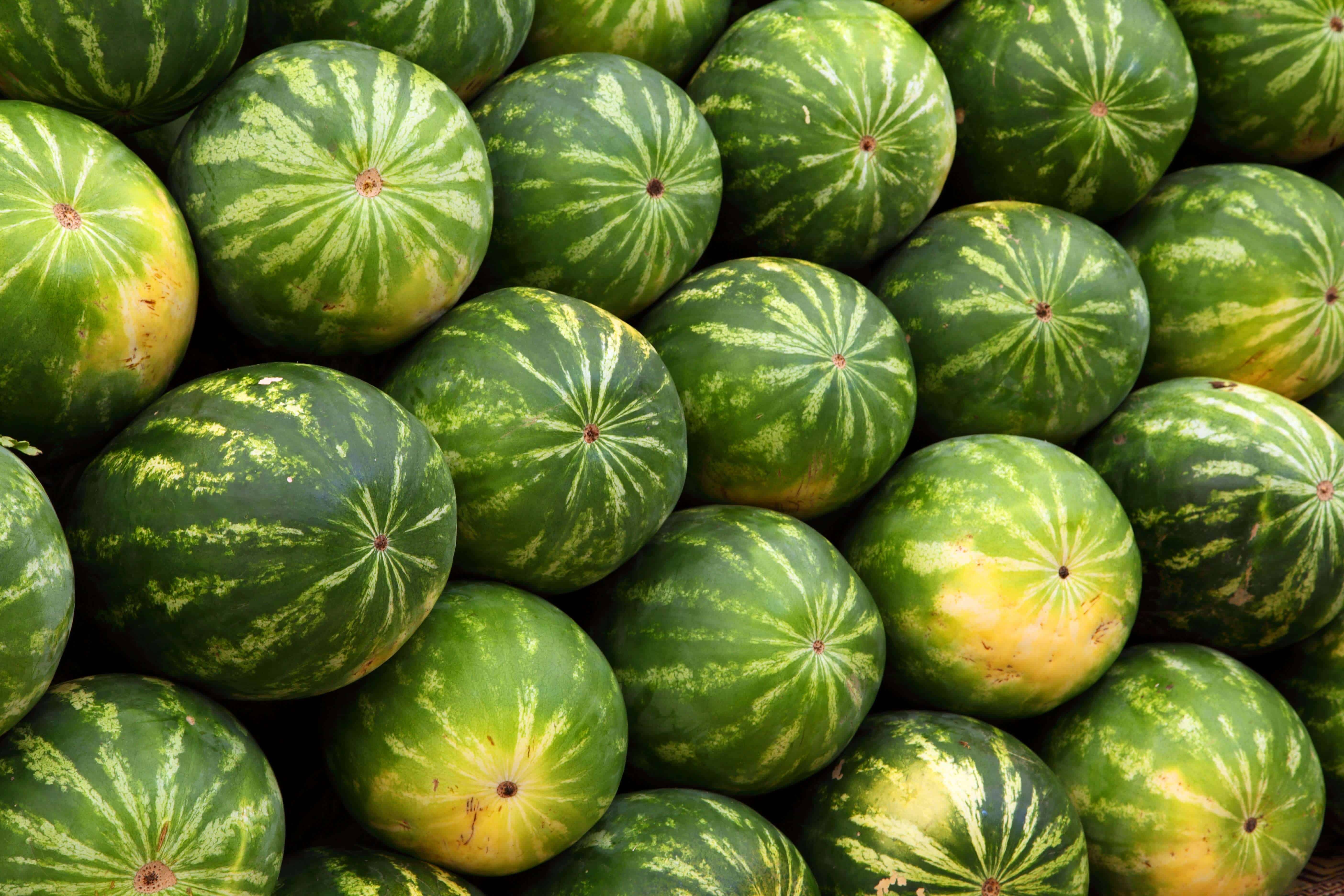 So I have something special for you celebrating this 20-pound berry, aka "the watermelon."  It's a salad pairing three other flavors that make a marvelous match:  Along with the sweet watermelon we have salty/briny feta, fresh mint and lime juice.  These ingredients really make the flavor of the watermelon shine through like those welcome rays of sunshine after a way-too-long-and-maddening streak of gray and endless rain (aka, Washington State this past winter!!).
Seriously – this past winter was a record cold since 1964 and record rain in ALL HISTORY of Washington State!  (That's all history, folks.)  So if you see a lot of Washingtonians walking around with some residual tic or eccentric behavior, go easy on us. We're only now taking off our galoshes and seeing our first rays of sun and we NEED some sweet and sunny watermelon to help us transition back to normalcy.
So without further ado – let's get started and make that sanity-saving salad!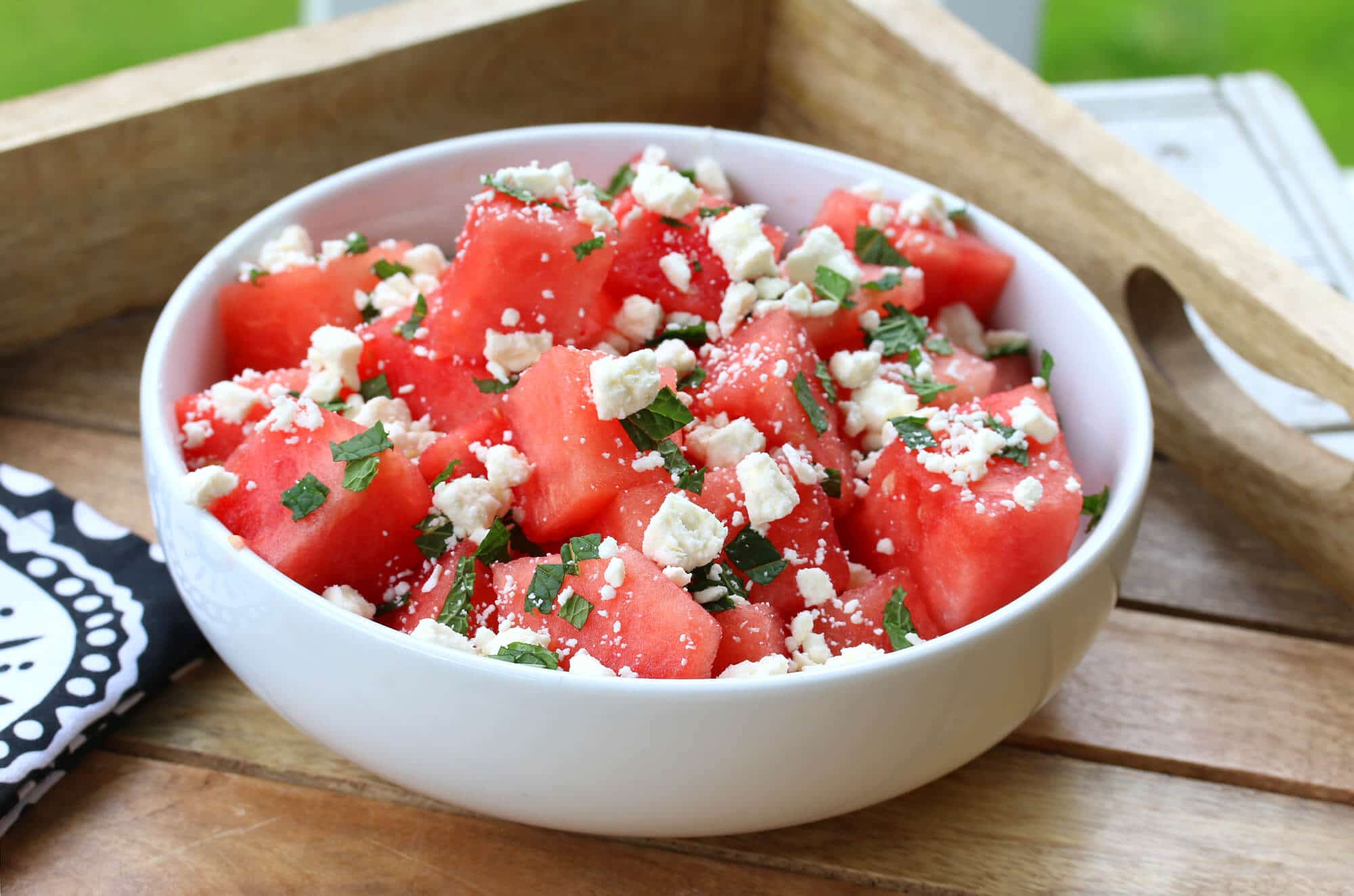 Keep the diced watermelon in the fridge until you're ready to add the dressing.
In a small bowl whisk together the lime juice and olive oil with the salt and pepper.  Note:  You can use lemon juice instead. They're both excellent.
Chop up the mint.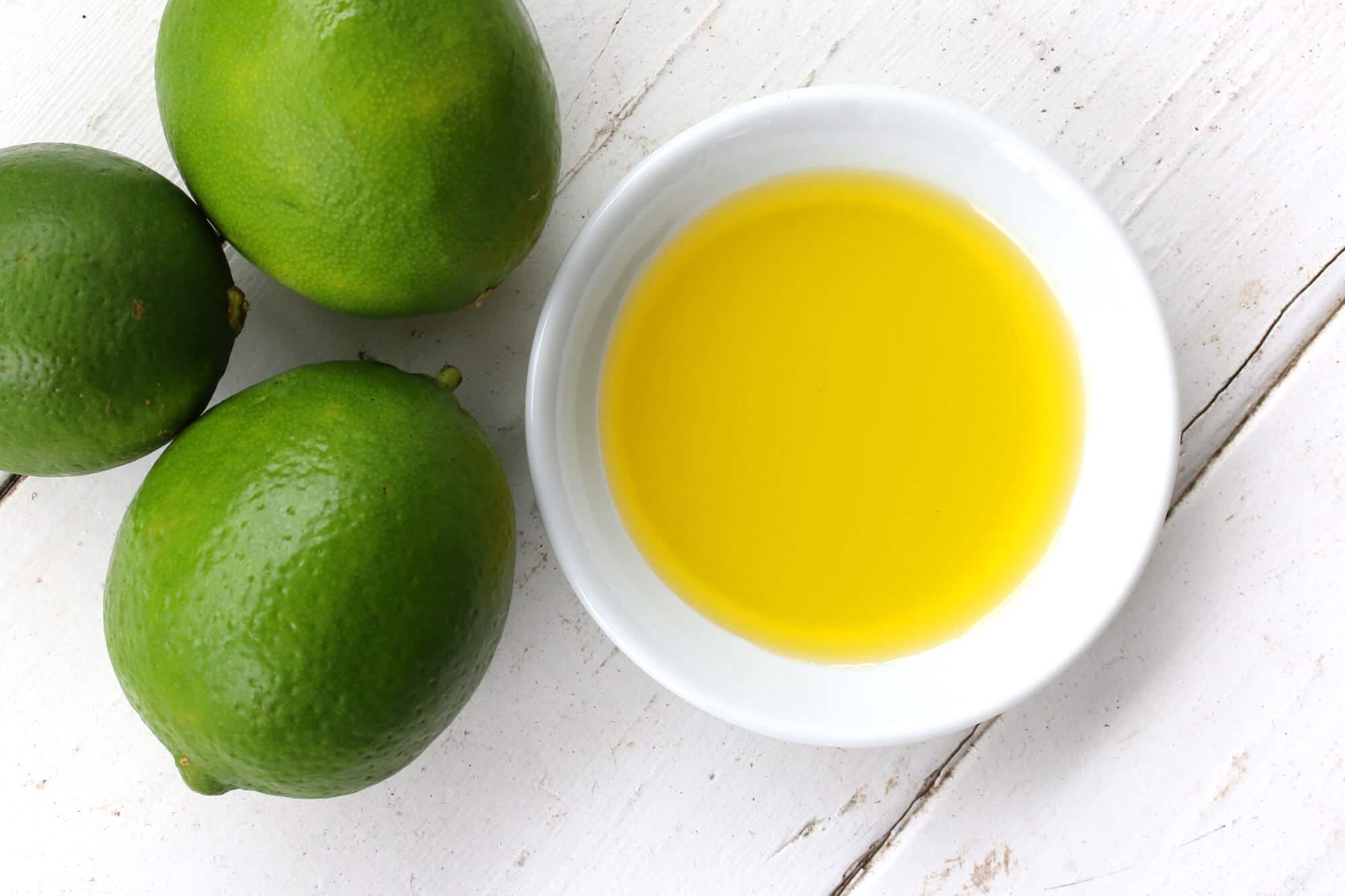 Pour the dressing over the chilled watermelon along with the mint and gently toss to combine.
Sprinkle the feta cheese over the salad and serve immediately.
This salad is best prepared just before serving.
Enjoy!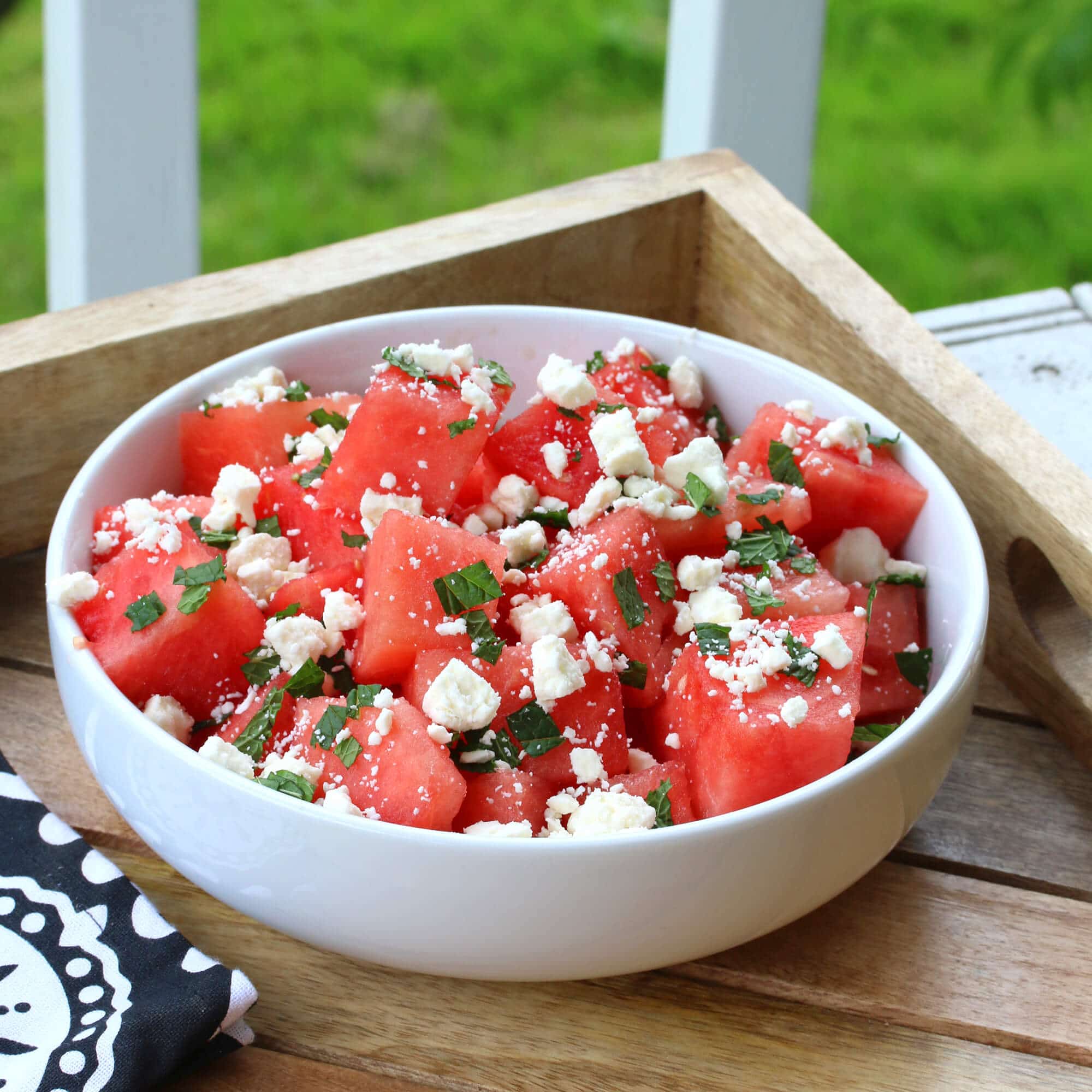 Print Recipe
Watermelon Salad with Mint and Feta
Refreshing and absolutely delicious, this is sure to wow your guests!
Ingredients
1

small watermelon

(3 pounds), rind removed, cut into 1-inch chunks and chilled

1/4

cup

extra virgin olive oil

2

tablespoons

freshly squeezed lime juice or lemon juice

,both are sublime, see which one you prefer

1/2

teaspoon

kosher salt

Small pinch of freshly ground black pepper

1/4

cup

chopped mint leaves

4

ounces

crumbled feta cheese

(sheep feta recommended for the creamiest texture and best flavor contrast)
Instructions
In a small bowl, whisk together the oil, lime juice, salt and pepper.

Pour the dressing over the chilled diced watermelon along with the mint. Toss gently to combine. Sprinkle the crumbled feta cheese on top and serve immediately.

*THIS SALAD IS BEST PREPARED JUST BEFORE SERVING
Notes
* This is also terrific with some arugula added to it.
Calories:
355
kcal
|
Carbohydrates:
57
g
|
Protein:
7
g
|
Fat:
14
g
|
Saturated Fat:
4
g
|
Cholesterol:
16
mg
|
Sodium:
412
mg
|
Potassium:
851
mg
|
Fiber:
3
g
|
Sugar:
47
g
|
Vitamin A:
86.9
%
|
Vitamin C:
75.5
%
|
Calcium:
14.6
%
|
Iron:
11
%