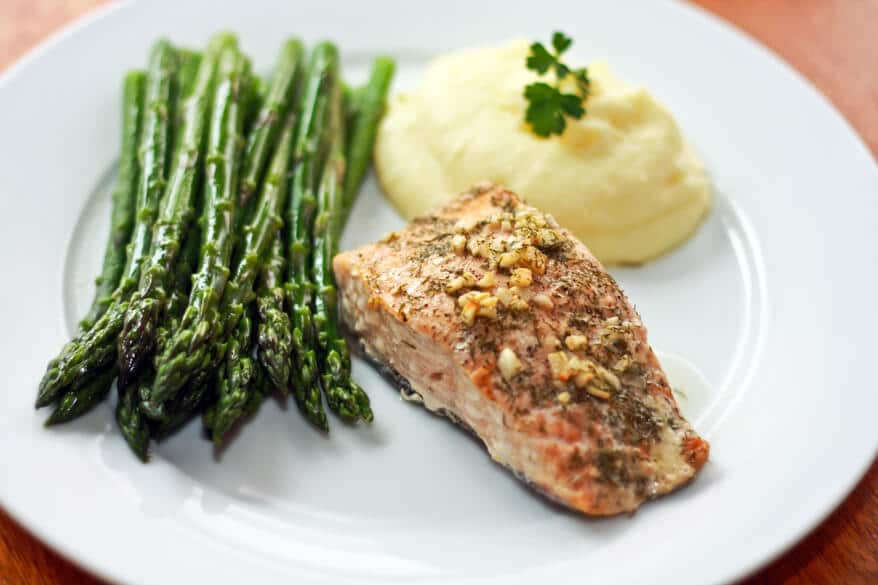 Salmon is one of those things that you can spend just a few minutes of time preparing and it looks and tastes totally gourmet.  Here is a simple recipe that you will earmark for frequent use.  Serve the salmon with some steamed vegetables and some garlic-mashed potatoes, serve it up restaurant-style, and you will have your dinner guests singing the praises of your master culinary skills. (And no need to tell them prep time was only 5 minutes!)
P.S.  Be sure to connect with me on Facebook to join in on all the foodie fun and to get word of the latest recipes!

Perfect Garlic Dill Baked Salmon
:
The Daring Gourmet, www.daringgourmet.com
Ingredients
4 (4-6 oz) salmon fillets
3 cloves garlic, minced
2 tablespoons fresh dill, chopped
1 teaspoon salt
½ teaspoon freshly ground black pepper
3 tablespoons freshly squeezed lemon juice
¼ cup extra virgin olive oil
2 tablespoons butter, divided in 4 equal pieces.
Instructions
Combine the garlic, dill, salt, pepper, lemon juice and olive oil in a small bowl.
Lay the salmon fillets in a glass baking dish and pour the marinade over the salmon. Marinate in the refrigerator for at least one hour (preferably several), turning occasionally.
Preheat oven to 375 degrees F.
Place each salmon fillet in aluminum foil, pour over some of the marinade, and place a piece of butter on top of each fillet before sealing the aluminum foil. Place sealed salmon fillets in a baking dish to prevent spillage, and bake 30-40 minutes, depending on the thickness of the fillets, until the salmon is easily flaked with a fork.
Serve immediately with steamed vegetables and garlic mashed potatoes and rice.